Nicole Kidman was trying to get pregnant before Keith went to rehab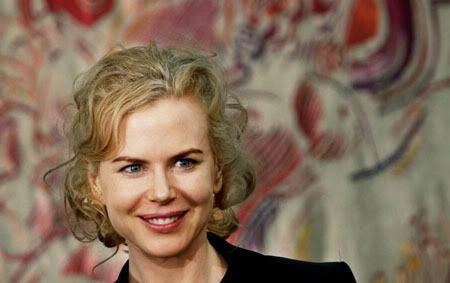 Before Keith Urban was whisked off to rehab for "letting his guard down" on his recovery, Keith and his new wife Nicole Kidman were trying to conceive a child with the help of fertility drugs.
Nicole suffered from an ectopic pregnancy and a miscarriage during her marriage to Tom Cruise and she's now less fertile at age 39. According to The Enquirer, she and Keith have visited a fertility clinic.
Keith's sperm were judged motile but groggy, and Nicole has started taking fertility drugs, which may explain her bloated abdomen that all the bloggers (like me) were mistaking for a baby bump:
Nicole recently began taking the fertility drug Clomid to induce ovulation before she left to finish shooting the fantasy film "The Golden Compass" in London.

"Meanwhile, Keith has had tests done, and he was found to be able to have kids," said the insider."

"He knows how much Nicole wants to get pregnant."
[From The National Enquirer print edition. October 30, 2006]
Nicole's past history of a failed and ectopic pregnancy makes it more difficult for her to get pregnant, while the drug she's on adds to the risk of another ectopic pregnancy.
The article notes that Nicole and Keith haven't had a lot of time to conceive a child as their work schedules keep them apart.
With the latest news that Keith has checked into rehab to get treatment for his alcohol addiction, it might be a while before they're able to start trying for a baby again.
National Enquirer story [via]
Here are pictures of Nicole Kidman in Kosovo as a goodwill ambassador for UNIFEM on 10/14. [via]
Written by Celebitchy

Posted in Babies, Drunk, Keith Urban, Nicole Kidman, Photos

- Mariah Carey lip synced on American Idol [CDAN]
- Colin Firth is looking good [Lainey Gossip]
- Internet celebrity charged with murder! [D-Listed]
- What is Paz Vega wearing? [Go Fug Yourself]
- New bachelors on The Bachelorette [Reality Tea]
- Goodbye to The Office [Pajiba]
- Bachelor Sean's fiance cheats on him [Evil Beet]
- Britney Spears out with her man [Popsugar]
- Nina Dobrev works it [Popoholic]
- Cindy Crawford needs to lay off the 'tox [Celebslam]
- Who said it: Carrie Bradshaw or The Dalai Lama? [Buzzfeed]
9 Responses to "Nicole Kidman was trying to get pregnant before Keith went to rehab"