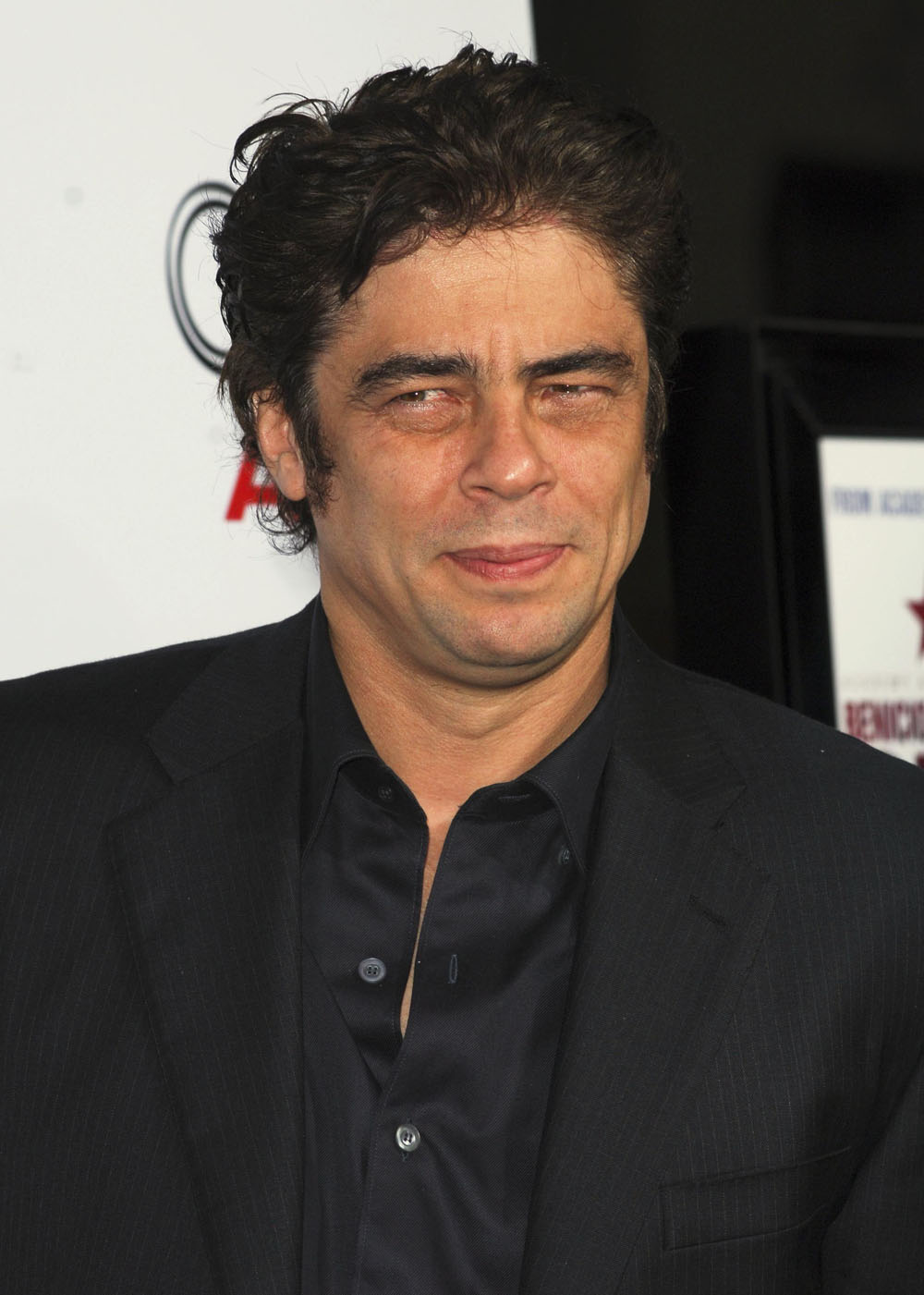 This week Ceilidh and I had an extended discussion about whether we find smoldering Puerto Rican actor Benicio Del Toro, 41, attractive. Ceilidh says she thinks he's "hideous" while I don't find him super attractive, but see his appeal. I was unsuccessful in convincing her that he's worthy. Del Toro is not my type at all – I like bald guys with goatees, but I can see how women find him hot. He's got that commanding presence that supersedes looks, like he knows what he wants and he knows that he'll have it. When I ponder whether Benicio is sexy that rumor about him getting it on with Scarlett Johansson in an elevator comes to mind. He's the kind of guy who would make an otherwise shy girl engage in public sex.
MSat says she's so-so on Benicio and that "Sometimes he looks like the Latino version of Brad Pitt," but that "sometimes he looks like he should be pumping gas somewhere."
I did a quick Facebook survey by changing my status and most of you who responded agreed with MSat that Benicio is either not hot, or has to do some work to achieve hotness. Four out of seven people said he's not hot, with Nicole saying "I prefer my mens showered and not looking like they just came off a four day coke-and-whiskey bender." Those that like Benicio were enthusiastic about his hotness, though.
Maybe Benicio is in the same boat with Joaquin Phoenix then, because I swear that guy used to be hot. Or we could lump him in with now-lumpy Russell Crowe. Phoenix seems a little more far gone than Del Toro. I'd rather get with Benicio than Crowe any day though. It's probably that ponytail of Russells. That thing has got to go.
Bencio Del Toro stars in Che, an epic film about Argentine revolutionary Che Guevara. It's out in two parts, this fall and starting early next year, in limited release.
Here he is at the premiere of Che on November 1. These are particularly unflattering photos. Credit: Bauergriffin