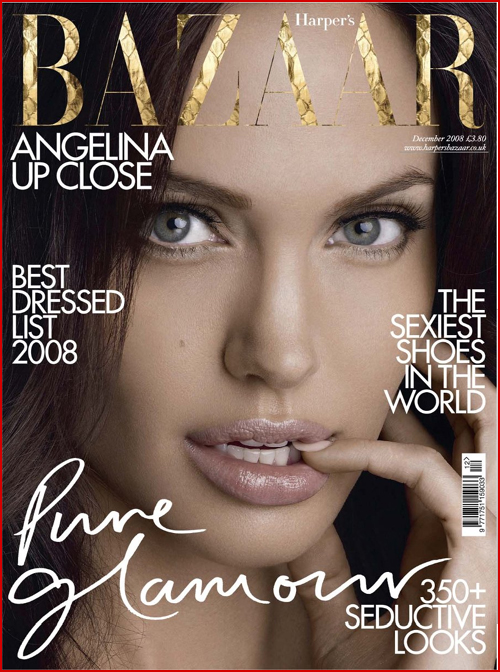 Angelina Jolie talks about some of her more controversial parenting decisions in the upcoming British issue of Harper's Bazaar. She says that she and Brad Pitt do let their kids play with toy guns and soldiers but try to explain to them that there's real death and violence in the world. Angelina says she doesn't want to shelter them.
Jolie also notes that she hasn't lost touch with her formerly hardcore self. She describes herself as "still a punk kid with tats."
Angelina Jolie has warned she will never say goodbye to her rebellious streak despite becoming a proud mum of six tots. The yummy mummy remains defiant about her controversial past, which has reportedly included knife sex and now more recently a breast-feeding pose on the cover of a La La land magazine.

Back to her stunning best in her latest photo shoot, Angelina warns: 'I don't walk around feeling I need to apologise or explain myself. 'I am still, at heart – and always will be – just a punk kid with tattoos.' And after shocking claims she took her oldest tot Maddox to a gun shop recently, the actress says she won't wrap her kids in cotton wool.

'Listen, my kids play video games. I let them play with toy soldiers. We don't take war and violence lightly, but we don't hide it from anybody. We say, 'Mommy and Daddy have movies where we play these characters, but there's real death and violence in the world.'

She also tells Harper's Bazaar she'll only play characters she would ideally want to hang out with, including tough-nut Lara Croft. 'I tell stories that are about the type of woman I'd want to meet. The type of woman where I think, even if it's silly characters I've played, like in Tomb Raider, there's something about her that will be fun for my daughters to see one day', says Jolie.
[From Metro]
The magazine also noted that Brad Pitt's parents were supposedly upset over Brad's photos of Angelina breastfeeding ending up on the cover of W magazine. It doesn't seem that their issue is over the propriety of nudity so much as they're said to feel that Brad and Angie are using their kids as a marketing tool. According to the tabloids Brad's mom has objected to several of Angelina's choices, including serving alcohol to the parents at Maddox's fifth birthday party. I thought the pictures were very beautiful and sweet, but I could see how a protective grandmother might not favor them.