'Friends with Kids' trailer: half the 'Bridesmaids' cast, half the charm?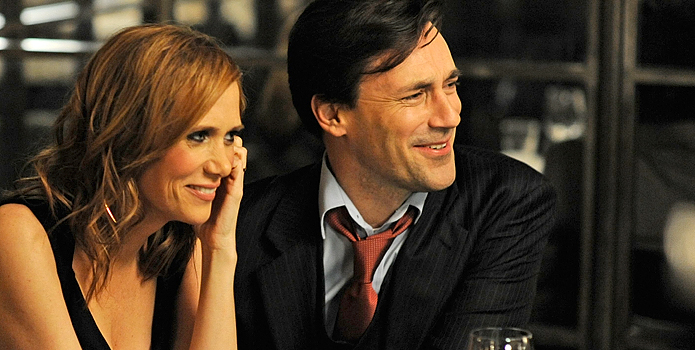 After the raging financial and critical success of Bridesmaids, Universal is obviously keen to develop a sequel even if Kristin Wiig isn't on board, which she reportedly isn't for the forseeable future. Melissa McCarthy has stepped up to declare that a Wiig-less sequel is a terrible idea, and she's correct. Still, that doesn't mean that Universal is above capitalizing upon a striking-hot iron, even if it results in certain disaster.
In the meantime, half of the cast of Bridesmaids appears in an upcoming movie, Friends with Kids, which now has a new trailer. The movie is written, produced, and directed by Jennifer Westfeldt (Kissing Jesica Stein), who is known best around these parts as "Jon Hamm's girlfriend." Westfeldt also stars in the film, which also stars Adam Scott and features Hamm along with Kristen Wiig, Maya Rudolph, Chris O'Dowd, Edward Burns, and Megan Fox. The story is basically that Westfeldt and Scott's characters are thirtysomething BFFs who aren't into each other romantically but decide to have a kid together and pursue future relationships with other people. Yeah, we already know where this is going, right? Here's the movie's official synopsis anyway:
Friends With Kids is a daring and poignant ensemble comedy about a close-knit circle of friends at that moment in life when children arrive and everything changes. The last two singles in the group observe the effect that kids have had on their friends' relationships and wonder if there's a better way. They decide to have a kid together – and date other people.

There are big laughs and unexpected emotional truths as this unconventional "experiment" leads everyone in the group to question the nature of friendship, family and, finally, true love.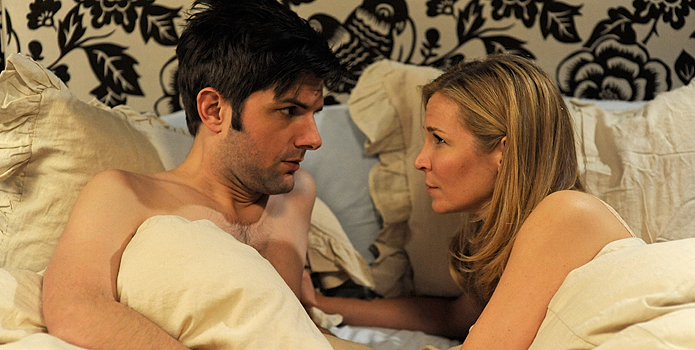 And here's the trailer for the Friends with Kids:
The movie looks charming enough (for a matinee viewing) but, unfortunately, the trailer renders the entire plot utterly predictable, and I think a YouTube commenter said it best: "Well i have literally seen the entire film. good job. Now i dont have to waste my money." Still, this looks like an okay way to pass a few hours for fans of the talent involved. Jon Hamm also sat down with Collider to talk about what Westfeldt went through to make this movie and how he helped her as much as possible:
On Getting Friends with Kids Made: "It was tough. Part of it was a little bit self imposed because we wanted to make this movie this year. Normally you go, 'Well, we will make it when we can make it. We will make it when we get the money, and then we get the thing, and then we will cast it. We will see how long that takes and then we will make it.' But we were like, 'We are going to make it in this chunk of time because of my schedule and the schedules of other people that we wanted to be in it.' So we kind of did it ass backwards where we were like, 'We are going to do it in this number of time! What do you we need?' and it was like, 'Well, you need money, people, and cameras.' And it was just like, 'Okay. We have twenty minutes to get all of that together!' So we set ourselves up to fail miserably. But due to Jen's incredible hard work, diligence, effort, talent, and charm we were able to call in favors and basically move mountains and do the impossible to get this done, and we did. We shot it in 24 days and we shot it in one of the worst winters that New York has see in 30 some odd years with snow every couple of weeks. We were digging out grip trucks and the lenses had frozen over and we were like, 'Okay. Well, let's get a hair dryer on the lens and we will dig up the truck while we are defrosting the lens and then we will be fine. Hopefully the trains will be running by then and we can get some PAs and people up here.' So it was a challenge. It was a tremendous challenge, but it was exciting in that way that independent film can be. It was like, 'Well, no one else is going to do it. So we have to do it.' That was kind of my capacity. Obviously, Jen had her plate very full with directing, starring, producing, and writing the film. So my job was to take out as much from her backpack so that she could stand up straight and share the load a little bit, and hopefully I did."
[From Collider]
Wasn't that, for lack of a better word, sweet of Jon to do everything humanly possible to help his girlfriend get this movie made? It sounds like he really believes in her abilities too instead of just helping out the chick he's sleeping with on a long term basis. Basically, he sounds like the perfect boyfriend.
Oh yes, and I almost forgot to talk about Megan Fox, who is shaking things up by not only playing a hooker in The Dictator but also by playing "the new girlfriend" in this movie. Poor Megan is going to have to fight to get anywhere else in Hollywood, and I'm afraid she just doesn't have the skills to do it. Friends with Kids opens March 9th.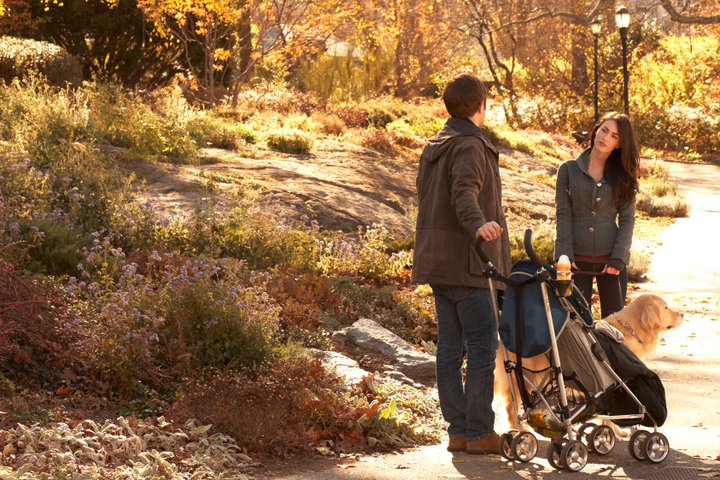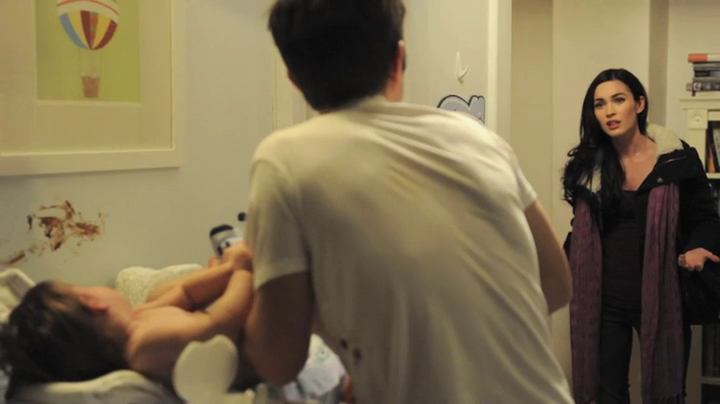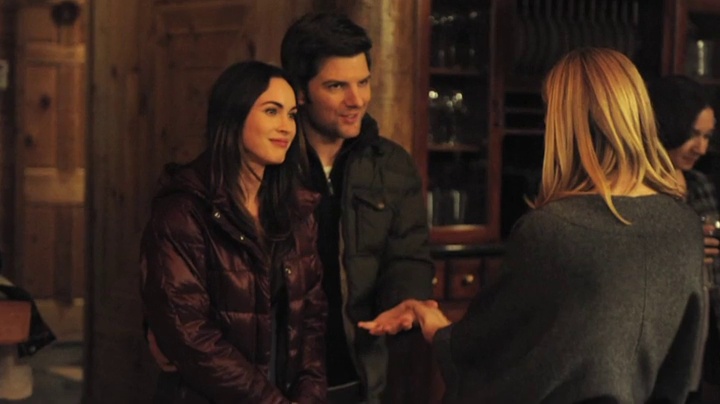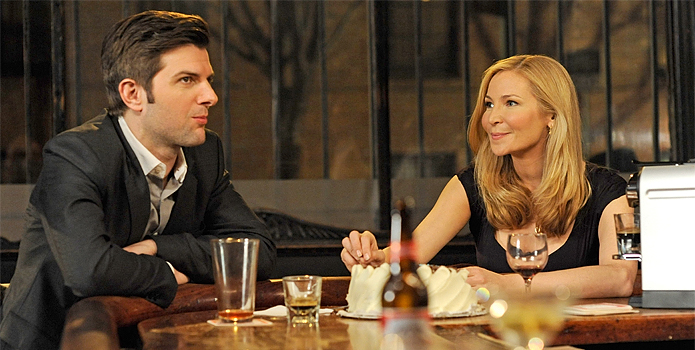 Movie stills courtest of Collider
Written by Bedhead

Posted in Jon Hamm, Maya Rudolph, Megan Fox, Trailer

- Zach Galifianakis is awesome [Buzzfeed]
- Prince at the Billboard Music Awards [D-Listed]
- Bieber's Billboard look [Go Fug Yourself]
- Married to Medicine recap [Reality Tea]
- Celebrity first marriages [Pajiba]
- The last Mad Men baffled a lot of people [Lainey]
- Karolina Kurkova's crazy hot dress [Moe Jackson]
- Jennifer Garner on set [Popsugar]
- Kitten vs. Lizard [CDAN]
- Doetzen Kroes' great butt [Celebslam]
- Shameless star Jeremy Allen White [OMG Blog]
- RIP Ray Manzarek [Bossip]
25 Responses to "'Friends with Kids' trailer: half the 'Bridesmaids' cast, half the charm?"