Eva Mendes on Ryan Gosling: "I have never felt so creatively satisfied"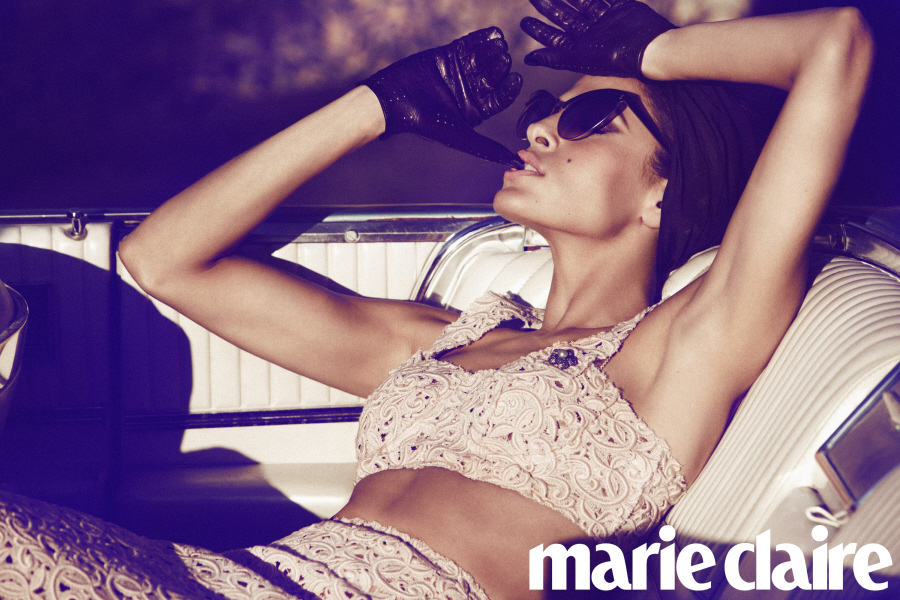 I jumped the gun with yesterday's Eva Mendes story. Marie Claire just released the high-quality cover image, plus a few more pcs from the photo shoot. I still dislike the photo shoot, by the way. Eva is capable of looking dazzling, and she can really work the "bombshell" thing, but her styling here is just awful. Anyway, you can read her Marie Claire piece here, and here are some highlights – she's promoting an indie film called Girl In Progress, where she plays a bad mother.
Her dog, Hugo: He's Malinois (a Belgian variant of the German shepherd). We were supposed to take him for a walk, but a wintry drizzle has scuttled our plans — good thing, since Hugo doesn't look like he takes well to journalists. "Couchez!" she orders him sternly. Hugo immediately lies down. "It sounds so pretentious," Mendes admits, "but he learned his commands in French." Cesar Millan, better known as the Dog Whisperer, sometimes dog-sits Hugo, she informs me. Hugo also wears a behavior-modification collar, which Mendes controls with a beeper.

On her modeling gigs: "I have taken the opportunities that have come my way and made the best of them," Mendes says unapologetically.

Playing an unattractive character in Girl In Progress: It's a first step, albeit a small one, in transforming a big-screen sex symbol to respected actress on par with, say, Julianne Moore and Annette Bening, her idols. "I have a girl crush on them," Mendes admits. "I'd kill to have half the careers they've had after 40."

Boundaries: They are "necessary not just to be a celebrity, but to be a healthy individual."

Workout: "I run four to five times a week, mixing it up among distance running, intervals on a track, and running uphill on a treadmill."

Diet: "I don't eat meat and stopped eating chicken — my skin has gotten a lot better."

Hair: "I have big, wavy, crazy hair, so it works best for me when I let it be. Here's a trick I learned from my mother: If your hair is a little greasy and you don't have the time to shampoo, put some baby powder at the roots and at the ends. It gives you that '70s textured look."

Imperfections and body image: "I feel it's important to let women know that I have similar struggles. What I tell girls is what they don't like about themselves now, they will probably end up loving as an adult, because that's what happened to me," Mendes says. "When I am complimented on things that I didn't like when I was 13, like my overbite and my mole, that's when you realize that your imperfections are why people love you."
[From Marie Claire]
Eva also says something about Ryan Gosling in the magazine – she described working with him on The Place Beyond the Pines, saying, "He's your dream costar. I have never felt so creatively satisfied on a film." What about other kinds of satisfaction? Well, as many of you pointed out yesterday, Eva is in Bangkok, visiting Ryan as he works on a new film:
Does absence makes the heart grow fonder? Eva Mendes and Ryan Gosling didn't wait to find out! Eva traveled 8,000 miles to see her boyfriend, who is on location filming Only God Forgives in Bangkok, and Life & Style has all the details on their reunion.

"They walked hand in hand to dinner at Japanese restaurant Nippon Kai on Feb. 2," an eyewitness tells Life & Style. "They were very quiet and everyone left them alone. And in person Eva is even more beautiful!"

The next night, the lovebirds continued to lay low by catching a movie together at the Paragon Cineplex.

"There were so many people there, but they looked like they were with a translator," a second eyewitness tells Life & Style. "They didn't try to hide themselves. Ryan was wearing a T-shirt and jeans while Eva wore a white dress."

Obviously Ryan has more to offer than a movie ticket, so on Feb. 3 he took Eva out on the town to WTF Bar and Gallery – and surprised patrons and bartenders by not making a fuss or calling ahead of time.

"They just walked right in without making a scene. Eva sipped Red Bull while Ryan drank tequila," says someone who sat near them. Adds another onlooker, "They were talking about documentaries!"
[From Life & Style]
Ah, you see. Eva won't be letting go any time soon. This is the first time she's ever been in a high-profile relationship, and I think she likes the attention it brings her. We'll see how all of this plays out, though. I've really got to wonder what Ryan's game is here.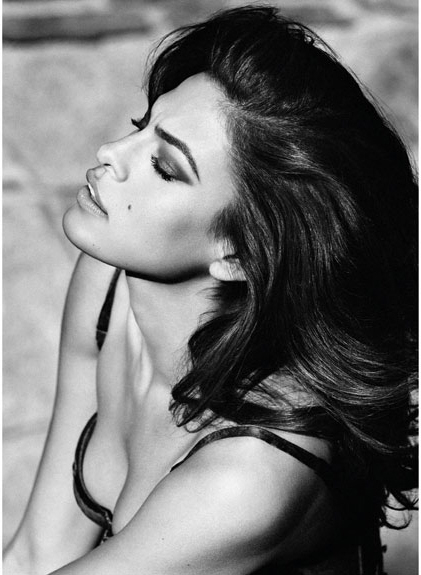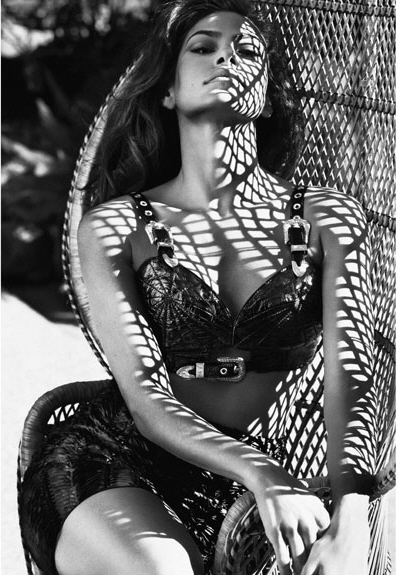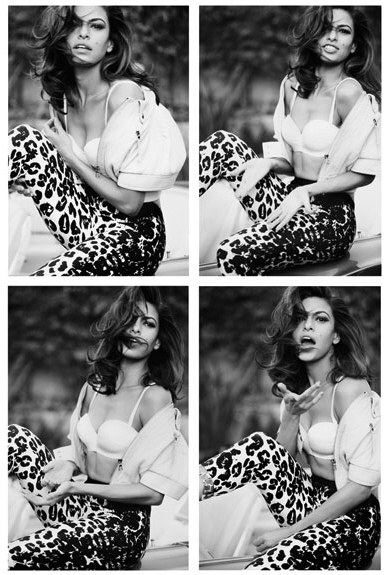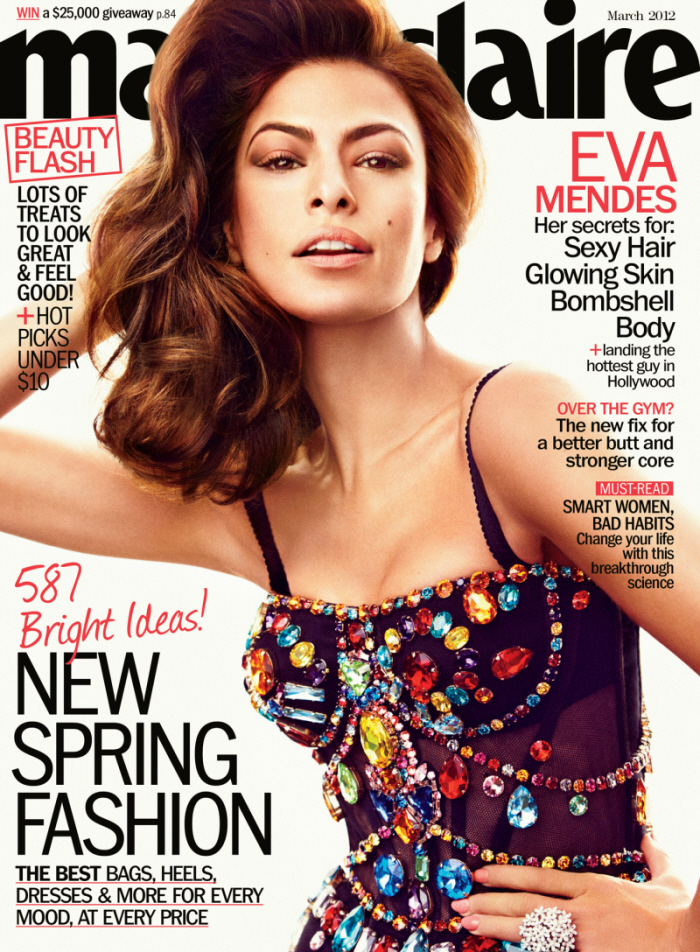 Photos courtesy of Marie Claire.

Written by Kaiser

Posted in Eva Mendes, Ryan Gosling

- Zach Galifianakis is awesome [Buzzfeed]
- Prince at the Billboard Music Awards [D-Listed]
- Bieber's Billboard look [Go Fug Yourself]
- Married to Medicine recap [Reality Tea]
- Celebrity first marriages [Pajiba]
- The last Mad Men baffled a lot of people [Lainey]
- Karolina Kurkova's crazy hot dress [Moe Jackson]
- Jennifer Garner on set [Popsugar]
- Kitten vs. Lizard [CDAN]
- Doetzen Kroes' great butt [Celebslam]
- Shameless star Jeremy Allen White [OMG Blog]
- RIP Ray Manzarek [Bossip]
74 Responses to "Eva Mendes on Ryan Gosling: "I have never felt so creatively satisfied""