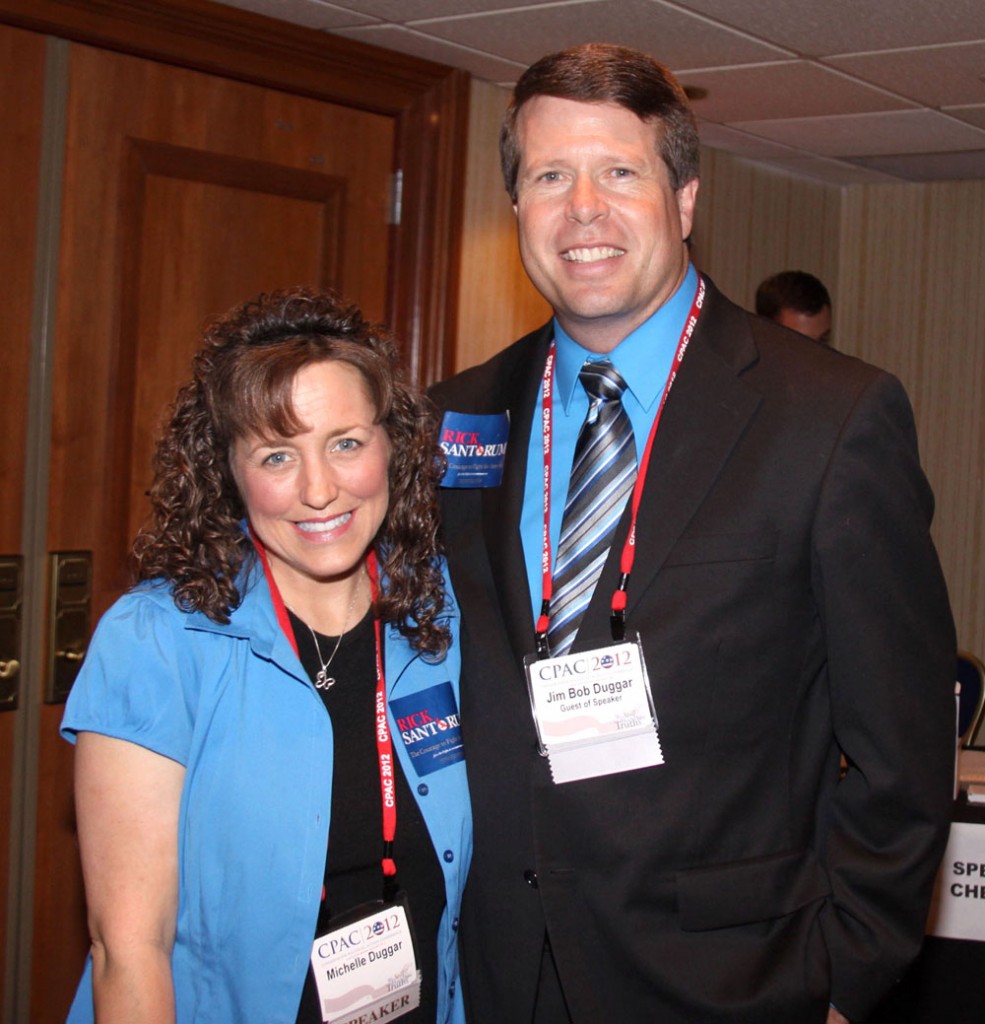 The Duggars are back and were on the Today Show yesterday. (Video is below.) Last night was the premiere of the ninth season of their TLC reality show, "19 Kids and Counting." They have not yet aired footage of Michelle finding out she had a miscarriage at five months, but a preview reveals that it will be shown this season, and we've also heard that they're going to show footage of the memorial for the baby. They're famous for having a huge family, and they'll continue to have kids as long as "God" grants them with kids. This is what they always say, and it's not surprising to hear them continue to say it after their last baby was miscarried and their baby prior to that was born prematurely and with health problems. They're tenacious, and they already have a schoolhouse full of kids but that doesn't diminish the tragedy they suffered. The story is sad and heartbreaking and you feel for Michelle. She's handling all this very well considering what she went through, but I get the very strong impression that she feels that its her duty to promote a pro-life agenda. Anyway here's what they said to Ann Curry, whose one-note "are you ok?" approach to celebrity interviews was actually appropriate in this instance:
Michelle and Jim Bob spoke to Ann Curry on TODAY Tuesday, their first public appearance since the miscarriage in early December.

"It's devastating, and many others have experienced very similar situations," Michelle said. "Probably the hardest part is that when a loss like this occurs people really don't know what to say…. We realize our sweet little Jubliee is with the Lord, and we will see her again someday."

And if another child isn't in the cards, the Duggars say they're enjoying being grandparents. Their oldest son, Josh, has two children with his wife Anna.

"We have heard so many things about being a grandparent and now we know why it is so great," Michelle told Ann Curry. "You get the joy of playing and spending time with them but you don't have all the responsibility."

Their grief over the loss of the baby they later named Jubilee Shalom will be on display in their reality show this season. A preview clip provided to TODAY by TLC shows Michelle and Jim Bob in the doctor's office for what they thought would be a routine ultrasound. Instead, they found out the baby's heartbeat had stopped. Michelle is crying and cradling her belly with her hands, while Jim Bob sits next to her with a look of shock on his face. "The Lord giveth and the Lord taketh away," she prays between sobs. "Blessed be the name of the Lord." Jim Bob prays with her, then says softly, "Michelle, I'm so sorry."

Michelle had also suffered a miscarriage during her second pregnancy. That first miscarriage was what caused Michelle and Jim Bob early in their marriage to rethink their plan to have two or three children, and instead to eschew family planning and leave the number of children they have up to God.

Between 20 to 30 percent of all pregnancies end in miscarriage. Dr. Rebecca Brightman, an OB-GYN at Mount Sinai hospital in New York, told TODAY in an earlier interview that having a lot of children doesn't increase the risk of miscarriage, but that Michelle Duggar was at increased risk because of her age — she is 45, and women over 40 are more likely to have babies with chromosomal abnormalities, which is a leading factor in miscarriage.
[From The Today Show]
It must be comforting to believe in an afterlife so much that you know you'll see your loved one again. I know that sounds snotty but I honestly mean it. I've heard my religious friends say similar things about people they've lost.
This is how the Duggars make a living now, and they're promoting their show and sharing their trials with the world. Unlike other visits to NY City, Jim-Bob and Michelle were on their own without their kids. They have plenty of little babysitters at home I guess. I found it surprising that they describe being grandparents as enjoyable because there's no responsibility. How much responsibility do they feel for their own kids?
We'll soon see another huge family, their friends the Bates with 19 children of their own, on TLC.
Visit msnbc.com for breaking news, world news, and news about the economy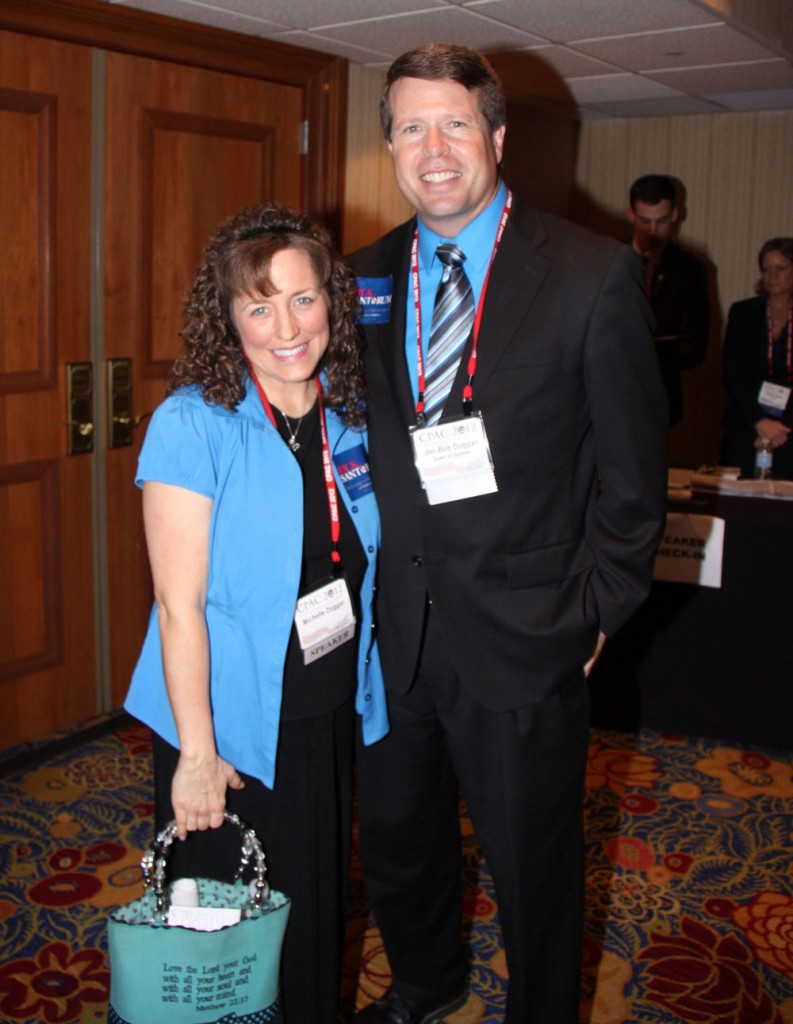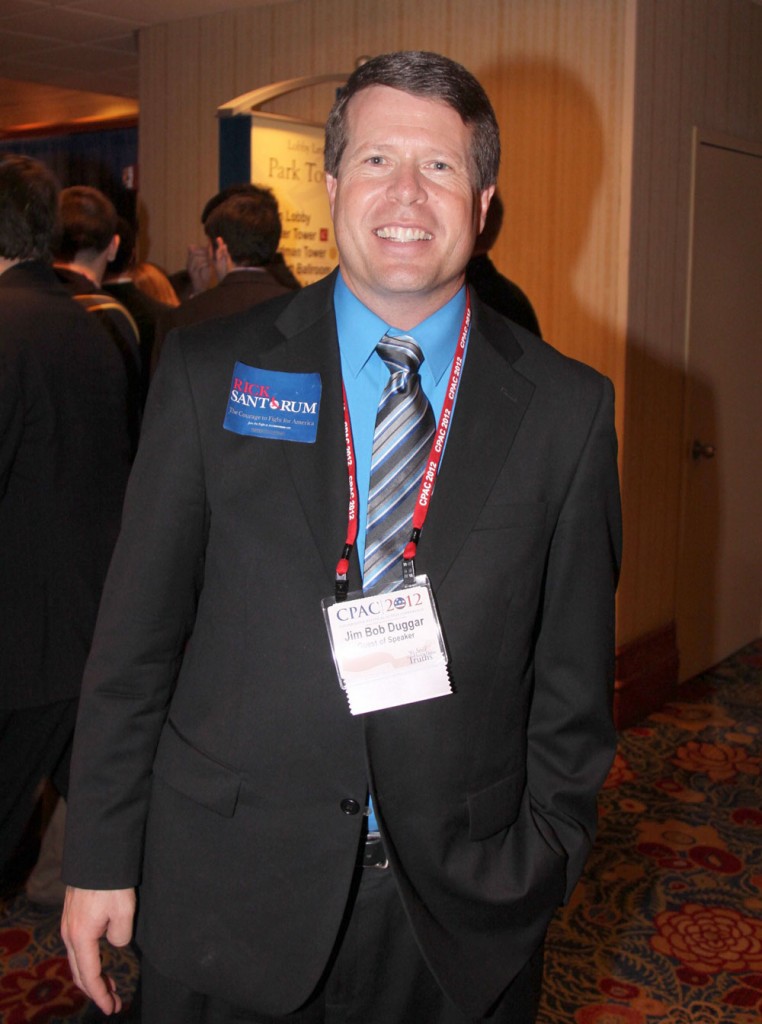 Jim-Bob and Michelle are shown at the Conservative Political Action Conference in Washington DC on February 10, 2012. I guess they left their kids at home for that, too. Credit: Mark Wilkins/FameFlynet Pictures