Oliver Stone's son Sean converts to Islam, claims H'wood bias against Muslims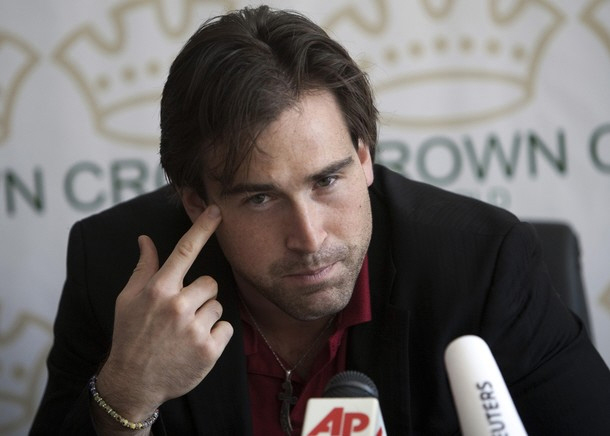 I have mixed feelings about director Oliver Stone's politics and his films. I have no doubt that Stone is brilliant – but he's also a historical revisionist, a hopeless self-promoter and a balls-out conspiracy theorist, and sometimes those issues can lead him down some bad paths. I never realized that Oliver had an adult son, though – his son's name is Sean, and he's got a Hollywood career too, sort of. I looked through Sean Stone's IMDB, and it seems like he's a bit actor on his father's films, plus he makes many of the "Behind the Scenes" featurette documentaries for his dad's films. But Sean has a burgeoning career as a director too – he directed a short film a few years ago, and now he's got his first full-length feature coming out, a horror film called Graystone. Sean isn't expecting to work in Hollywood much longer – and his reason might surprise you. Sean has converted to Islam, and he just made a trip to Iran where he discussed his (new) faith and how his faith in Allah is the same as everyone else's faith in a Christian or Jewish God. Sidenote: no one ever includes Hindus in the mix.
Sean Stone, son of controversial director Oliver Stone, converted to Islam in Iran last week and says he's already experiencing a Hollywood backlash. The ceremony was held in Isfahan, where he is researching a documentary. He now goes by the name of Sean Christopher Ali Stone.

He told Page Six: "I've already experienced the reverse of anti-Semitism, having people within the film industry express a reluctance to work with me now that I have said a simple prayer, 'There is no God but God, and Mohammed is his messenger.' I am sure I have [bleeped] off some powerful people."

Speaking over dinner at Barrio 47, Sean told us, "Having read the Koran and having been around the Islamic culture, especially in Iran, I do believe that Mohammed is a prophet of the same god worshipped by other religions. I am of a Jewish bloodline, a baptized Christian who accepts Christ's teachings, the Jewish Old Testament and the Holy Koran. I believe there is one God, whether called Allah or Jehovah or whatever you wish to name him. He creates all peoples and religions. I consider myself a Jewish Christian Muslim."

"What I am trying to do is open up a dialogue about religion. There is such Islamophobia in the West. Islam is not a religion of violence any more than Judaism or Christianity is."
He said his dad welcomed the move. My dad said, 'Allah be with you.' My father understands that I am trying to bridge certain gaps and bring about peace."

But he has been shocked by the reaction from others. Sean, about to release his horror movie "Graystone," said, "I didn't realize I would be so vilified. It is almost like I am a criminal for having accepted Islam. I didn't realize Islamophobia was that deep. People have speculated that I have done this because I am from a spoiled family or that I am lost and trying to find myself. That is ridiculous. I don't care if I get criticized. If I can open up a debate about religion and create some understanding, then it is worth it."
[From Page Six]
When he says something like "I consider myself a Jewish Christian Muslim," Stone is pissing off more people than just Hollywood power players. That being said, I understand where he's coming from, and the context of his message of acceptance and the embrace of our similarities (rather than warring over our differences) is needed more and more in our modern society. I feel like so many people don't even understand that philosophically, Islam's roots are in the Judeo-Christian tradition, and Muslims trace their Biblical ancestry through the same lines as the Christians and the Jews.
And if all else fails, I will be allow myself to be converted personally by Muslim Liam Neeson. But don't mind me – I love my little sandalwood idols of Ganesha.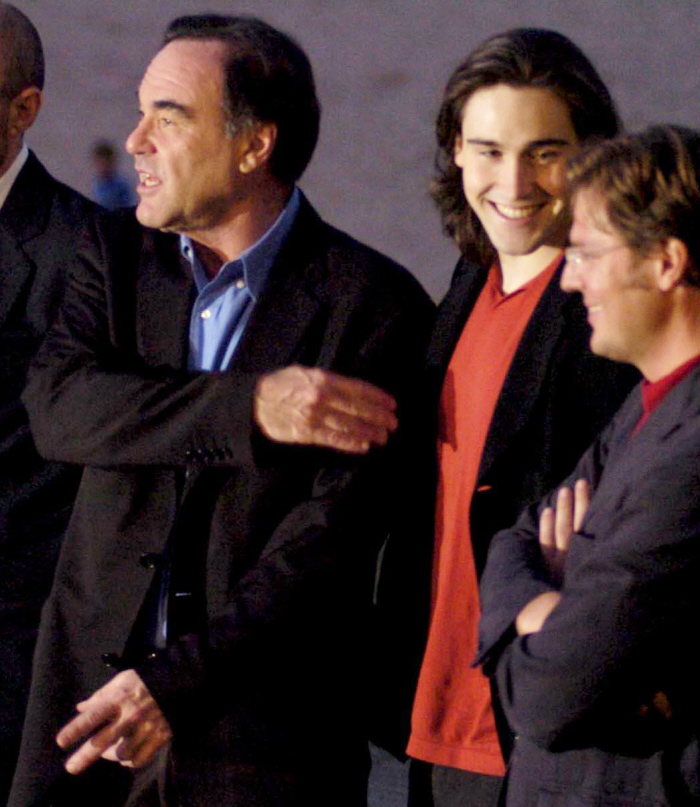 Photos courtesy of WENN.

Written by Kaiser

Posted in Religion, Sean Stone

- Who butchered the National Anthem? [D-Listed]
- Rob Lowe never ages [Lainey Gossip]
- What is Vanessa Hudgens wearing? [Go Fug Yourself]
- Summer guide to reality TV [Reality Tea]
- Game of Thrones recap [Pajiba]
- Tan Mom's music video [Buzzfeed]
- Amanda Knox is broke [Starcasm]
- Backstage at the Billboard Awards [Popsugar]
- Miley is still stuck in the 90s [Popoholic]
- Blind Items revealed: Adam Levine [CDAN]
- Hugh Hefner bought Crystal Harris a house [Celebslam]
- What happened to Aimee Teegarden? [The Blemish]
140 Responses to "Oliver Stone's son Sean converts to Islam, claims H'wood bias against Muslims"