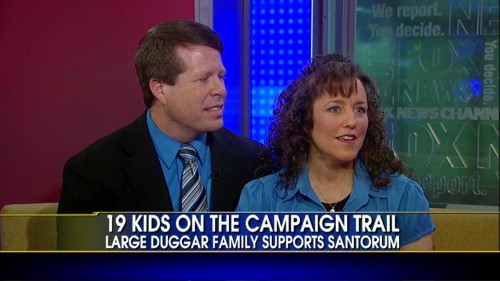 Yesterday we heard that Michelle Duggar was advising women to let their husbands tell them what to do in all matters and to never talk back to them or question their authori-tay. Here's a small sample of what she said, and you can re-read our previous story if you missed it. "Husbands are commanded to govern their wives; God works through a man's decisions… Ask your husband to define your responsibilities; Ask your husband to tell you when you have a resistant spirit; dispel a backbiting tongue by silence."
Michelle wants a man to tell her what to do in all matters, so it's not surprising that she and her husband are publicly endorsing a Presidential candidate who feels like he can do the same for the women of America. We've seen Michelle and Jim-Bob at events supporting Rick Santorum for President, and she told Radar Online why:
"We want a man that honors God to lead our nation," Michelle Duggar said about the man she is supporting for the Republican party nomination.

"We have been praying to the Lord that if you want the heart of the voters to turn to Rick Santorum then please do so," she said.

"We prayed that more people would take a look at him, and more people are getting behind him."

"He's a family values candidate with a proven track record. He honors life and stands up for what is right."
[From Radar Online]
It's easy to see why Santorum is the Duggars' choice, since he shares so many of the Duggars' values on important issues. Although Santorum has supported funding for contraception, he has spoken out against contraception among married couples. He's also against women working outside the home and is of course anti-abortion. Here are some quotes from Santorum on these three issues
On contraception: it's 'dangerous' even among married couples
Last year Santorum told the Christian blog Caffeinated Thoughts that as president he would warn the nation about "the dangers of contraception" and the permissive culture it encourages. "Many of Christian faith have said, `Well, that's OK. Contraception is OK,'" he said. "It's not OK. It's a license to do things in the sexual realm that is counter to how things are supposed to be. … If it's not for purposes of procreation, then you diminish this very special bond between men and women." – Huffington Post and Time.com

On women working outside the home
"Many women have told me, and surveys have shown, that they find it easier, more 'professionally' gratifying, and certainly more socially affirming, to work outside the home than to give up their careers to take care of their children."

This is a result, he wrote, of "radical feminism's misogynistic crusade to make working outside the home the only marker of social value and self-respect.'' – From Santorum's book It Takes a Family via Washington Post

On abortion: he would ban and criminalize it
I believe that any doctor that performs an abortion, I would advocate that any doctor that performs an abortion, should be criminally charged for doing so. – Daily Beast

Santorum does believe in abortion when it's medically necessary to save the life of the mother, although he does not make an exception for rape or incest.
See, he sounds just like the Duggars! No wonder they think he's the best person to be our next President. I'll pose a rhetorical question that comes to mind when I hear about the Duggars: what century are we living in?