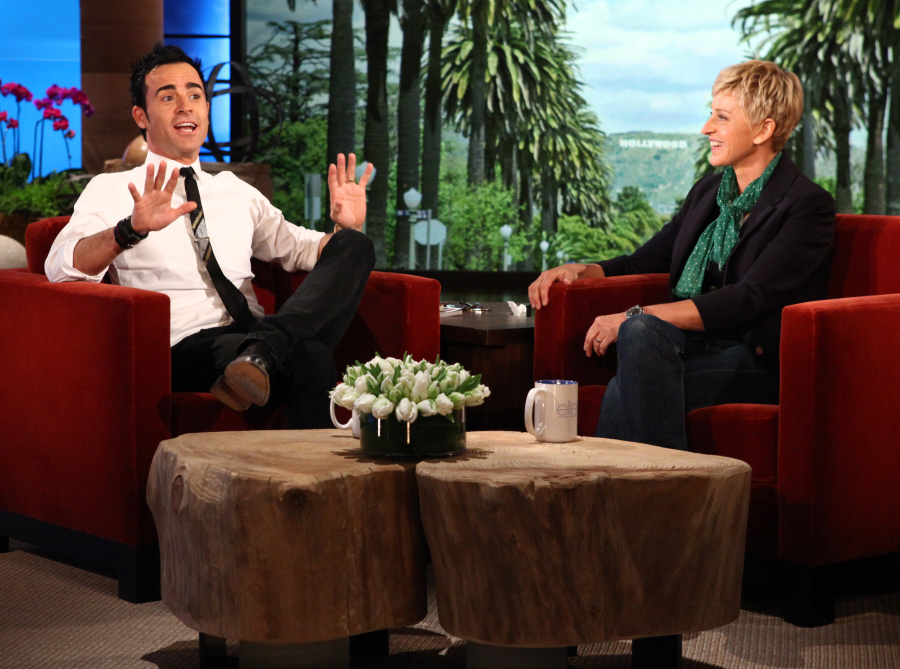 Justin Theroux, star of Jennifer Aniston's bedroom and Wanderlust (in that order), makes an appearance on today's Ellen DeGeneres show. Because come hell or high water, Justin Theroux is going to be super-famous right now. That's what he signed on for, and he's playing it better than any other Aniston boyfriend. Anyway, the clip that we were sent is Justin talking about how much his GIRLFRIEND loves it when he breakdances. Justin told Ellen:
"I have a very particular pair of shoes which I breakdance in. Actually when my girlfriend (Jennifer Aniston) I don't know if any of you guys know her. She just recently celebrated a birthday and ever since she saw "Zoolander" she's been obsessed with making me break dance. Literally obsessed with it. I break danced at a friends wedding. So she's been saying when are you going to break dance? That's when I sort of invented this thing. Well, I have shoes my "breaking shoes" and if I don't have my "breaking shoes" then I don't breakdance, sort of full stop. We got home that night . It was late and she literally came out with a pair shoes. My actual "breaking shoes."
[Via Ellen's transript]
Ellen and Justin then banter and Ellen's "surprises" Justin with his breaking shoes which Aniston has allegedly "sent over." And so Justin breakdances for the audience:
I give him credit for his commitment to the bit, honestly. It's refreshingly cute that he's not so full of himself – he'll break-dance on Ellen. Does this make you like him more?
Also – how have I never noticed how skinny this man is? The skinny jeans don't help, of course. He looks like he borrowed his girlfriend's skinny jeans, only I suspect Justin is even slimmer than Aniston. He has itty-bitty legs!!! When are the tabloids going to do a cover on Justin's "crazy diet and obvious eating disorder"? He also looks kind of short? How tall is Justin? Google says 5'10". Do you believe that? I'm thinking more like 5'8".
In addition to the Justin stuff, there's also a new interview with Aniston where she's discussing how she dropped trou all over the place during the filming of Wanderlust. This comes a day after reports that she had her nude scenes pulled out of respect to her boyfriend, who apparently thinks she's a virgin.
It's no surprise that Justin Theroux fell for Jennifer Aniston after shooting Wanderlust – especially given the amount of screen-time the actress goes sans clothes.

"Yeah, there was a lot of [nudity]," Aniston, 43, tells ET Canada. "Bottomless, topless. Yeah, there is. It's happening."

Aniston, who stars alongside Paul Rudd, says her nude scenes fit "the spirit of the movie," which follows the journey of a couple making the transition from living in Manhattan to a rural commune.

" Liberating' is a good word to use," she says of her character's journey in the buff. When it comes to dealing with the other actors taking off their clothes, she says she just "figured out how to throw on a pair of sunglasses."

There was another accessory she got used to seeing on-set: a prosthetic penis, used by actor Joe Lo Truglio. Her reaction to the, um, prop? "You're mesmerized," she says.

Rudd says he "was too busy looking at Joe Lo Truglio's penis" to notice any sparks between the Aniston and Theroux. The actress says it's "bizarre" seeing her character's relationship with her beau unfold in Wanderlust before the couple started dating last summer.

"I mean, at the time, we didn't think about it at all," she says. "Not until months and months afterward."
[From People]
Wait, now People Magazine claims that Aniston and Theroux started in the summer of 2011? When they were spotted together as early as February 2011, back when Justin had a girlfriend? I hope Justin and Jen still get lots and lots of questions about the timing. I hope there are tabloid covers devoted to the timing. I hope Heidi Bivens says something.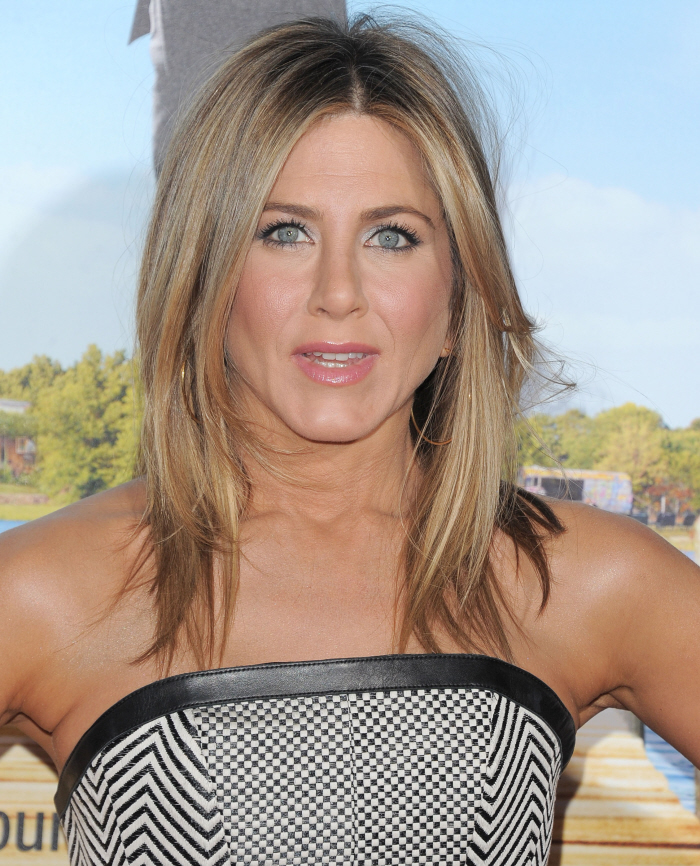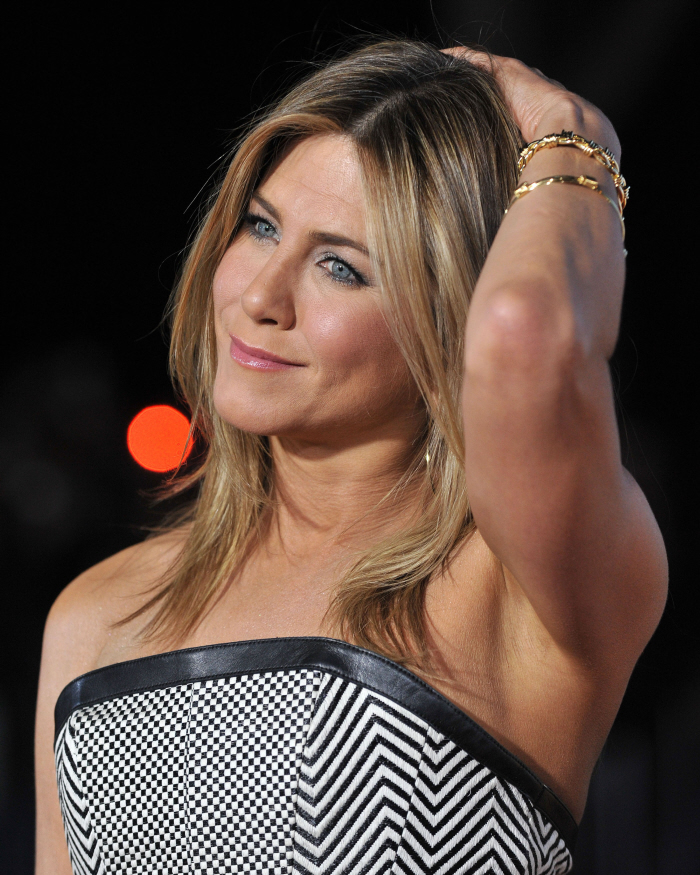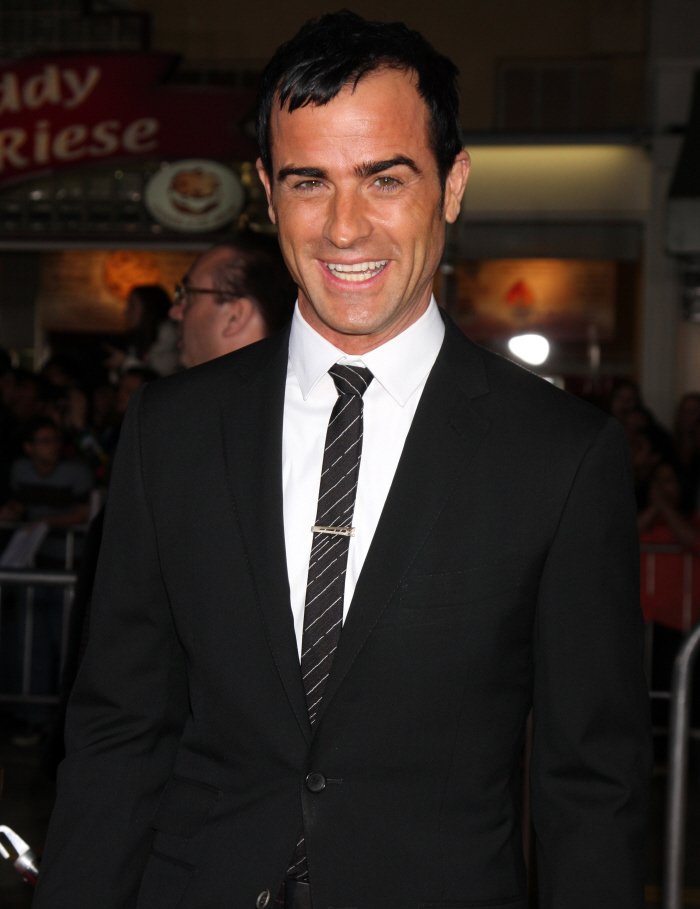 Photos courtesy of WENN.