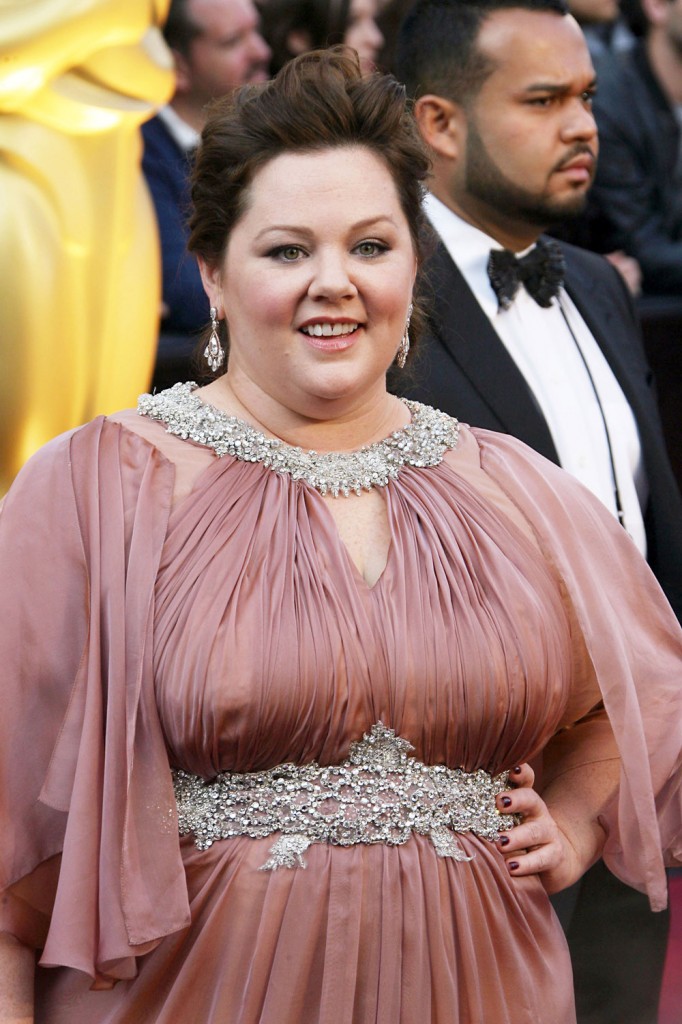 Except for Rose Byrne and Kristen Wiig, I didn't like the Bridesmaid's cast's dresses last night. I thought that Maya Rudolph and Melissa McCarthy were particularly ill dressed. But first let's not focus on that. Kaiser e-mailed me that Melissa McCarthy should have hosted last night, and I agree and add that the rest of the Bridesmaids cast could have played supporting roles. I'll be honest, I found last night interminable, and you know that I love to see the celebrities and gossip about them.
The Academy went too far on the "safe" side with the staid and predictable Billy Crystal, but it wasn't necessarily his fault. They need to make the show tighter, to move the secondary awards to another broadcast, and to have a more consistent message. I loved the rare segments featuring the celebrities talking about what movies and their careers meant to them, that was touching, but they were few and far between. There were several bizarre filler videos (starring Crystal, natch) that didn't make sense and weren't on the "old Hollywood" (meh) message that they were going for. The intro video was like a high production "Sit Back and Relax, Enjoy The Show!" video that you get at budget theater chains. (Crystal riding in on a big film reel? That's like the industry's equivalent of a spinning globe.) Billy made some mildly funny jokes about the economy and the "your name here/Chapter 11″ Kodak theater, but my eyes were glassing over almost the entire three hours. Plus the secondary video feeds available from the Oscar website and iPad app were similarly uninteresting, I checked them a few times. Ok, I'm obviously still grumpy that I had to sit through all that and mess up my whole sleep schedule, so I'll work on being less annoyed. ha!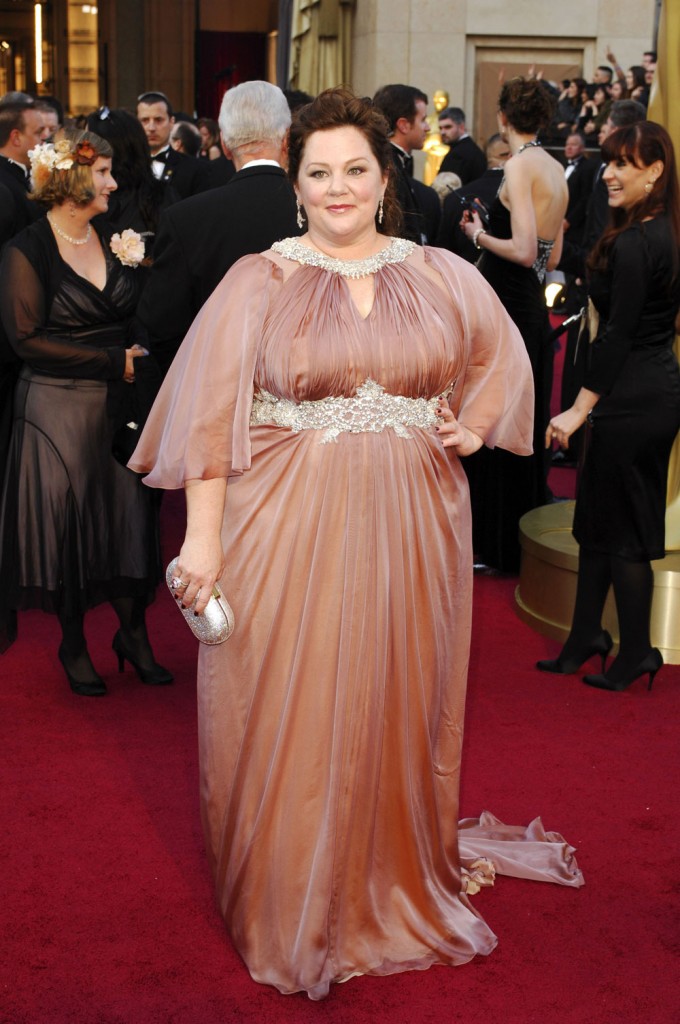 I'll say one more thing – which is what I've said since I saw it. The best recent year was 2009 when Hugh Jackman hosted and they designed a more intimate theater with goofy musical numbers. They need to stick with that formula. /rant.
So the Bridesmaids cast introduced a few awards last night, and they were funnier and much more clever than Crystal could ever be. Kristen Wiig and Maya Rudolph went on an extended riff on p3nis size when introducing the winner for Best Short Film. We needed more jokes like this last night. The Academy gave us a whole minute to embed, below, which I guess they consider generous even with a half minute commercial preceding it.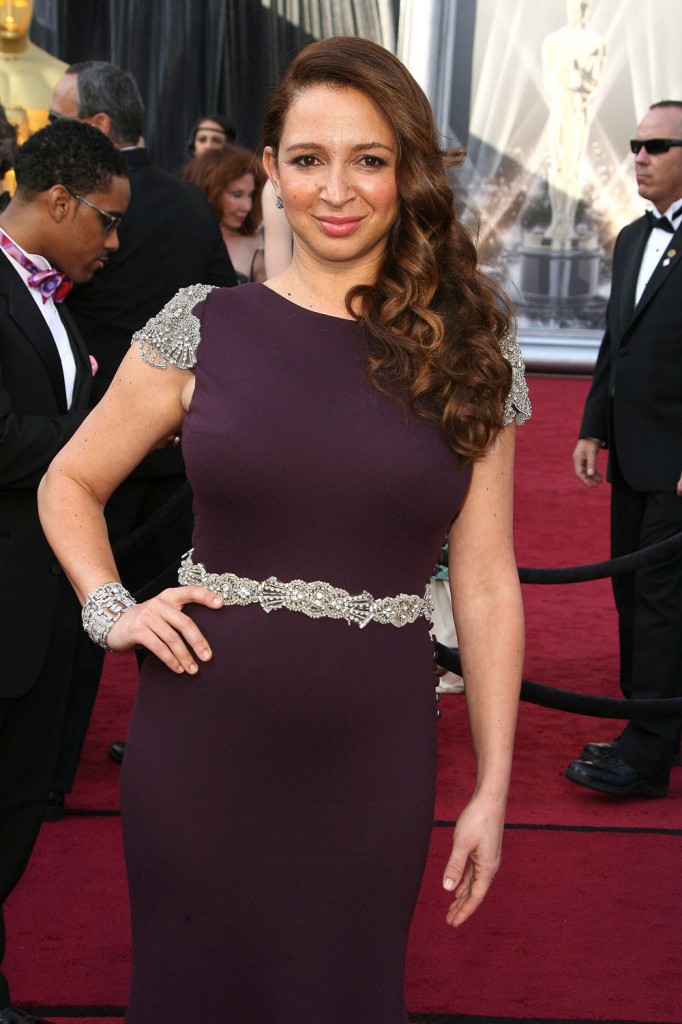 Later, when Rose Byrne and Melissa McCarthy were presenting, someone from the audience shouted "Scorsese!" and they took swigs from mini vodka bottles! This was a joke started at the SAGs with their Martin Scorsese drinking game, so obviously the producers of the Oscars took notice and accommodated it again. (Unless Wiig and co. had to remind them and ask permission to do the bit again, which is also possible.) So why, for the love of God, did no one consider the Bridesmaids casts as hosts this year?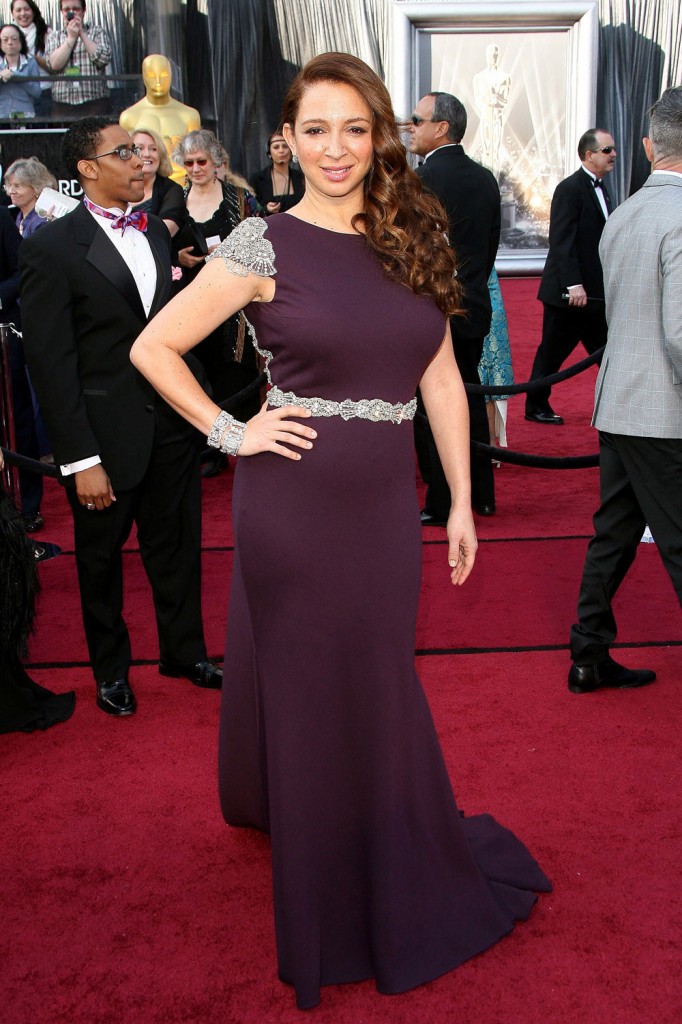 Ok, on to the fashion. Maya Rudolph's dress was just bad. The fit was off, the style was gaudy and I found it blah. I noticed while watching Tim Gunn's that when he was interviewing women whose dresses he disliked he never asked them the designer name. This happened with both J.Lo and Maya Rudolph. He had a pat question asking everyone about what their fashion secret was, and Maya said it was "So much shapewear, I could support the shapewear business." That was funny and honest. She was in a custom Johanna Johnson gown and the back was actually prettier than the front. (Not that it would have worked either way.) The color was nice though.
Wendi McLendon-Covey was in Semi-Couture (I think that's what she said!). It's not a bad dress, but the color and the style are way too "princess Barbie."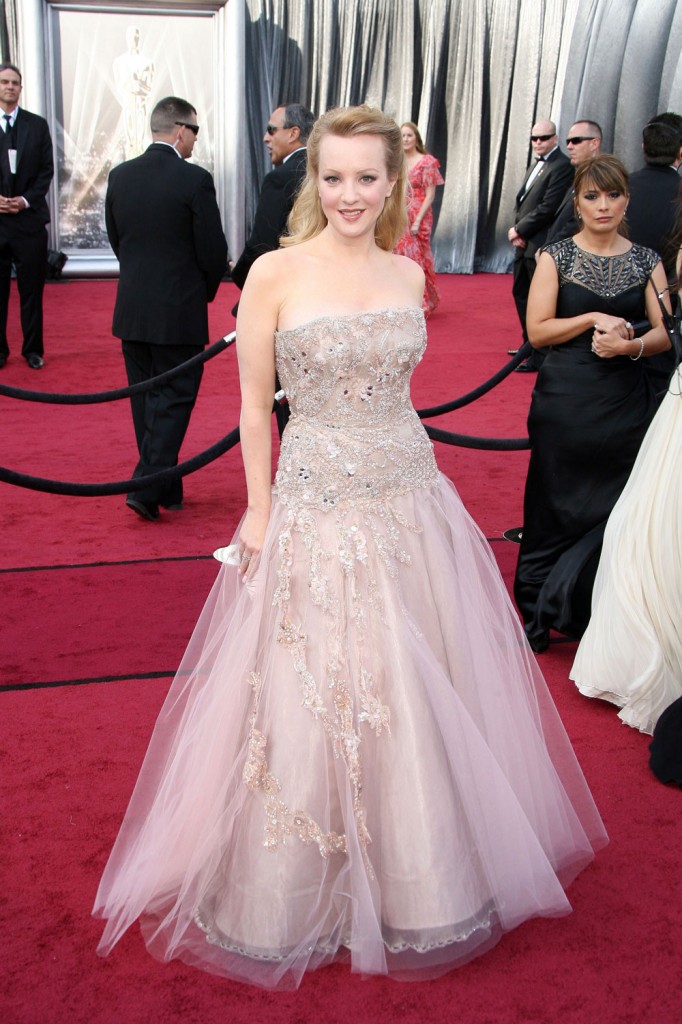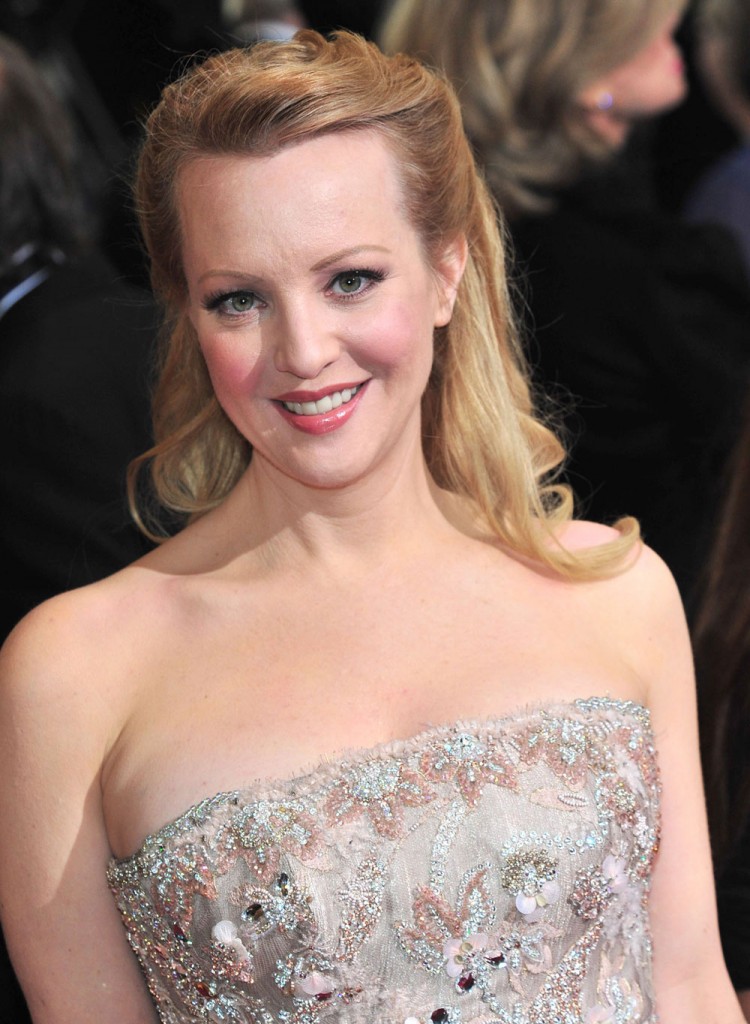 Ellie Kemper was in sequin formfitting Armani Prive with Lorraine Schwartz jewels. She told Ryan Secrest "I love what I'm wearing" and described the color as "glittery rust." It's a little too matchy with her hair for me, but it's a stunning gown overall.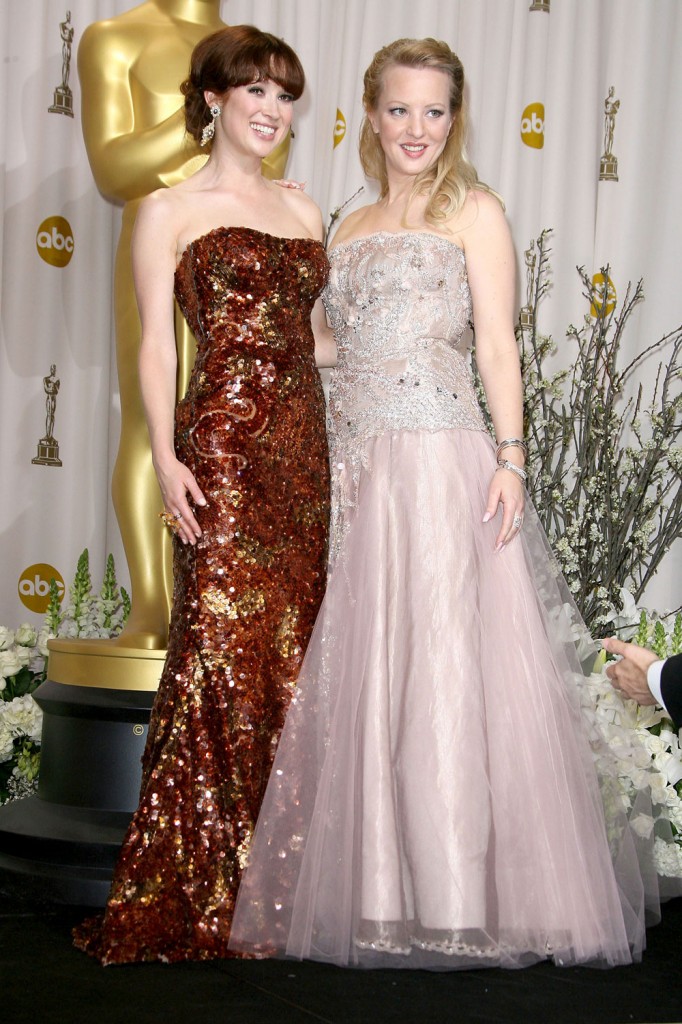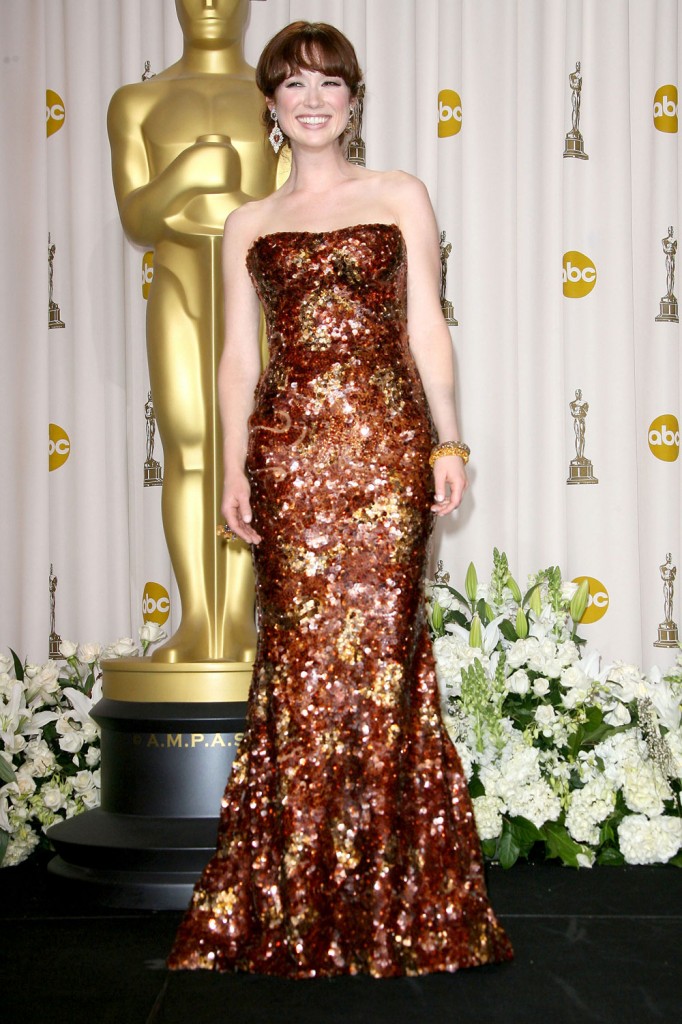 Melissa McCarthy really did not bring it last night. She had on custom Marina Rinaldi. She explained to Seacrest that Brian Atwood made her handbag and shoes, and wrote a message to her on the shoes! She said she's been friends with Atwood since high school. I thought that story was really sweet. This dress is not flattering in cut and is doing something weird in the boob area. It looks like a double-boob sling. Plus it's just not a pretty dress. Now if McCarthy had hosted, she would have had a team of stylists and a handful of gorgeous dresses to wear last night. Oh that would have been something.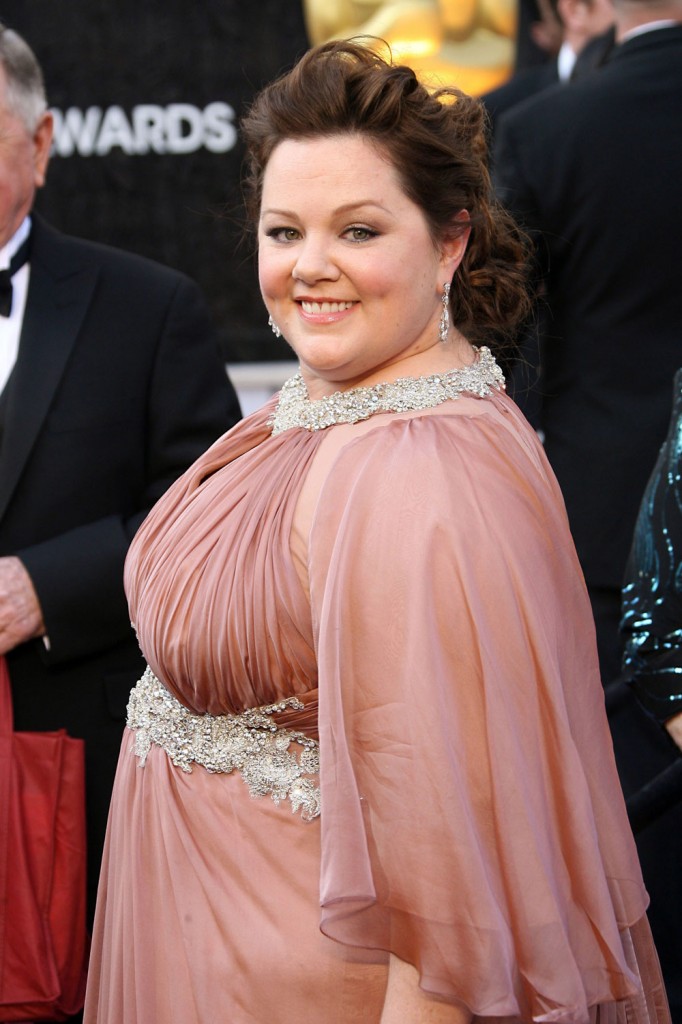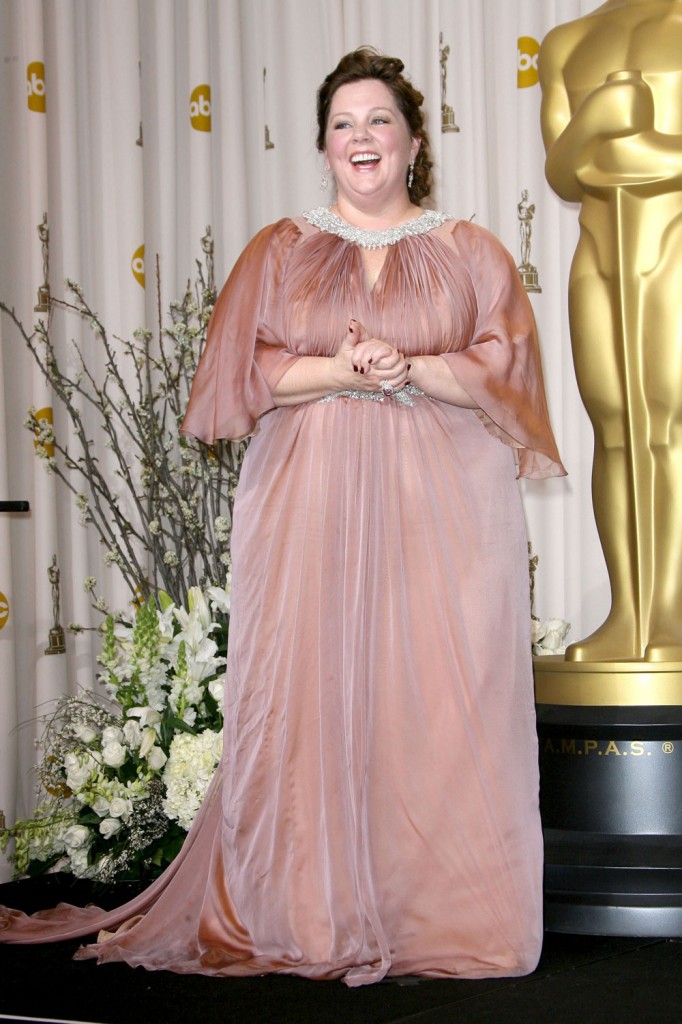 Photo credit: WENN.com