Did Katy Perry diss Beyonce and Shakira while talking up a Rihanna collaboration?
A few weeks ago Katy Perry was prancing around Paris Fashion Week and got herself linked up (gossip-wise) with the highest-paid male male model in the world, Baptiste Giabiconi. At the time, many of you found the idea quite amusing because Baptiste is widely known as the muse to Karl Lagerfeld, which may or may not carry certain other implications. Further, the photos of Baptiste and Katy sitting in the front row of the Chanel show seemed to indicate that these two were not interested in each other at all.
Well Katy's been hanging out in London over the past few days, and throughout this post, I've included photos of the various "wacky" outfits that she's worn around town. But more important to our current interests is the fact that (according to the Fame/Flynet photo agency) she and Baptiste arrived together in a Eurostar in London on Monday. So are they just feeding the rumors, or are they truly seeing each other? Who knows. Whatever the case, I think Katy has moved towards using a blue wig instead of touching up her own roots.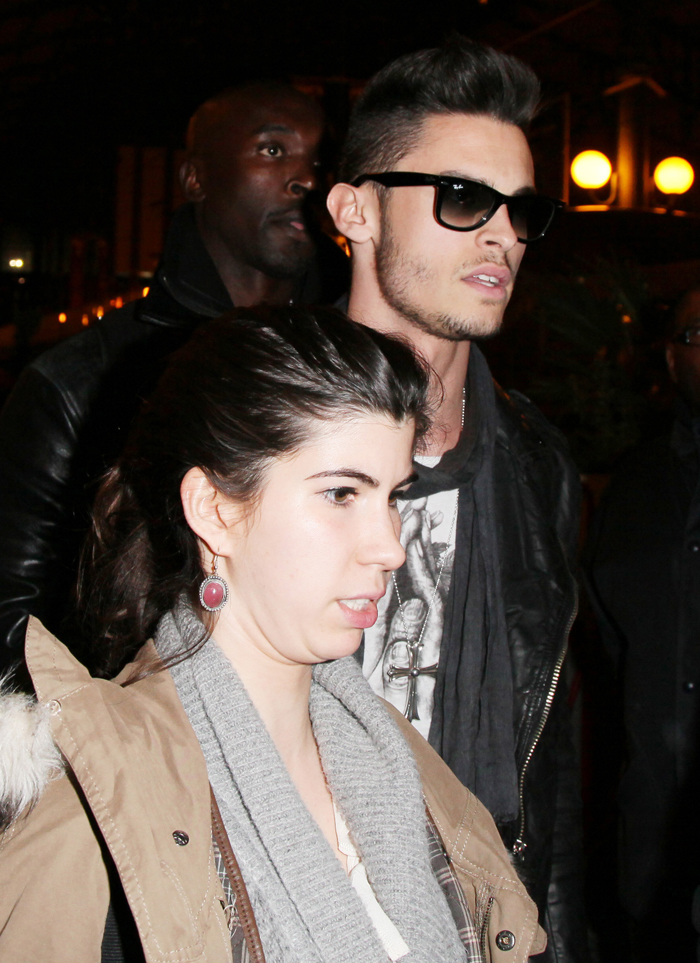 In the meantime, here's some more Katy-oriented drama. The blue-haired one has been accused of dissing Beyonce and Shakira by telling BBC Radio 1 that their song, "Beautiful Liar," is essentially the exact opposite of what she wants to record during her rumored future collaboration with Rihanna. Here's the dress that Katy wore during the interview as well as her slightly sanctimonious words that have launched a mini-controversy: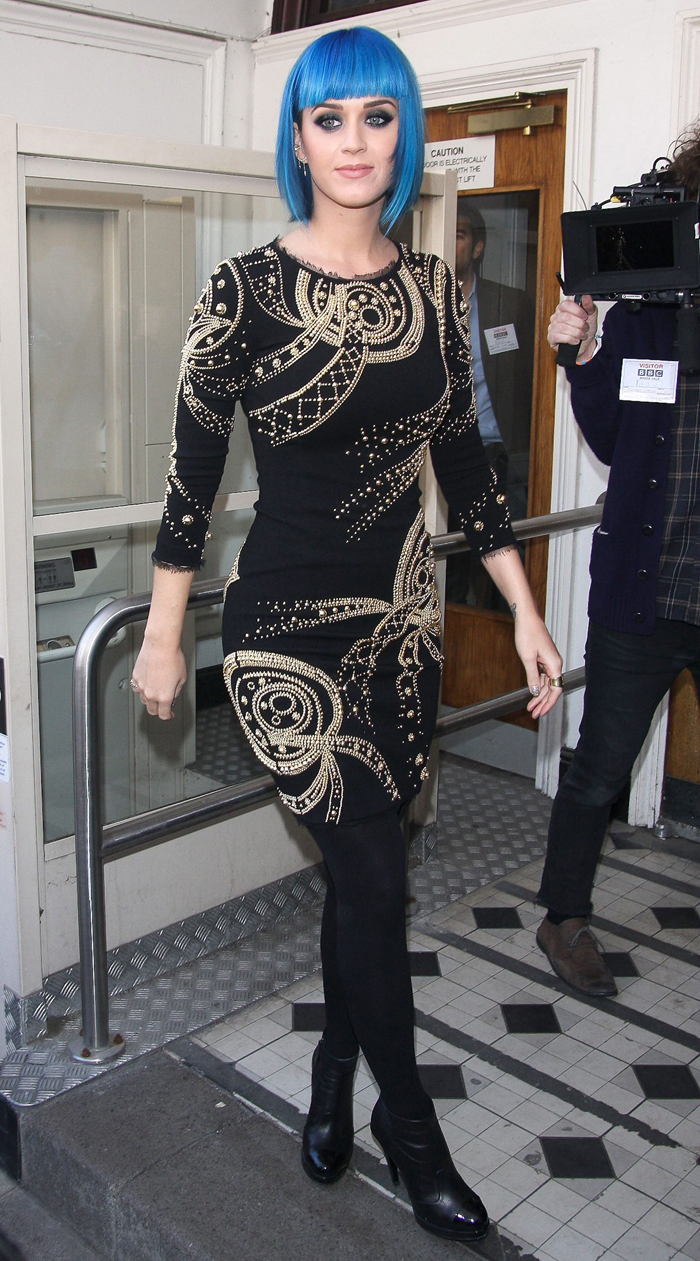 Diva dis!

Katy Perry made a subtle dig at fellow pop superstar Beyonce during a recent interview with BBC Radio 1 (via PopDust).

Perry, 27, is in the midst of planning a duet with her BFF Rihanna. "We've collaborated on a lot of things, but just not songs yet," the "Part of Me" singer said. "It's one of those things that's got so much build up that we have to deliver."

And Perry she knows just what she doesn't want the song to sound like. "I want it to be like that Eurythmics and Aretha Franklin song 'Sisters Are Doin' It for Themselves,'" she said of a classic female empowerment tune from 1985. "Not 'Beautiful Liar.'"

"Beautiful Liar" would be Beyonce's smash 2007 collaboration with Shakira, which hit number one on the Billboard Hot 100.

Perry added of her not-yet-record Rihanna ditty: "How disappointed would you be if that song came out and it's no good? Sometimes you have to wait for greatness."
[From Us Magazine]
Miss Katy sounds so sure of herself, doesn't she? Kaiser thinks she's completely "full of herself," which is certainly the case, but I don't know why we'd expect otherwise from a spoiled pop princess. Yet this may not be the diss that Us is making it out to be. If I understand the meaning of "Beautiful Liar" correctly (and I don't claim to know that much about pop music), the lyrics reference two women who (unbeknownst to each other) are dating the same man, and when they discover this fact, both women decide he's not worth it and dump his sorry ass. So all Katy is really saying is that she'd prefer to forgo that kind of backstory and just crank out a more straightforward female empowerment tune instead. Of course, Katy and Rihanna will probably screw it up, but we'll have to wait and see.
As far as the "controversy" with Katy's statement is concerned, it really doesn't exist at all. Honestly, the only surprise in this story is that Katy chose to mention Beyonce's collaboration with Shakira instead of taking aim at Beyonce and Lady Gaga's "Telephone." Now that would've been a diss.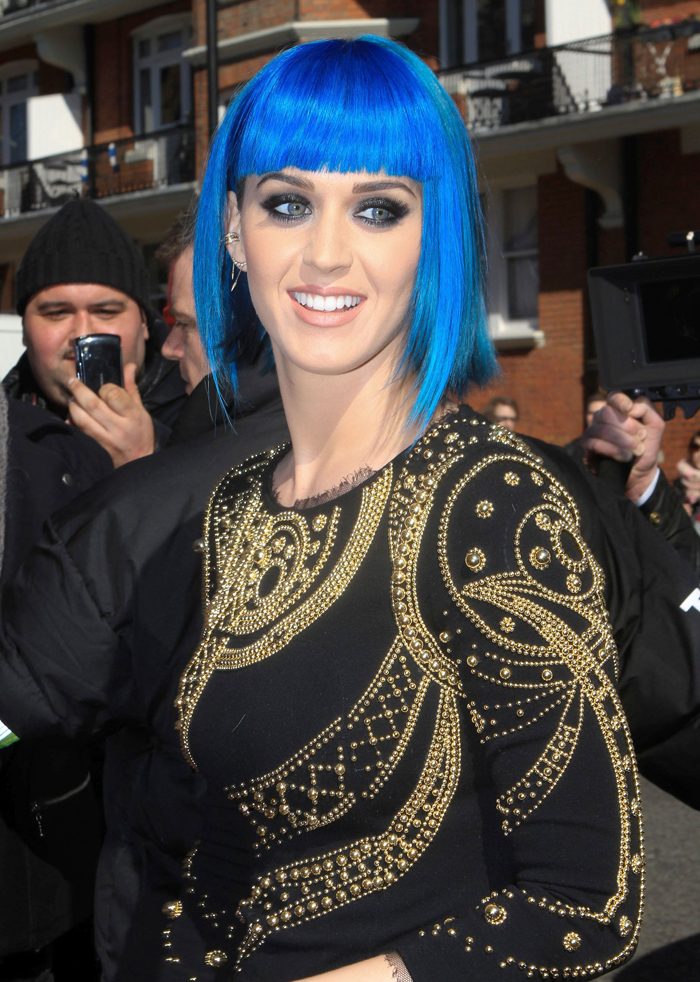 Here's Katy with a softer-looking hairdo that doesn't seem nearly as wiggy as in the above photos. I'm thinking this is her more "natural" blue hair, which doesn't look that bad in these pin curls at all.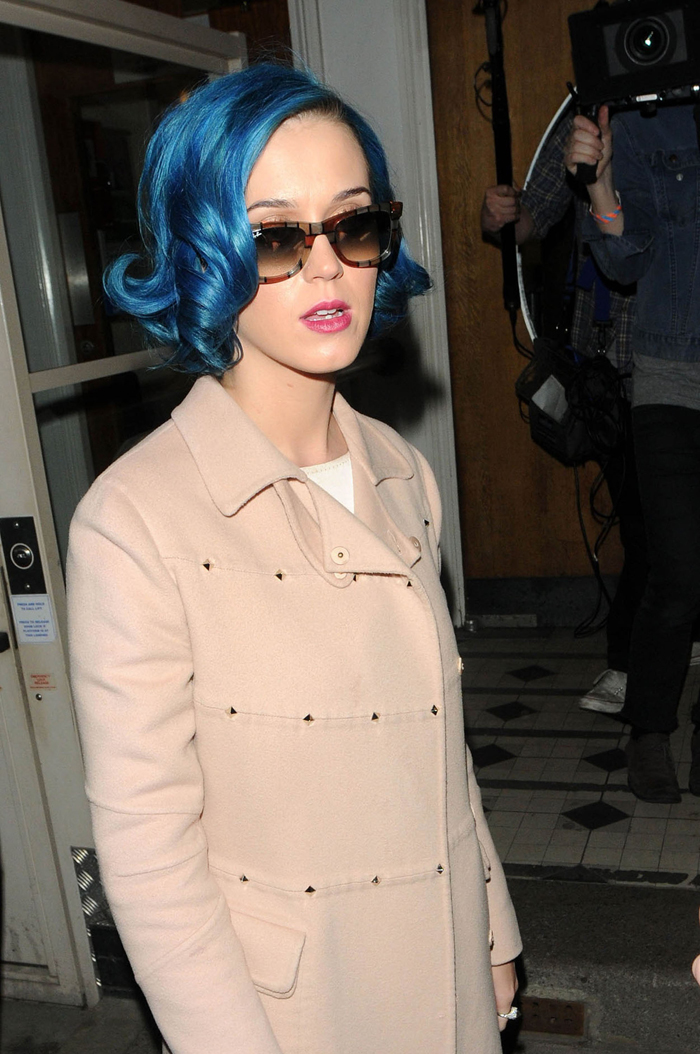 Photos courtesy of Fame/Flynet
Written by Bedhead

Posted in Baptiste Giabiconi, Beyonce, Katy Perry, Rihanna, Shakira

- Zach Galifianakis is awesome [Buzzfeed]
- Prince at the Billboard Music Awards [D-Listed]
- Bieber's Billboard look [Go Fug Yourself]
- Married to Medicine recap [Reality Tea]
- Celebrity first marriages [Pajiba]
- The last Mad Men baffled a lot of people [Lainey]
- Karolina Kurkova's crazy hot dress [Moe Jackson]
- Jennifer Garner on set [Popsugar]
- Kitten vs. Lizard [CDAN]
- Doetzen Kroes' great butt [Celebslam]
- Shameless star Jeremy Allen White [OMG Blog]
- RIP Ray Manzarek [Bossip]
54 Responses to "Did Katy Perry diss Beyonce and Shakira while talking up a Rihanna collaboration?"