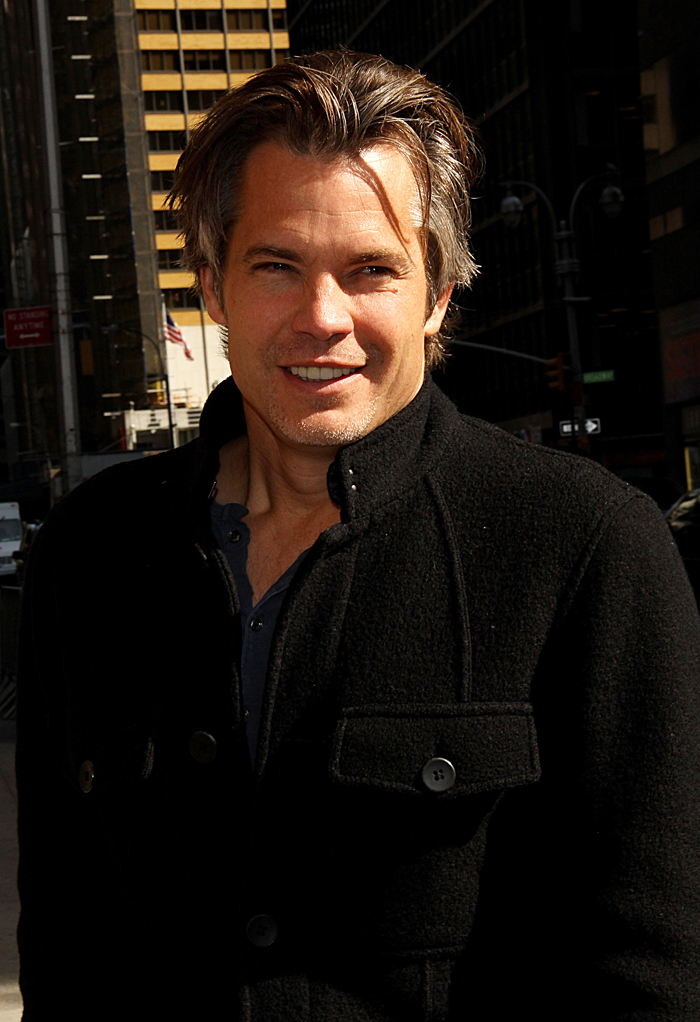 It's always a very special day for me when we get new photos of Timothy Olyphant. Of course, these particular pictures don't have the greatest lighting, for they were taken close to dusk amongst the shadows of midtown Manhattan yesterday while Timothy was outside the Ed Sullivan theater for an appearance on "The Late Show with David Letterman." Still, we have Olyphant, and there are very few things I enjoy more on this planet than just watching this man walk: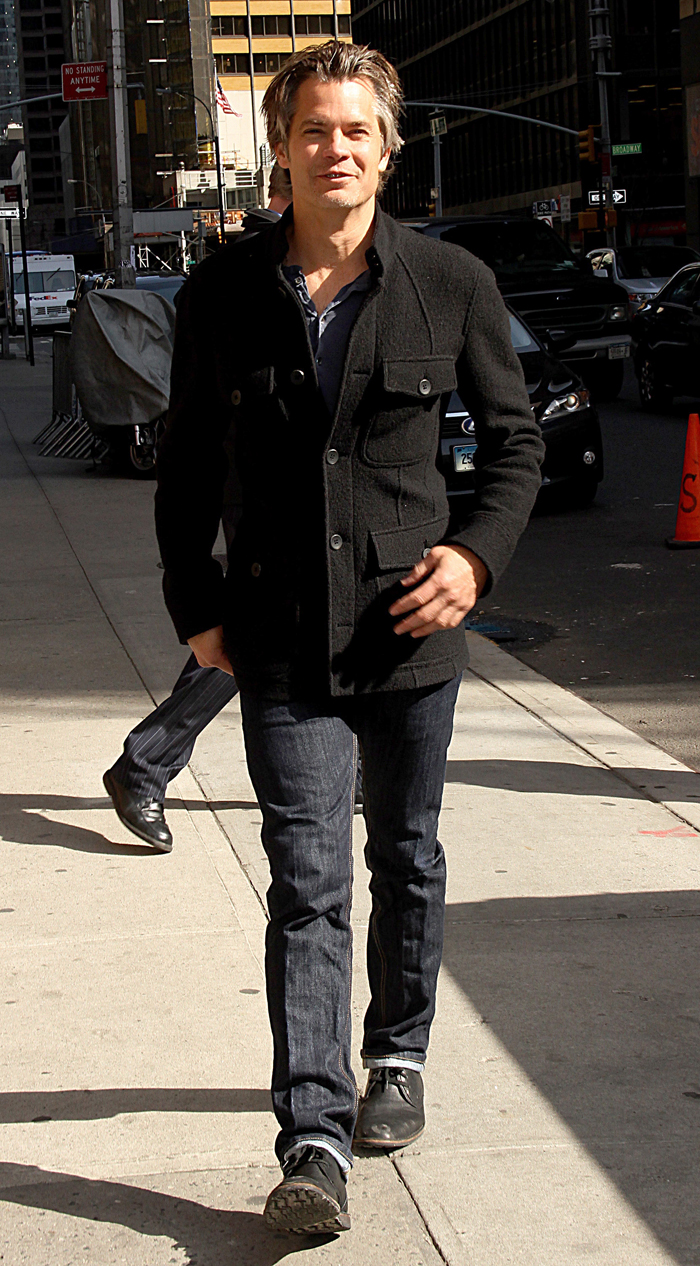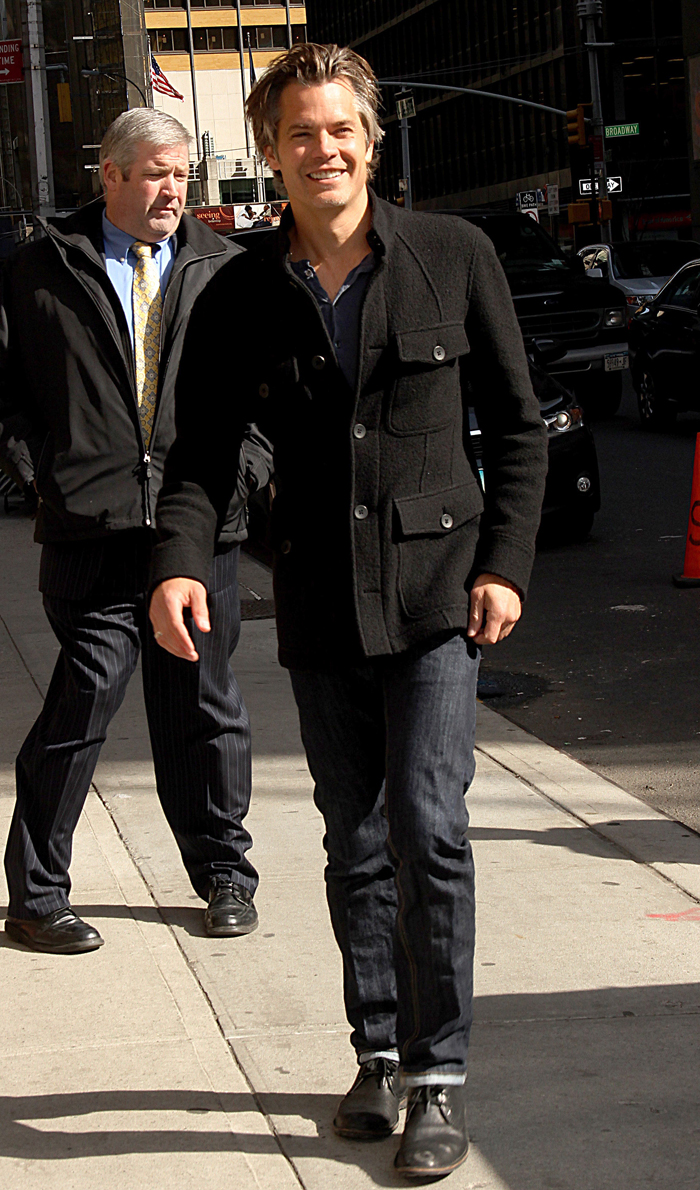 There's an interview too, of course! So we get to watch and hear Olyphant speak in his typical animated fashion, which is very different than the "strong words, soft voice" method he uses to portray the Raylan Givens character on FX's "Justified." Oly usually talks a lot during interviews about his family and has a very deadpan sense of humor that doesn't always translate as intended, such as that time he joked about dumping his wife if he'd won the Emmy. In his defense, that really was her idea, and their marriage has endured for over two decades, so I find it difficult to believe that he should be judged poorly for such an inside joke. About a year ago, Olyphant also had a very cute Ellen interview where he talked about his pets, especially two Shiloh Shepherds that he calls "Ah-ah!" and "NO." Last night with Letterman, Olyphant dished on how his 12-year-old daughter (he's got two other children, aged 8 and 10, with wife Alexis) doesn't think he's a very cool guy at all. Olyphant (and his fans) would beg to differ:
On his 10-year-old son: "The boy's in the middle. It's tough, you know. I keep telling him, I say, 'Buddy, listen. In a couple of years, you're going to love your older sister's friends. And then a couple years after that, then you're gonna love your younger sister's friends. It means nothing to him right now."

On his 12-year-old daughter: "Here's the problem. When she was younger, we used to argue, and I was cool with that. Now when she gets mad at me, she just stares at me. And she doesn't say it, she's a good kid, but I know she's thinking, 'You're an a–hole.' And she just stares at me like that! And I don't say it, but what I'm thinking is 'I'm gonna Google myself just to show her that I'm cool. Look, I don't know when I became 'that guy.' I'm the cool guy. I feel like I'm wanting to tell the 12-year-old, 'No, no no. I'm not that guy.' "
I just love this guy. He's very grounded and has been puttering around Hollywood since the mid 1990s, so it's nice to see him gain some much deserved mainstream success. Of course, that also destroys my fantasies of keeping him all to myself, but whatever. I can deal if it means seeing more Olyphant. Here are some closeups. He looks so good going gracefully grey at the temples, right?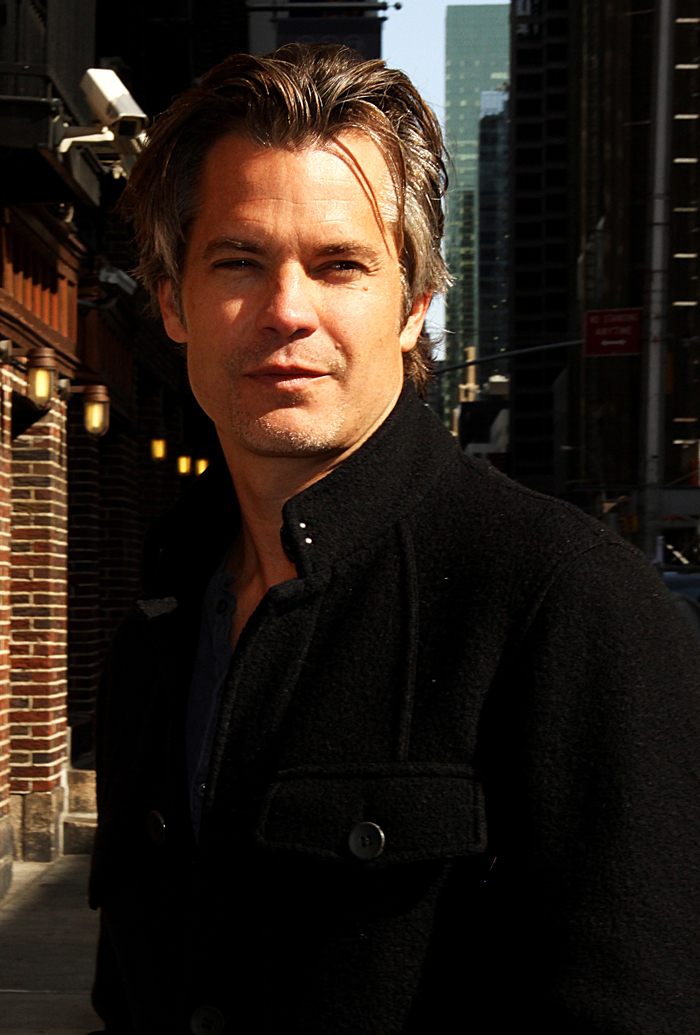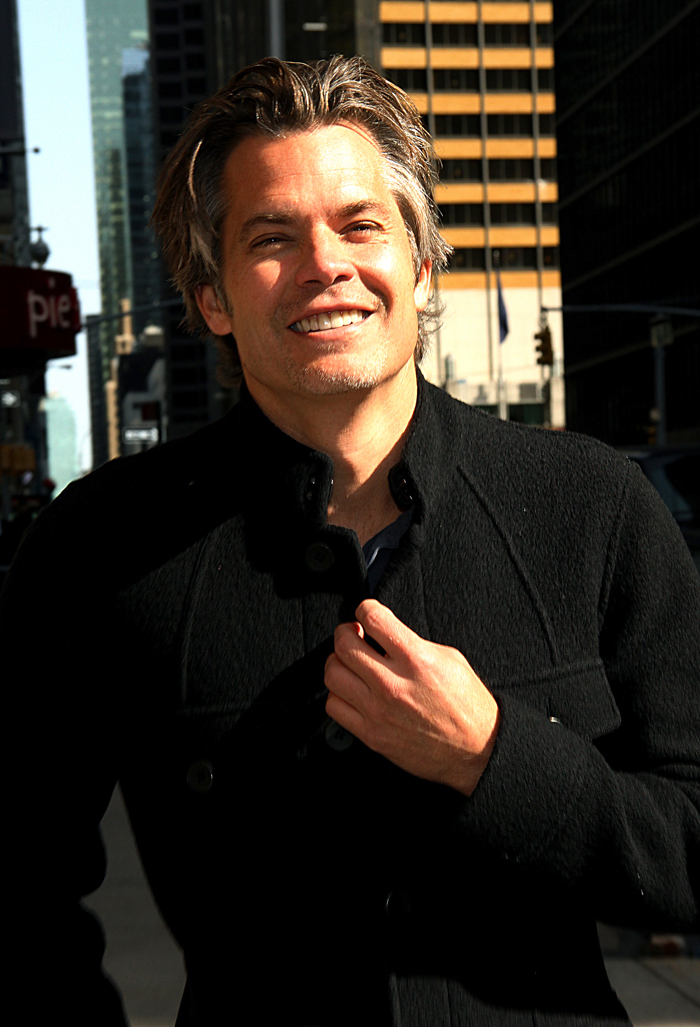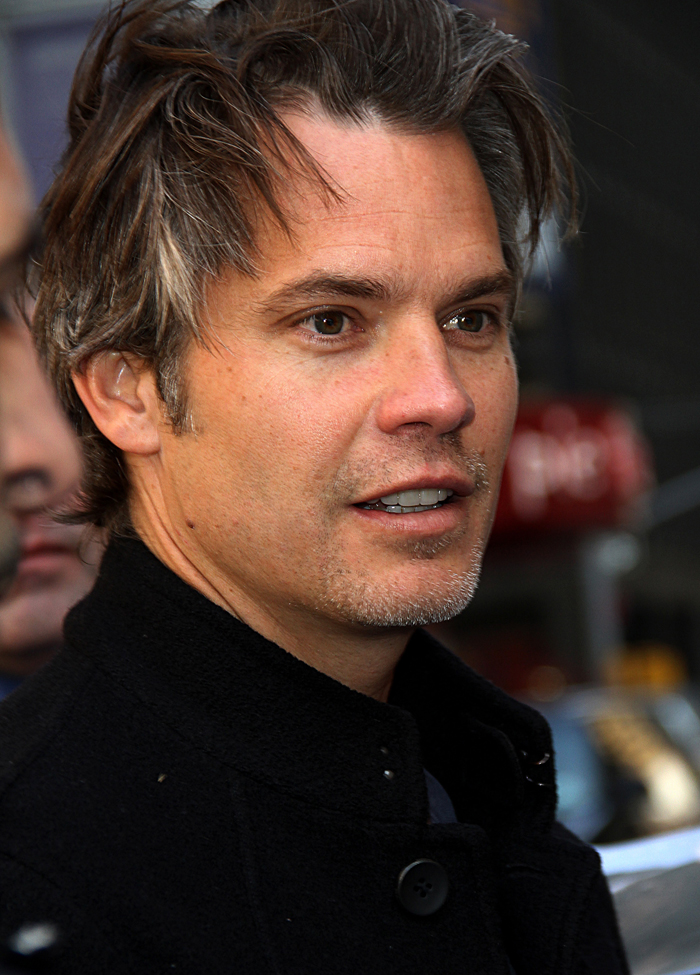 Photos courtesy of WENN