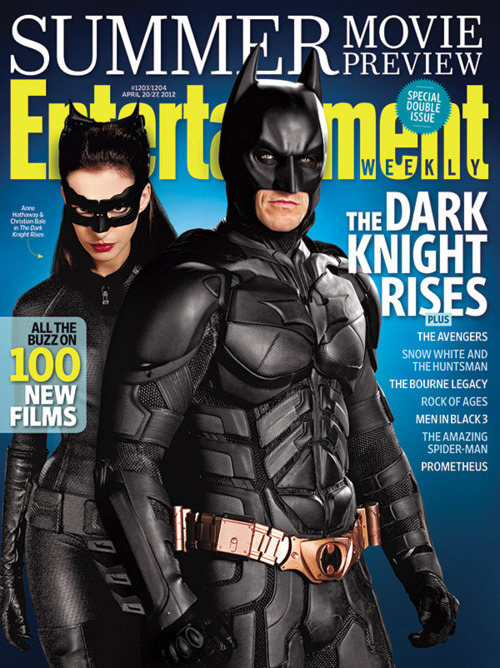 I know a lot of people are worried about The Dark Knight Rises for various reasons. One of the reasons seems to be Tom Hardy's mouthpiece thing, and how it seems like the audience might not be able to understand a damn thing he says. But most of the angst and worry is focused on poor Anne Hathaway and whether or not she'll be able to pull off the Catwoman/Selena Kyle role. Honestly, though, I'm looking forward to it. I think she'll be great. I think her Catwoman will probably be angrier and more damaged than the "kittenish" (ha), vampy Catwoman portrayals we're used to. The Dark Knight Rises comes out July 18 – which feels like a long way away, especially considering that Prometheus and Snow White and the Huntsman are being released in early June (Yaaaaaaaaaaaay!). But Christopher Nolan is so good at releasing bits and pieces of his films to whet the audience's appetite. So Catwoman and Batman take the cover of the new issue of EW, and here are some interview excerpts:
Christopher Nolan on Bane: Bane is played by Inception alum Tom Hardy. Bane is a cunning, hulking terrorist with a menacing respirator-mask and a small army bent on sacking Gotham City. "He represents formidable physical strength, combined with absolute evil of intention," says Nolan.

Nolan on Bane's mouthpiece thing: Hardy's Bane has another defining characteristic that perhaps you've heard about, or perhaps have heard and didn't understand: a curiously accented voice that's further muffled by the rogue's high-tech muzzle. "It's a risk, because we could be laughed at — or it could be very fresh and exciting," says Hardy, adding that the voice he developed was influenced by many factors, including a desire to honor the comic book character's brains and Caribbean heritage. "The audience mustn't be too concerned about the mumbly voice," says Hardy. "As the film progresses, I think you'll be able to tune to its setting."

Nolan on Catwoman: Nolan's take on the character is no campy sexpot or frazzled ghoul but a shifty cipher, calloused survivor, and world-class criminal. Says Nolan, "She has a very strong way of protecting herself and those she cares about, which implies an underlying darkness." Hathaway says she prepared for the role by reading the comics and studying the moves of Hedy Lamarr and Jean Harlow, the two screen legends that inspired the original conception of the comic book villainess.

Anne Hathaway on her transformation: The actress also found herself a trainer. "I had to physically transform," says Hathaway, calling from London, where she's currently shooting Les Misérables with Hugh Jackman and Russell Crowe. "Chris sat me down at the beginning and said, 'Joseph Gordon-Levitt did all of his own fighting in Inception. That one zero-gravity fight? He trained for two months.' I basically left his office and went to the gym and just came out about five minutes ago."
[From Entertainment Weekly]
OK, I'll admit it – that got me a little excited. I'm so bad with anticipation though. When I find myself interesting in something, I go crazy if I can't have it right now. I'm currently being driven crazy because I can't see Prometheus RIGHT NOW, so I'll have to wait to anticipate The Dark Knight Rises until… oh, mid-June. I'll pencil it now.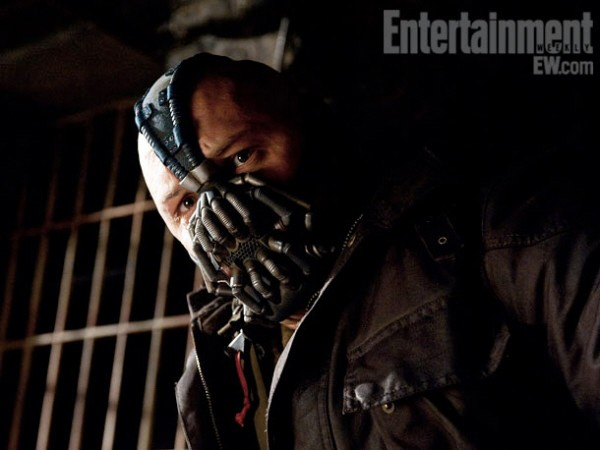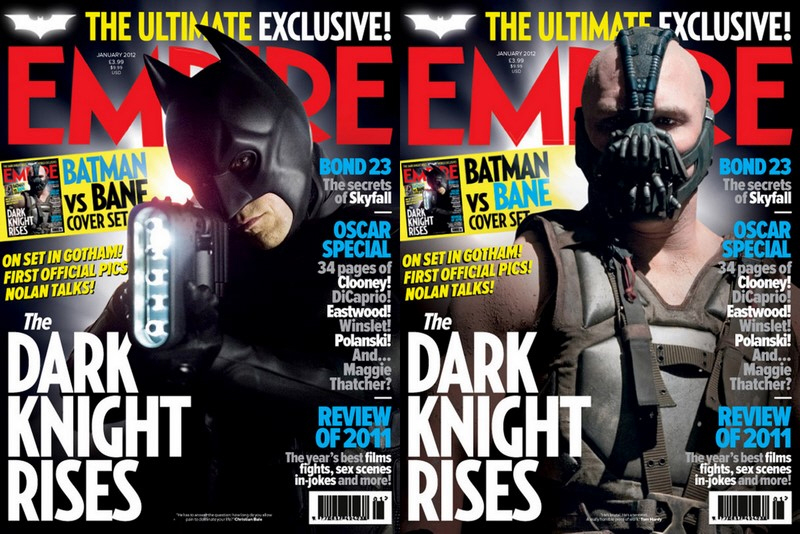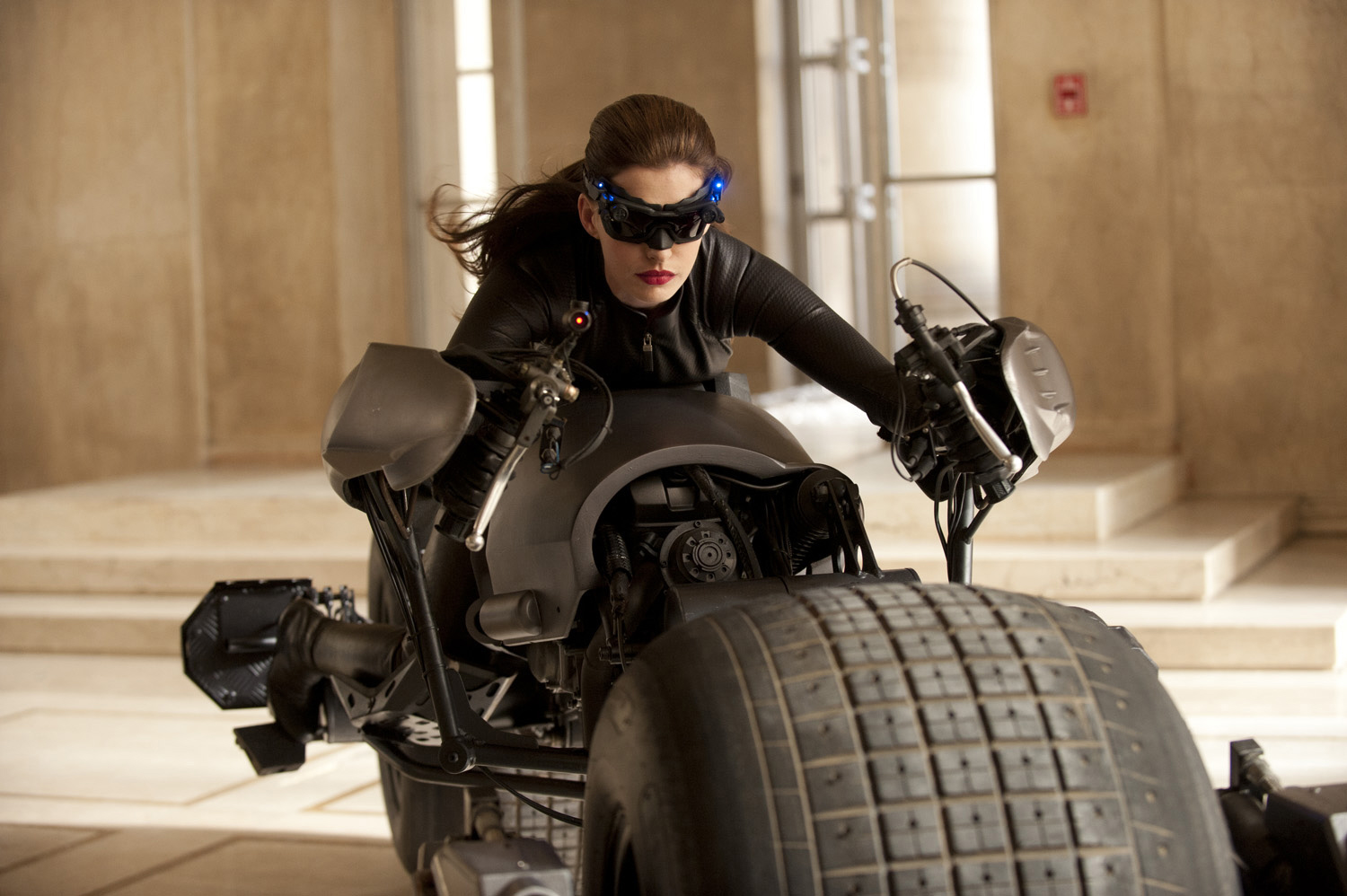 Photos courtesy of Entertainment Weekly, Empire.