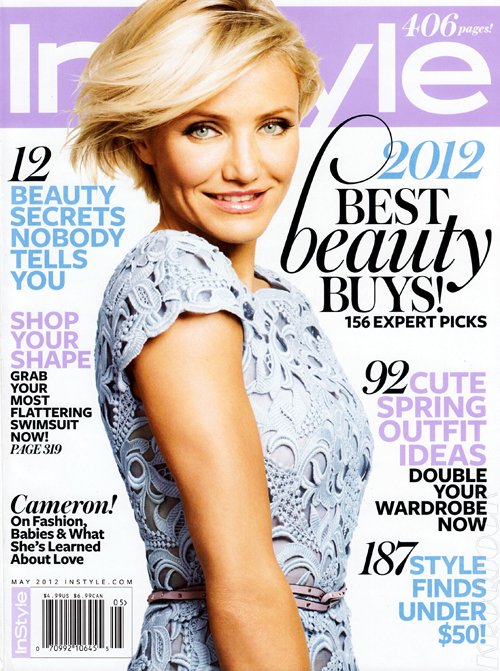 Cameron Diaz covers the May issue of InStyle to promote her horrific looking What to Expect When You're Expecting movie, which will probably do well simply because everyone who's ever had a baby has read that book, and surely at least several million of them will be interested enough to disregard the trailer and catch a matinee. So once again, a crappy movie will do well, but at least it's a crappy movie geared towards women, which balances out the fact that countless crappy movies geared towards men do well all the time at the box office. (So there.) The InStyle photoshoot is rather undershelming even though Cami's figure does look rather striking in this green dress. Here are some interview excerpts as well: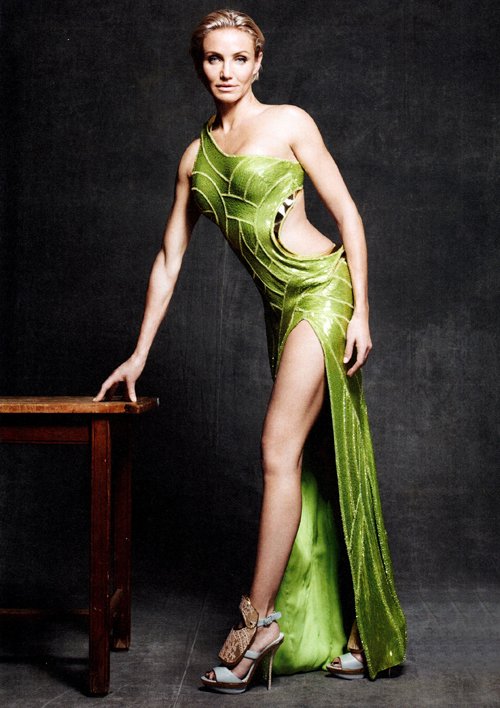 On fashion: "Couture really is an art form. I'm not trying to fit into anyone's box about how I should be. I just fit in my own box."

On her love life: "I would never have guessed that I would end up dating any of the guys I've dated–never! There's no through-line between them. But I love love, and love comes from many different places. When I was going through a bit of a heartbreak a little while ago, I said to a friend, 'Wow, this really hurts!' And he said to me, 'That just shows you what your capacity for loving is.' I would rather have my heart broken a thousand times than never to love at all. I have so much love to give–I'm not empty of love, I'm full of love."

On life: "I'm living my life as a journey. My quest is to make it better every year."

On friends: "Good friendship is basic: Be good to one another, be thoughtful, enrich one another's lives. I learn so much from my girlfriends, and I love it."

On movies: "What I love about movies is how many people they can reach. I don't make a movie because I think, This is something I want to say. I just want people to laugh, to cry, to feel."

Will she have kids? "Society definitely puts pressure on women to make them think their lives should go a certain way. I've never said I don't want children–I just haven't had children yet. I don't know what's going to happen in my life!"
[From InStyle]
So does anyone have ideas on who broke Cami's heart? I'm thinking it simply has to be A-Rod, especially since she went to all the trouble to get those bolt-ons he always wanted. Man, I'd be pissed if I got bolt-ons to please a dude only to get dumped. What a douche, that A-Rod.
On the topic of having children, I think Cami dodged that bullet well. While I generally have always figured that she's a very free spirit and probably will never settle down and spawn a family of her own, she's walking a very fine line while promoting a movie about pregnancy. While it would've been nice to see her pull a Zooey Deschanel and outright admit that she doesn't plan on having kids, I can see why Cameron would decide not to take that verbal path while pimping this particular film. After all, she plays the role of a very pregnant woman, and the last thing the studio wants is for a lead actress to alienate a prospective audience. So Cami gets a pass here … even though we all know she's full of crap with that answer.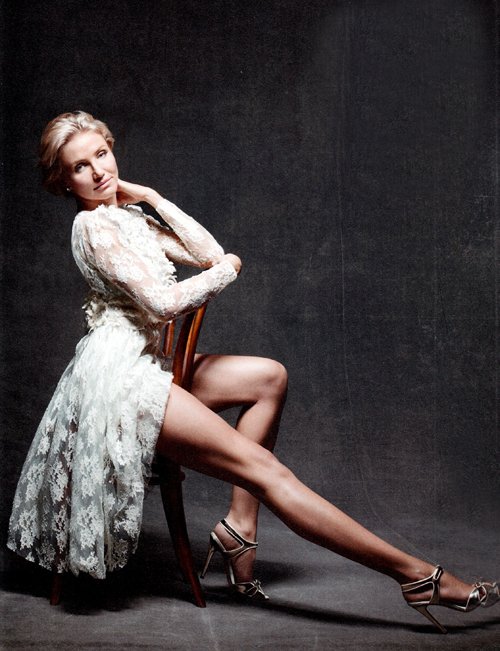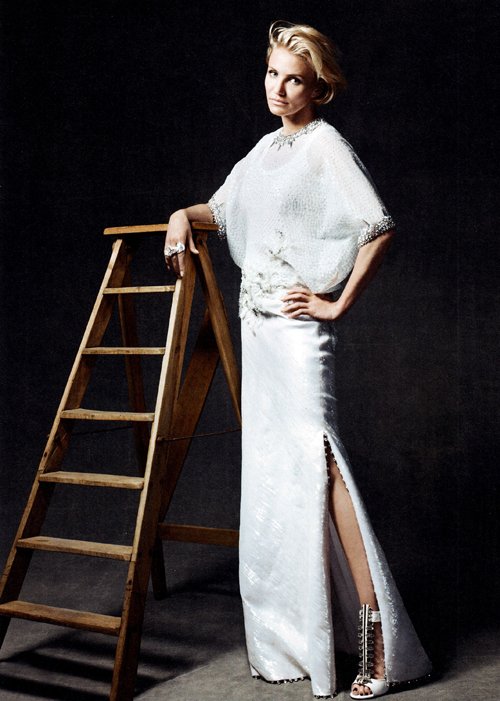 Photos courtesy of InStyle