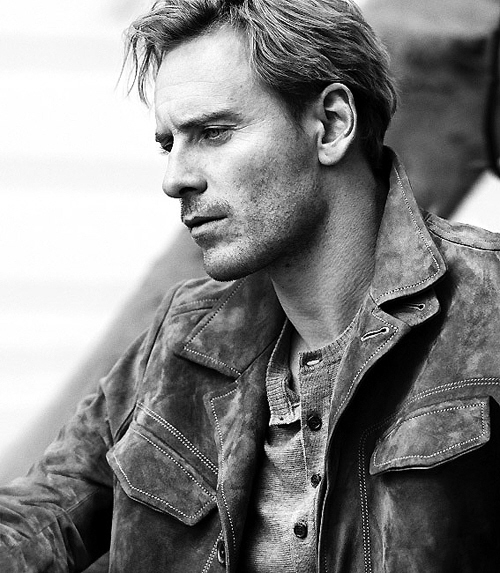 As I already previewed last week, Michael Fassbender has a feature in the new issue of American Vogue. He and Natalia Vodianova got their supermodel on in an oddly Germanic/Sprockets-style photo shoot. What I didn't realize at the time was that Fassy actually did a new interview with Vogue too. And it's HEAVEN!!! I mean, new Fassbender interviews are always heavenly, but I found out some new information about him, and considering that I'm stalking him, new information is always welcome. Anyway, here are some highlights, not all of which are quotes – like, I would love to hear Fassy's exact words on Brangelina, but the Vogue interviewer just glosses over that stuff. Here you go:
He squeezes in beside me, says yes, last night's BAFTA ceremony was so much fun; and his laughing, Irish-accented voice rolls out with brad and Angelina this and Colin Firth that and Meryl Streep the other, and how he had missed Judi Dench (whome he venerates), and how thrilled he was that his friend and collaborator John Maclean won Best Short Film for Pitch Black Heist (in which Fassbender did the heisting).

Fassy on Colin and Livia Firth: He likes the Firths and "Colin is a bloody brilliant actor."

Fassy on his style beyond the red carpet: "I have three pairs of jeans I recycle," he says, adding gravely, "My shopping sprees are sporadic and infrequent."

He loves Steve McQueen (the director): "Hunger really changed things. Filmmakers saw the film, so I was getting into the room earlier and with bigger directors."

He always wanted to study the Method from a young age: He read about the Method very young and deliberately went to the one drama school in the British Isles he thought would teach him the Lee Strasberg principles: the Drama Centre, whose alumni include Firth, Pierce Brosnan, and Simon Callow.

He has a one-bedroom flat in the dodgy part of London. He moved into the place in 2006: "I need to fix the whole place… because I've had leaks and stuff. Yeah, yeah, the roof… I don't like to get too carried away. A couple of friends of mine, one's an architect and one's an engineer in Dublin, they're going to come over and take a look at it."

Fassy on horses: He thinks he was up on a horse for the first time at six years old. "Yeah, pretty much, it was like 'get up there!' and the guy – Willie Joe – hit the arse of the hrse and off you go." He fell off, Willie Joe threw him back up and he would cling to the mane. "So I am actually quite comfortable riding bareback. And riding horses. I love it, it is one of the most exhilarating things."

On Brad Pitt: Fassbender rode his BMW R 1200 GS Adventure to the Sarajevo Film Festival, and his dad rode on a Triumph Tiger. Brad Pitt said, "Your dad drove with you? He must be some tough son of bitch." Fassbender admires Pitt hugely: for his generosity on Inglorious Basterds, when Fassbender was nervily feeling like it was a "massive deal to be on a Tarantino set." He also admires Plan B Entertainment, Pitt's production company, which is backing the third go-round in the McQueen-Fassbender outings, a movie called 12 Years a Slave (in which Pitt has a role).

Fassy on writers: "Working with writers is what I really enjoy. Associating myself with great writers and trying to find them. Actually, I am going to meet one now!"
[From Vogue, print edition]
Obviously, this interview was done the day after the BAFTAs, before Fassy had signed on to do The Counselor with Ridley Scott, with a cast which might include Brad Pitt and even Angelina… who might possibly play Fassy's love interest? I really, really want Angelina and Michael to work together. I've always wanted it… I just think they would be very interesting/sexy/fascinating on-screen together. As for Fassy showing his Basterd cohort Brad some major love – that's just sweet. Brad Pitt always inspires so much bromance, have you noticed that?
And yes, we should probably discuss the "So I am actually quite comfortable riding bareback. And riding horses" quote. I… just can't… concentrate right now. Fassy's casual sexual innuendos always leave me weak.
Vogue shots: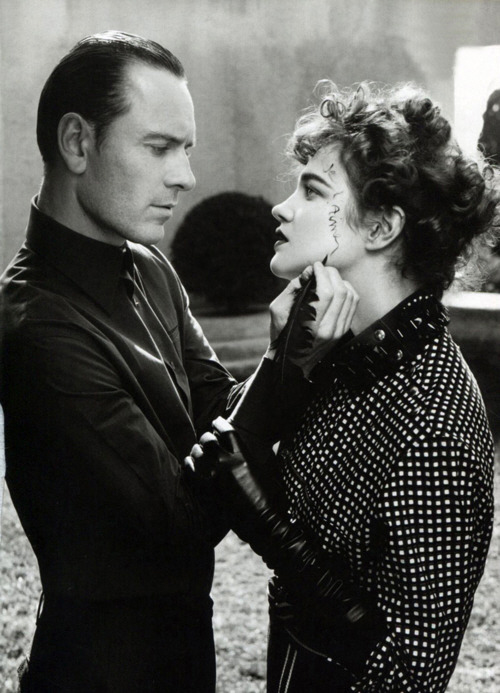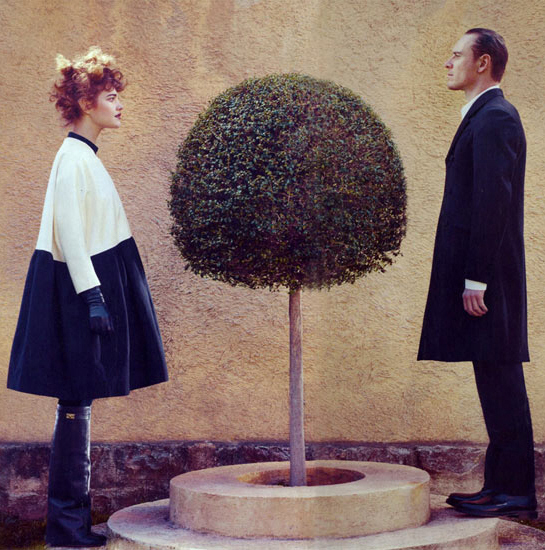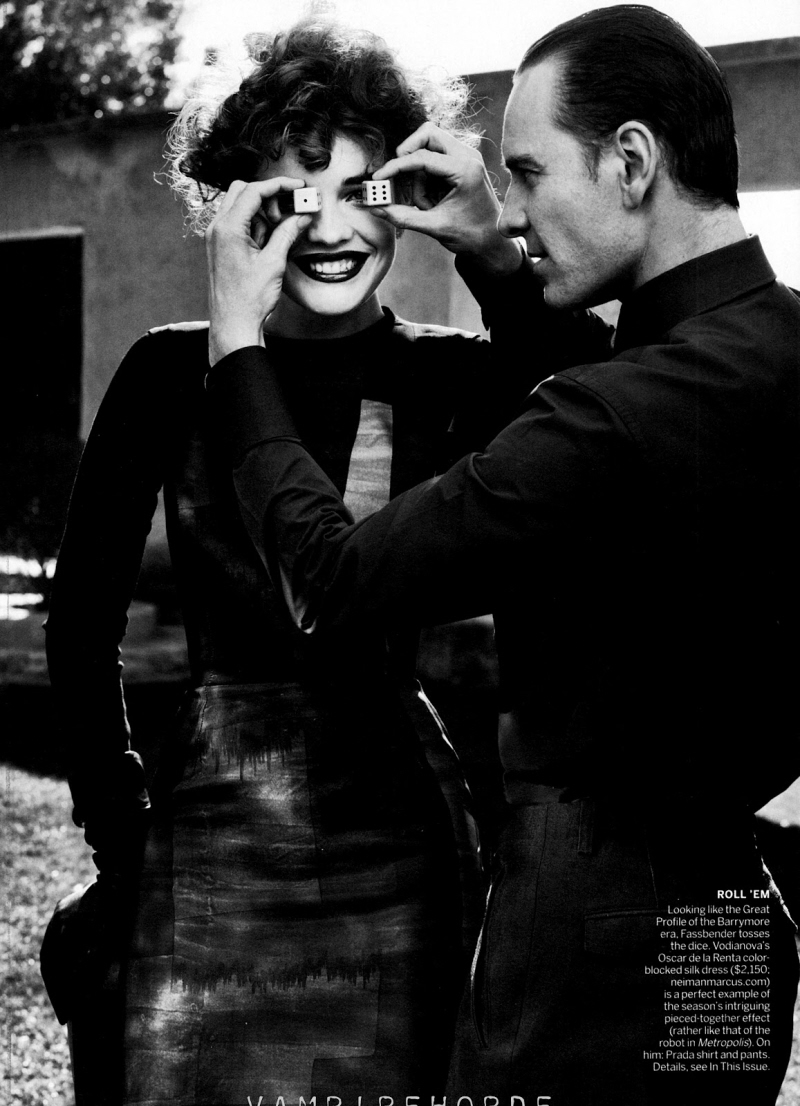 Photos courtesy of Vogue Magazine, archival photo in header.