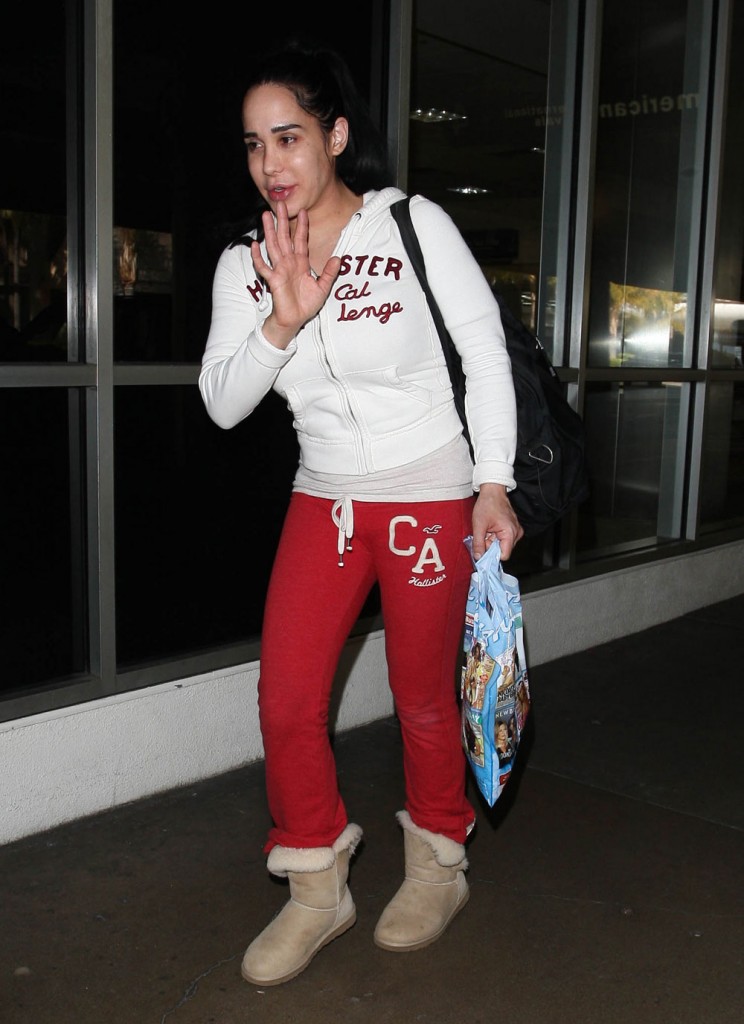 This story just makes me feel very sad. In the past I've pointed out the very obvious ways that Octomom Nadya Suleman is a manipulative person and a baldfaced liar. If you'd like more background, you can visit this earlier post where I recapped some of her doozies. As many of you have mentioned to me, it doesn't matter how much of a trainwreck she is, we need to focus on her kids. This woman's primary role is as a single mother to 14 children who need to be loved and cared for. Nadya was delusional enough to get herself into this situation, and she remains delusional enough to stay there and to insist that everything is fine while her kids are really suffering. Her kids have one toilet, they don't have enough clothes to wear out in the cold, and they're sleeping on the floor. It's disturbing. We learned these new details from Nadya's hairdresser, who told TMZ that she went to the police with her concerns because the children are being neglected. If you're able to, just watch the interview with the hairdresser below. You can tell she's fed up with the situation and wants to help the kids. She's not out to get Nadya or to shame her, she really cares. She said she even offered Nadya some bunkbeds for the children who are sleeping on the floor, but Nadya said everything was fine. Here's the story thanks to TMZ:
TMZ has obtained pictures of Octomom Nadya Suleman's home that have triggered a police and child services investigation into allegations that her 14 kids are living in horrendous conditions and are being grossly neglected.

TMZ broke the story, Octo's hairstylist, Stephanie, went to La Habra cops Tuesday afternoon and filed a formal complaint. A La Habra cop and 3 reps from the Orange County Department of Children and Family Services went to Octo's house Tuesday night to investigate.

One picture shows two children pooping in a portable training toilet in the backyard. We're told the plumbing in the house is shot, and only one toilet is operational.

Another photo shows Octo just after she got her hair done. What's shocking is that she locked her kids in the bedroom by propping a chair against the door so they couldn't get out.

Yet another pic shows the children's bedroom, with 2 cribs and a mattress. Stephanie told cops some of the kids are forced to sleep on the floor.

And there's more … a pic shows some of the kids in the backyard, barefoot, dirty and wearing no pants.
[From TMZ]
In terms of the criticism of her parenting, Nadya has previously said that people are jealous of her, that she's the best mother her kids could have, and that she's buddy-buddy with the CPS workers, who just laugh off the tips they get about her. As far as her trashed home and lack of toilets or beds for her kids, Nadya showed TMZ her home herself a few months ago as evidence that she shouldn't have to pay the landlord. Her logic at the time was that her kids had trashed the place so she didn't have to pay her rent. There's nothing that can faze her, or else she never would have got into this situation, and it never would have escalated this far in the first place.
One more thing, TMZ also has a story and an image of check for $520 that Octo paid the hairstylist for a Brazilian straightening treatment – at the same time she was collecting $2,000 in food stamps a month (she still is) and claiming she was unable to afford $150 to fix the plumbing in her house. I'm trying to be measured and stick to the facts here, but that really makes my blood boil. Why should I be surprised, though? I mean, we already knew this. Is CPS going to do anything about it, and is the alternative better for these poor kids?! I just feel so bad for them.
Here's the interview with the hairstylist. TMZ has the photos of Octo's trashed home as she proudly poses with her new blowout. How did spray paint graffiti get inside the house? It looks like Jesse's place on "Breaking Bad," like addicts were partying there.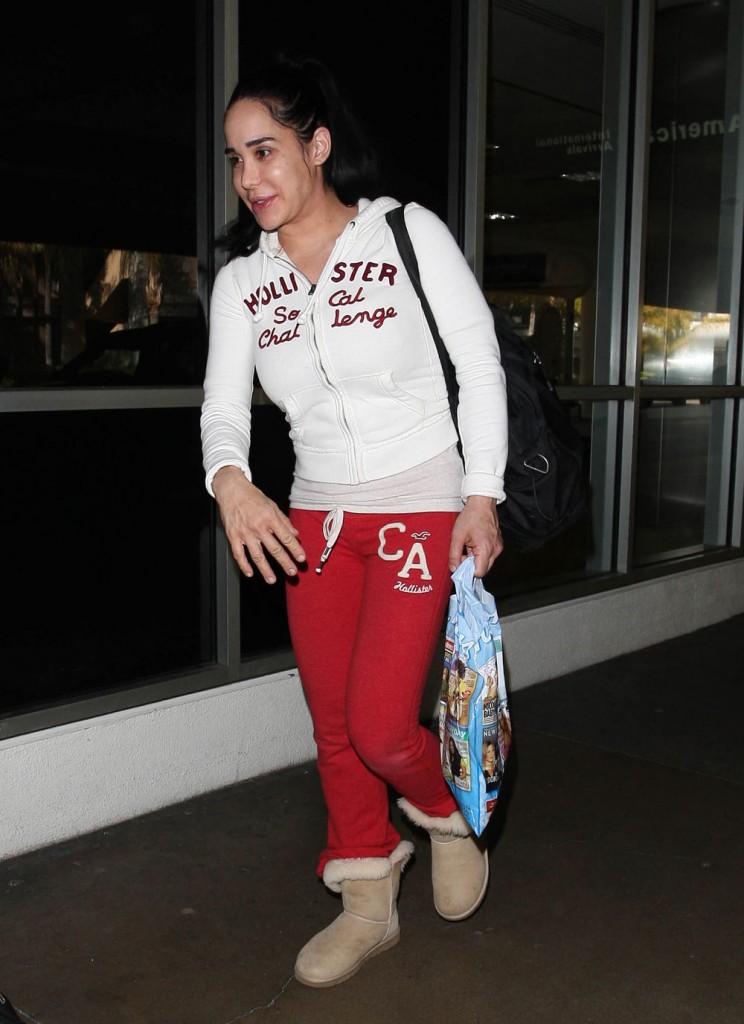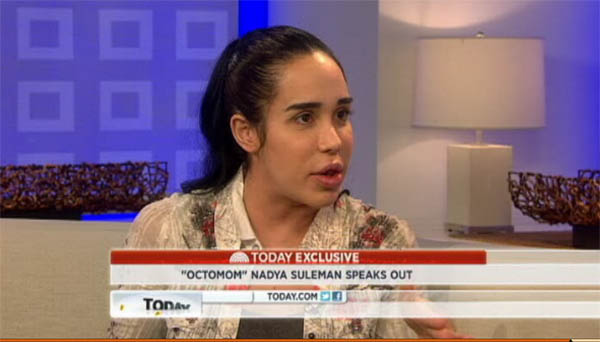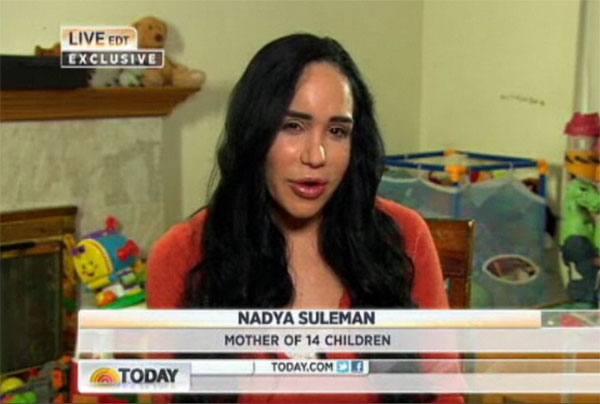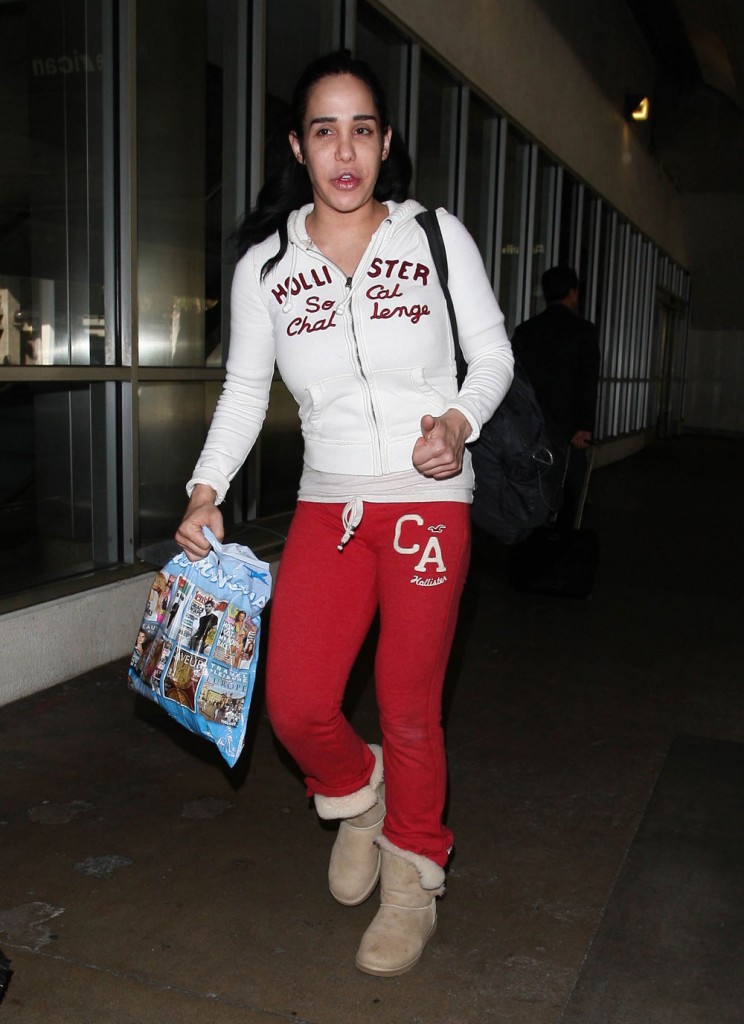 Suleman is shown at LAX on 4-6-12. Credit: BJJ/FameFlynet Pictures.