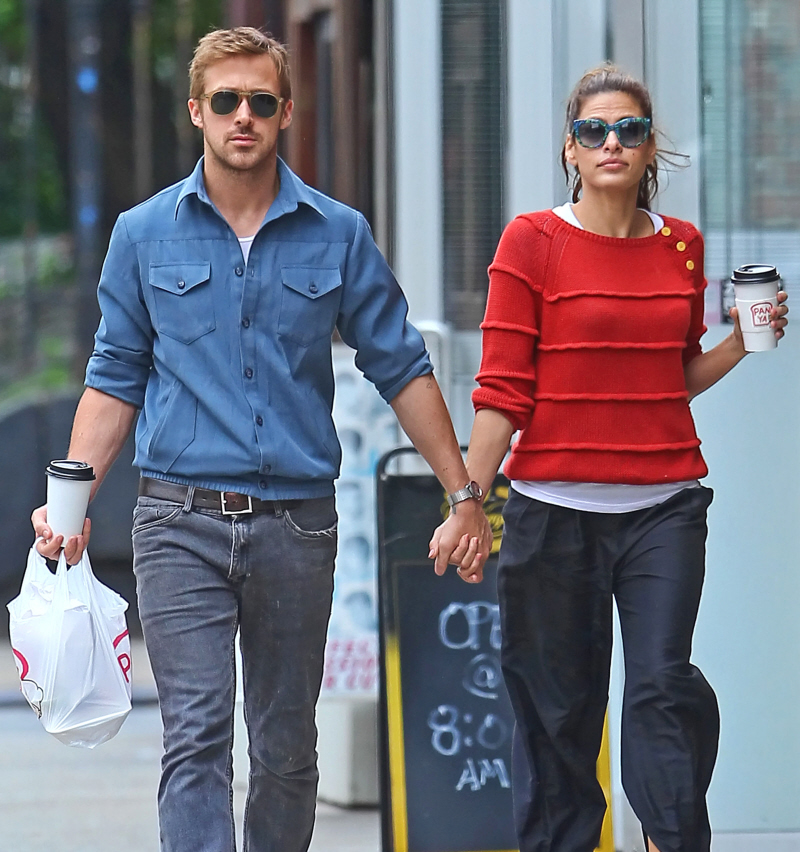 I'm sorry to do this to you on a Friday. You're going to be thinking about these photos all weekend, spiraling into a fit of depression and Eva-loathing, right? I'm sorry. If it helps, just think of it this way: Eva Mendes is our Gosdong-boning avatar. We can live through her experiences. She is a blank slate on which we can project the dream that we too could pull in Ryan Gosling. Does that help? So, obviously, these are new photos of Ryan and Eva out and about in NYC yesterday. I think Ryan has been in NYC for a while, and Eva came in for the Met Gala on Monday night – although she went to the event solo, and some people (me) have been on "Break-up Watch" since before the Met Gala. But they haven't broken up. They are together. Not just together – they are loved up to the extreme. Ryan agreeing to a candid photo op with his girl on the streets of NYC? They're way more serious than I was thinking. Oh, and Eva is talking about Ryan in interviews too:
She attended the annual Met Gala solo this week, increasing speculation of a split with her boyfriend of eight months Ryan Gosling. But Eva Mendes put any and all breakup rumors to rest today as she went on a romantic afternoon stroll with the handsome 31-year-old in New York.

After expertly dodging Gosling questions from Ellen Degeneres earlier this week, the 38-year-old actress slightly opened up about her relationship with USA Today.

'I'm feeling a little insecure because I can't help but be super conscious of what I'm saying because I'm so protective,' Eva said, when asked about Ryan. 'That's the most precious thing to me. And I'm so protective and I just felt my guard go up.'

Walking hand-in-hand in a strong show of silent solidarity, the acting couple stopped for coffee and Ryan held a bag of Pan Ya Chinese takeout.

Ryan and Eva met on the set of their movie 'The Place Beyond The Pines,' which centers on a motorcycle stunt rider who considers committing a crime in order to provide for his wife and child.

'I play Ryan Gosling's love interest and his baby mama,' she said before pausing. 'There's the guard going up again a little bit! I'm pushing it down! And through this horrible tragedy, I have to deal with the fact that I now have this child to raise…It basically is this epic family drama that is really beautiful and emotional.'

Eva called Gosling her 'dream co-star' in the March issue of Marie Claire: 'I have never felt so creatively satisfied on a film. He's amazing.'

When Ellen Degeneres gave the Girl in Progress star a 'double-onesie' to share with her beau, all Ellen got in return was a fit of giggles from the brunette star.

'Because he likes [onesies] so much, when you see him – if you see him, if you run into him – I've got a gift that I think both of you would have fun [with]. [This could work] as an icebreaker when you meet him for the first time,' the funnywoman joked.

Finally composed, the stunning star then gave a telling answer that will have the women of the world tutting with disappointment.

She responded cheekily: 'If I happen to see him tonight, I will give this to him. I'm saying if I run to him – you never know.'
[From The Mail]
Don't even bother getting your feathers ruffled about Eva publicly acknowledging (again) her relationship with Gosling. We would hate her if she completely clammed up, and we would hate her if she talked too much about it. She's finding a balance between being coy and being a famewhore. And apparently, whatever she's doing is fine with Ryan. In fact, I starting to actually believe they might be for real. That hurt to admit.
PS… Why is Eva still trying to make that fug sweater "happen"? She was wearing it a few weeks ago in LA too.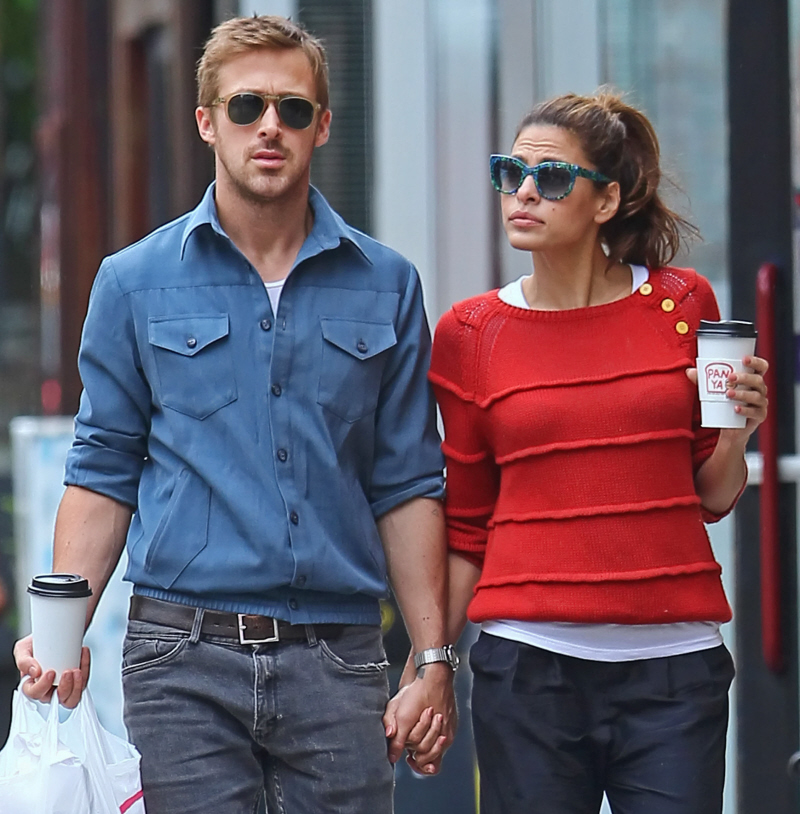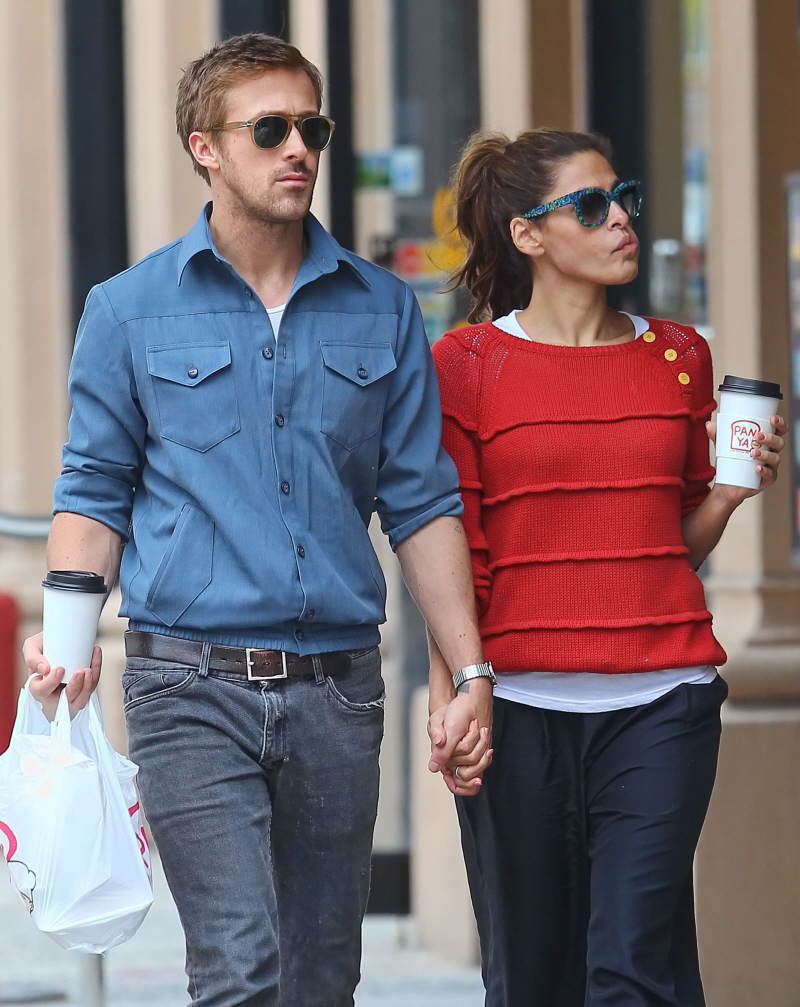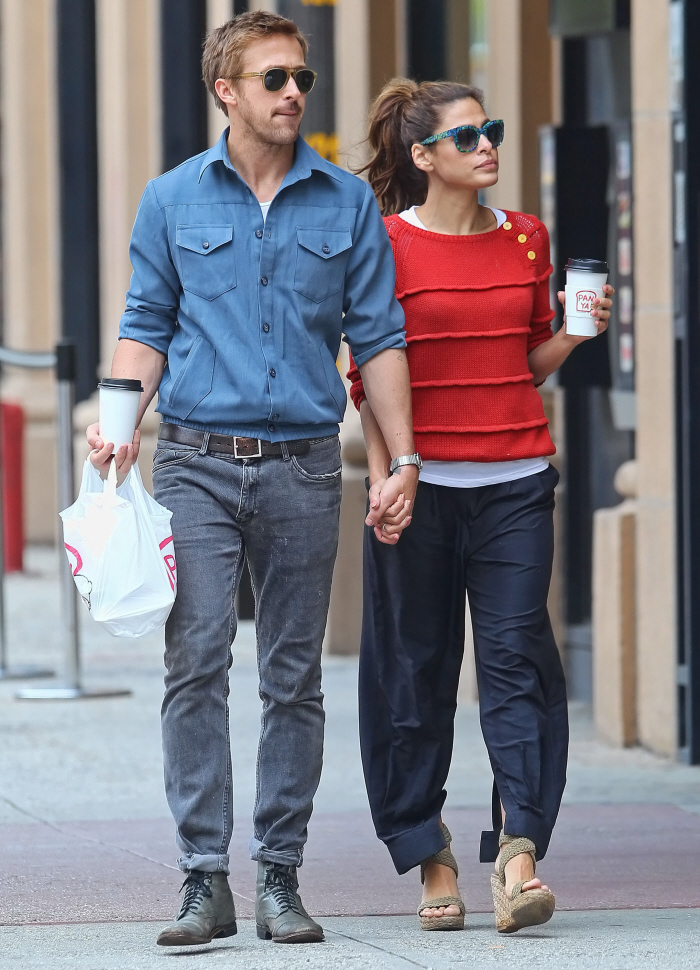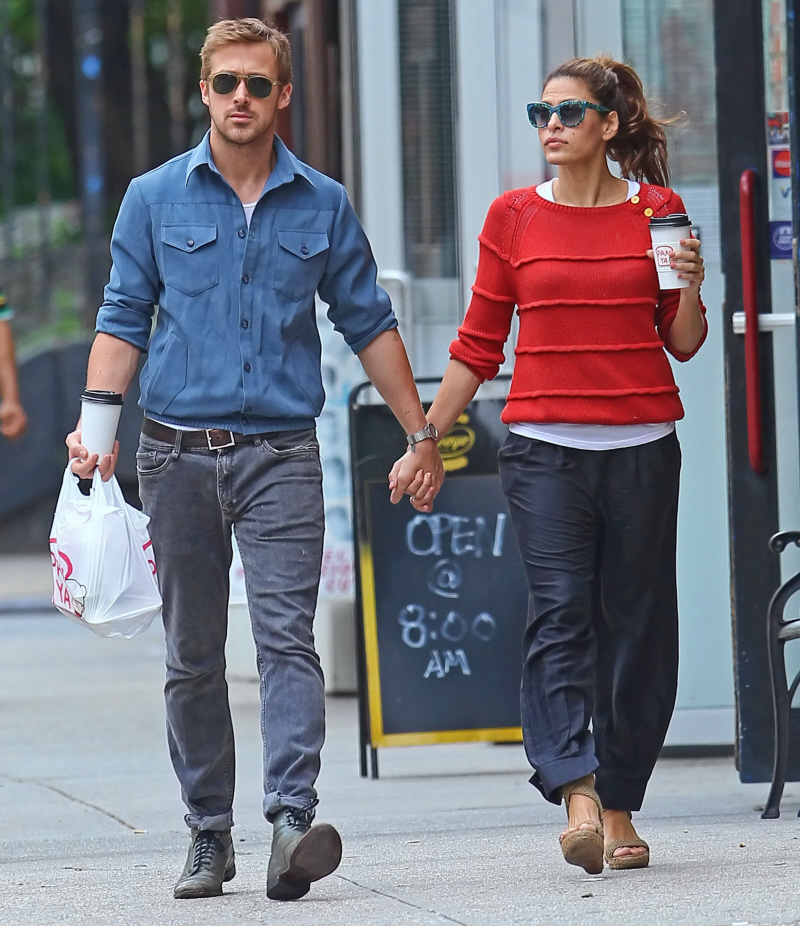 Photos courtesy of Fame/Flynet.