Kris Jenner sports a huge painful trout pout in promos for KUWTK: stunt or genuine?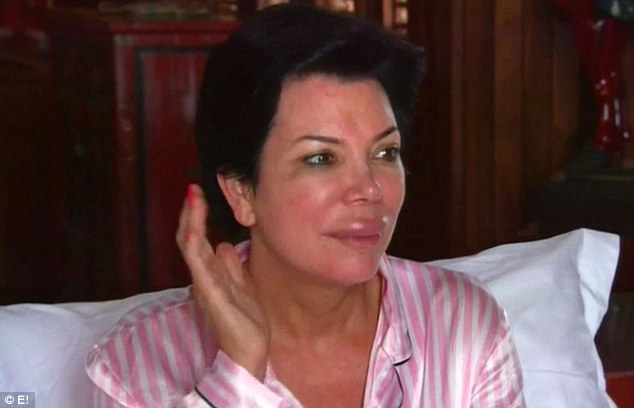 The Kardashians have a long history of getting plastic surgery and procedures as some kind of plot for their reality show. We've seen Kim get Botox, Khloe get laser hair removal for her lady parts, and mom Kris Jenner get a facelift prior to Kim's lavish wedding. In a new promo for the upcoming seventh season of the show, Kris is shown waking up looking like she's stuffed a hotdog underneath her upper lip. We're just going on The Daily Mail's report on this, as I haven't been able to find the actual video. The pictures tell the story pretty much, in that Kris has these lips in a scene that looks in no way contrived in which she wakes up with her makeup partially applied and several of her kids come piling in the room to gawk. Here's more, thanks to the Daily Mail: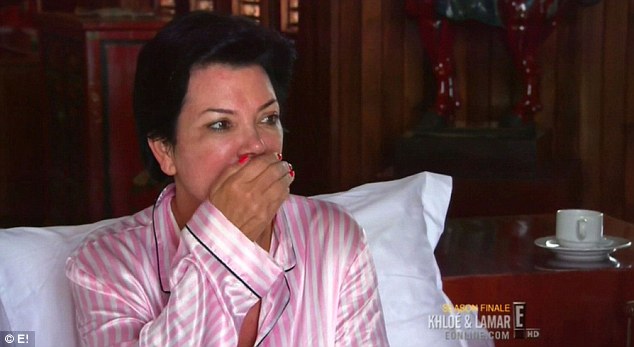 In a new trailer for the upcoming season, Kris Jenner, the matriarch of the family, is seen with a pout which looks suspiciously enhanced compared to her usual appearance.
Kris, 56, is seen looking shocked as she wakes up in her bed with a much bigger top lip.

The leader of the Kardashian clan shows off her new look to daughter Kim, 31, and son Rob, 25, as the two siblings stand gobsmacked at their mother's bedside.
Kris, who is still in her pyjamas and is wearing no make-up, appears horrified by her overnight transformation and tries to hide her mouth with her hand.

The rest of the family hear the commotion and rush into the bedroom surprised by Jenner's plump top lip.

It is not clear from the 30 second clip whether the mother-of-six has really had a bad reaction to a cosmetic surgery procedure, or if she is playing a prank on her children.
Later in the trailer viewers are shown the Kardashians going on holiday to their favourite destination of the Dominican Republic.
[From The Daily Mail]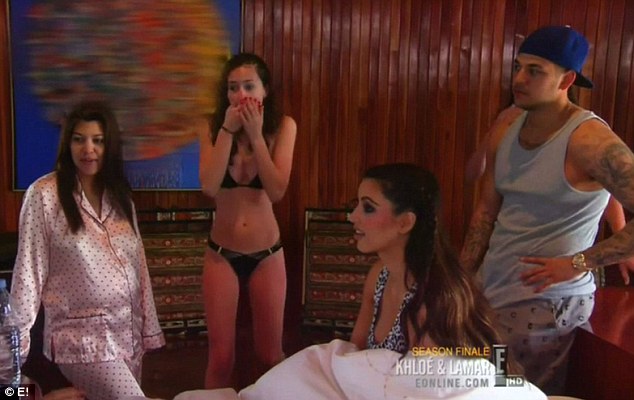 Who is the girl in the bikini? She doesn't look like one of the youngest Kardashian girls, so maybe she's Rob's girlfriend or something.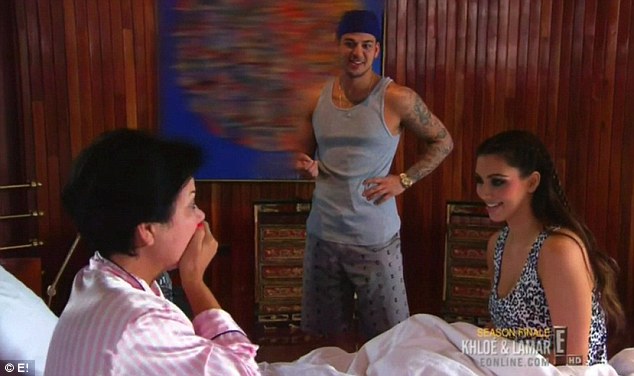 The last photos we have of Kris are from May 10, below, and her lips look fug in frosted pink lipstick but they're otherwise normal-sized. So I'm guessing this was either a stunt, or a reaction to a lip injection which soon reverted to normal. It probably doesn't matter either way. These are the Kardashians, they'll do just about anything to get our attention and it's still working, goddamnit.
Radar lets us know that the seventh season of the show "will feature 18 one-hour episodes, the most ever." They may have some KANYE to fill that time. He appears in a new TV spot for the show (it's unclear whether it's this same one) and Kim semi-confirmed to E! that Kanye will be featured. She then took a veiled dig at her sister, Khloe. "I want to show my life. If we are having dinner and [Kanye] does show up, I'm sure we're not going to go, 'Stop the cameras!'
"I'm not going to be taking a bubble bath and drinking champagne or on a sex swing [on camera] like Khloé [Kardashian Odom] and Lamar [Odom] do. It's not going to be like that."
Not until she gets even more serious with Kanye in a whole two months' time.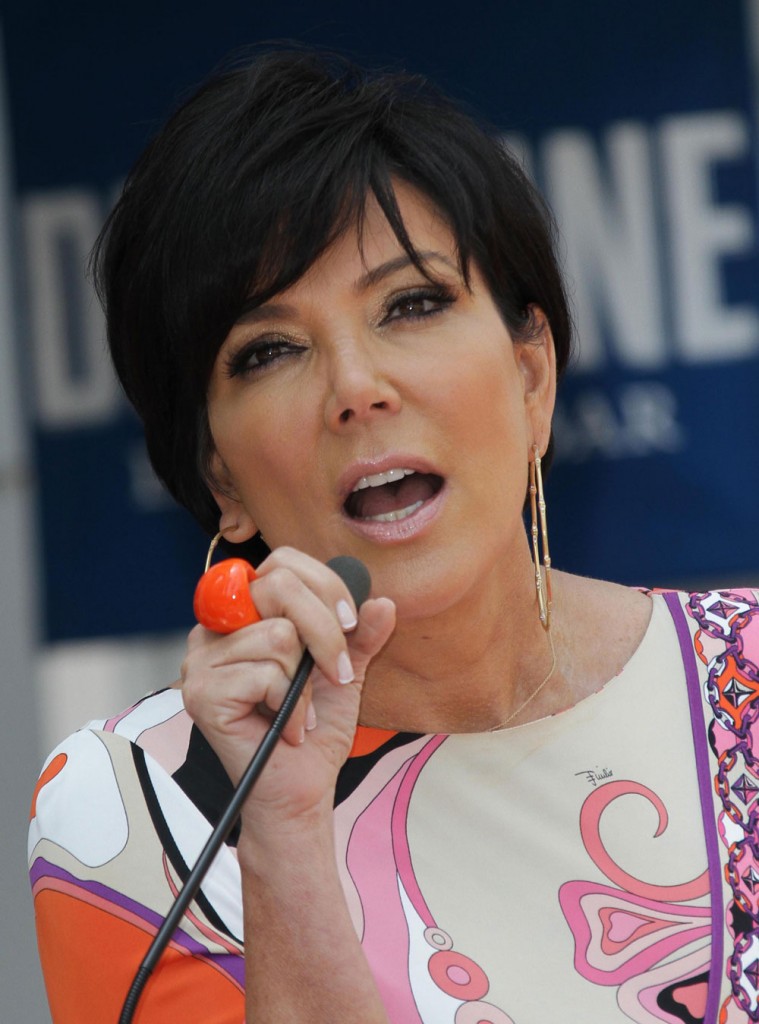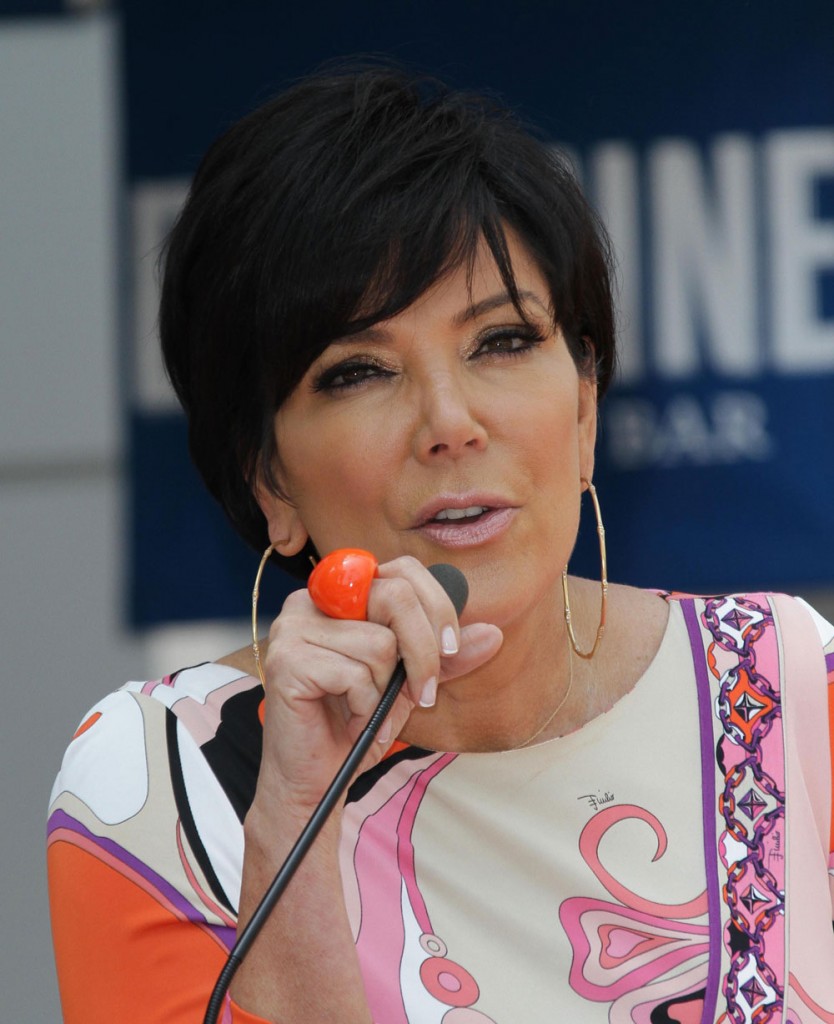 Written by Celebitchy

Posted in Kim Kardashian, Kris Jenner, Photos, Plastic Surgery

- Friends reunion on Ellen [Popsugar]
- Lindsey Vonn watches Tigers kids [Lainey Gossip]
- George Michael fell out of a car going 70mph [D-Listed]
- Real Housewives of Orange County recap [Reality Tea]
- New Man of Steel trailer [Pajiba]
- Jared Padalecki's hot bod [Buzzfeed]
- Doctors confirm Taylor Swift's new boobs [Evil Beet]
- Catherine Zeta-Jones finished treatment [CDAN]
- Anna Paquin hates the paps [Celebslam]
- Lance Armstrong is gross [The Blemish]
- What is Barbara Palvin wearing? [Moe Jackson]
- This is Petra Nemcova? [SVC]
56 Responses to "Kris Jenner sports a huge painful trout pout in promos for KUWTK: stunt or genuine?"