Stephen Baldwin says he was "joking" about move to Canada if Obama won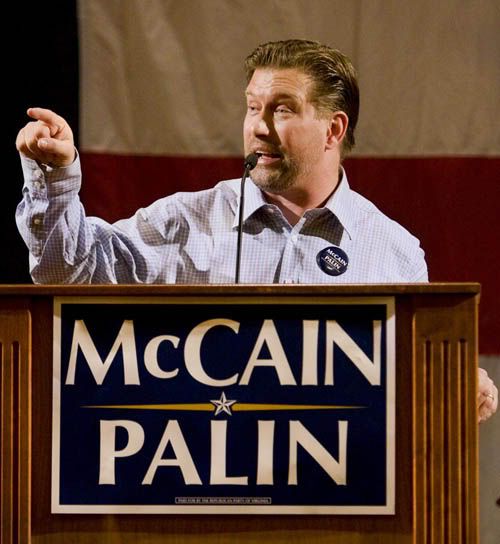 In the months leading up to the election, Stephen Baldwin did everything he could to get some headlines. First, he claimed to be so afraid of Barack Obama he said if Obama won the election, he was going to move to Canada. President-elect Obama became a reality on November 4th, and on the 5th we were all waiting for Baldwin to start looking at some real estate in The Great White North. But suddenly, Stephen Baldwin is just a crazy jokester, and anyone who thought he was just crazy needs a sense of humor.
"The liberal Democrats who didn't get that I was joking need to lighten up," the born-again Christian told Page Six. "Obama is obviously talented and intelligent, and I have great respect for the man. He's got my full support, and I'm gonna be praying for him and his administration."
[From Page Six]
Damn. I was hoping Stephen Baldwin would be the first to live up to the cliche' Hollywood threat and actually move out of the country. If for no other reason than the publicity it would garner. I'm not even sure how Baldwin hangs on to his SAG card these days, I haven't seen him in anything since his remarkable portrayal of Barney Rubble in Viva Rock Vegas. Upon viewing his wikipedia entry, it seems if I watched Christian programming or the SciFi Channel, I might have seen more of him. But he could have done all that from Canada, couldn't he?
So, Baldwin was joking about expatriating, was he joking when he called Obama a "cultural terrorist" and said how he'd beat the Democrat right out of him. What you really meant was that Obama is a great man and you respects the hell out of him, huh, Stephen? A month ago he's got you running for the border, today, he's got your prayers.
Not so the gays, though. After declaring his love and devotion to Obama, Stephen Baldwin made sure he got the press by saying, "If they legalize gay marriage in all 50 states in my lifetime, I'll get a Billy Ray Cyrus tattoo on my butt to go with the Hannah Montana one."
Weird, I thought his Hannah Montana tattoo was on his arm. A 15-year old girl's pretend name tattooed on the shoulder of a 42-year old man is creepy, but a tattoo of her dad on his butt would be all kinds of weird. Let's hope we get some equal marriage rights here soon so we can see if Baldwin is joking about that, too.
Stephen Baldwin is shown campaigning on 11/2/08. Credit: WENN
Written by Ceilidh

Posted in Photos, Stephen Baldwin, Tattoos

- Harry Styles & Kimberly Stewart going strong [Lainey]
- Demi Moore's new man is gross [D-Listed]
- Fug or fab: Emma Stone [Go Fug Yourself]
- Arrest warrant issued for Jenelle Evans [Reality Tea]
- Only God Forgives review [Pajiba]
- Hugh Jackman, scooter master [Buzzfeed]
- Who does Drew Barrymore call her sister? [Evil Beet]
- Cannes couples past and present [Popsugar]
- Arrested Development supercut [CDAN]
- Lea Michele's see through skirt [Celebslam]
- Cheating wife's lover escapes out of window [Movin925]
- Joe Francis is crazy [Starcasm]
23 Responses to "Stephen Baldwin says he was "joking" about move to Canada if Obama won"