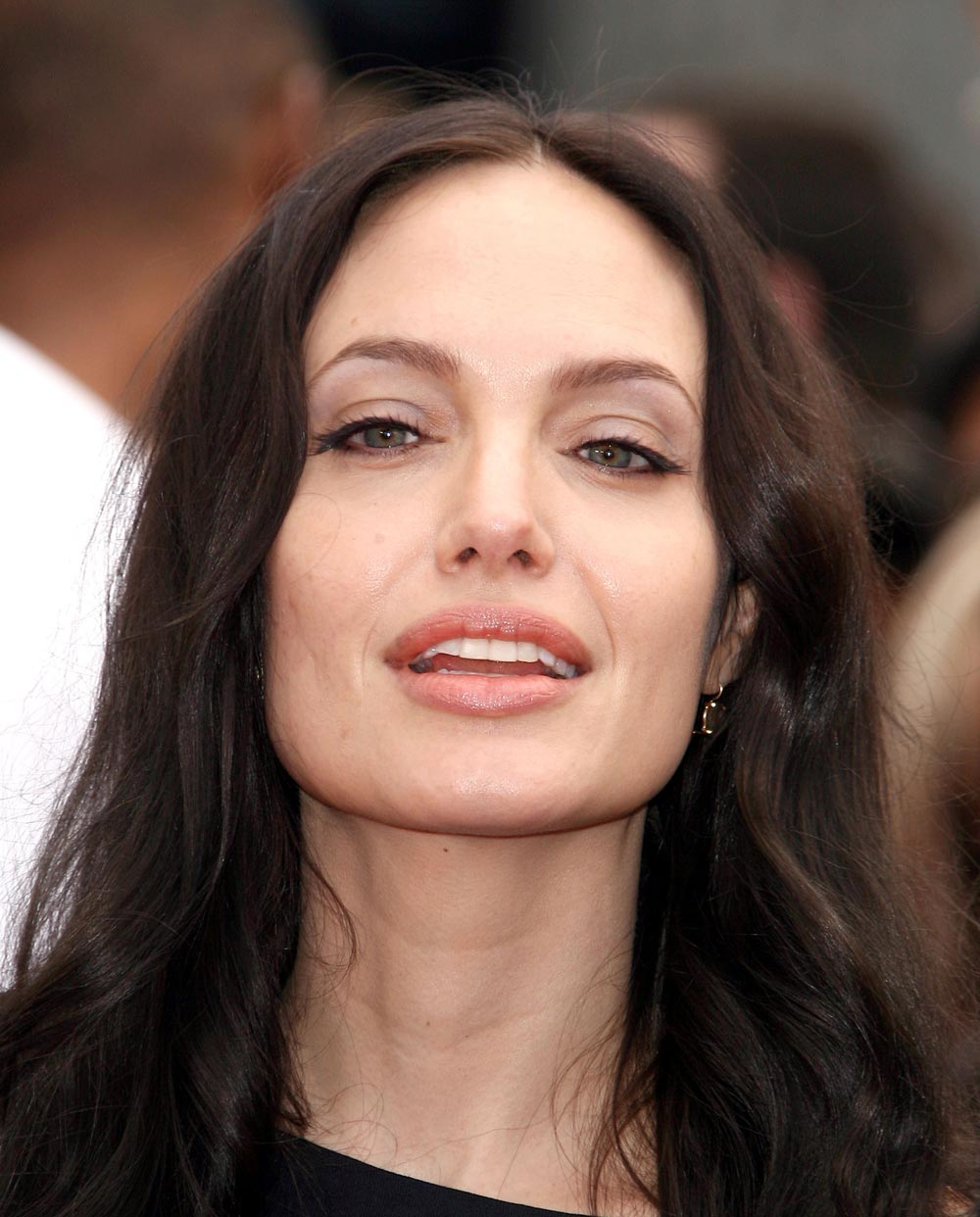 Angelina Jolie said last year that if there's gossip about her or her family she's not likely to worry about it unless it's in the NY Times. The NY Times has a story about Angelina today and it's not that positive. It's all about how the 33 year old actress and mother of six uses the press to manipulate her public image. It looks like that same press is starting to buck the trend. Angelina isn't all that different from other celebrities who employ the same methods to ensure positive coverage, they say, except she does it mostly on her own and doesn't use a team of PR experts.
Angelina's masterful manipulation of her public image all started when she first split up with Billy Bob and arranged for the paparazzi to take photos of her out with Maddox. It continues to this day, with Angelina and Brad dictating the terms to the magazines that buy rights to their family photos. In fact the $14 million deal with People for the twin baby photos is said to have included the stipulation that they never use "Brangelina" again and that they always have glowing reports about the couple ad infinitum. This isn't Star reporting this either, it's the NY Times, although they do quote Star's editor so who knows if they're adhering to high journalistic standards. It's all kind of blending together lately.
On the People deal for twin photos: positive coverage from now on
When Angelina Jolie and Brad Pitt negotiated with People and other celebrity magazines this summer for photos of their newborn twins and an interview, the stars were seeking more than the estimated $14 million they received from the deal. They also wanted a hefty slice of journalistic input — a promise that the winning magazine's coverage would be positive, not merely in that instance but into the future.

According to the deal offered by Ms. Jolie, the winning magazine was obliged to offer coverage that would not reflect negatively on her or her family, according to two people with knowledge of the bidding who were granted anonymity because the talks were confidential. The deal also asked for an "editorial plan" providing a road map of the layout, these people say.

The winner was People. The resulting package in its Aug. 18 issue — the magazine's best-selling in seven years — was a publicity coup for Ms. Jolie, the Oscar winner and former Hollywood eccentric who wore a necklace ornamented with dried blood and talked about her fondness for knives before transforming herself into a philanthropist, United Nations good-will ambassador and devoted mother of six.

In the People interview, there were questions about her and Mr. Pitt's charity work and no use of the word "Brangelina," the tabloid amalgamation of their names, which irks the couple.

Another instance of Angelina dictating terms for photos
Ms. Jolie showed her skill at handling the news media in other negotiations. People magazine bid successfully for photos and an exclusive interview after she gave birth to her first child in 2006. Those pictures sold for an estimated $4.1 million, a sum that she and Mr. Pitt said they donated to charity.

In a separate 2006 negotiation with People, Ms. Jolie invited magazine editors — through her philanthropic adviser, Trevor Neilson — to bid on exclusive photos of her and her adopted Cambodian son, Maddox. But she made coverage of her charity work part of the deal.

"While Angelina and Brad understand the interest in their family, they also expect that the publications who purchase these photos will use them in a way that also draws attention to the needs of the Cambodian people," Mr. Neilson wrote in a December 2006 memo to editors.

He went on to promise that Ms. Jolie would provide "exclusive quotes" to the publication that purchased the photos. "Publications are invited to comment on their editorial plans when submitting their bids," Mr. Neilson wrote.

How Angelina cultivated her image as a devoted mother
But she cut a very different, wilder figure in Hollywood during her marriage to the actor Billy Bob Thornton. After their divorce in 2003, Us magazine asked Ms. Jolie if she would agree to an interview and be photographed. According to two people involved, she declined — but then offered the magazine another photo opportunity. Ms. Jolie informed it what time and place she would be publicly playing with Maddox, essentially creating a paparazzi shot.

The resulting photo, the origin of which was not made public to Us readers, presented Ms. Jolie in a new light — a young mother unsuccessfully trying to have a private moment with her son.

Shifting the focus is one of Ms. Jolie's best maneuvers, magazine editors and publicity executives say. When she became romantically involved with Mr. Pitt, for instance, she faced a public relations crisis — being portrayed in the tabloid press as a predator who stole Mr. Pitt from his wife, Jennifer Aniston.

How Angelina shifted the attention away from the infidelity scandal
Shifting the focus is one of Ms. Jolie's best maneuvers, magazine editors and publicity executives say. When she became romantically involved with Mr. Pitt, for instance, she faced a public relations crisis — being portrayed in the tabloid press as a predator who stole Mr. Pitt from his wife, Jennifer Aniston.

This time, it was Ms. Jolie's charity work that helped turn the story. Long interested in international humanitarian work, Ms. Jolie appeared in Pakistan, where she visited camps housing Afghan refugees, and even met with President Pervez Musharraf. Ms. Jolie and Mr. Pitt made a subsequent trip to Kashmir to bring attention to earthquake victims.

"Presto, they come out looking like serious people who have transformed a silly press obsession into a sincere attempt to help the needy," said Michael Levine, a celebrity publicist and author.

That is cynical nonsense, counters Mr. Neilson.

"People don't realize the complexity of what Angie is doing," he said. "A lot of her charity work is done quietly and not in front of the media."
[From The NY Times via We Smirch]
Angelina Jolie does a lot of good, but she also takes credit for it and it could be part of her strategy to be seen as a caring mother at this phase of her life. She definitely seems like someone who genuinely cares about other people, but she's also rather cunning and the press is calling her on it. There's been a mild backlash against her since she's been doing so much publicity for her movie and blathering on about her family. People are interested in her and she wants to talk so it's been working out pretty well for her so far though. As long as she learns to step back a little as she keeps saying she'll do, the press will come around again.
While doing research for this story I came across this unintentionally funny quote that Ann Curry wrote about Angelina's charity work. It seems over the top and like it really doesn't reflect reality:
How common is it to find someone who embraces the idea that any true gift is given anonymously? Angie's like that, not wanting to publicize her efforts, unless some greater good might come of it.

Now people stop me to say how much they admire her, how she inspires them.

I have concluded that Angie represents the transformation that is possible in all of us, when we step outside our own suffering, and open ourselves to the suffering of others.
[From MSNBC]
How could people admire Angelina if she did give anonymously? As it is, we get press releases from the Jolie-Pitt Foundation. They're doing a lot of good but it's hardly anonymous.
Here are photos of Brad and Angelina in Africa with Maddox in April, 2005. It's said to be a "secret vacation." If that's true then how did a photographer get there? Credit: Bauergriffinonline.