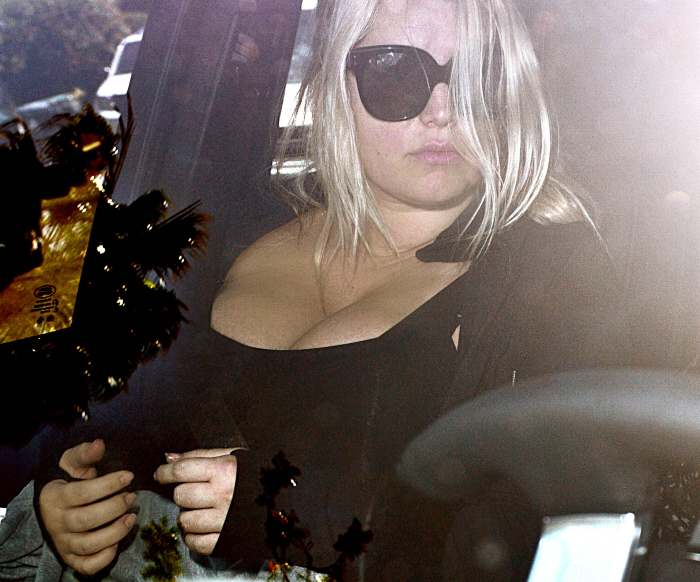 On one side, I think Jessica Simpson totally brought all of the "baby weight" speculation on herself, and she has no one but herself to blame now that the "Jessica hates her postpartum body" stories are circulating like crazy. On the other side, I feel bad for poor Farty. My guess is that she just wants to sit at home with her baby and enjoy this time, but Weight Watchers is calling and she set herself up with all of these weight loss expectations, and it's all a huge problem. Anyway, Jessica tweeted this message today: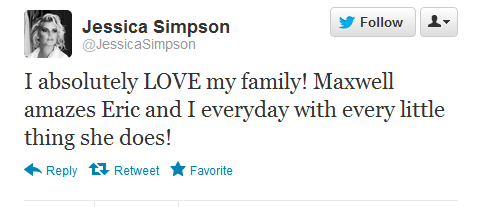 Doesn't it sound like she wishes she was spending more time with the baby and less time at the gym? That's what it sounds like to me. So, back to the weight loss stuff – thus far, Jessica has been pretty good about making it to the gym a few times a week. She's vigilant about not being photographed in full-body shots, although a paparazzo did get some shots of her from behind, and everyone freaked out on Jess and started yelling at her. Now In Touch Weekly (via The Mail) has a mean story about Jessica's struggles to diet and lose weight:
So far this month she has been spotted several times heading to the gym in a desperate bid to lose her baby weight. Since giving birth to her daughter Maxwell Drew on May 1, Jessica Simpson is said to be determined to slim down.

And it has now been revealed that the 31-year-old is on a strict timeline to lose the pounds for her upcoming Weight Watchers campaign – in which she is getting paid a reported $4 million to reach her 130 pound goal weight. The singer and actress has been given the task of losing 50lbs in just five months, according to In Touch magazine. But according to the publication, friends say that the star, who is also trying to care for her newborn little girl, is feeling 'stressed and overwhelmed'.

'She's so emotional,' a friend told the magazine. 'She doesn't want to go to the gym. She doesn't want to leave her baby. Sometimes she just starts crying. It's hard for her.'

Sources tell the publication that the singer, who weight a reported 210 pounds at the height of her pregnancy, is also physically exhausted.

'She's consumed with the new baby,' another source told the magazine. 'She and Eric are often up with Maxi (Maxwell) all night.'

Jessica, who is said to have enjoyed a diet including Mac and cheese, Pop-Tarts, peanut butter and jelly sandwiches, Cap'n Crunch and fried chicken while she was pregnant, is said to be desperate to get her body back.

'She gets so upset,' her friend said. 'She wants her body back so badly, but it's beyond hard.'

Instead of the junk, In Touch reports that Jessica is now feasting on a healthy diet consisting of oatmeal with berries for breakfast, grilled chicken on salad for lunch, hummus, carrots and fresh fruit for snacks and salmon, broccoli and brown rice for dinner. However she reportedly throws in the odd treat in between for the sake of not caving altogether.

'She'll have the occasional slice of pizza. If she feels deprived, it won't last,' the source added.

Jessica has also enlisted trainer Harley Pasternak to whip her into shape. And another motivation to drop the weight and get into shape, friends say, is her new daughter.

'Jessica wants to set a good example for Maxi,' an insider told In Touch. 'She wants to teach her daughter to have a healthy lifestyle.'
Personally, I hope Jessica really didn't set up the "130 pounds" goal. I think that's asking for trouble for a lot of different reasons. For one, Jessica wasn't 130 pounds when she got pregnant – shouldn't Jessica's first goal be "getting back to the weight she was when she conceived"? And that wasn't 130. Two, losing 50 pounds in five months is completely unreasonable (I think) for a new mother. Her goal should be maintaining a healthy lifestyle, getting enough nutrients for breastfeeding, and working out when she can, but not at the expense of other things, like bonding with her child. It really feels like Weight Watchers is keeping poor Farty hostage.
Besides all of that, as soon as Jessica stops breastfeeding, she's going to start drinking again. So all of the dieting and exercise in the world isn't going to keep the liquor weight off. Farty loves her Scotch.
PS… Whenever I look at these photos of Jessica from behind, I hear AbFab's Eddy saying "Thin ankles, darling, THIN ANKLES!"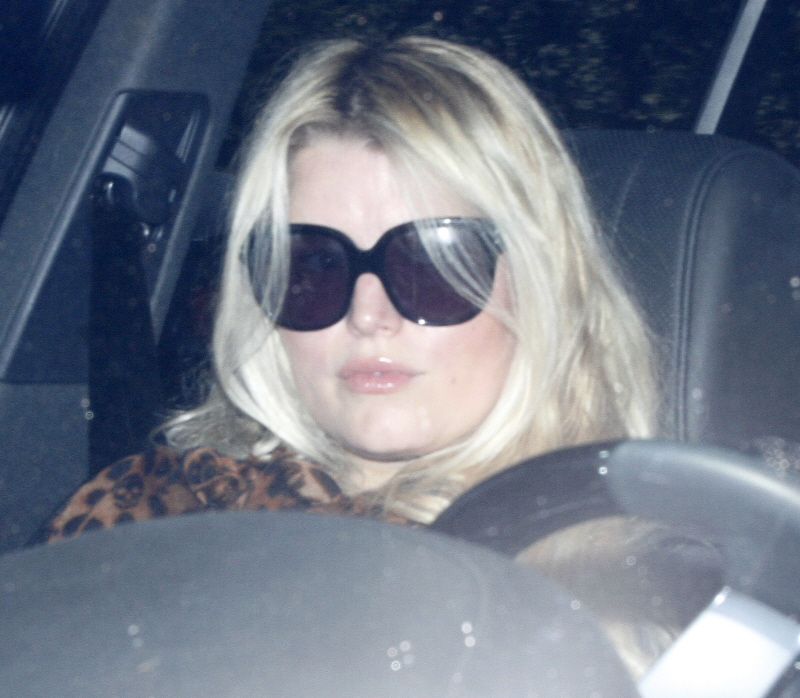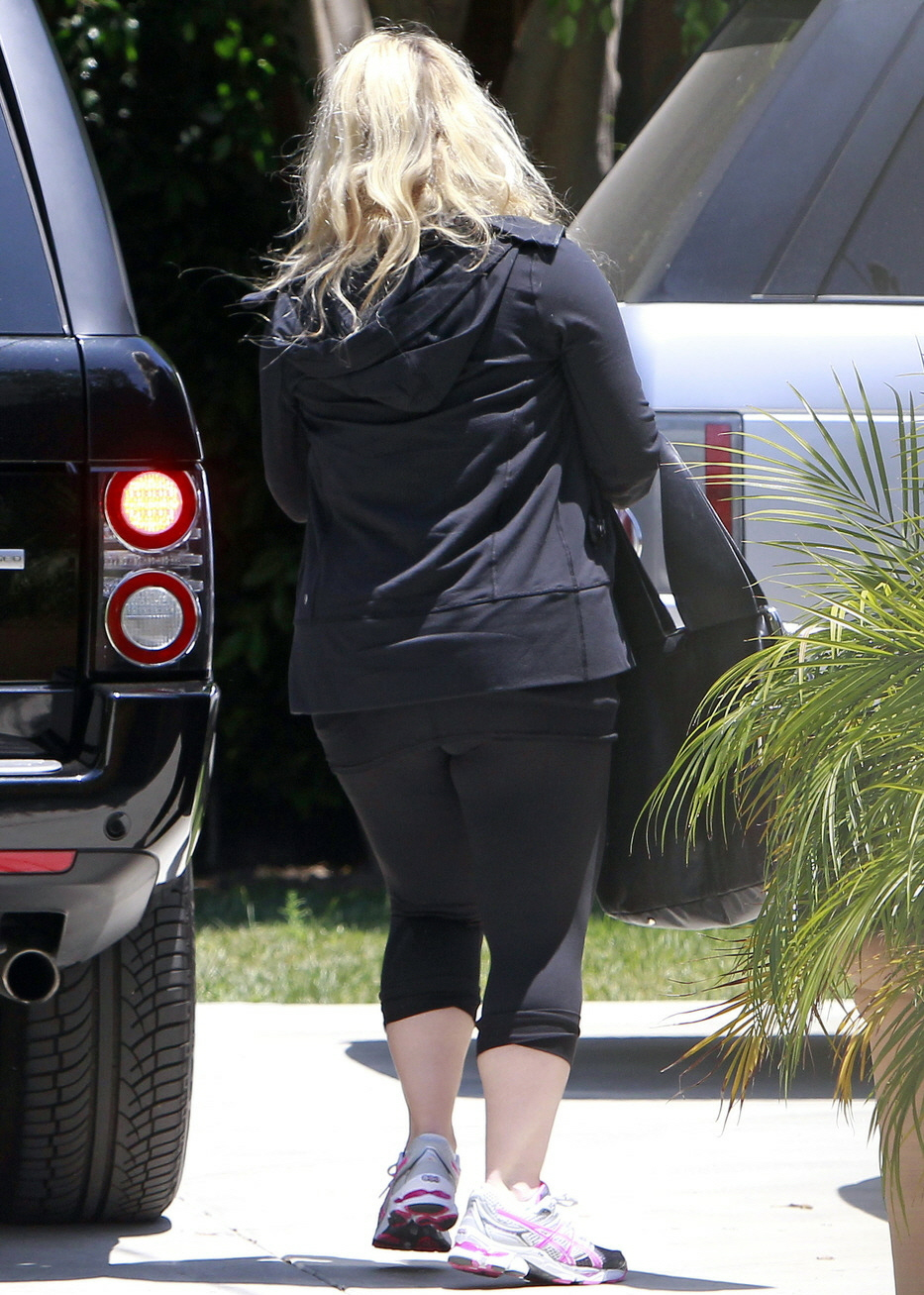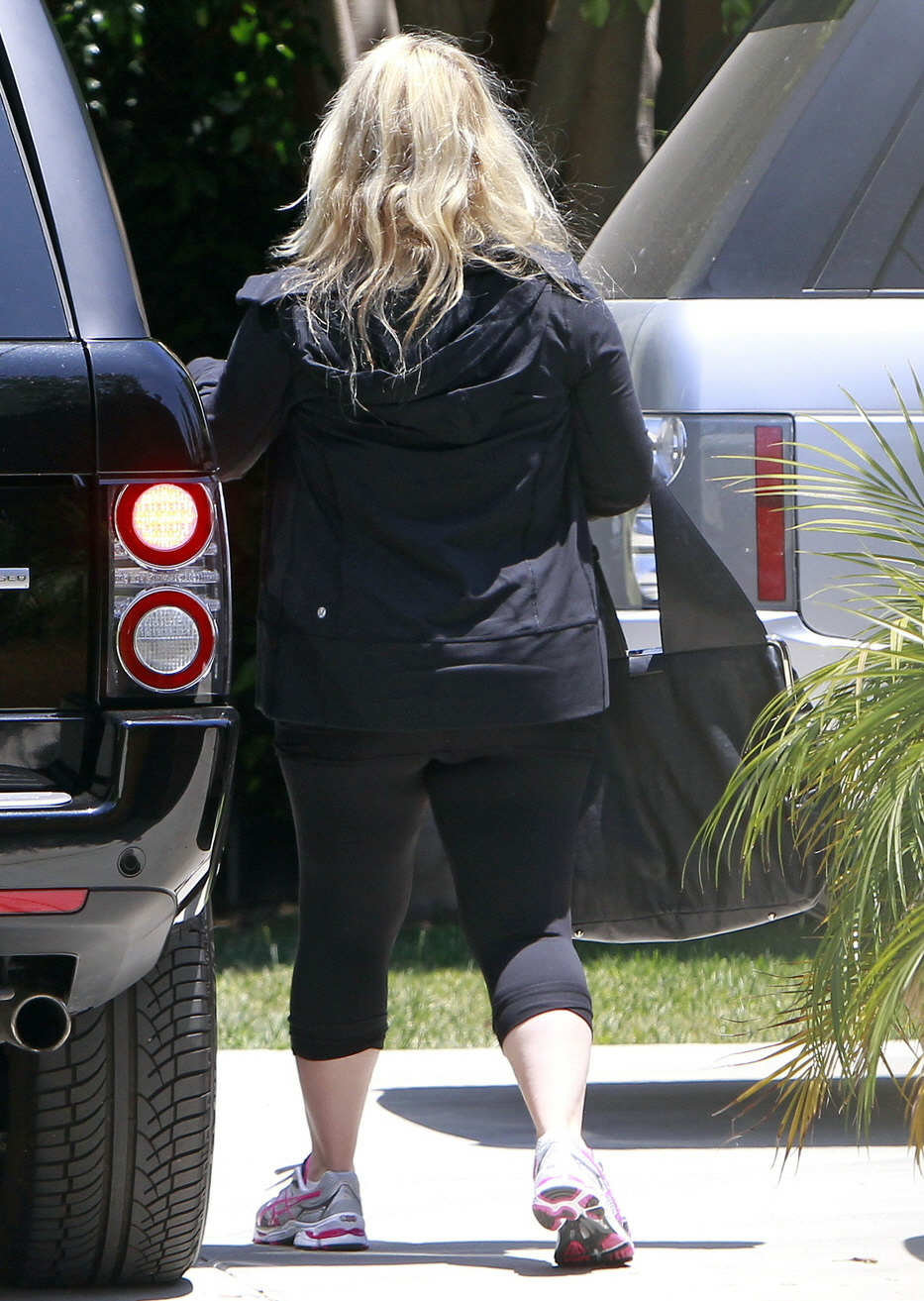 Photos courtesy of WENN, Fame/Flynet and Pacific Coast News.