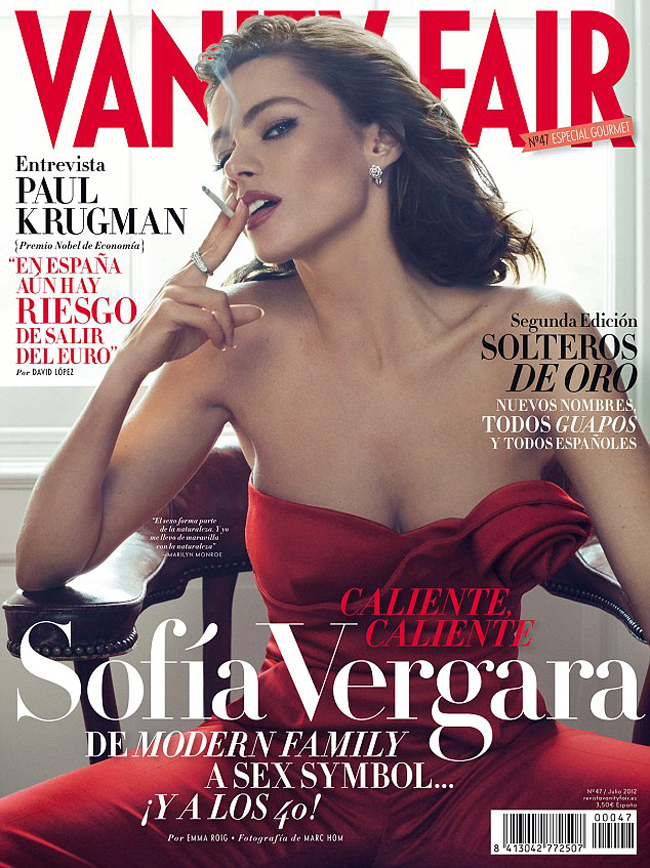 Sofia Vergara covers the Spanish July issue of Vanity Fair, and she's smoking a ciggie in grand fashion from the front of the magazine. Yes, I get this is an obvious "she's smoking hot" message dreamt up by the photographer and approved by VF itself; but in this day and age, it's a bit shocking to see what is essentially an advertisement for cigarettes on the cover of a (fairly) well-respected magazine. Maybe I'm making too big of a deal out of a silly metaphor though.
As for the other shot released by Vanity Fair, Sofia looks absolutely gorgeous in a tight black dress. I'm also envious of her highlights as I am obsessed with achieving the perfect set of subtle highlights. My current hairstylist does a pretty good job, but I'm thinking of taking this photo to her on my next visit.
Meanwhile, Sofia's on-off boyfriend, politician Nick Loeb, is spitting mad at recent allegations in National Enquirer that he loves a good prostitute, Viagra, and Ecstasy cocktail on occasion. He's not only publicly refuting these allegations but is also threatening to sue:
Prostitutes, parties in luxury hotel suites? Never!

Sofia Vergara's boyfriend, Nick Loeb–who recently was accused of getting wild and crazy with a few call girls and living a Charlie-Sheen like adventure while dating the stunning Vergara–is adamantly denying the allegations made by the tabloid, The National Enquirer.

Loeb, who was mulling a U.S. Senate bid for almost a year, says the rumors are simply not true.

"My first priority is to protect the people I love, and I hope they are not impacted by these lies and irresponsible reports," Loeb told the New York Post.

"I am mortified that false illicit behavior has been attributed to me," he added. "It's hurtful and unfair."

The gossip comes just days after Vergara and Loeb reconciled–after a brief breakup due to repeated arguments.

The New York Post says Loeb, who is the grandson one of the Lehman Brothers, is mulling taking legal action against the tabloid for spreading false rumors.
[From Fox News]
Yes, that's all well and good to say that the allegations are nonsense and potentially hurtful. But will he actually do something about it and sue the tabloid, or is he just throwing shade? That's the ultimate question.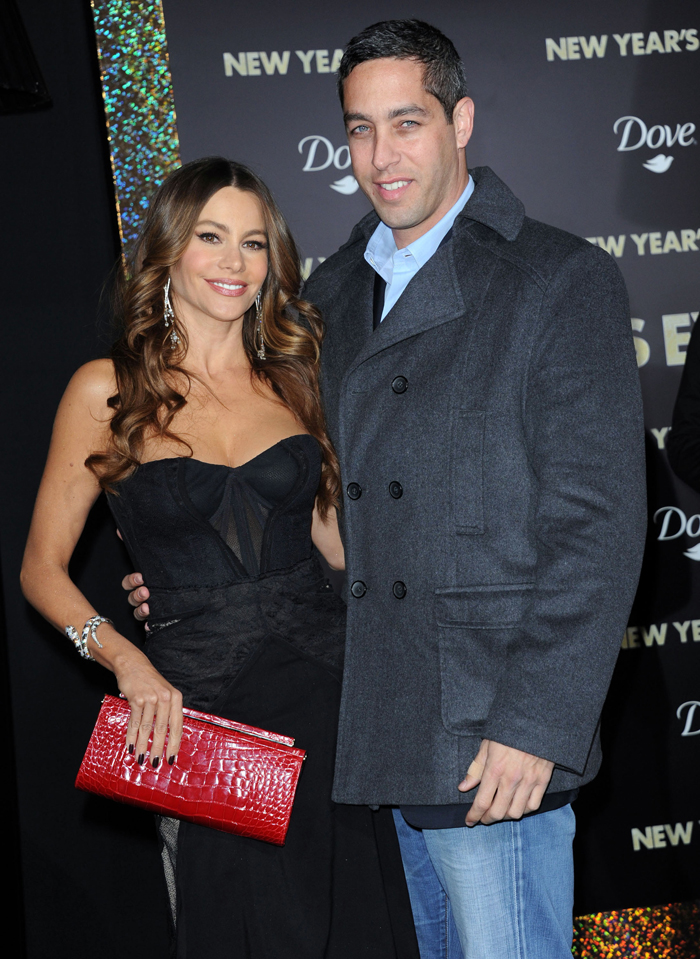 Photos courtesy of Fame/Flynet and Vanity Fair