Mia Wasikowska is "in the mix" for Johanna role in 'Catching Fire': good pick?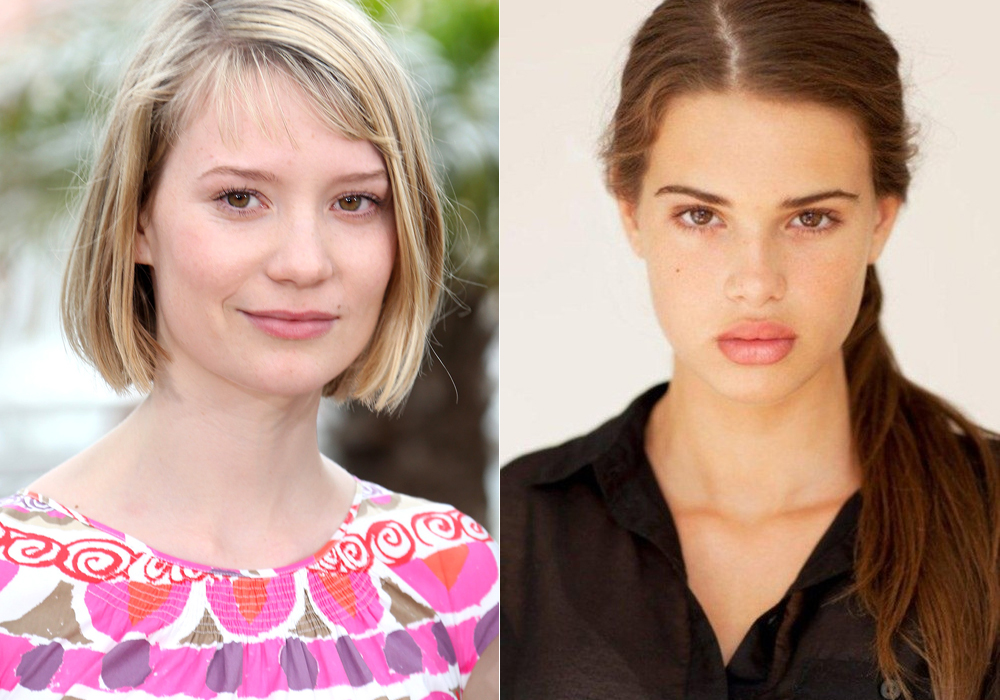 Much of the casting for the Hunger Games sequel, Catching Fire, is still up in the air, and we've hosted a few (rousing) discussions on who should play the seductive yet vulnerable Finnick Odair, which will definitely not be Robert Pattinson and may be Garret Hedlund. Of course, the Finnick role is certainly still up for grabs — and while we all wait for a decision on that note, perhaps it's best to distract ourselves by wondering who will play the (almost) equally fascinating character of Johanna, the badass District 7 victor who becomes Katniss' unlikely ally in the third Quarter Quell. A few of the names being floated about for the role are Mia Wasikowska and Zoe Aggeliki; the former being a bit of a surprise and the latter being a relative unknown. Here's the scoop from The Playlist (via Collider):
With the immense success of this year's The Hunger Games both critically and commercially, all eyes are on how new director Francis Lawrence will handled the follow-up, The Hunger Games: Catching Fire. The film is slated to begin production in a few short months, and there are a number of new characters from Suzanne Collins' second entry in The Hunger Games franchise that will be popping up. Probably the two most important new additions are Finnick Odair and Johanna Mason. We previously heard some iffy rumors regarding actors being considered for the former, but now two intriguing names have popped up as possibilities for the Johanna role: Mia Wasikowska and Zoe Aggeliki.

In order to describe the character of Johanna, I'm gonna have to get into some possible minor spoiler territory for those who haven't read Catching Fire: there's another Hunger Games. In all likeliehood, this isn't a spoiler. Lionsgate will probably be using some of the action oriented scenes from the games in the trailers for Catching Fire, as there aren't many 'splosions and fight sequences in the first half of the book. Moreover, the games play only a small part in the context of the larger issues that Katniss has to confront in the story.

Johanna is a fierce competitor in the 75th Hunger Games who becomes Katniss' ally. She's sarcastic and quite contentious, and her relationship with Katniss is more akin to a younger sister/older sister rapport. She plays an important role not only in Catching Fire but also in the third and final installment of Collins' series, Mockingjay, so it goes without saying that casting Johanna is a pretty big deal.

Sources tell The Playlist that both Wasikowska and Aggeliki are "in the mix" for the Johanna part, as Lawrence is said to be considering both big names and lesser talents. The Playlist was the first outlet to report that Gary Ross wouldn't be returning to direct Catching Fire, so I'm inclined to put considerable weight behind their story. Wasikowska is an exciting prospect as she's done swell work in films like Jane Eyre and The Kids Are All Right, but Aggeliki is a bona fide newcomer. She has roles in the upcoming pics R.I.P.D. and Percy Jackson: Sea of Monsters, but we haven't seen her act in anything yet so it's hard to gauge who would be a better pick for Johanna.

The Playlist adds that both actresses have been in discussions for the part, but Aggeliki could officially sign on in a matter of days. That said, nothing's certain just yet so Lawrence's final choice could be someone else entirely. We should hear word soon either way, as production is scheduled to begin immenintley [sic].
[From Collider]
Hmm. No one really knows what kind of an actress Zoe Aggeliki is since she's mostly got films that are currently still in various phases of production, but she seems to physically fit the bill of tan with wide-set brown eyes. Still, this Zoe chick really reminds me of what Selena Gomez would look like with Angelina Jolie's lips, and it's kind of creeping me out. As for Mia, she certainly has the acting chops to pull off the role even though I would have never have thought of her as Johanna, but if Elizabeth Banks can undergo an incredible physical transformation to become Effie Trinket, then I'm sure Mia could do the same and play Johanna.
In slightly related news, here are a few photos of Jennifer Lawrence out for lunch in Santa Monica on 6/23. She's definitely got her own sense of style, and I'm not sure what to think of that black leather jacket and the dress as a combination, but she pulls it off in a cute way.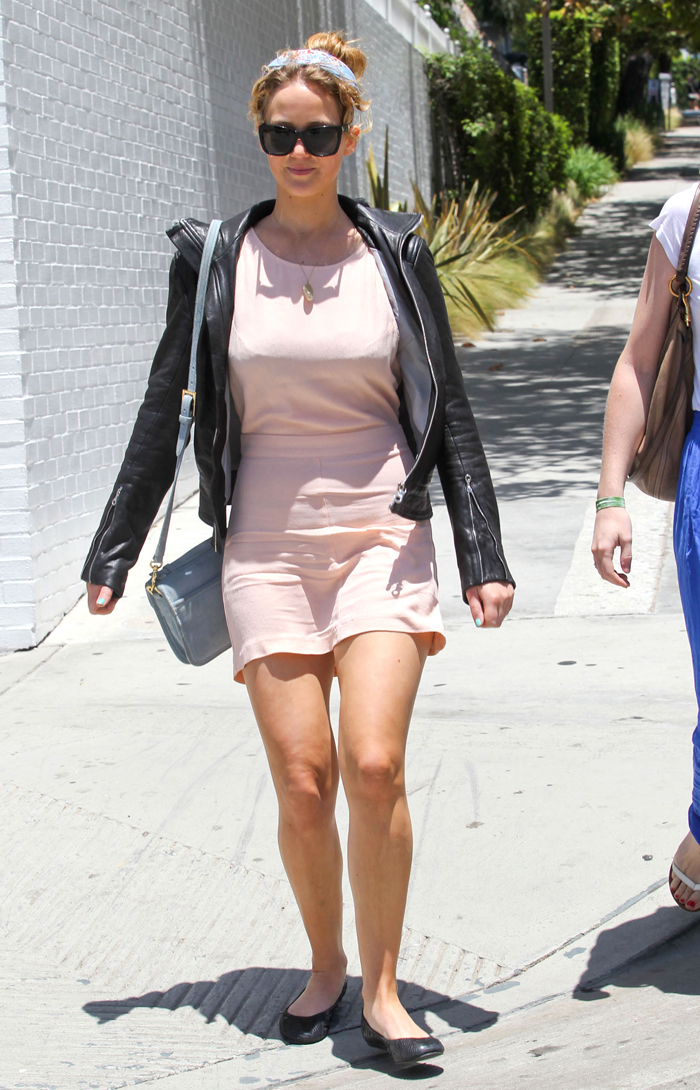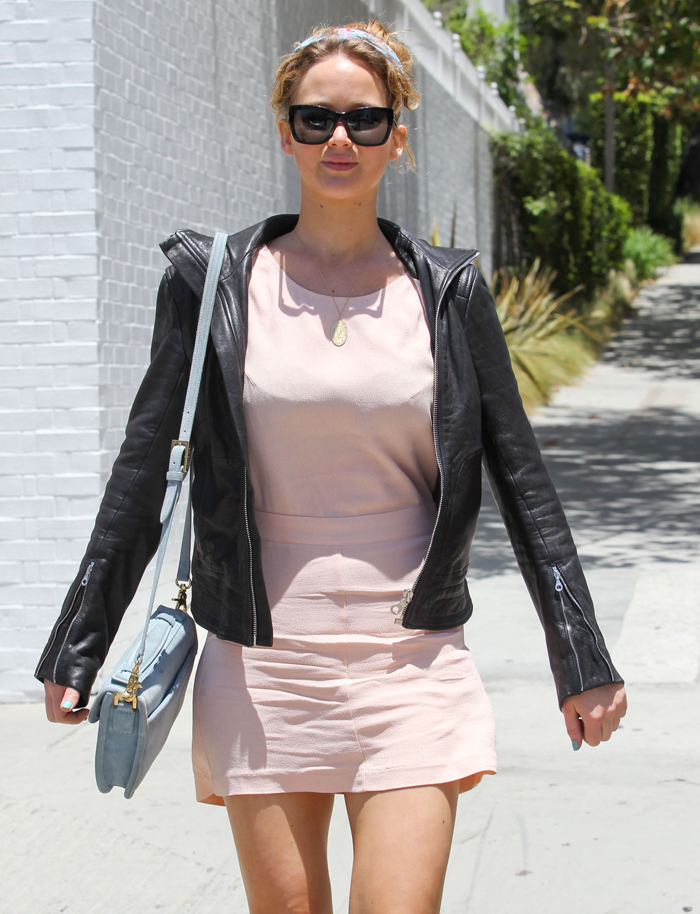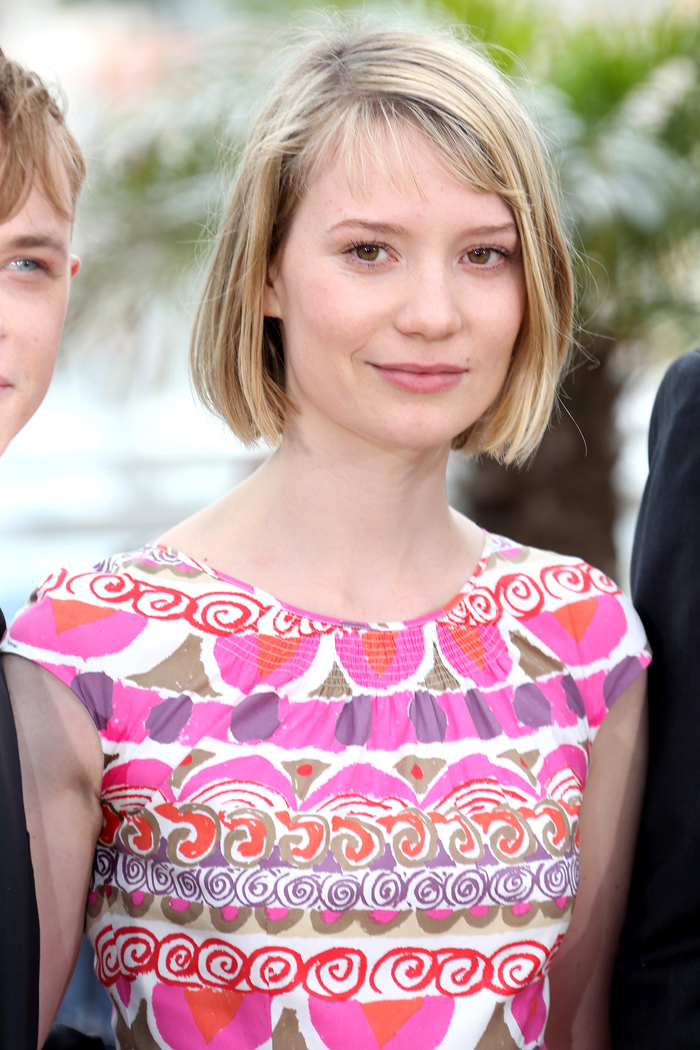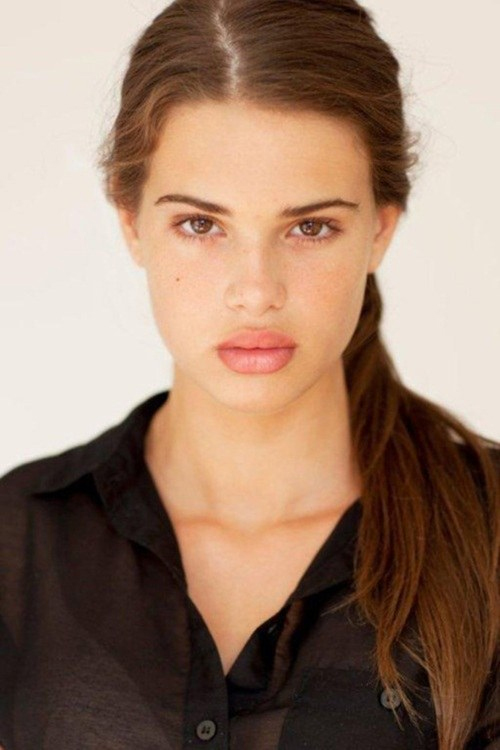 Photos courtesy of Fame/Flynet, WENN, and Zoe Aggeliki Fan
Written by Bedhead

Posted in Jennifer Lawrence, Mia Wasikowska, Zoe Aggeliki

- The Blemish interviews Carmen Electra [The Blemish]
- Rumer Willis joins Pretty Little Liars [Lainey Gossip]
- Morgan Freeman falls asleep during interview [D-Listed]
- Fug or fab: Isla Fisher [Go Fug Yourself]
- Tamra Barney confirms spinoff [Reality Tea]
- Movie franchises that rebounded [Pajiba]
- Why Dylan McKay is the perfect boyfriend [Buzzfeed]
- Saoirse Ronan could have been a Lohan [Evil Beet]
- GIFs from Cannes [Popsugar]
- Cat massages a dog [CDAN]
- Heather Graham is so pretty [Celebslam]
- What is Lucy Hale wearing? [Moe Jackson]
26 Responses to "Mia Wasikowska is "in the mix" for Johanna role in 'Catching Fire': good pick?"