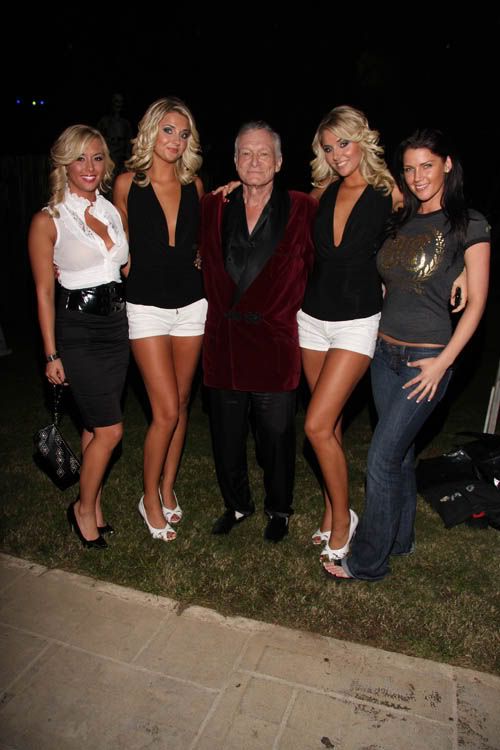 Hugh flanked by the twins and some other women as his Halloween party. Credit: WENN. The photo mentioned here can be seen on Defamer
Hugh Hefner has these two 19 year-old twin ex-cons taking over the spot in the mansion that's been vacated by his trio of blondes that have kind of grown on us over the years. Holly, Bridget and Kendra had the sense to move on in their lives, so 82 year-old Hef has moved on to women young enough to be his great grandchildren. That's not an exaggeration if you do the math. It wouldn't even require a single teen pregnancy.
Defamer has a photo of Hef making out with a woman who looks like she could be one of the teen twins. It's hard to tell though because many playmates are kind of interchangeable. There's a girl sandwiched between them who could be a sister. A source says that contrary to public perception Hef does screw the women in his house:
Photo evidence has surfaced online (and since been removed) of a recent Hugh Hefner-hosted Playboy Mansion soirée: the always enchanting Mid-Autumn's Dress Like You Just Raided the Hustler Store With Your Grandfather's Black Card Party. And lest you worry that his small army of pneumatically enhanced arm candy serve purely decorative and/or walk-stabilizing functions, we invite you to scrutinize the photo above.

In it, Hefner engages in a vigorous oral exploration of one of his guests (one of his bar-brawling twins?) while nearly smothering another couch-dweller to death (her sister?) in the process. According to the Oh No They Didn't contributor, whose friend is a Playboy model and took the photos, Hefner "'just grabs girls faces and kisses them, he's such a bitch' and 'he really is an old pervert' and that he smokes pot all the time and that 'all his girlfriends really do f*ck him.'" Go, Hef!
[From Defamer, originating post on ONTD has been removed]
I guess we know the very skeevy price of fame for some of those playmates. It involves doing things with an elderly guy that many women wouldn't considering doing with their own boyfriends. And for some, it may even involve doing it with their sister as a witness. You hope that's a far as it goes though. There are plenty of women willing to take their place for a brief shot at fame, so you can bet they do it with zest. It beats working at a fast food restaurant, which is pretty much what those twins were doing before they hit the big time with Hef. That and getting into fights with each other and whoever happened to piss them off that day.