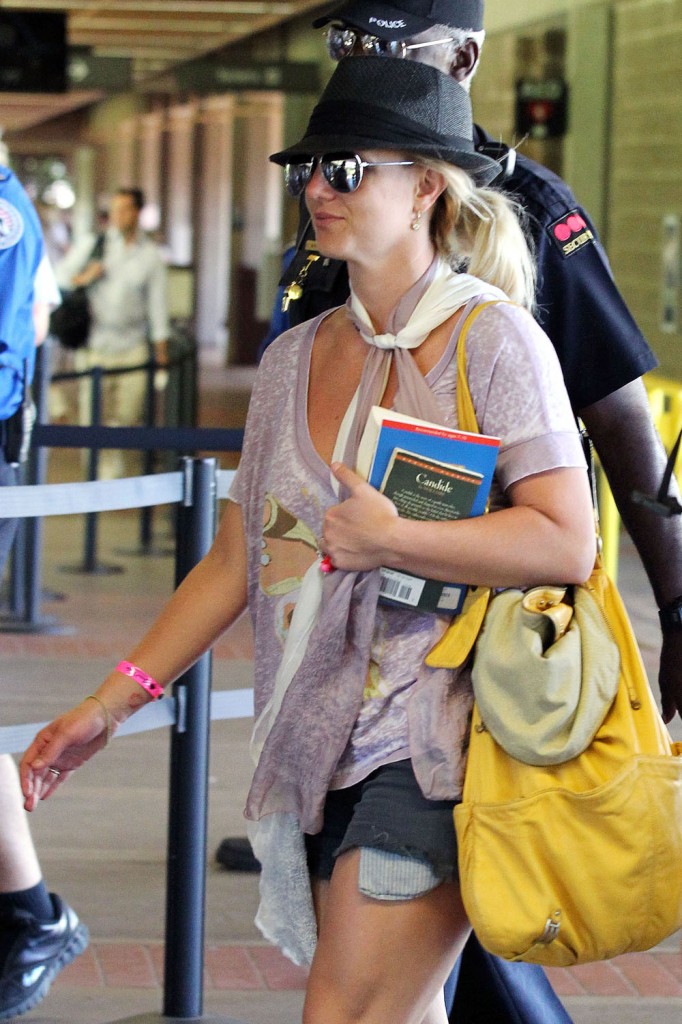 It's been a few weeks since we've heard about Britney having trouble on the set of X-Factor. She seems to have settled into a routine with her new gig, and went on to judge auditions in three other cities without any incidents we heard about. All that changed in Greensboro, North Carolina, where Britney looked "stunned" and stormed off set when a guy auditioned in drag as Britney and sung her hit "Crazy." (Did you know Melissa Joan Hart was in that video? I barely remember that song.) Two out of the three other judges, Demi and L.A. Reid, followed Britney in what may have been a show of solidarity. Britney came back, told the guy she respected him but that he wasn't for X-Factor, and then promptly left again. At that point, the crowd booed her. Here's more:
During The X Factor auditions in Greensboro, North Carolina July 9, Spears was at a loss for words when a contestant dressed in drag performed a cover of her 1999 smash, "(You Drive Me) Crazy."

Spears, 30, looked visibly bothered as the male contestant, dressed partially as a woman in cat glasses and a bedazzled jean jacket, struggled to sing her pop classic. The Grammy winner eventually left the judges' table and joined her fiance, Jason Trawick, 40, in the production pit; Demi Lovato, 19, and L.A. Reid, 56, followed Spears off stage, though Simon Cowell, 52, stayed behind to critique the aspiring singer.

"I don't think she quite understood your tribute," Cowell told the X Factor hopeful. "You've got to be able to sing in tune. There wasn't a note in tune."

The teary-eyed singer explained that he "had to fight real hard to get here," and claimed that because he's on welfare and can't afford to pay his phone bill, he nearly missed his X Factor audition call.

Spears eventually returned to the stage, sans Lovato and Reid. With her arms crossed, she leaned into Cowell's microphone and said, "I really respect the tribute. It was really nice, but I just don't feel like it's for X Factor. Sorry, sweetie."

With that, the Greensboro Coliseum booed the "Criminal" singer as she walked off stage yet again. "Britney just stormed off the set because a guy did a tribute to her," one attendee tweeted. "She's such a bitch!"
[From US Weekly]
Maybe Britney was pissed off that they let the guy on and felt like they did it to mock her. I don't think that her walkoff was a stunt, but surely the whole tribute in drag was. If that guy was doing a Cher song it's not like he would have made the cut, you know? Simon needs ratings and he's going to try to get under Britney's skin if that's what it takes. Britney could have definitely sucked it up, sat there and handled it better than she did, though.
We've also heard that Simon is trying to convince Britney to ditch her ever-present boyfriend/co-conservator, Jason Trawick, since Trawick is a calming influence on her and that does nothing for ratings. Simon's got to be thrilled that he finally got a reaction out of Britney and now has a nice clip of her leaving the set to play over and over again in promos.
TMZ, which has been getting their news straight from X-Factor, didn't cover this story at all. They do have a video of Britney jamming out to a contestant's cover of Vanilla Ice's "Ice Ice Baby," and another story about how Demi Lovato bitched out some rappers who were singing about drug use and sent them packing. I have a feeling that Demi is going to be a lot more interesting on this show than Britney.
Here's a new promo for X-Factor featuring Britney:

Here's a bikini photo Britney tweeted during her recent trip to Hawaii: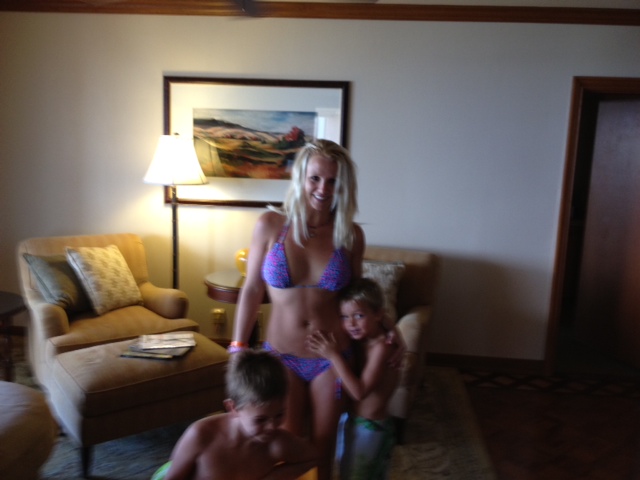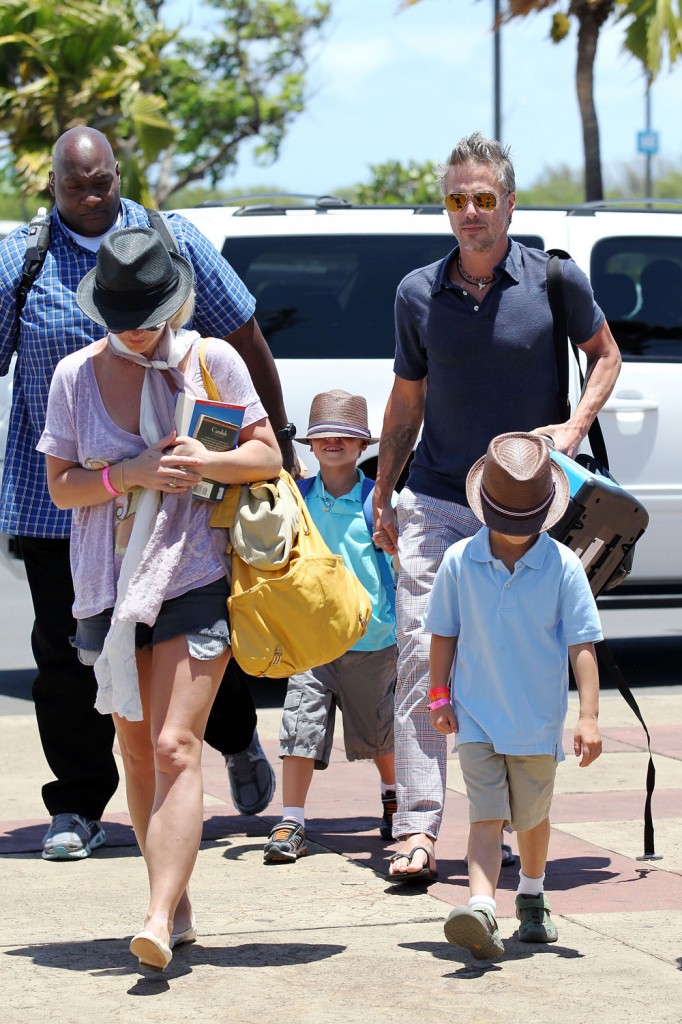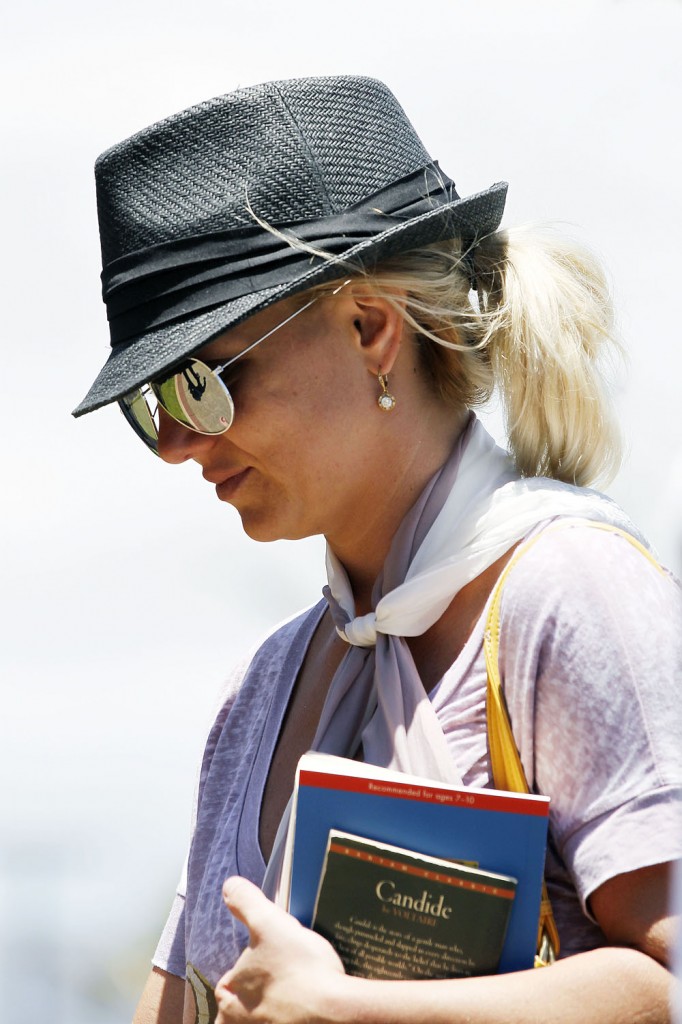 Britney is shown at the airport in Maui on 7-6-12. She's reading Voltaire's Candide? Credit: Apollo/Zeus/HiFly/FAMEFLYNET