Miranda Kerr is still facing backlash from her anti-epidural comments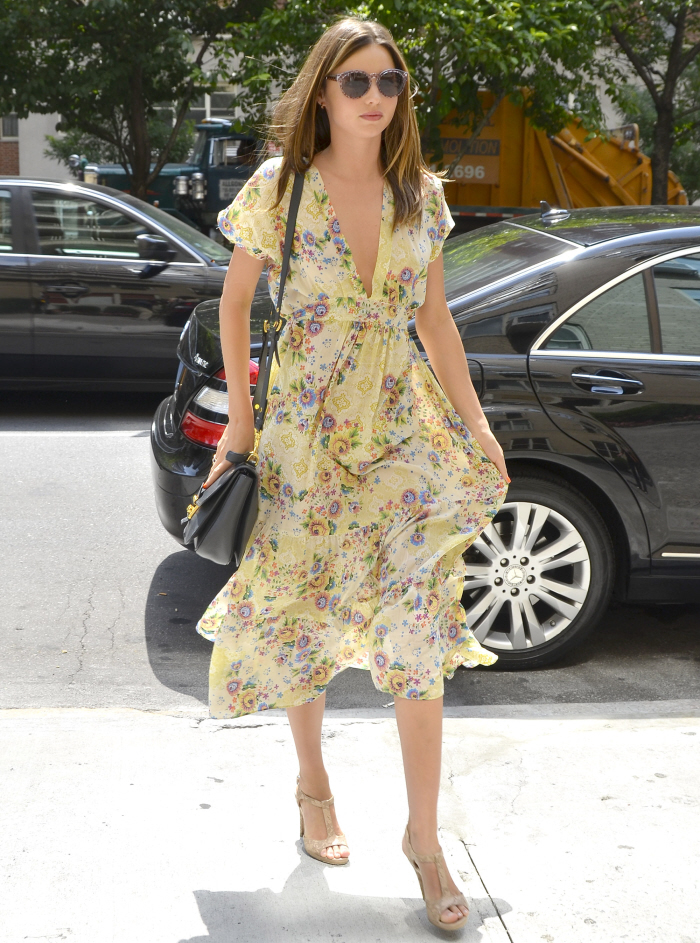 Ugh, I am completely in love with Miranda Kerr's fluttery little summer dress. It's perfect. It's beautiful. I want it. I know it probably costs a million dollars, though. Perfect summer dresses always do. Why is she taunting me?!?! Anyway, these are some pics of Miranda out and about in NYC yesterday. She had a costume change at one point, and I'm including a photo of her alternate "Wednesday outfit" too.
Did you know that Miranda has now joined the ranks of Gisele Bundchen with her "controversial" statements about mothering and childbirth? True story. A few weeks ago, I covered Miranda's Harper's Bazaar UK cover and profile, in which she said about childbirth, "I had made a decision that I wanted to do it [naturally]. I had been watching all these baby-bonding videos, and [without epidural] when the baby comes out it goes straight onto the breast. Then they showed ones right after the epidural, and that didn't happen. The baby was a little bit drugged up, and I was like 'Well, I don't want that.' I wanted to give him the best possible start in life I could."
I wasn't enraged by her comments or anything (I'm not a mom, and childbirth terrifies me, so I'm always on Team Any-Drugs-You-Want-To-Give-A-Bitch), but I did wonder aloud if there was any scientific evidence that epidurals are damaging in any way to the mom or the baby. My focus was on the science of it – but Miranda's comments quickly went viral and it became "Miranda Kerr JUDGES mothers who get epidurals because they're not doing what's best for their baby." There was a firestorm and all of the mommy blogs were discussing it. We're now two weeks out and other sites are still talking about it. Miranda still hasn't issued any kind of clarification or anything, so I don't know what to tell you. My guess is that she stands by what she said but she didn't mean it in a Judgy Mother way.
Meanwhile, Miranda does have a new interview in the latest Women's Fitness Mag, and she's discussing her "raw, clean and organic" diet. UGH. Miranda says:
"I find the most satisfying food is food that's full of life, so it's raw and clean and organic. We have a vegetable patch in Los Angeles so when I get the veggies out and eat them from there I love that. My grandfather had a vegetable patch when I was growing up and my grandma would just chop the vegetables up and give them to us, so I learned from that. I find that really satisfying, the raw enzymes. I also love kale, spinach, fennel, avocado – I like to eat clean. I love to cook. I love to have people over to the house and cook for them and have dinner parties. I cook anything – fish, a roast – it really depends on who is coming and what they feel like and what my husband feels like eating. I just love to make things. I make a really good panna cotta as well."
I like greens, I love a salad and I like fresh food too. But I am getting a little bit tired of Miranda's "my way of life is better than everyone else's way of life" interviews. Maybe she doesn't mean it that way (in fact, I'm sure she isn't the Judgy Mother that she seems), but she's really starting to give me Gisele and Goop-vibes. Enough, Miranda.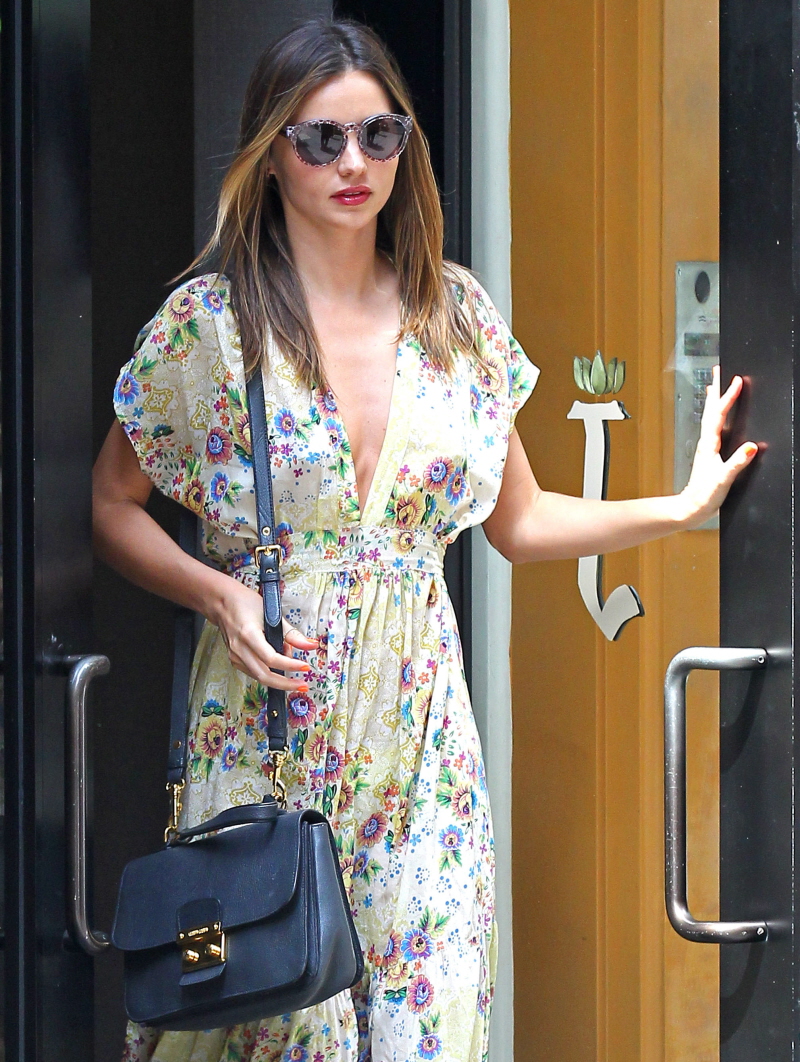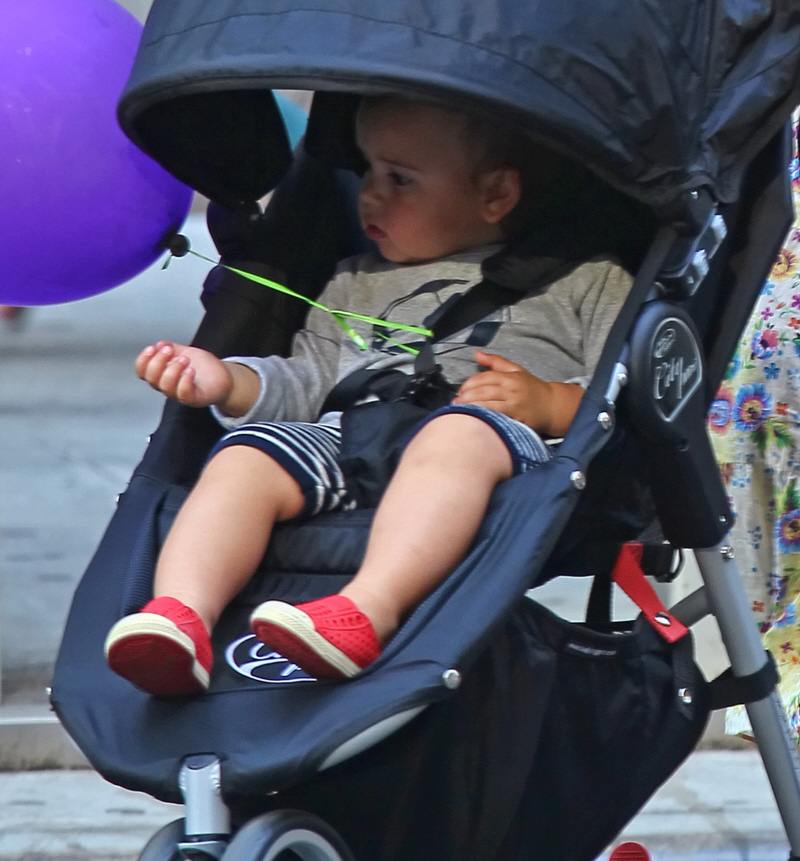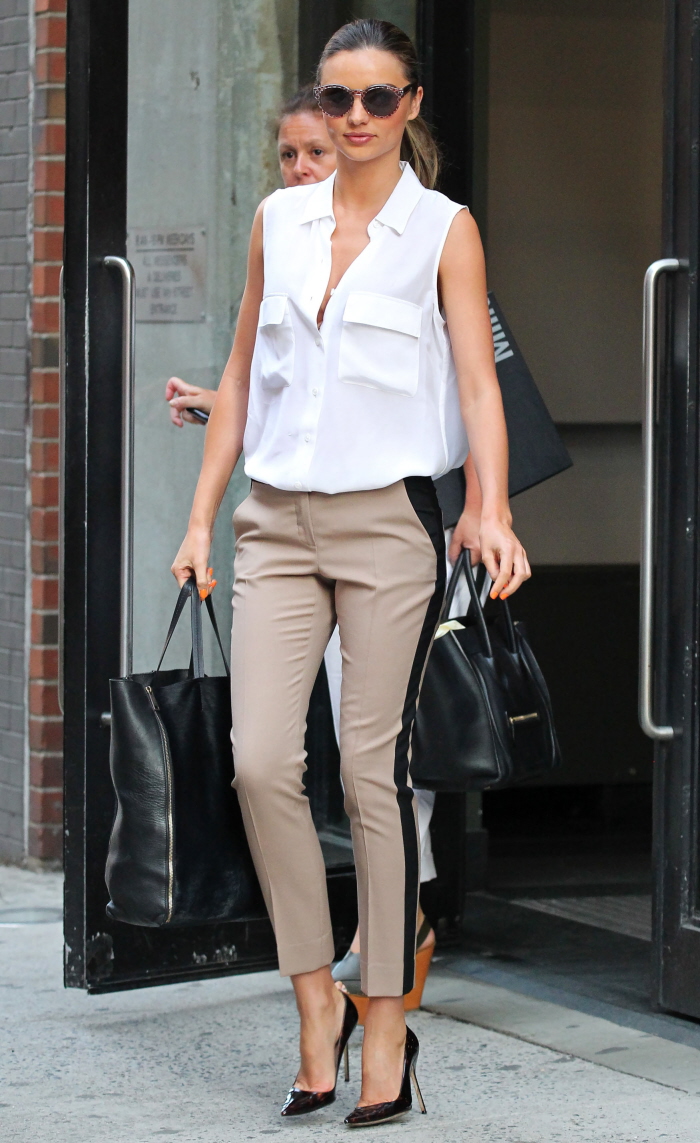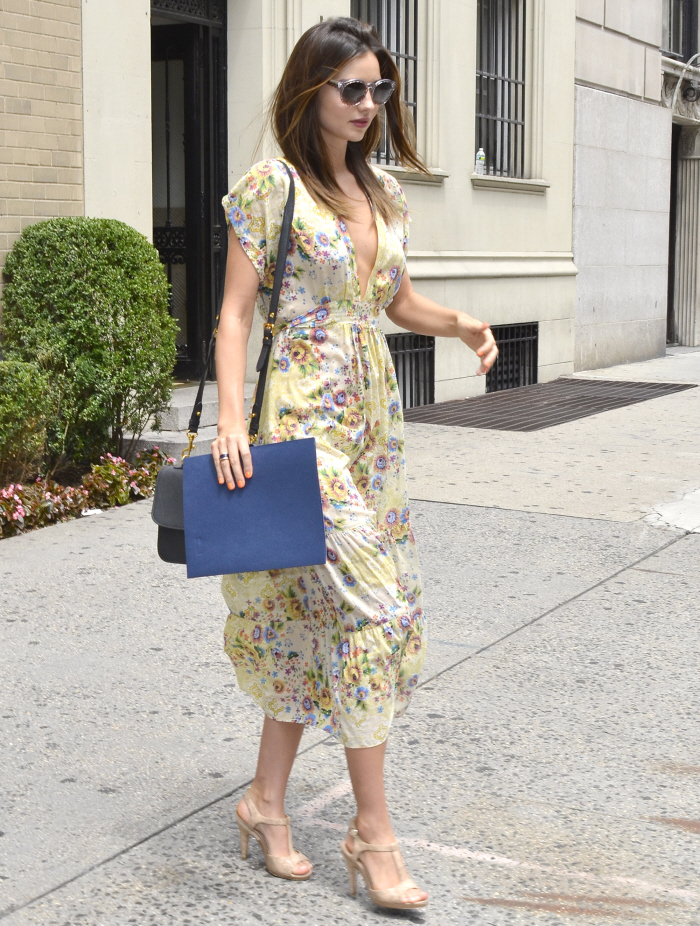 Photos courtesy of WENN, Fame/Flynet.

Written by Kaiser

Posted in Controversies, Miranda Kerr

- Zach Galifianakis is awesome [Buzzfeed]
- Prince at the Billboard Music Awards [D-Listed]
- Bieber's Billboard look [Go Fug Yourself]
- Married to Medicine recap [Reality Tea]
- Celebrity first marriages [Pajiba]
- The last Mad Men baffled a lot of people [Lainey]
- Karolina Kurkova's crazy hot dress [Moe Jackson]
- Jennifer Garner on set [Popsugar]
- Kitten vs. Lizard [CDAN]
- Doetzen Kroes' great butt [Celebslam]
- Shameless star Jeremy Allen White [OMG Blog]
- RIP Ray Manzarek [Bossip]
127 Responses to "Miranda Kerr is still facing backlash from her anti-epidural comments"