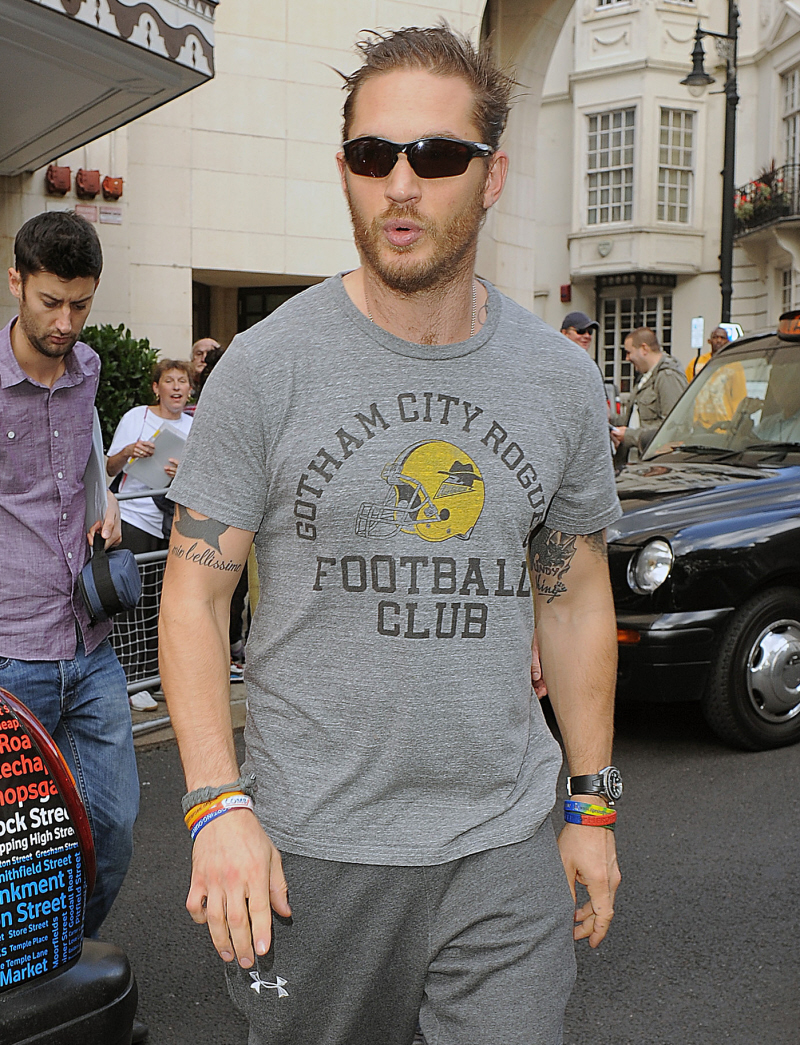 These are photos of Tom Hardy in London yesterday, the day after the UK premiere for The Dark Knight Rises. As you can see, Hardy was wearing a promotional t-shirt for TDKR, and he looks really happy and jazzed, especially with (what I'm assuming is) his promotional matte-black Bat-car. These photos were taken roughly ten hours before the horrific mass-shooting at a late-night screening of TDKR in Aurora, Colorado. We're not a hard-news site – we only bump up against real news stories when they have some kind of celebrity attached, or when they involve pop culture in some way. So, I'm not going to be covering the hard-news developments of the deaths and injuries of these poor people who just wanted to see TDKR, and I won't be giving any time to the POS a—hole shooter. My thoughts and prayers are with the families of those injured or killed.
Here's People Mag's coverage thus far:
At least 12 fans attending a midnight screening of The Dark Knight Rises Friday morning were killed when a gunman opened fire on the audience in Aurora, Colo., a suburb of Denver.

Another estimated 50 were wounded, including a 6-year-old girl, Police Chief Dan Oates told reporters, CNN reports.

Police apprehended 24-year-old suspect James Holmes – a local resident who was said to be heavily armed and wearing a bulletproof vest – in a rear parking lot of the Century 16 Theater in Aurora's Town Center Mall, police spokesman Frank Fania told CNN. "He did not resist. He did not put up a fight," Fania said.

Holmes remains in custody. His home is currently being searched for possible explosive materials or devices.

Holmes's mother, who lives in San Diego, confirmed to ABC News that her son was the shooter, saying, "You have the right person." According to ABC News, she was unaware of the shooting until she woke up and had not been contacted by authorities. She also expressed her concern, and told ABC, "I need to fly out to Colorado."

The attack in the theater began when the suspect tossed a canister of tear gas into the crowd through an emergency exit door, reports CNN affiliate KUSA. He then opened fire. Some moviegoers thought he was part of the show.

"We saw people running around and screaming," an unidentified man told KUSA. Another moviegoer said the gunman wore a gas mask and moved through the theater, firing randomly.

Of the wounded, at least 20 were being treated at the University of Colorado Hospital for minor to critical gunshot wounds, spokeswoman Jacque Montgomery told CNN.

At the moment, the Dark Knight Rises cast – including Christian Bale, Anne Hathaway, Joseph Gordon-Levitt, Morgan Freeman and Marion Cotillard – is in Paris for a scheduled red carpet premiere on the Champs-Elysees Friday night. PEOPLE has been told that Warner Bros. has canceled all interviews related to the movie opening, as well as the premiere itself.

In a statement, the studio said: "Warner Bros. is deeply saddened to learn about this shocking incident. We extend our sincere sympathies to the families and loved ones of the victims at this tragic time."
Warner Bros. has pulled Hardy, Anne Hathaway, Christian Bale and the other actors from all of their promotional work in Europe for the time being. Warner Bros. also canceled tonight's premiere of TDKR in Paris. According to Radar, the whole cast had already flown to Paris (from the UK) before they heard about the Colorado massacre. My guess is that the Paris premiere will be canceled for good, and Warner Brothers will do a media blackout for the weekend, and then the actors' promotional duties will resume on Monday. That's just my guess, btw, I have no inside information. Also – Nikki Finke is already talking about how this devastating tragedy will affect TDKR's opening weekend. Too soon, Finke.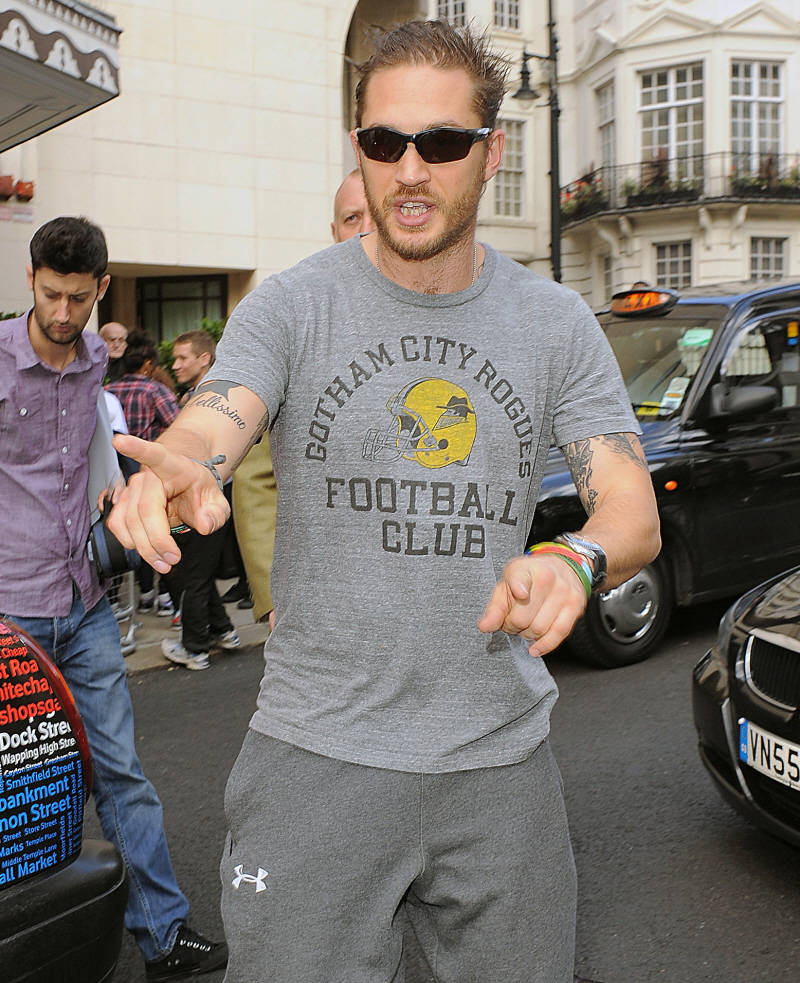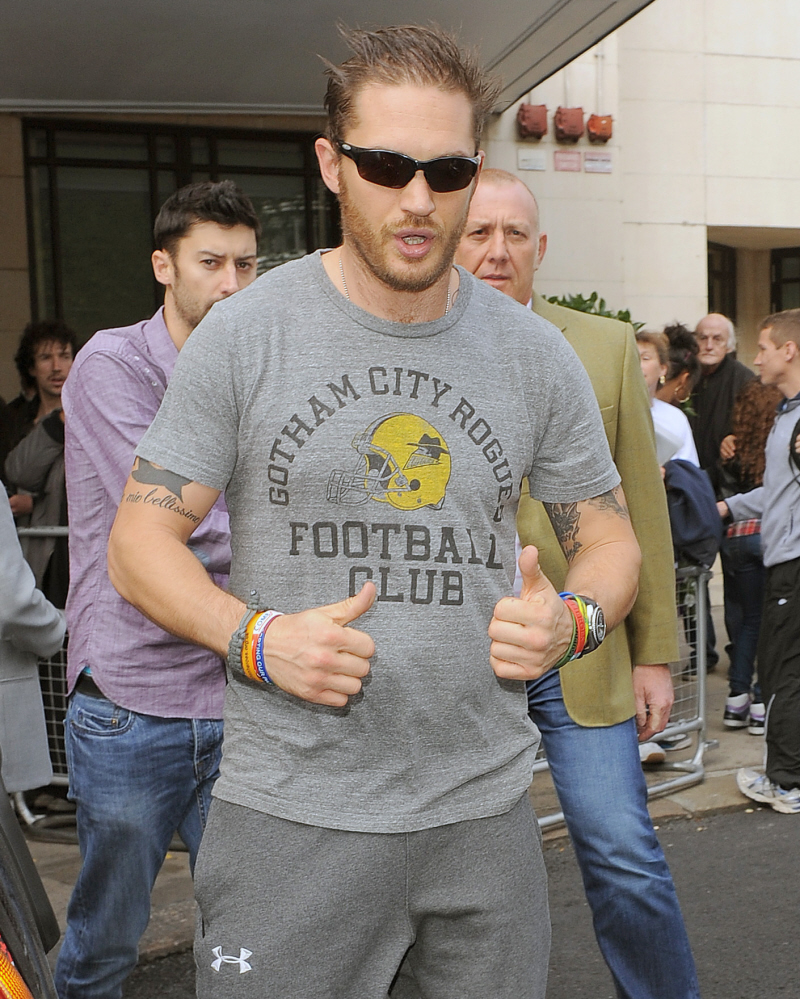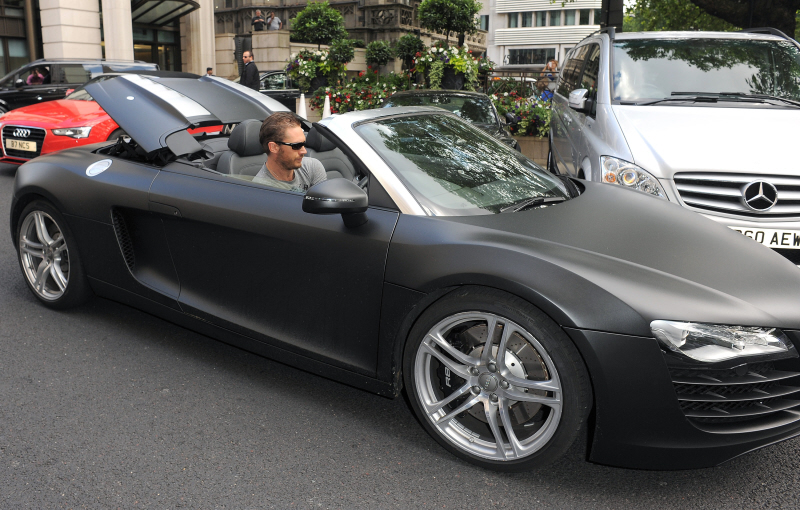 Photos courtesy of WENN.