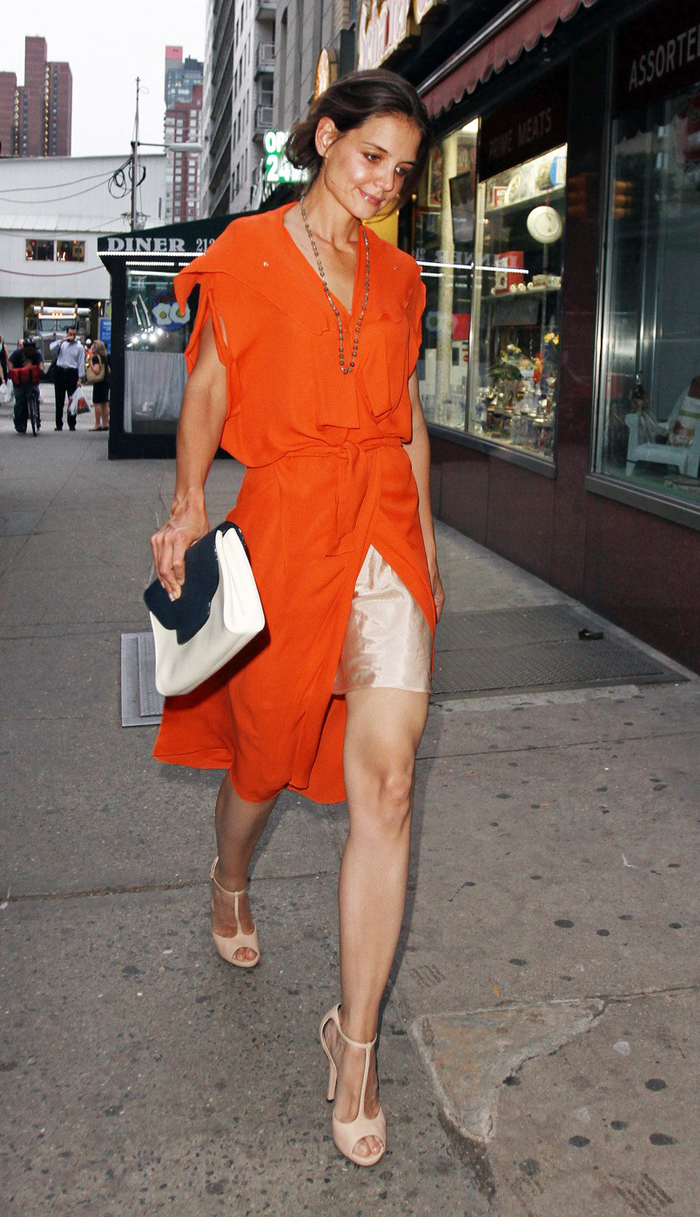 For the first time in weeks, there are no new Katie Holmes and Suri Cruise photos to show off with the tabloid stories. At present, Suri is still with Tom after flying away in a helicopter after he swooped in and smiled at the paps in New York City a few days ago. So we'll have to make do with some recycled pictures of Katie and Suri enjoying their freedom as well as some photos of Tom looking generally insane.
First up for this Friday roundup — Katie Holmes is focusing on rebuilding her career since (obviously) marrying Tom did nothing for her professional profile. In addition to gearing up to produce a feature film called Molly, which she also wrote and is starring in about a single mother and her daughter, Katie is preparing to return to Broadway this fall with a role in a dark comedy called Dead Accounts. She previously appeared in the 2008 revival of Arthur Miller's All My Sons and, according to one review, "did not embarrass herself." At the time, that particular critic also mentioned that he had met Katie before she hooked up with Tom and that she mentioned that "she wanted to do plays." Here's her chance to get back to that now that she's done with the unhinged, lift-wearing midget.
Now let's move onto the tabloids, who are still very much enjoying the aftermath of the TomKat split. A story in this week's Enquirer presents a picture of a horrified-looking Tom above little floating insets of Chris Klein, Josh Hartnett, and Joshua Jackson with a headline that alleges his fear of having to take a paternity test one day. To up the drama, the Enquirer poses the theory that the test might just be requested by Suri: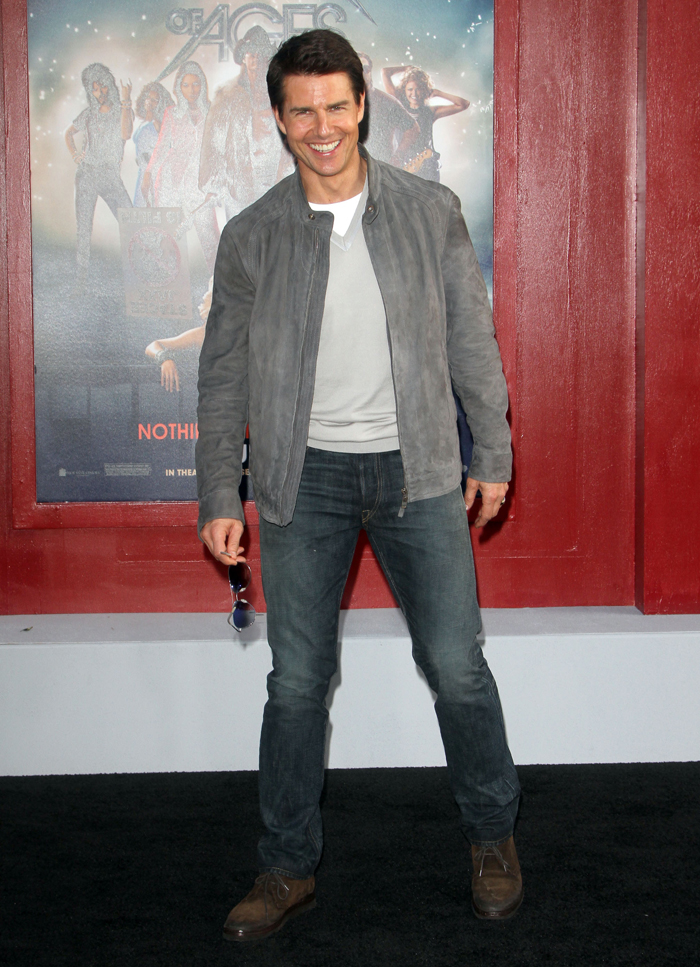 Katie Holmes and Tom Cruise's abrupt divorce has once against given rise to unbelievable new questions about their daughter Suri's paternity, and Tom is absolutely outraged over the persistent lies and crazy rumors, say sources. The 50-year-old star will be most disturbed over suppositions that Suri will someday ask him to take a paternity test to prove he's her father.

"Tom is furious that rumors over whether or not he's Suri's biological dad persist, and he's completely outraged that the chatter has intensified since his split with Katie," revealed a source close to Cruise. "Tom loves that little girl with all his heart and his priority in life is keeping a strong father-daughter bond despite his and Katie's bust-up. In fact, the reason he fast-tracked the divorce settlement is because he wanted to ensure that he'd never have issues seeing Suri or being a big part of her life.

Since Katie blindsided Tom with the divorce filing, outrageous rumors have exploded on the Internet, with one website suggesting that actor josh Hartnett could be Suri's daddy. And another insists that Suri is the spitting image of Katie's "Dawson's Creek" co-star Joshua Jackson. "I think she was pregnant when she met Tom," writes a poster.

As The Enquirer reported, Tom and Katie didn't allow the public to see Suri for the first three months of her life, causing even more absurd speculation. It was widely rumored that since Tom hadn't fathered children with his previous ex-wives, actresses Mimi Rogers and Nicole Kidman, Suri was a "test tube" baby — and even more outrageous, that Katie had been impregnated with the frozen sperm of long-dead Scientology founder L. Ron Hubbard.

When the proud parents finally showed off their bundle of joy — with her thick shock of dark hair and piercing blue, almond-shaped eyes — in Vanity Fair magazine in October 2006, a new round of even more vicious lies exploded. Some Internet bloggers insisted that Suri looked Asian, while others noted that she resembled Katie's last boyfriend, actor Chris Klein.

"If Suri's schoolmates know about the questions surrounding her dad, they could certainly tease her about it," Dr. Terry Lyles, a Florida-based psychologist says. "And if Suri is bothered by the rumors, there's a pretty good chance that she'll eventually ask for a paternity test. Girls are very concerned with their identity. Knowing their biological father is crucial to their self-esteem."

But taking a DNA test would be humiliating for Tom, a long time friend of Katie's told The Enquirer. "Tom's not going to like it, but there will very likely come a point when he may be forced to take a paternity test. With his seemingly unyielding need for control, Tom will most likely resist the test until the bitter end. He might have to choose between swallowing his pride, which he's not used to doing, or possibly sacrificing his relationship with Suri."
[From Enquirer, print edition, July 30, 2012]
Oddly enough, The Enquirer leaves out the persistent rumors that Suri could also be the offspring of Tommy Davis, head of the Scientology Celebrity Centre, but whatever. While I'm the first to admit that this story gives me a chuckle because I'm generally a big fan of whatever happens to infuriate Tom Cruise, in this instance, I actually feel slightly sorry for the guy because I really do believe that Suri is his biological child. To me, she truly does look like perfect physical hybrid of Tom and Katie. Seriously! I'm not even trying to be funny about this topic. There are plenty of things over which to pick on Tom, but I don't buy into the conspiracy theories surrounding Suri's parentage.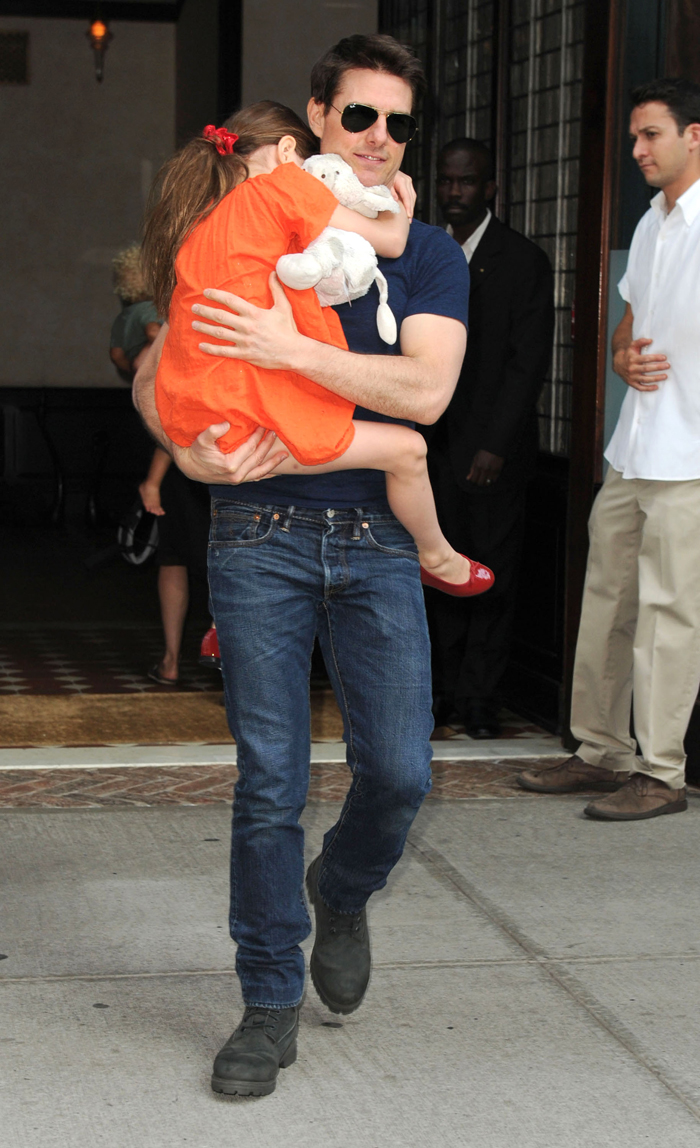 This week's In Touch has a story about how Tom has a secret plan to "lull Katie into a false sense of security" (which we've already discussed in terms of Tom believing that nothing's really been settled) by the settlement and that "Katie is watching her back," which is good practice for the future because she'll be doing so for the rest of her life.
Finally, this week's Star also has a TomKat story, which is mainly about the hilarity that Kaiser already covered in regard to Katie's alleged sexy, supersecret rendezvous with Chris Klein. Since Tom, in general, supposedly feels utterly "humiliated" by Katie's divorce filing, it follows that he's now "infuriated" to think that Katie could be hooking up with Chris just days after their divorce was finalized. He's also supposedly wondering if this means that Katie has been cheating on him with Chris for quite some time now, and he has allegedly been trying to get the truth out of Katie on this issue, but she won't take his calls. While I don't doubt that Katie has been refusing phone calls from Tom, there are a million reasons why this would be the case … and none of them probably have anything to do with the American Pie guy. Just saying.
UPDATE: People just published a story about Tom and Suri's recent helicopter ride out of NYC, which Tom supposedly thinks will help "minimize the disruption" in Suri's world: "He's going to try, despite all the attention, to have things be as normal as possible." Like I've been saying all along, Tom just doesn't have a clue on what "normal" really means, does he?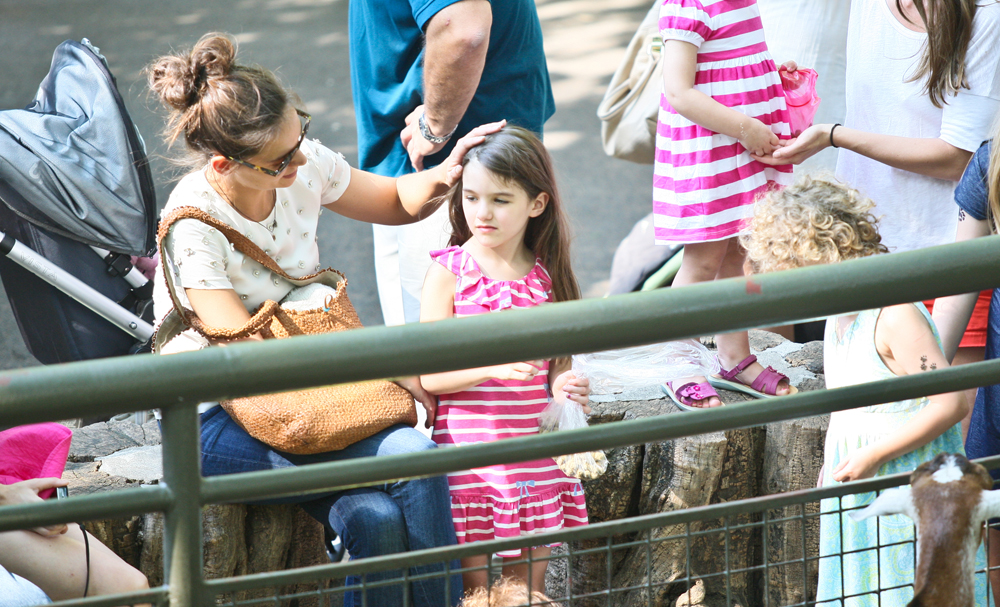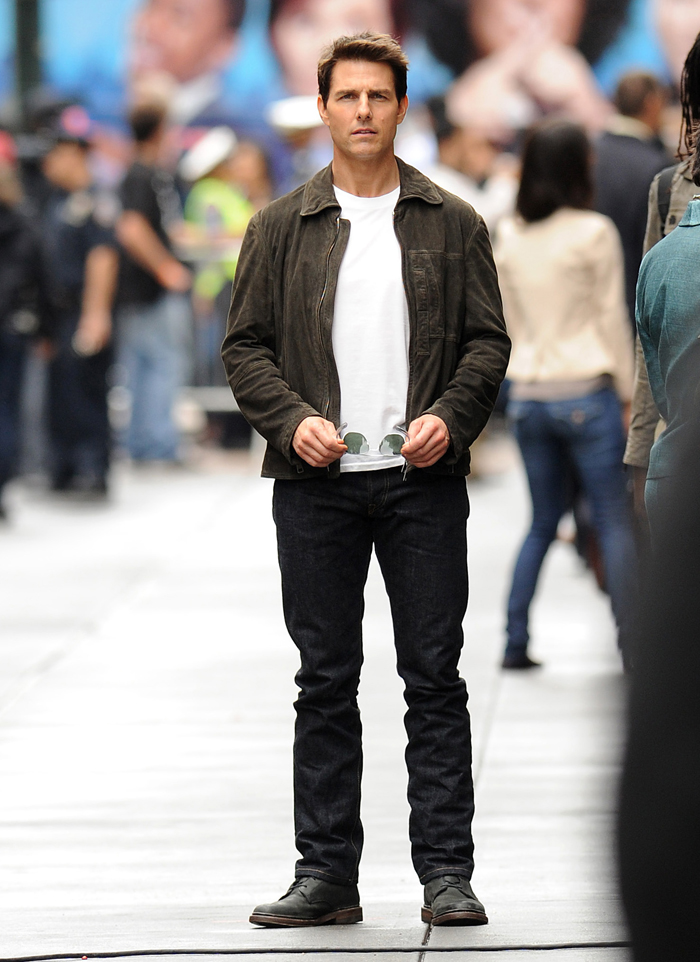 Photos courtesy of Fame/Flynet, Pacific Coast News, and WENN