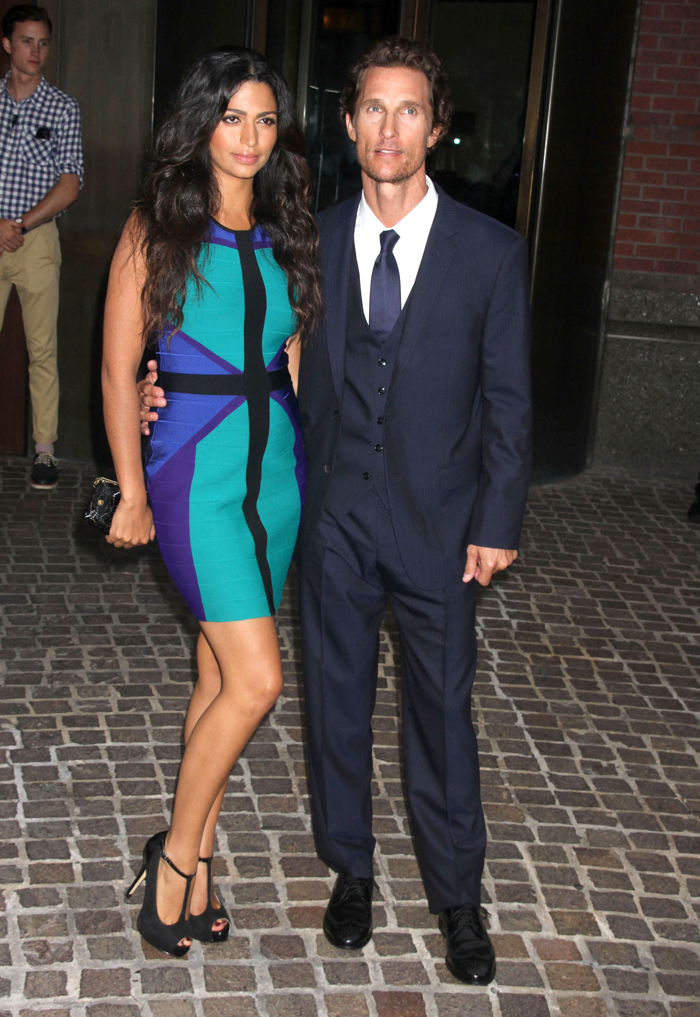 Here's some photos of Matthew McConaughey and Camila Alves at the New York City screening of Matthew's latest (indie) film, Killer Joe. As an avid McConaughey fan, I realized something was amiss, and I noticed the same thing at the London premiere for Magic Mike, but now the issue has progressed somewhat. He looks very, very skinny here, right?
There's a good reason for Matthew's emaciated state — he's preparing to play an HIV patient in a movie called The Dallas Buyer's Club. According to the movie's IMDb page, Matthew's character develops full-blown AIDS in 1986 and is instructed to "go home and die" but doesn't take his diagnosis lying down. Needless to say, it sounds like very heavy stuff, and Matthew's getting into the role by losing a total of thirty pounds before filming even begins. Of course, I've never really thought of Matthew as a method actor — unless one counts playing bongos naked and smoking doobies — but it's good that McConaughey is getting back into some meaty acting instead of devolving back into a romcom dude. Here's some more info about his weight loss: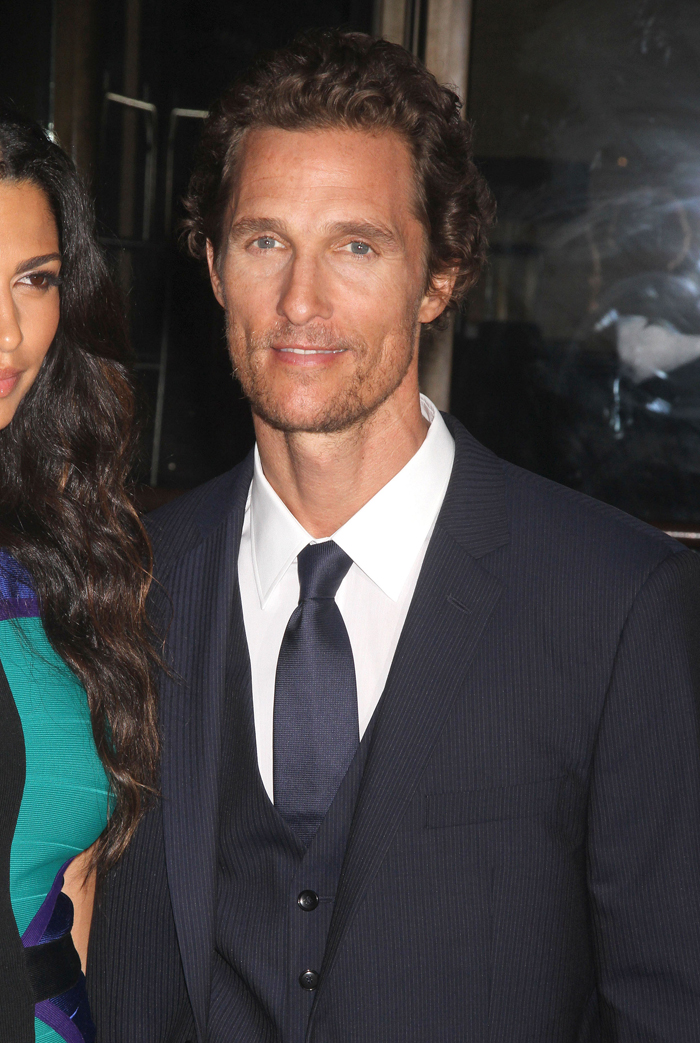 While his new wife Camila is gaining weight due to her pregnancy, it appears Matthew McConaughey is going in the opposite direction. The actor appeared noticeably thinner as he arrived with his wife at the New York screening of his new film Killer Joe last night.

The normally beefy Texan has lost over 15lbs already and is planning to lose another 15 to play an HIV patient in his new film.

Wearing a blue suit last night, the 42-year-old's face was thinner and he had lost his usual muscley frame. His slim physique was a far cry from the rippled muscles he sported on his latest release Magic Mike, in which he plays a stripper.

Matthew is due to film The Dallas Buyer's Club in September so has another six weeks to reach his goal weight for his portrayal of an HIV patient.

He said recently: "I'm losing some weight. I've got a role coming up in the middle of September. I've lost about 15 pounds, I've gotta lose about 15 more. I am drinking a lot of tea. It takes a while for your body to understand that it has to feed off of itself and that you're not going to give it something else from the outside."

Meanwhile, his expectant wife Camila, 30, looked incredible as she posed alongside her leading man in a daring bandage dress
[From Daily Mail]
Yes, about Camila's dress … check out her bump from the side as opposed to a full-on front view. I know it's one of those dreadful Herve Ledger bandage dresses, but there's also an optical illusion going on that makes her bump seem nonexistent from the front, right? Much like her recent London premiere dress as well.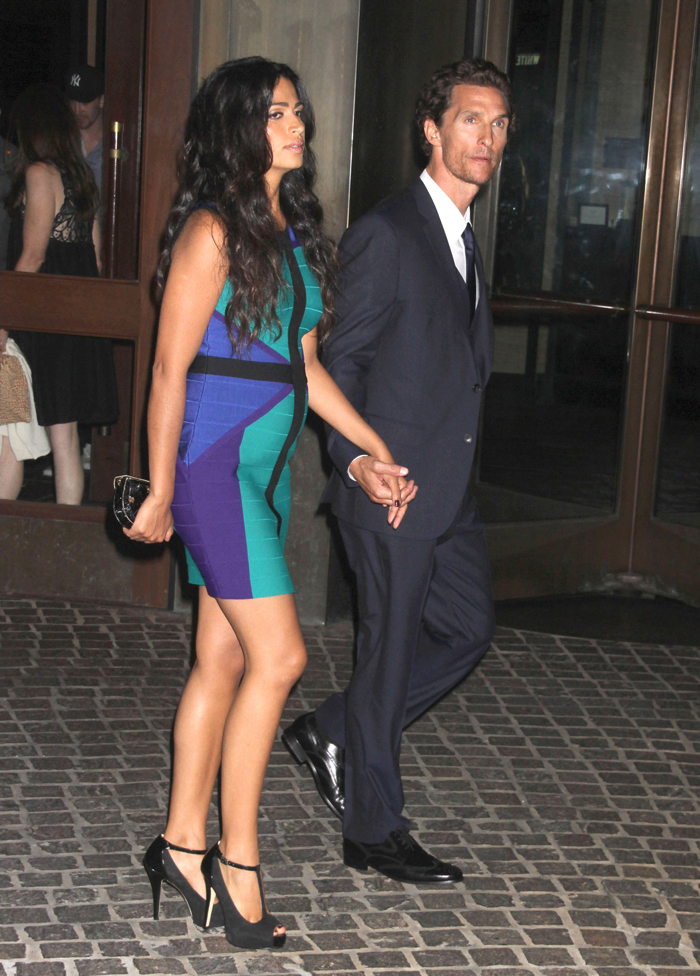 Matthew has also revealed that his kids, Levi and Vida, are both excited and started dancing and singing when they learned a new baby was on the way. Too cute. Here's a few daddy pr0n shots of McConaughey and family in NYC a few days ago. I know it's not as good as Chris Hemworth's giant arms and a tiny baby, but it will have to do for now.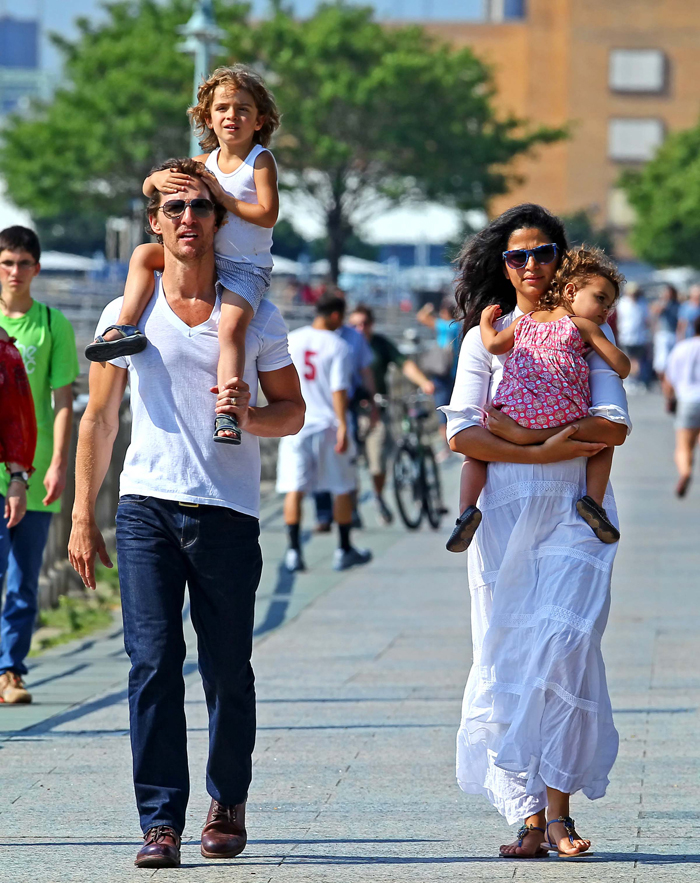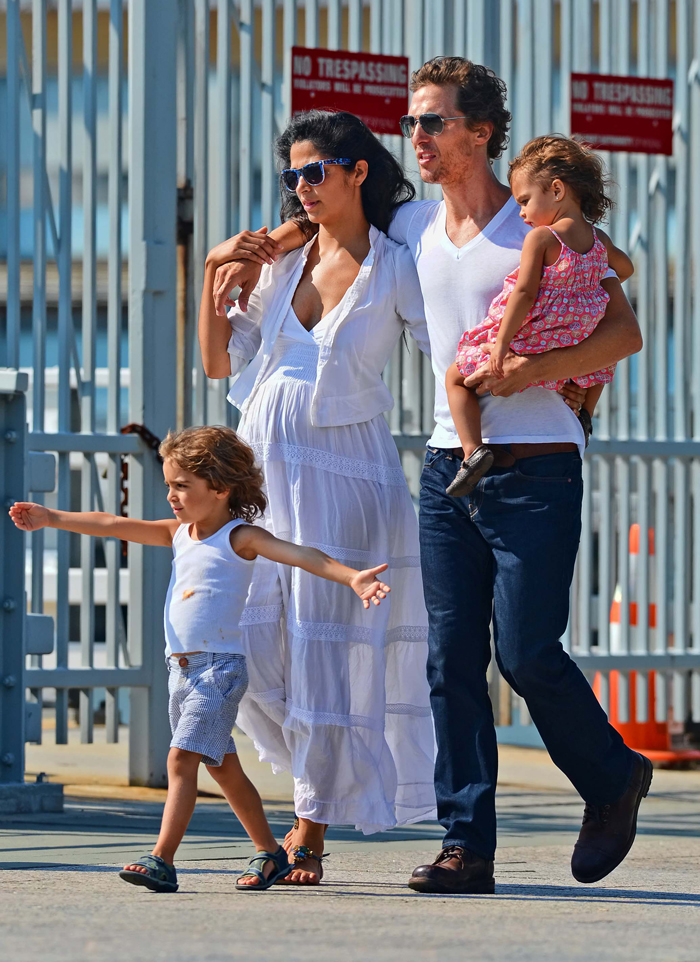 Photos courtesy of Fame/Flynet