Robert Pattinson makes his first public appearances in NYC: sexy & professional?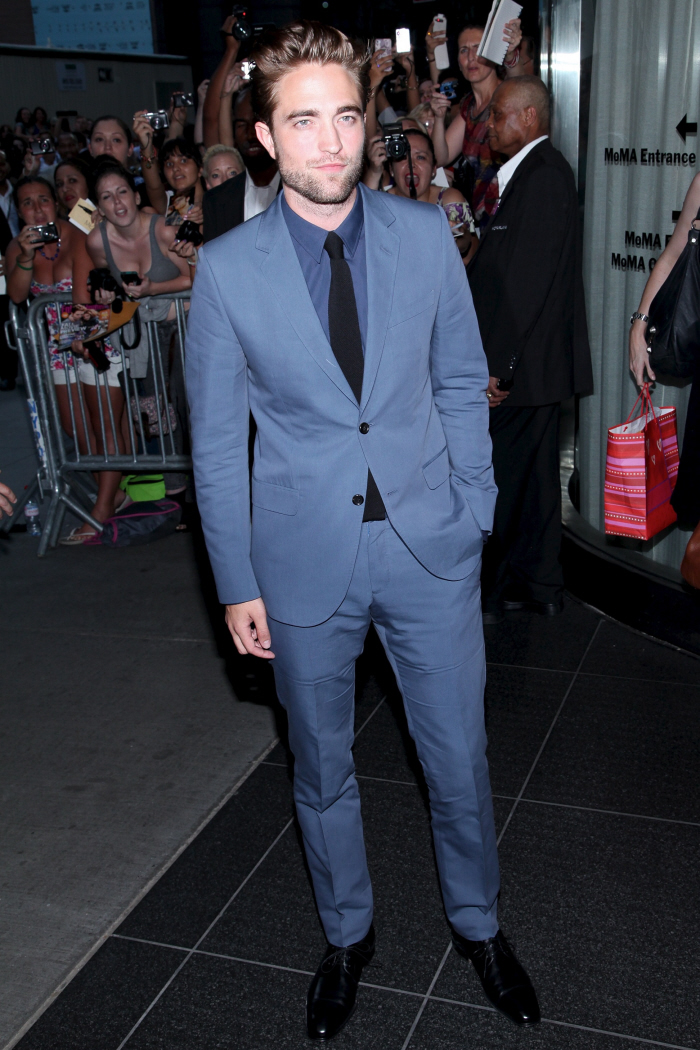 I can barely contain my rush of goodwill towards Robert Pattinson. Here's a guy who is 26 years old, coming off of a four-year roller coaster which saw him become a global phenomenon, and had him worshiped, stalked, harassed and adored by tweens and teens and adult women the world over… and when something awful happened to him, he was still able to put on his big-girl panties and go out and be a g—damn professional. I think he should be applauded for this. These are photos from last night's MoMA screening of Cosmopolis, Rob's new movie (directed by David Cronenberg). Shall we analyze his appearance? I think he looks good. He could have shaved, but I don't mind the scruff. I like that he's wearing a suit and tie (Gucci), and he looks fit and surprisingly well-rested. I can't help it… I'm proud of him for going out and doing his job and not pitching a hissy fit about his promotional work.
On the red carpet (as it was), Rob did give some quotes here and there to media outlets, but for the most part he managed to avoid giving any quotes about Kristen Stewart and that situation. David Cronenberg did chime in, though, saying that the Stewart thing "doesn't touch me and it doesn't touch the film." Rob allegedly greeted his costars and the media with a hearty "Cheers!" Rob also appeared on The Daily Show last night – in a pretaped bit done BEFORE the red carpet. I'm including the video below, but just FYI: Rob does not confirm anything about the situation with Kristen. He seemed uncomfortable, but like he was powering through it, and props to Jon Stewart for being decent about the whole thing:
I love that Jon and Rob both had their Ben & Jerrys, and I liked that Rob was completely flummoxed by Jon's question of "What have you been up to?" Rob replies, "I had a joke prepared! God damn it. I was all set up and ready to go." Rob even made a Spanx joke about the ice cream… but notice he continued to eat the ice cream, right? The boy has a sweet tooth. I think my favorite, favorite part was when Rob said, "My biggest problem in my life is I'm cheap, and I didn't hire a publicist… I'm going to hire a publicist." Jon replied: "I think you should… although, unless you have a time machine…" Isn't it funny that Rob doesn't have a publicist, yet his PR instincts are SO much better than nearly every other young actors'?
Anyway, Jon Stewart is incredibly decent, as I said, and he told Sparkles, "Listen, the last time I had a bad breakup, Ben and Jerry got me through some of the tougher times. So, I thought you and I could bond over this and talk about, 'Boy, you are better off, kick her to the curb. Whatevah!' When you are young and you break up, it's powerful and it feels like the world is ending. This is the first time I have seen the world actually react that way. It's insanity. Here is my wish for you, that you get to handle your business in private, in your personal life, and I wish you all the best."
Should we analyze Jon Stewart's repeated claims that what has happened between Robert and Kristen is a "breakup"? Is that an assumption on Jon's part, or did Rob confirm the split to Jon privately, and gave Jon the go-ahead to make those jokes? Whatever happened, I'm thinking that Rob is feeling more like "I can never forgive her" at this moment. So maybe he will dump her, or he has dumped her already.
Incidentally, Robert is going to ring the bell at the New York Stock Exchange today! That's really cool. I bet all of those NYSE dudes are going to want to have their photos taken with Rob.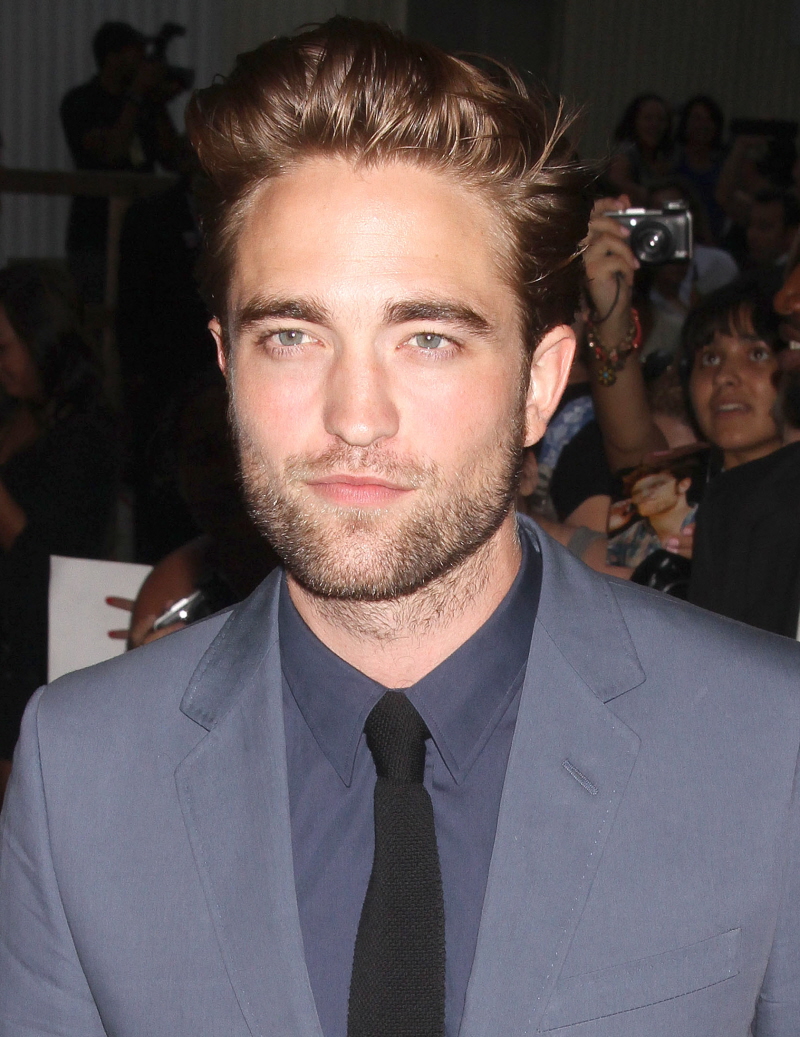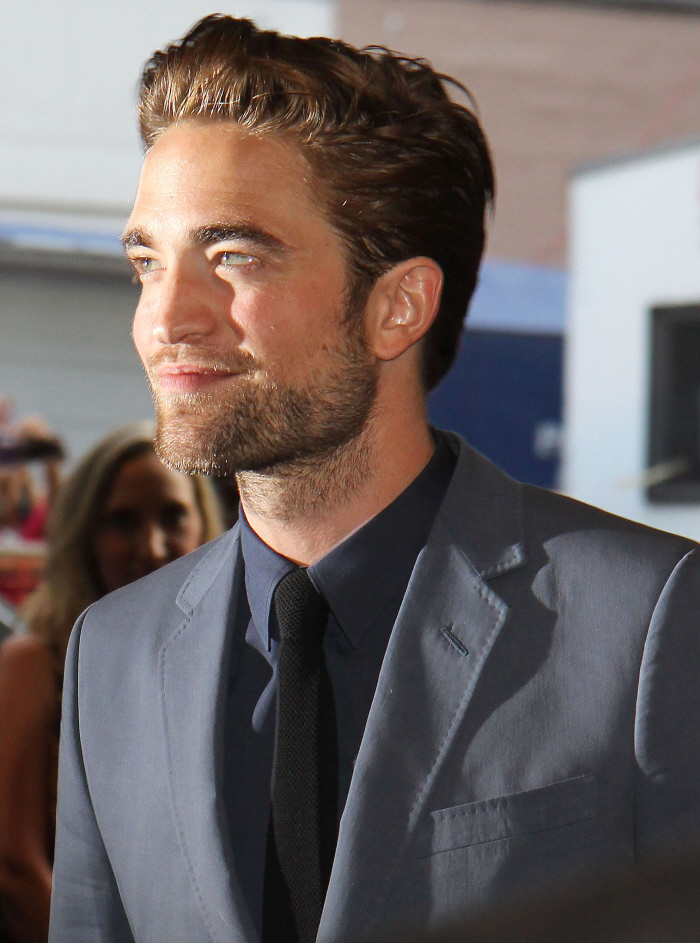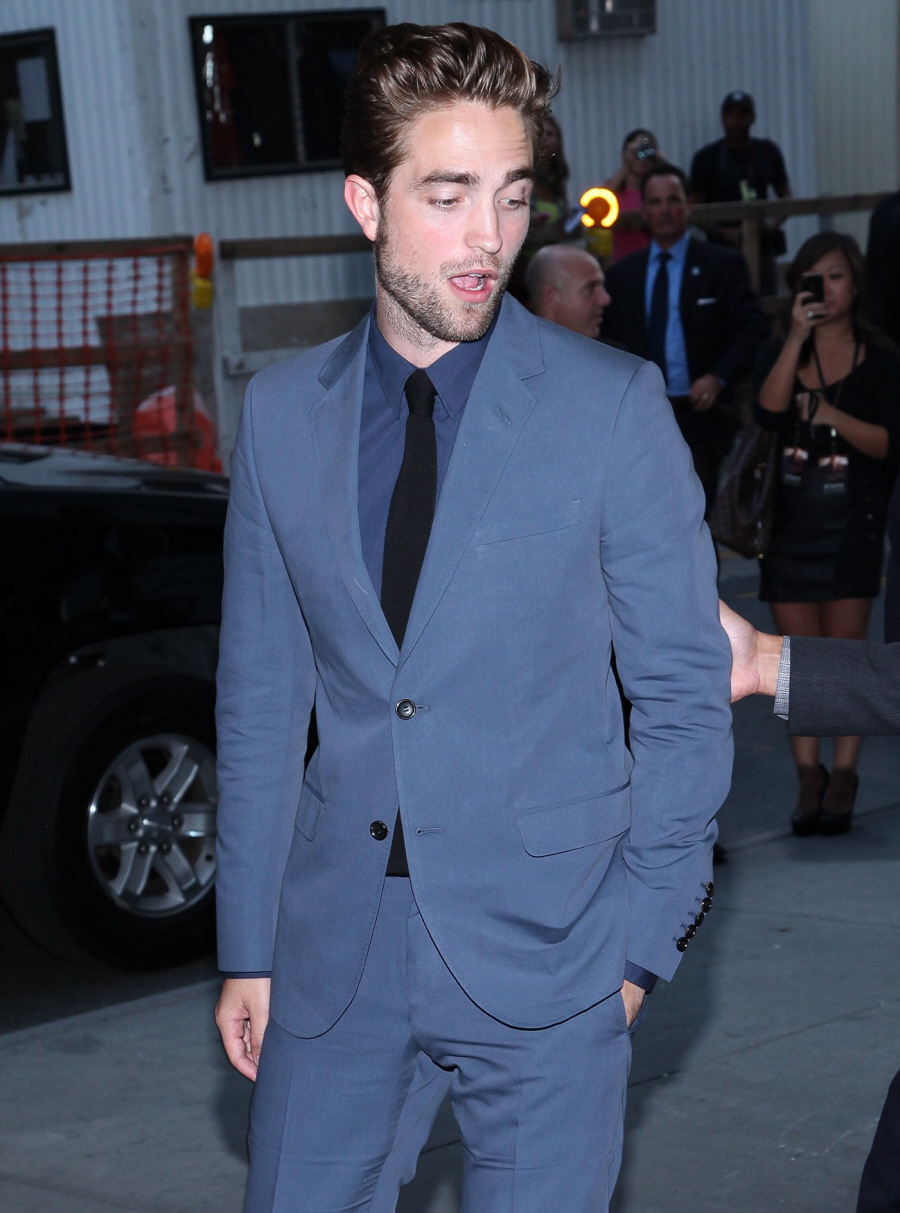 Photos courtesy of WENN, Fame/Flynet.

Written by Kaiser

Posted in Robert Pattinson

- Zach Galifianakis is awesome [Buzzfeed]
- Prince at the Billboard Music Awards [D-Listed]
- Bieber's Billboard look [Go Fug Yourself]
- Married to Medicine recap [Reality Tea]
- Celebrity first marriages [Pajiba]
- The last Mad Men baffled a lot of people [Lainey]
- Karolina Kurkova's crazy hot dress [Moe Jackson]
- Jennifer Garner on set [Popsugar]
- Kitten vs. Lizard [CDAN]
- Doetzen Kroes' great butt [Celebslam]
- Shameless star Jeremy Allen White [OMG Blog]
- RIP Ray Manzarek [Bossip]
160 Responses to "Robert Pattinson makes his first public appearances in NYC: sexy & professional?"