Jessica Biel's white, feathery, tutu'd Giambattista Valli: awful or cute?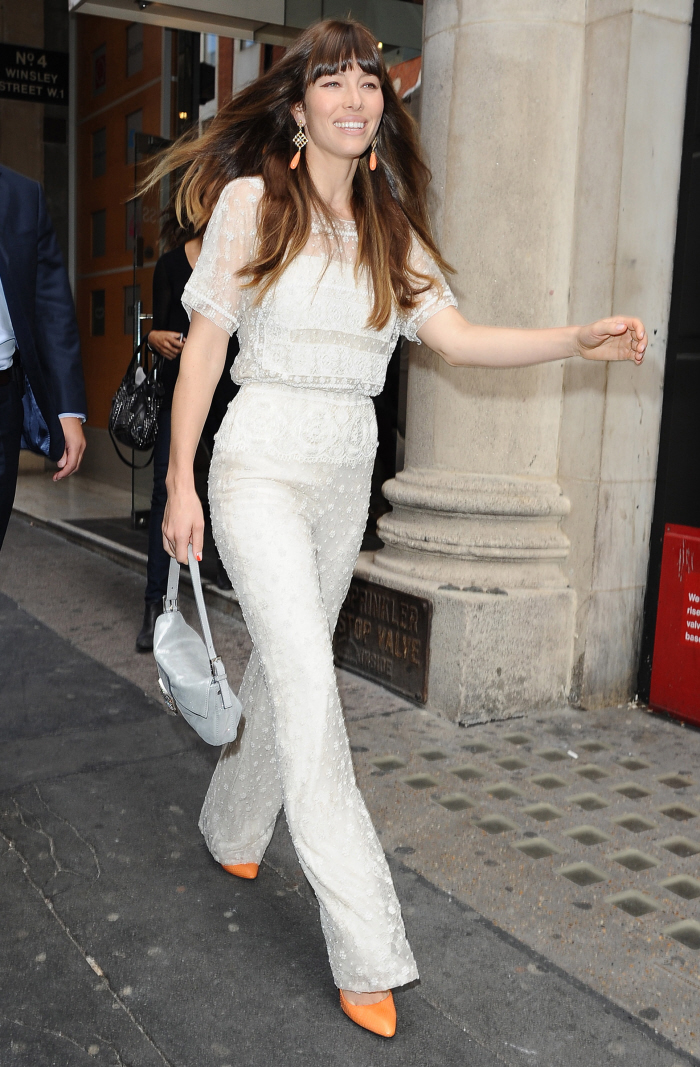 These are some photos of Jessica Biel yesterday in London, as part of the neverending, whirlwind promotional tour for Total Recall, I'm sure. Before we get to the fashion (I can't wait!), let me first clarify something for several commenters: when we're talking about how "awful" Jessica Biel looks, we're ALWAYS talking about her styling, not her inherent beauty. She's a pretty girl – I feel like I type that caveat into every single Biel post, but there it is again. She's a pretty woman… a pretty woman who has some of the worst stylists and hair people in the world. I'm becoming convinced that Jessica must be a pain a real life, because that's the only way to explain why her style people are kneecapping her so consistently: they're getting back at her.
First look (chronologically, she wore this first): a Valentino jumpsuit in a subtle off-white, with beading and lots of lace, accessorized with orange pumps. My first reaction was "DOILY FUG." My second reaction was "What's going on in her midsection?" Right? Whatever it is, it's just unflattering, and I believe it's a design flaw, not a Biel flaw. And I'm sorry to those of you who enjoy the "pop of color" but I think orange shoes look really clownish with this white jumpsuit.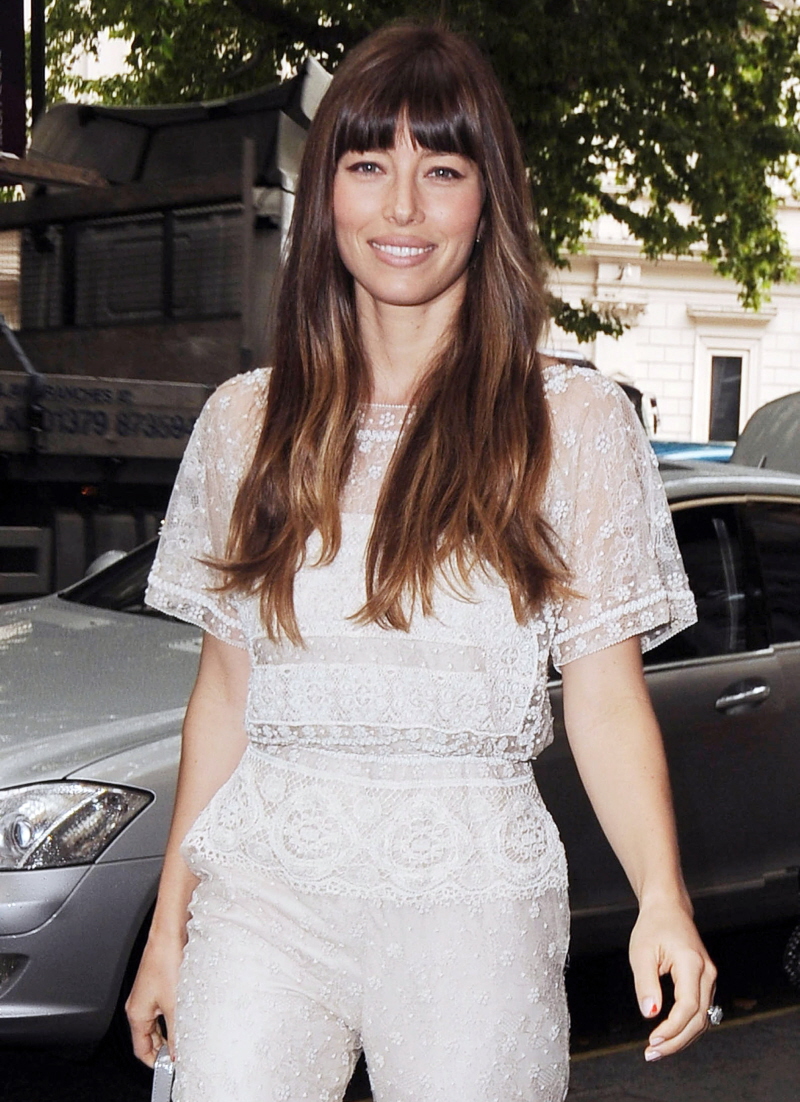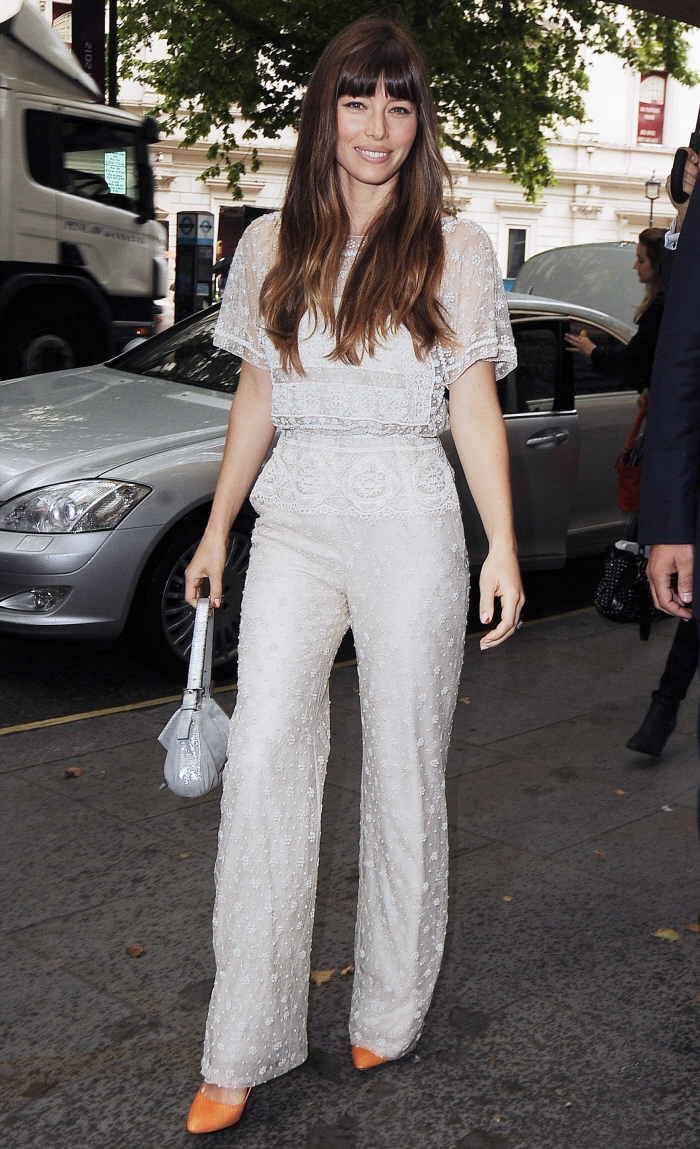 As for the second look… my God. WHY? This is Giambattista Valli Spring 2012 Couture -go to Red Carpet Fashion Awards to see the runway look, which actually manages to be as bad as Jessica's version. Shall we break this down? Because this is awful from start to finish. It's not a situation where you can say, "Oh, just take off the FEATHER TUTU and it will be fine." The situation with the collar is particularly disturbing, as is the sleeve situation and the cummerbund ON THE FEATHER TUTU. My God. Jessica's stylist loathes her.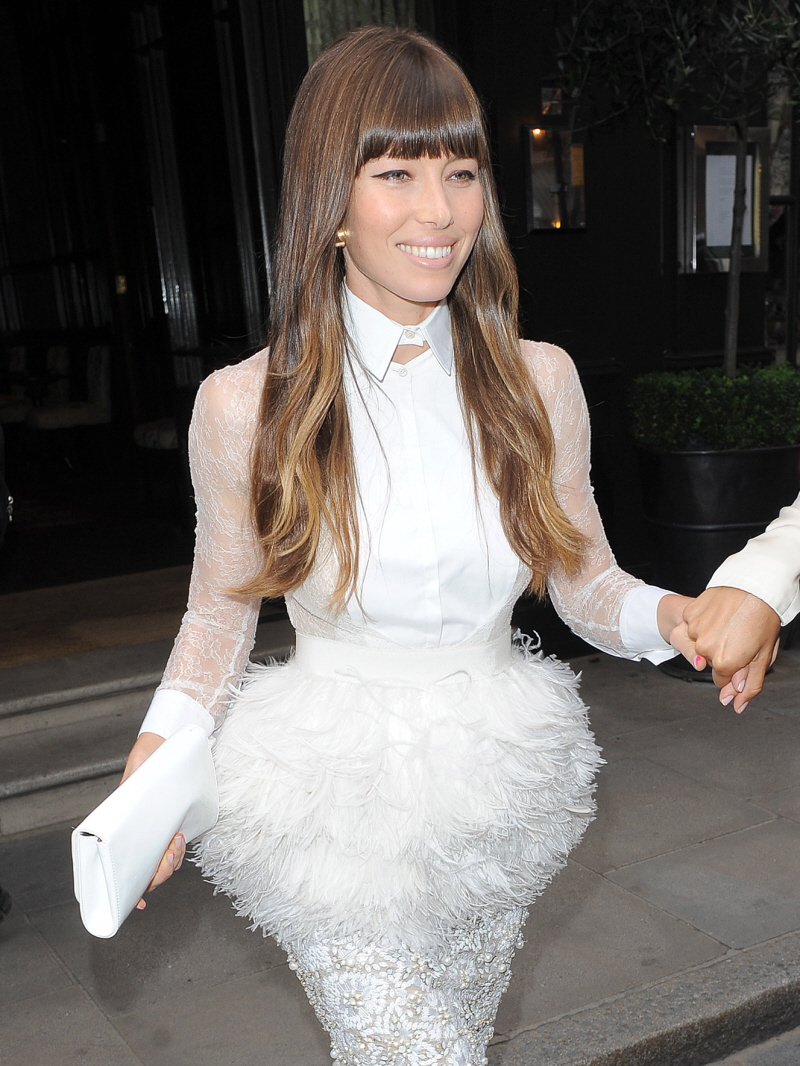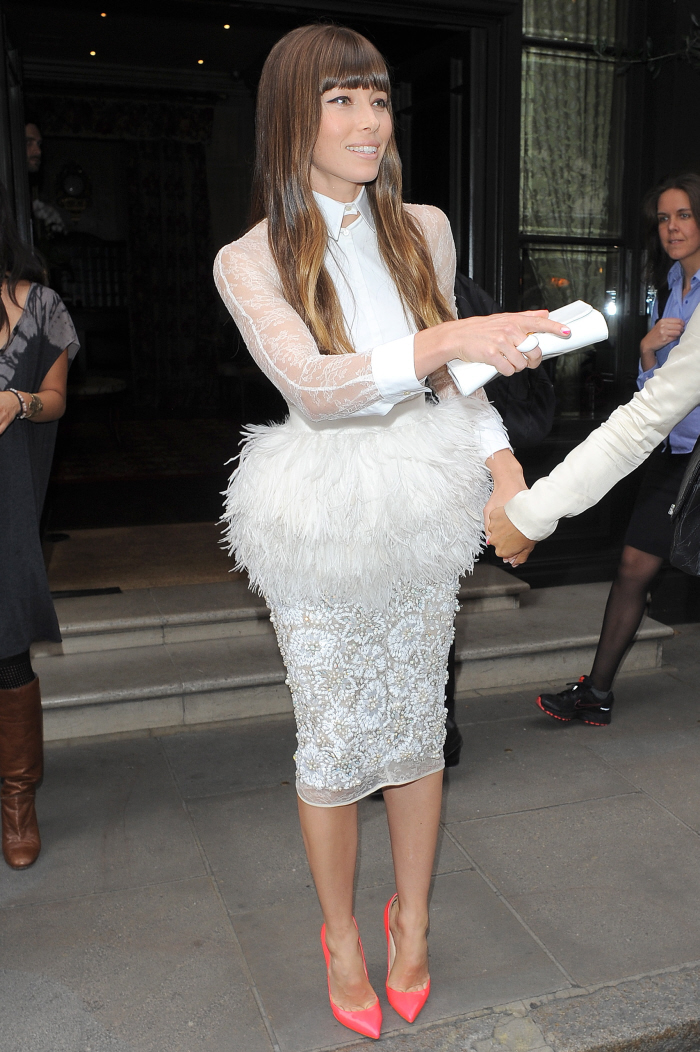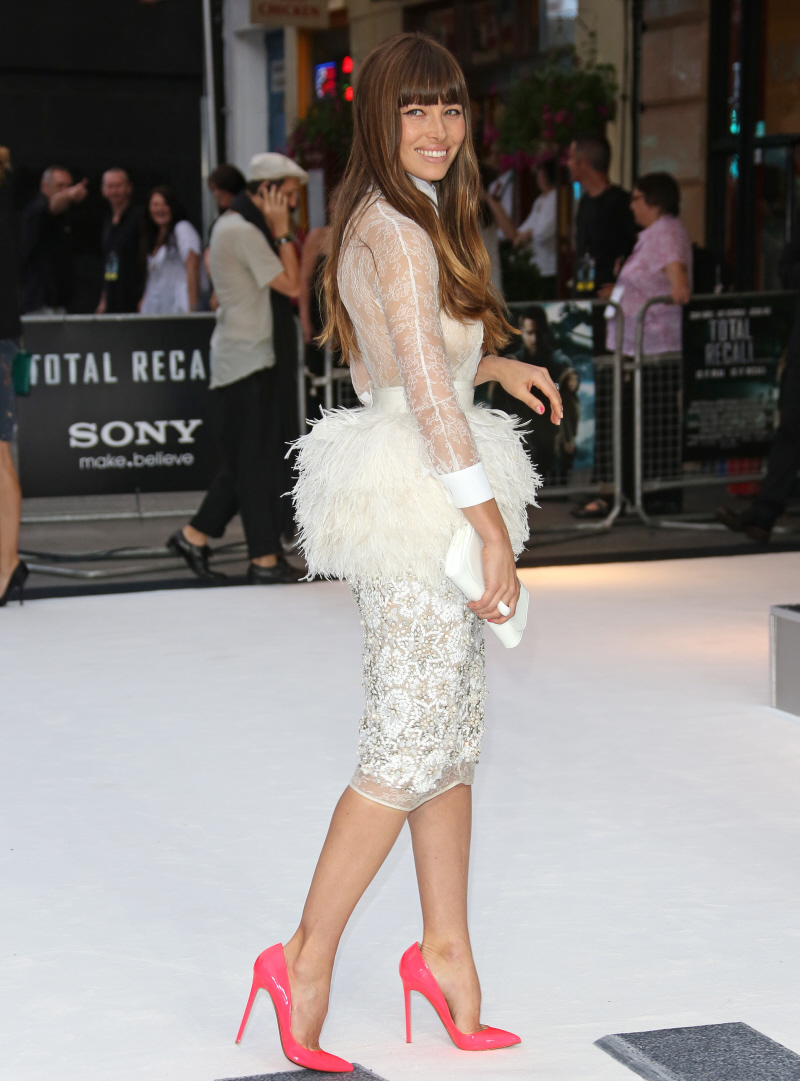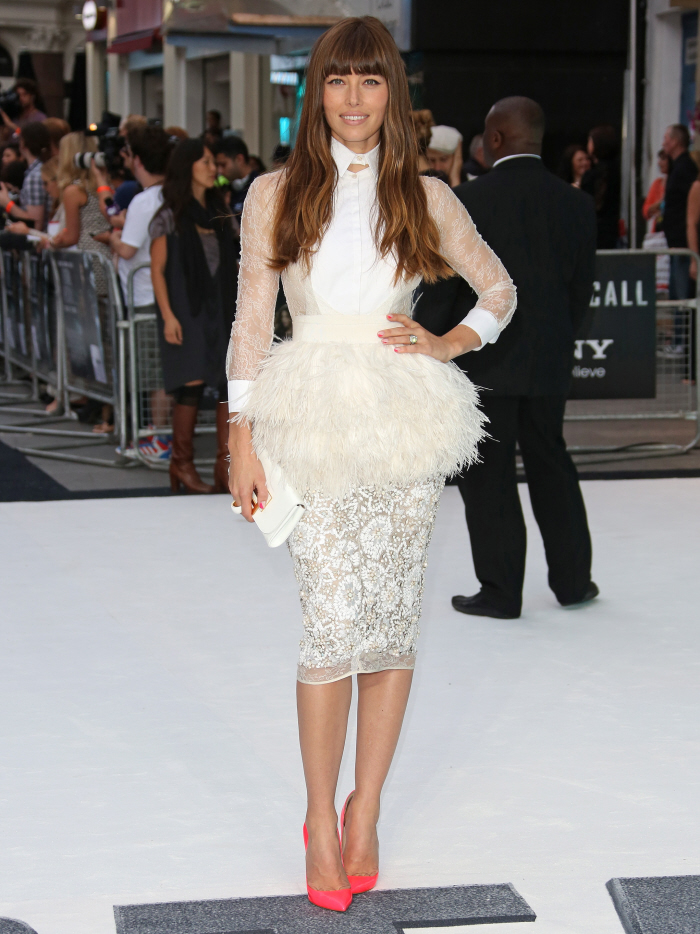 Photos courtesy of Fame and WENN.

Written by Kaiser

Posted in Fashion, Jessica Biel

- Zach Galifianakis is awesome [Buzzfeed]
- Prince at the Billboard Music Awards [D-Listed]
- Bieber's Billboard look [Go Fug Yourself]
- Married to Medicine recap [Reality Tea]
- Celebrity first marriages [Pajiba]
- The last Mad Men baffled a lot of people [Lainey]
- Karolina Kurkova's crazy hot dress [Moe Jackson]
- Jennifer Garner on set [Popsugar]
- Kitten vs. Lizard [CDAN]
- Doetzen Kroes' great butt [Celebslam]
- Shameless star Jeremy Allen White [OMG Blog]
- RIP Ray Manzarek [Bossip]
79 Responses to "Jessica Biel's white, feathery, tutu'd Giambattista Valli: awful or cute?"