Did Brad Pitt have a booze-soaked bachelor party with Guy Ritchie in London?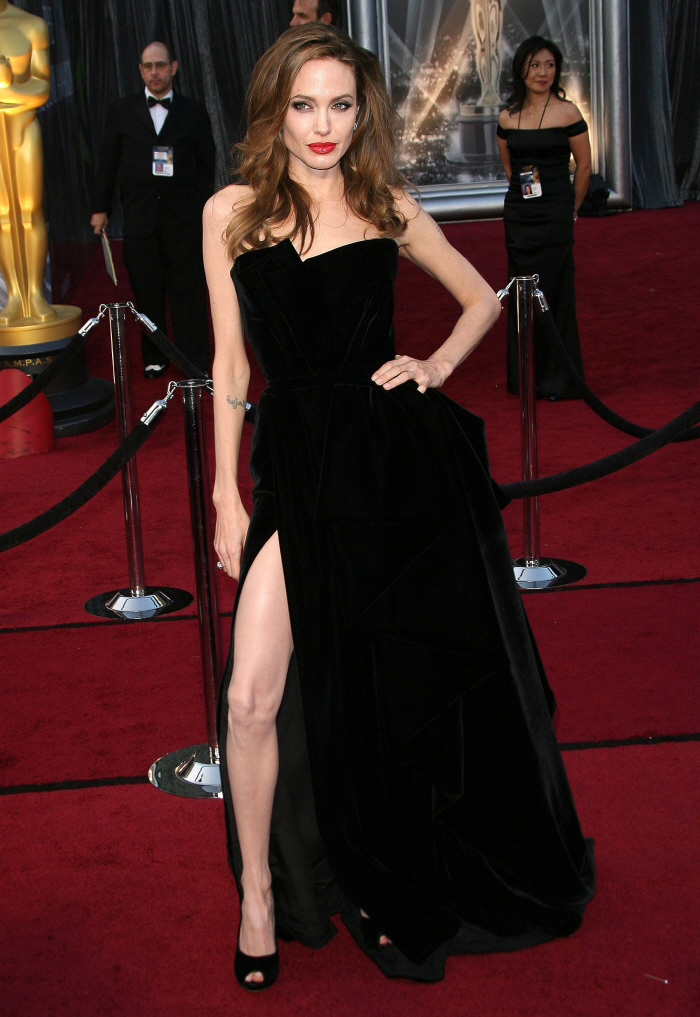 The Leg is displeased.
The rumors of Brad and Angelina's August wedding seem to have died down considerably, right? After failing to marry on the tabloids' schedule last weekend, there were rumors that the wedding would go down this weekend, but I can't see anything about it this morning. Maybe the tabs are taking a wait-and-see approach. Maybe the tabs are tired of footing the bill to send photographers to the south of France for nothing. Maybe it will be an autumn or winter wedding like I said all along?
In any case, The Enquirer has a funny story about Brad's half-assed "bachelor party" which infuriated The Leg, of course. The Leg waited for Brad to come home. The Leg quietly fumed, envisioning a booze-soaked bachelor-party involving strippers and hookers and… and… and FOOD. The Leg was so angry. Finally, Brad stumbled in at dawn, reeking of ale and cheap perfume. The Leg exploded!
An irate Angelina Jolie exploded in a rage after hubby-to-be Brad Pitt snuck off to a boozy all-night bachelor party with British director pal Guy Ritchie and didn't return home until dawn, The Enquirer has learned.

In London, Brad slipped away from Angie and the kids to join Guy and some film cronies for a secret boys-only bash at The Punch Bowl, a rough and tumble pub owned by Guy. "The Punch Bowl is a pretty rowdy place for the Mayfair area, and Brad spent most of his time partying in the back room, slugging down ales with the boys… Brad kept referring to the evening as his bachelor party and his last hurrah before he marries Angelina."

By the time Brad crawled back to the gated home he shares with Angelina, it was 6 a.m. and she was waiting for him in the living room, added the source. According to the insider, Angelina read him the riot act. She told him how worried she'd been and that she wouldn't tolerate any more wild boozing in the days leading up to their wedding… and she blamed Guy for leading him astray. Brad made the mistake of defending his pal, saying Guy's one of the finest people he's ever met and it was his fault for taking advantage of his amazing hospitality."

"And that's when Angelina really let him have it, pointing out that she'd calmed down her wild ways now that they have responsibilities, and that Brad was acting like a 20-year-old frat boy in the company of Guy. She was so mad, she was shaking with fury."

Angelina is concerned that Brad's partying is a sign that he's still not ready to settle down. "Brad later tried to pass off his boozy night by saying he usually drank cans of Budweiser and wasn't used to the strong English beer! Then he hugged her and said he was just celebrating his good fortune in having her as his bride. But Angelina won't buy that line until the day he puts a wedding band on her finger!"
[From The Enquirer, print edition]
Don't you think the fact that they have six children that they raise together is a "sign" that they're already "settled down"? Anyway, Gossip Cop's "source close to the couple" says that "It's true that Pitt and Ritchie are friendly, but it's absolutely false there was any epic 'bachelor party' ending in a fight with Jolie." Except that back in June, there were photos of Brad, George Clooney, and Guy Ritchie enjoying a boozy night together. But they probably didn't call it a "bachelor party". And Angelina probably wasn't mad.
Meanwhile, I've been trying to track down the source of these allegedly "new" Brad quotes, but I still can't find the original interview. So… they might be BS, I don't know. Allegedly, Brad was discussing poverty and how much he gives to charity: "Listen, it's never enough and it's a whole new set of problems, just with a different scale. I hit the Lottery so I think you need to pass that on… [but] You can't get to every beggar on the street because you end up with nothing in your pocket."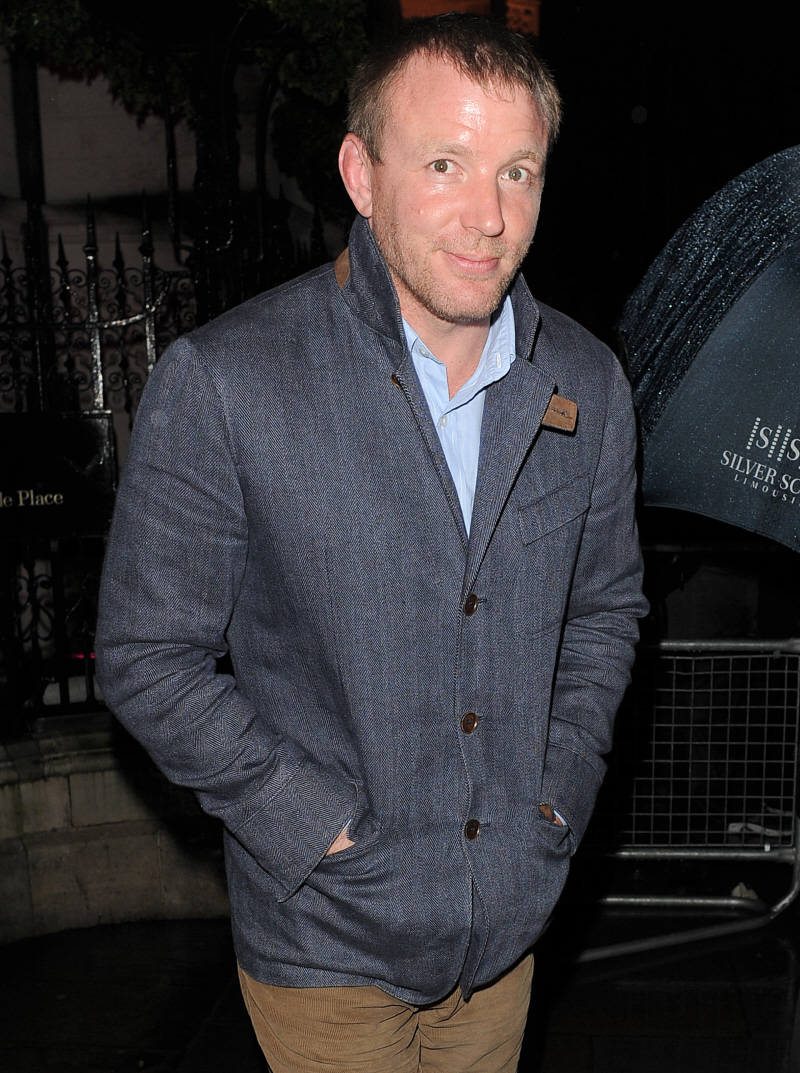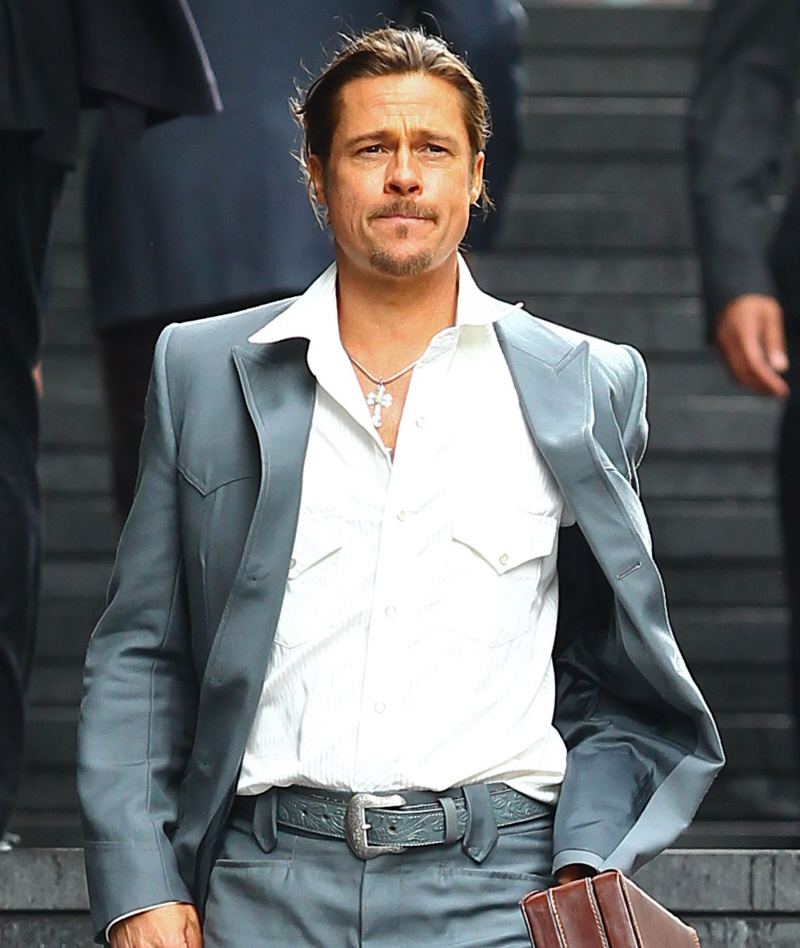 Photos courtesy of WENN.

Written by Kaiser

Posted in Angelina Jolie, Brad Pitt

- Mariah Carey lip synced on American Idol [CDAN]
- Colin Firth is looking good [Lainey Gossip]
- Internet celebrity charged with murder! [D-Listed]
- What is Paz Vega wearing? [Go Fug Yourself]
- New bachelors on The Bachelorette [Reality Tea]
- Goodbye to The Office [Pajiba]
- Bachelor Sean's fiance cheats on him [Evil Beet]
- Britney Spears out with her man [Popsugar]
- Nina Dobrev works it [Popoholic]
- Cindy Crawford needs to lay off the 'tox [Celebslam]
- Who said it: Carrie Bradshaw or The Dalai Lama? [Buzzfeed]
32 Responses to "Did Brad Pitt have a booze-soaked bachelor party with Guy Ritchie in London?"