Jennifer Lopez's crop-top & booty shorts in Las Vegas: cute or dated?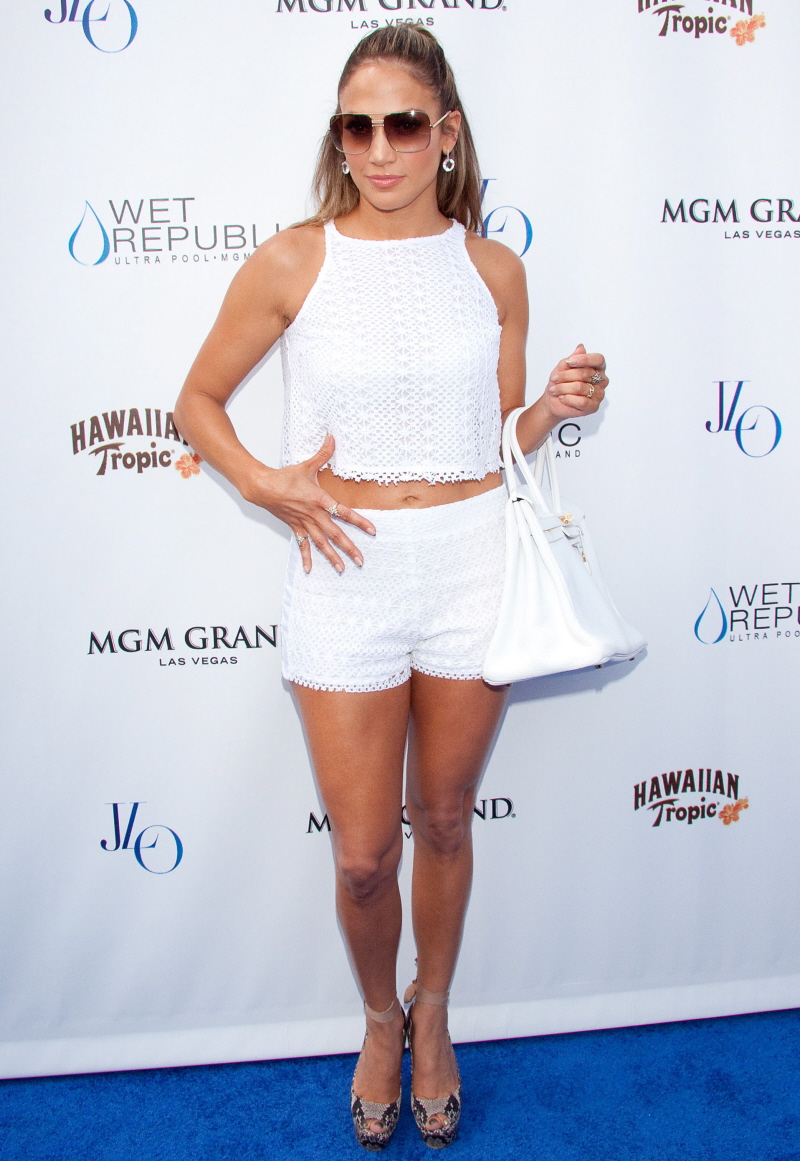 Call me crazy, but I don't have a total hate-on for this look. What can I say? It's August, it's an event in Las Vegas, and if you're ever going to wear a crop top, booty shorts, reptile heels and a Birkin, it might as well be in Las Vegas in the middle of August. Do I wish Jennifer would stop with the crop tops and the whole "Look at my abs!" thing? Sure. But she's still going to do it, shade or no shade. As for the booty shorts… I'm sure we'll debate this. The debate will be "Are these really booty shorts, or are they short shorts and you're dumb for calling them booty shorts?" My verdict is still "Booty shorts, especially considering J.Lo's booty." Once again, there's a time and a place. Studio 54 in 1978? Sure. Wear booty shorts. Las Vegas in August 2012? Sure, wear booty shorts. I really think J.Lo might be wearing me down. Also: I really love her crystal drop-earrings. This isn't the best outfit overall, but I give her props for a great execution on a weird outfit.
I also had a moment (a wonderful moment) when I thought Casper wasn't on this red carpet (it's a carpet for Jennifer's "World Tour celebration" and she made a "special appearance" at the Wet Republic Pool Party at the MGM Grand). But that moment passed when I saw that Casper also got photographed at the event, just not WITH Jennifer. She walked the carpet alone, and he was off doing his own thing. So… they're still together, despite all of the rumors and speculation to the contrary. Just this week, OK! Mag claimed that Jennifer's family had done a "Casper intervention" and convinced her to "take some space" away from Casper.
Jennifer Lopez and Casper Smart are about to go through a cooling-down period following an intervention by Jennifer's family, an insider tells OK!.

Says the insider: "Jen's family is very protective of her, and they're really concerned that she's moving way too fast with Casper. It's not that they have anything against Casper personally, but they're concerned about the age gap [J.Lo is 43; Casper is 25], and are worried that Jen maybe getting in over her head.

"They just focused on the fact that Jennifer has a long history of moving too quickly when it comes to her relationships — which she can't deny."

Although Jennifer has been aware of her family's concersn, she was shocked when her mom, a sister and others sat her down to have a talk."

"It wasn't an attack on Jennifer or even Casper — it was more like her family stepping in and trying to talk sense into her," says the insider.

"They know her history. She always goes from one serious relationship to the next, and they really want her to take her time with Casper."

At first, says the insider, Jennifer was upset and defended her relationship with Casper tooth and nail. But she eventually admitted that she has a history of moving too quickly, and agreed to put a little space between Casper and herself.
Wishful thinking. While I think we'll have a better idea of where J.Lo and Casper are as a couple after her tour, my guess is still that Casper is going to be around for a while longer. I do think Jennifer is wondering why he hasn't proposed to her yet. I mean, they'll have been together a year come November. It's past time! J.Lo must always be in a state of engagement, marriage or divorce. There is no "dating" or "keeping things casual and low-key."
Also – I don't mind tattoos on a dude (or a lady), but there's something about Casper's ink that grosses me out. It's not even that it looks low-quality – some of tattoos actually look kind of expensive and well-done. But the overall effect is just kind of gross… to me.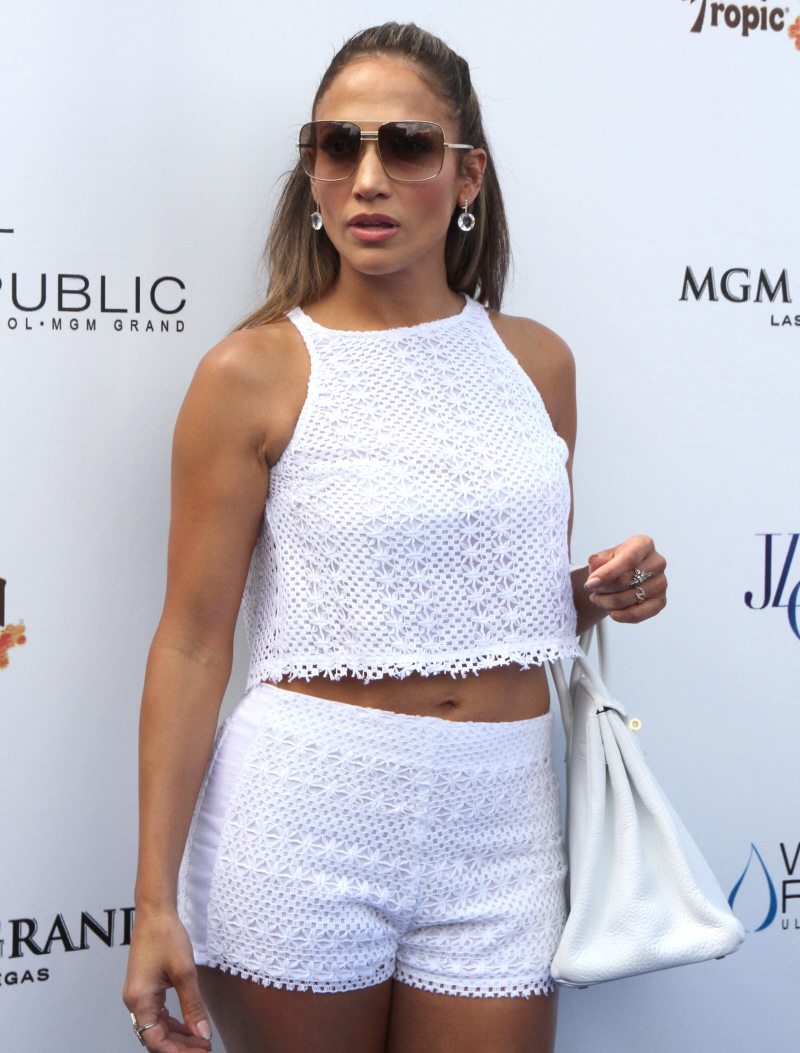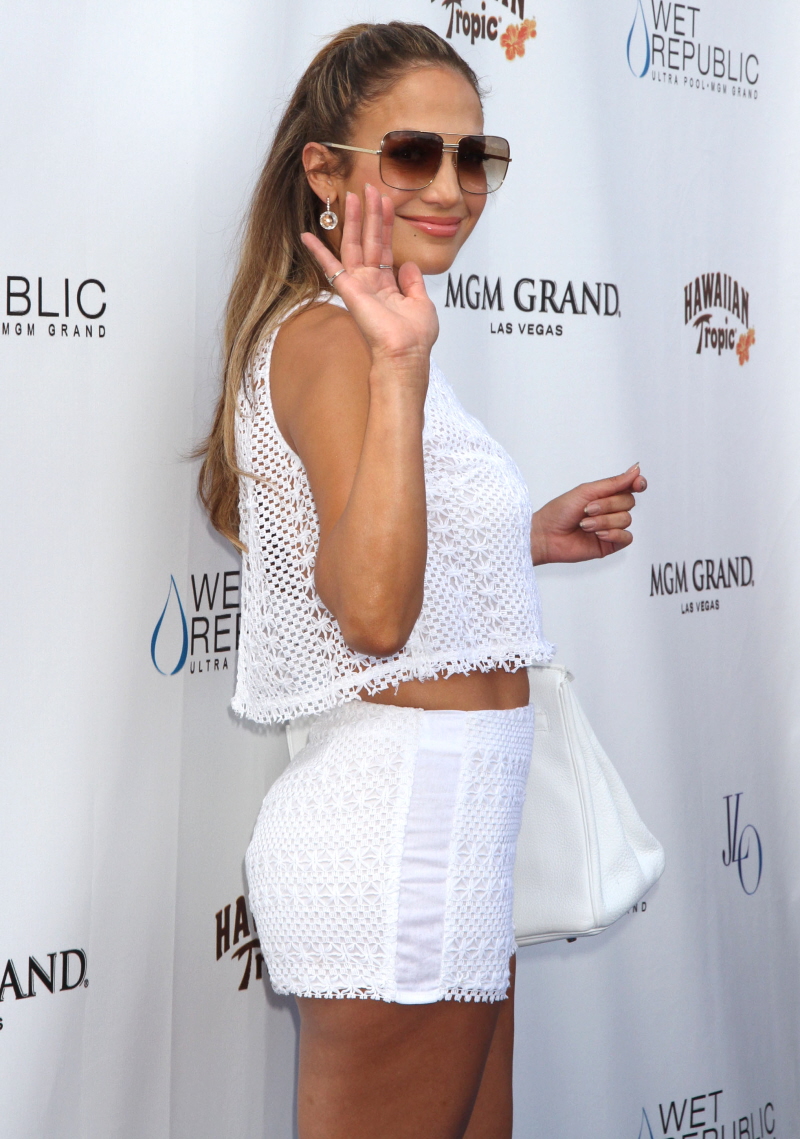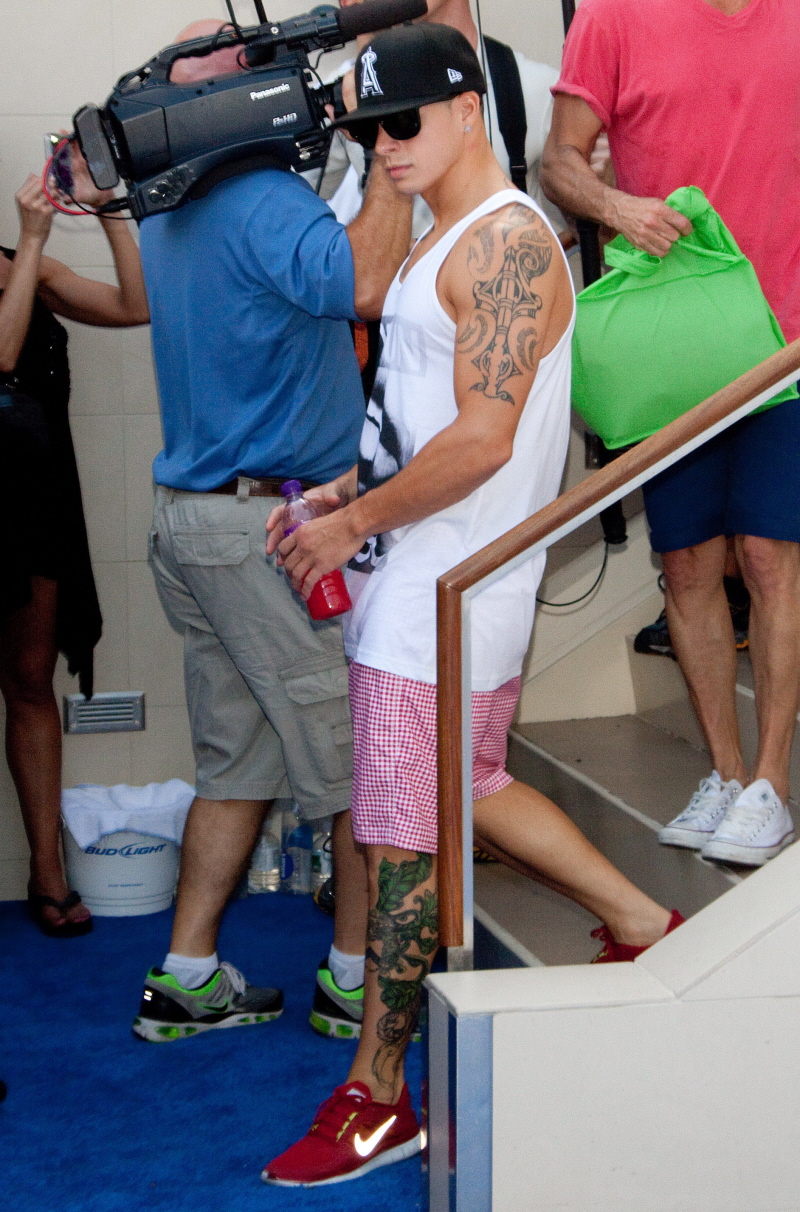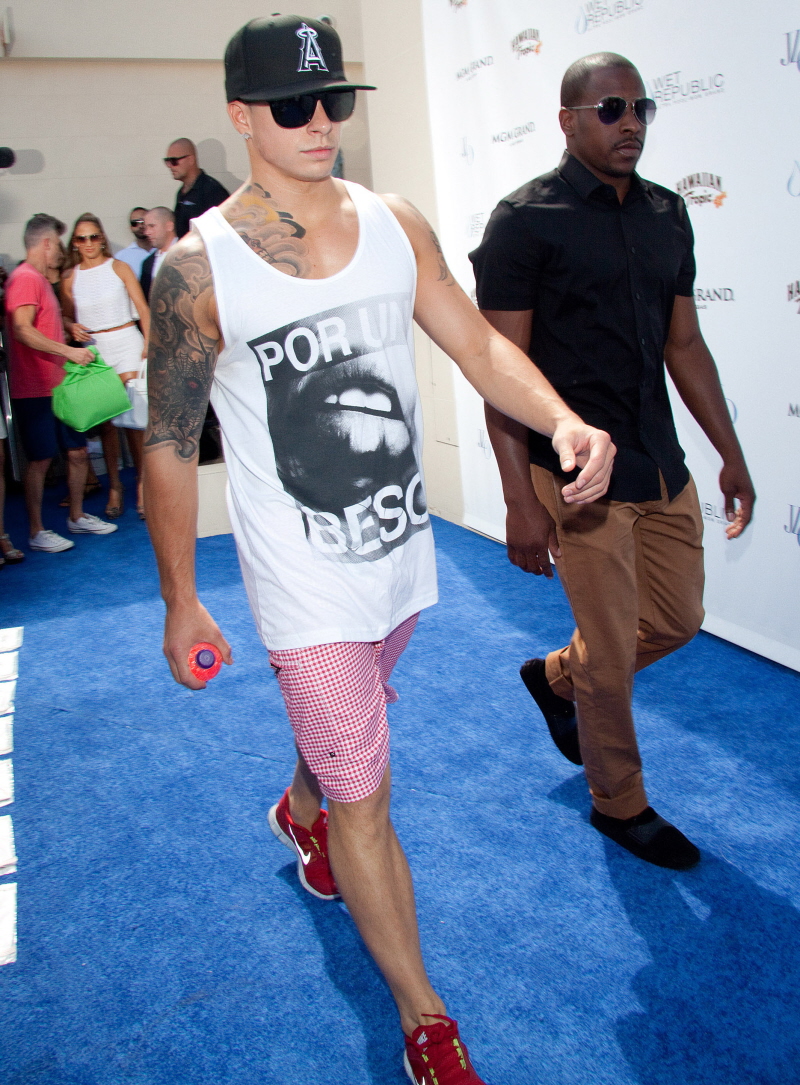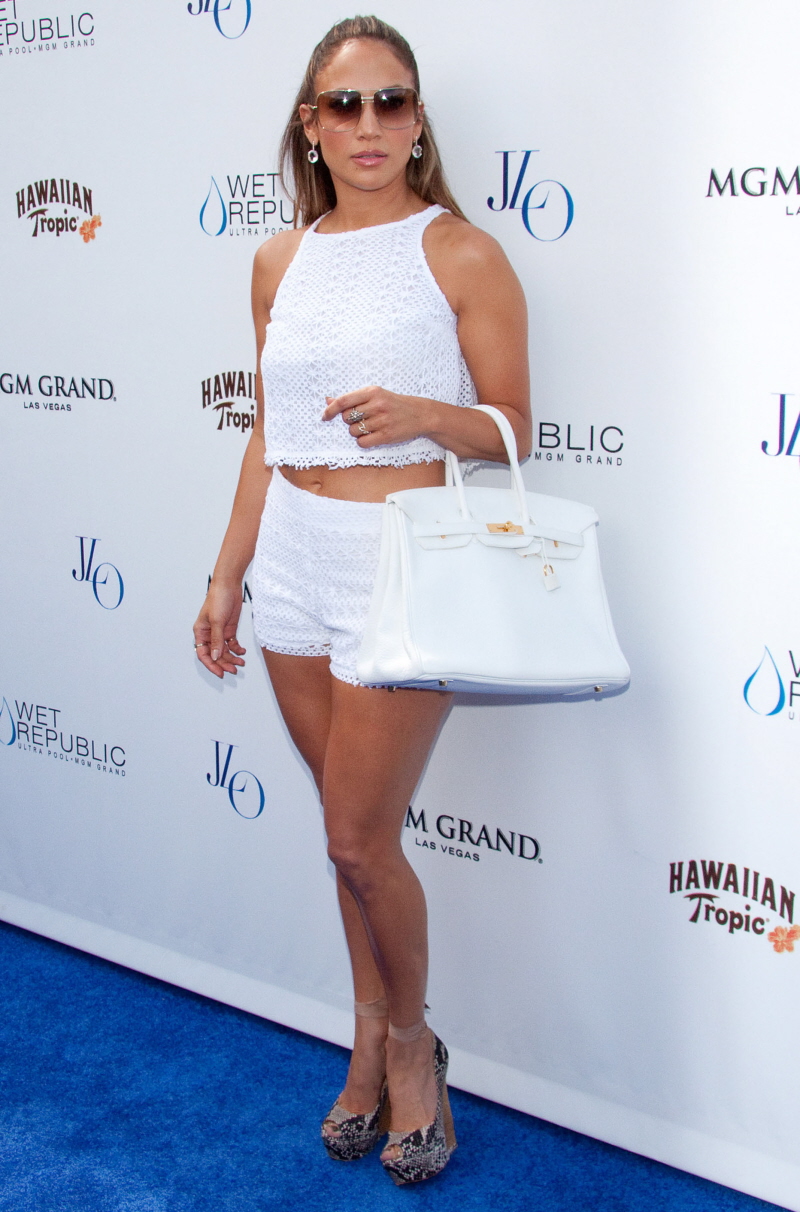 Photos courtesy of Fame/Flynet.

Written by Kaiser

Posted in Casper Smart, Fashion, Jennifer Lopez

- Zach Galifianakis is awesome [Buzzfeed]
- Prince at the Billboard Music Awards [D-Listed]
- Bieber's Billboard look [Go Fug Yourself]
- Married to Medicine recap [Reality Tea]
- Celebrity first marriages [Pajiba]
- The last Mad Men baffled a lot of people [Lainey]
- Karolina Kurkova's crazy hot dress [Moe Jackson]
- Jennifer Garner on set [Popsugar]
- Kitten vs. Lizard [CDAN]
- Doetzen Kroes' great butt [Celebslam]
- Shameless star Jeremy Allen White [OMG Blog]
- RIP Ray Manzarek [Bossip]
70 Responses to "Jennifer Lopez's crop-top & booty shorts in Las Vegas: cute or dated?"