Enquirer: Jessica Lange is in a May-December romance with costar Sarah Paulson (update)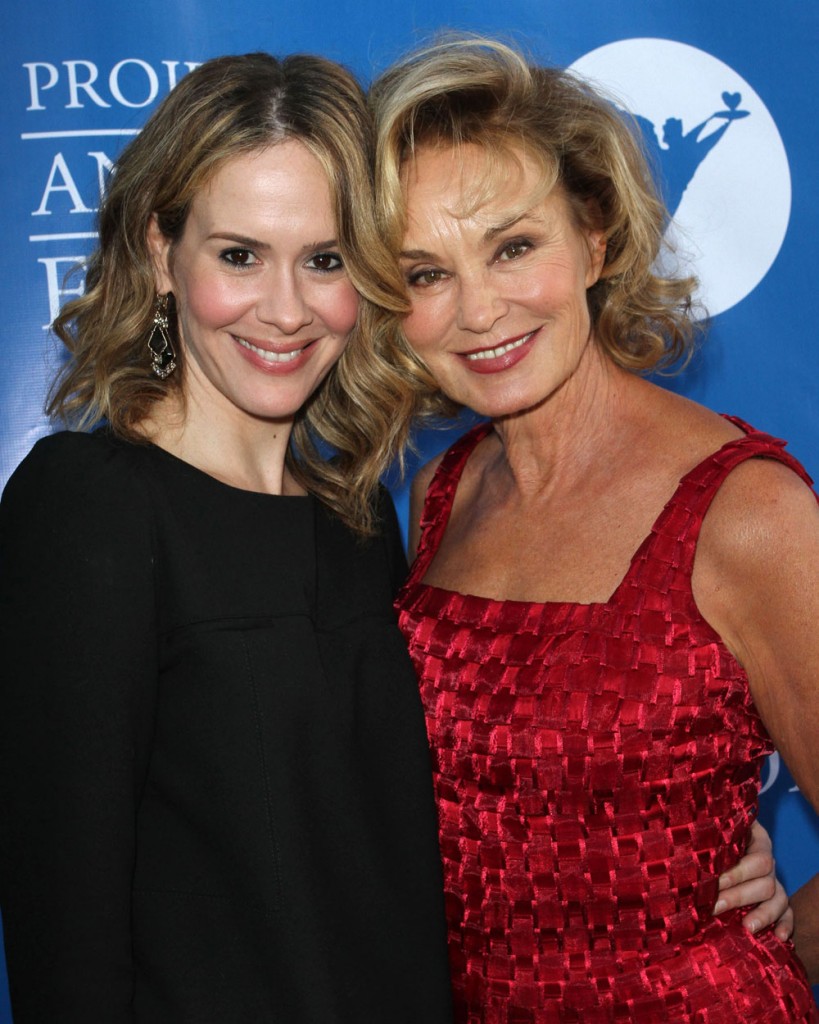 This story reminds me that American Horror Story is coming back in October, (there's no definite return date yet), and that venerable lead actress Jessica Lange will be back. I'll save some mild spoilers for the end of this post, and let this be a warning that you shouldn't read further if you want to avoid them, although they won't ruin it for anyone. This show has so many insane twists and turns it's impossible to spoil unless you get minute-by-minute details of the plot.
Moving on to this story, The Enquirer claims that Jessica Lange, 63, is in a relationship with her co-star Sarah Paulson, 37. You might know Sarah as the creepy clairvoyant friend of Jessica's character, Constance. The way this story is worded makes it unclear whether Lange and Paulson were already together when they worked on American Horror Story. Either way, they've known each other for years. Lange was previously in a long term relationship with actor Sam Shepard, they were together for almost three decades, have two children together, and separated around 2009. Apparently, Paulson was there for Lange during her breakup and in the past year or so it turned into something more:
"Jessica and Sarah's friendship has recently blossomed into a full-on romance," a close source confirmed to The Enquirer. "They've been dating for the past year, but they've been close friends for much longer than that."

Ironically, Jessica turned to Sarah after her relationship with Sam collapsed in 2009.

"Sarah was a good friend and a shoulder to cry on," said the source. "Eventually, their friendship blossomed into love."

According to the source, Sarah, 37, who formerly dated Tony winner Cherry Jones, has had a crush on Jessica since 2005, when they appeared on Broadway together in "The Glass Menagerie."

"Jessica's always been a free spirit who doesn't like to put labels on people. She says she loves whoever [sic] she loves, and Sarah makes her really happy."
[From The National Enquirer, print edition, September 3, 2012]
Good for them. The age difference seems a bit much to me, but 37 is not 27, and Paulson is a grown woman. They're both such talented actresses too. Paulson wasn't on my radar prior to AHS, but she was superb at playing creepy and foreboding. AHS creator Ryan Murphy has confirmed that Paulson will be back, as will Lange's character's homicidal dead son, Evan Peters (Tate) and Zachary Quinto. Given how whack this show is, just about anyone could come back in whatever role Murphy can scare up. There's no continuity within a single episode, we can't expect it between seasons.
Mild spoilers for upcoming season of AHS
As for what's next for American Horror Story, it's going to be set in an asylum run by nuns in 1964, with Jessica Lange running the joint. I want to have closure on some of the plotlines from last season, particularly the demon spawn kid, but honestly I don't remember enough of them to care too much. If you'd like to see some teasers for the upcoming season, FX has put six short video previews on Facebook. I think the first video is the creepiest.
Update: The Daily Mail reports that Jessica Lange's "spokeman" told them "This story is completely fabricated and untrue." I was hoping it was. Maybe they're just good friends then.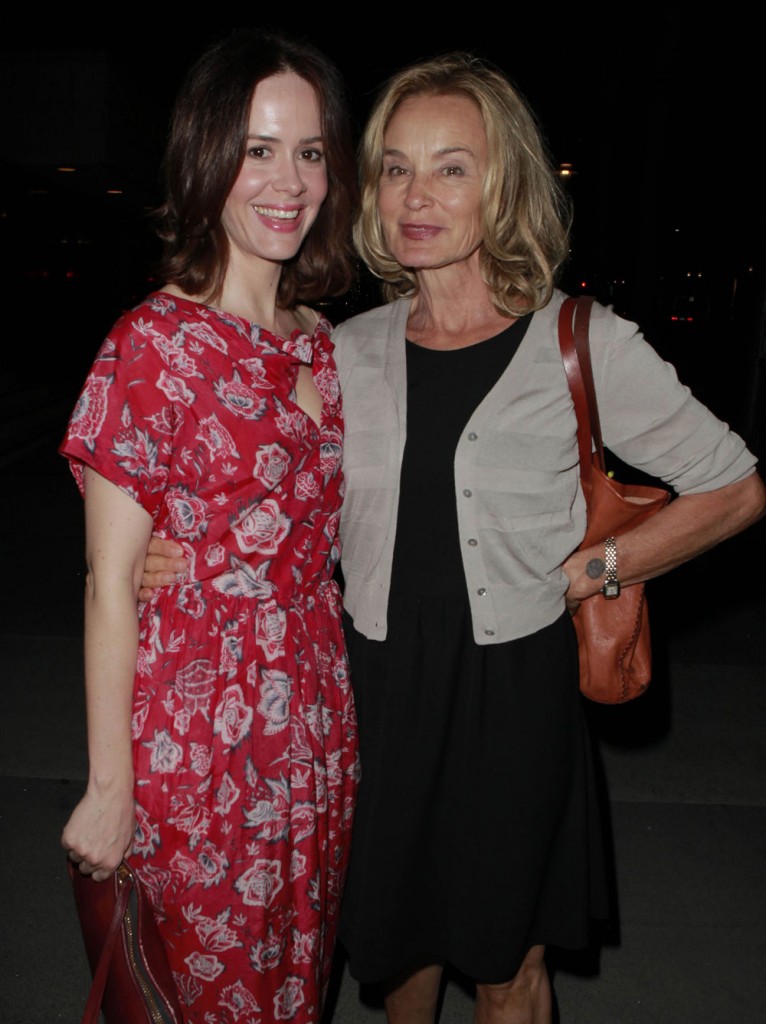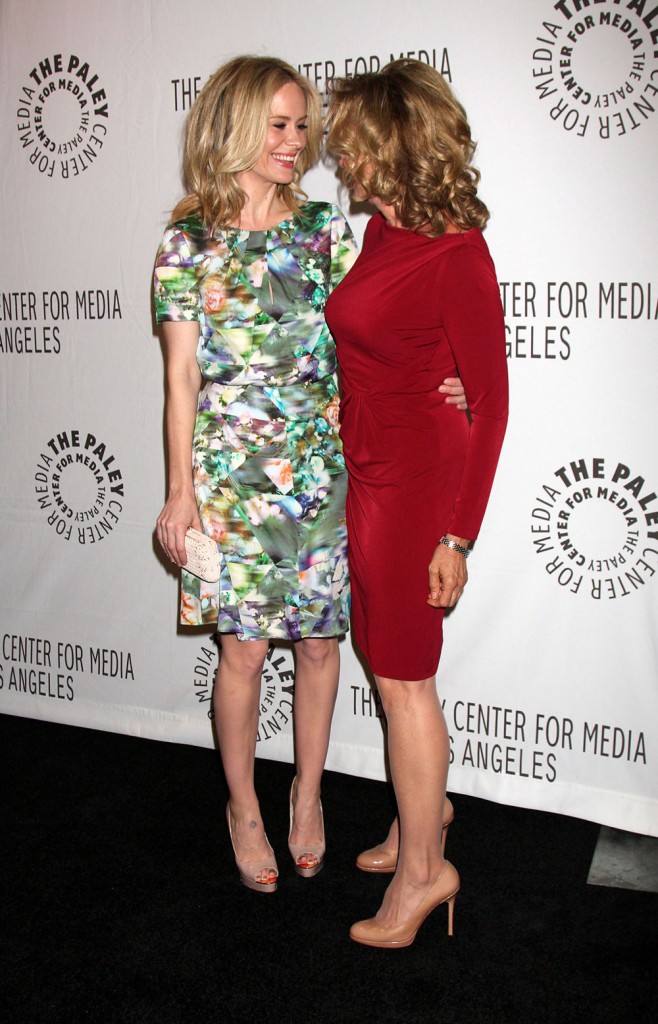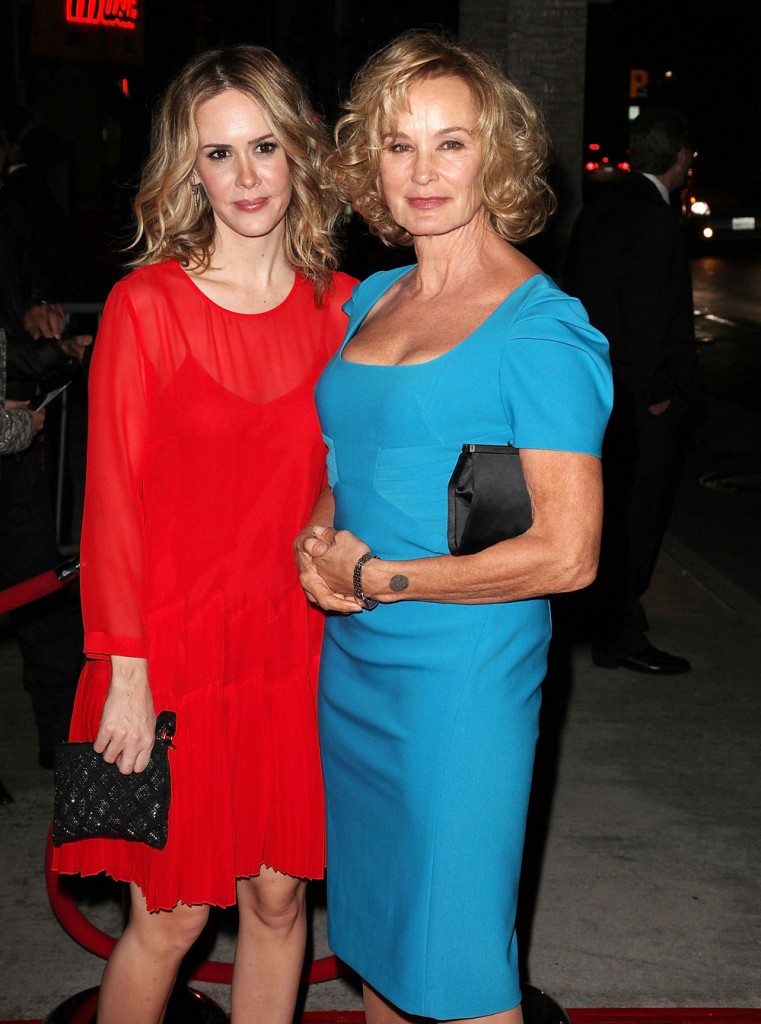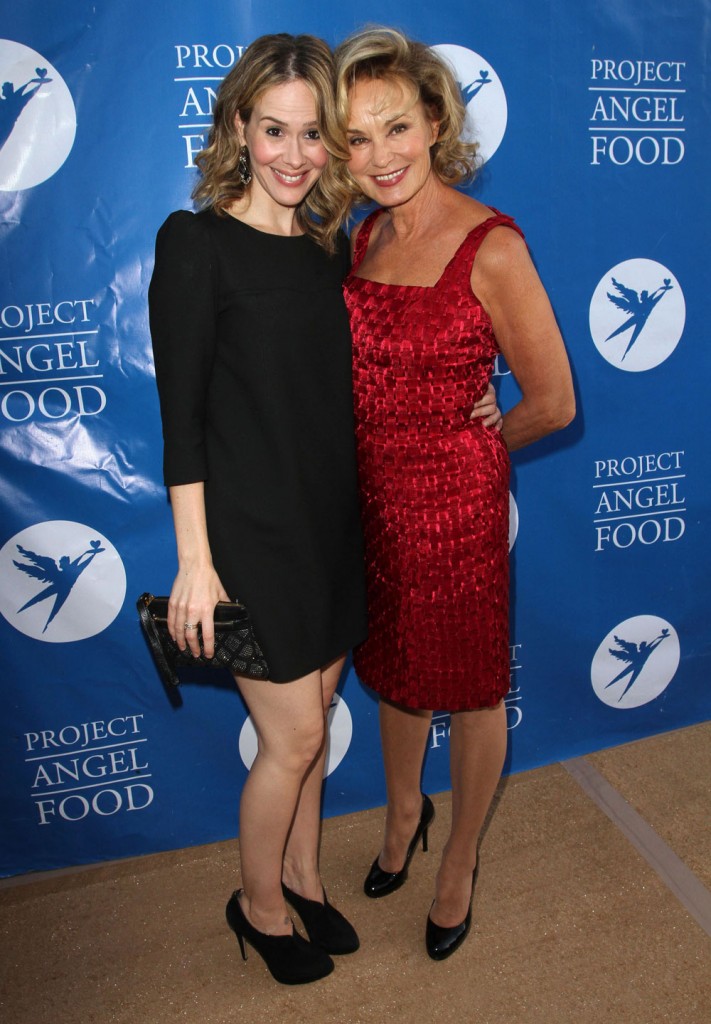 These photos are from 8-12-12 (Sarah in a red floral dress), 3-2-12 (Sarah in the multicolor floral dress, Jessica in red), 3-10-11 (Sarah in red, Jessica in blue) and 8-20-11 (Sarah in black, Jessica in red). Credit: WENN.com
Written by Celebitchy

Posted in Jessica Lange, Relationships, Sarah Paulson

- Friends reunion on Ellen [Popsugar]
- Lindsey Vonn watches Tigers kids [Lainey Gossip]
- George Michael fell out of a car going 70mph [D-Listed]
- Real Housewives of Orange County recap [Reality Tea]
- New Man of Steel trailer [Pajiba]
- Jared Padalecki's hot bod [Buzzfeed]
- Doctors confirm Taylor Swift's new boobs [Evil Beet]
- Catherine Zeta-Jones finished treatment [CDAN]
- Anna Paquin hates the paps [Celebslam]
- Lance Armstrong is gross [The Blemish]
- What is Barbara Palvin wearing? [Moe Jackson]
- This is Petra Nemcova? [SVC]
68 Responses to "Enquirer: Jessica Lange is in a May-December romance with costar Sarah Paulson (update)"