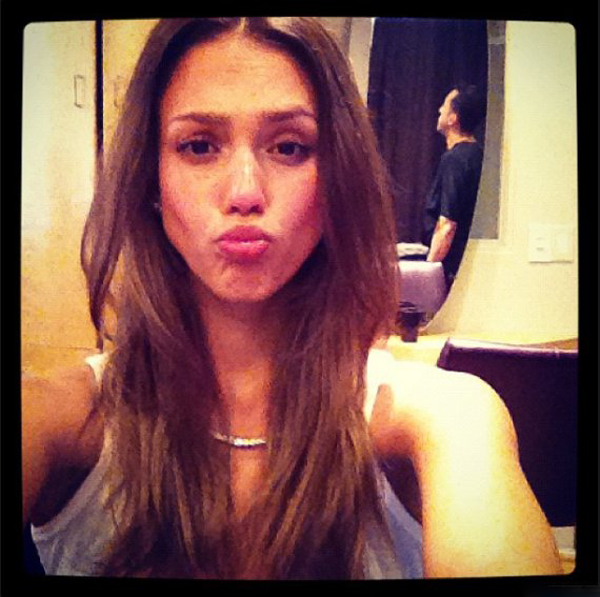 One of the cool things about Twitter is that celebrities have taken to posting blow-by-blow accounts of their hair transformations. Mostly recently, Miley Cyrus has grabbed a great deal of attention with her quasi-Gosselin cut, and now Jessica Alba is getting into the act as well. Jessica took to her Twitter page to tweet the steps of transforming her hair from its usual brunette color to a gradiated blonde with the roots showing in a strategic manner. The final product reflects the current ombre trend, which sort of mystifies me because it's only recently become a hot look, but Drew Barrymore has been (unintentionally?) sporting it for what seems like a decade now. Now Jessica has taken the overprocessing plunge, but it's for a good cause, I think.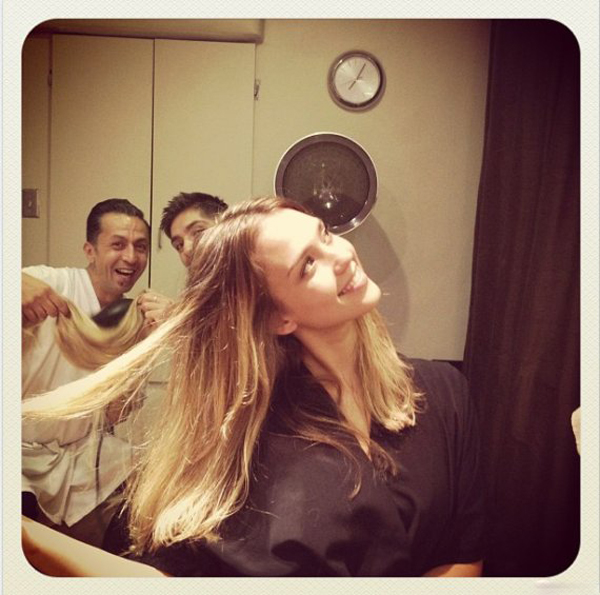 The final image was accompanied by the caption, "She got roots that Nancy #sincity2."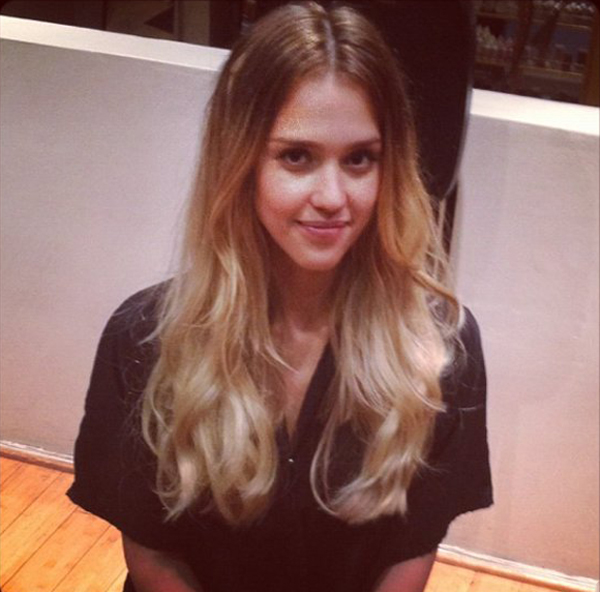 Do you like Jessica's new look? CB thinks it's pretty fug because she thinks that ombre looks better with funky hair colors, "but with blonde hair it just looks like you need a dye job." I agree because, again, ombre with blonde and brown reminds me of an unkempt Drew Barrymore. Part of me is itching to try it with blue or red, but at age 37, I'm probably too old for that kind of thing.
Even more surprising than Jessica's new ombre hair is that this means Sin City 2: A Dame to Kill For is really happening. Really? It's been seven years since Sin City movie (obviously, since I created the design on my now-defunct blog as an homage), but the wait for the second film has just become too exhausting with too many promises from co-director Robert Rodriguez. He's been filming all sorts of kid movies and Machete variants, and his co-director in crime, Frank Miller (who was also the writer of the screenplay as well as the original comic) took a break to botch up the adaptation of Will Eisner's The Spirit comic. After all that and quarterly "Dude!" announcements from Rodriguez about how Sin City 2 was always just around the corner, all it took was hair tweeting from Jessica Alba to prove that the sequel is actually in the works.
I've been trying to ignore any and all casting news on the movie for the past few years, but that jig is over. After a peek at the movie's IMDb page, it looks like Mickey Rourke will be back as Marv, Jessica will be back as Nancy the stripper (which means she'll wear a bikini and chaps again), and Rosario Dawson might be back as Gail (of course she will) while Devon Aoki is rumored to play Deadly Little Miho again. That leaves a huge void on who will play the two main characters, Ava and Dwight. Angelina Jolie and Rachel Weisz were frontrunners for the Ava role many years ago, but who the hell knows who Rodriguez has cast now. IMDb provides no clues, but at least we know it won't be Rose McGowan (since they're no longer an item). Clive Owen won't be back for the sequel (er, prequel?) either, but that's to be expected since his Dwight character has a different face in the A Dame to Kill For graphic novel.
Here's a photo of Jessica training to wield a gun as Nancy Callahan. Funny, I don't remember that happening in the graphic novel, but it's been a decade since I read the thing. So this movie is really happening, right? Rodrigues had better work up a cast, and he'd better not put Lindsay Lohan in the lead.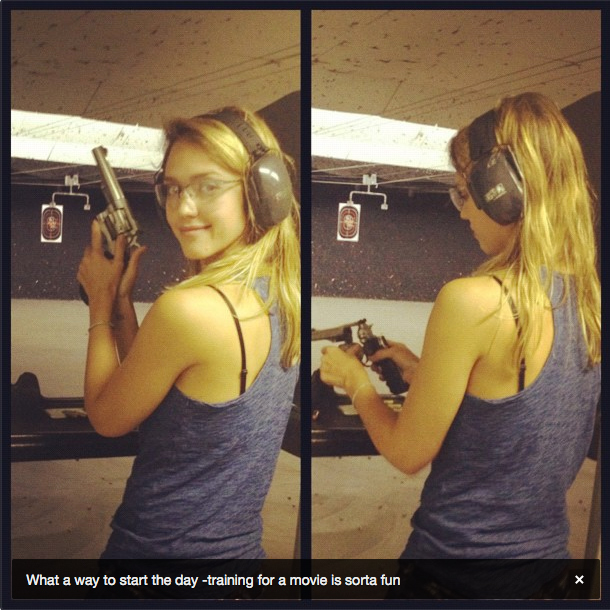 Oh, and Jessica was also snapped by the paps yesterday too. The ombre looks much less extreme in these photos but I think it's because she's gone for a side part. Those roots are much more exaggerated with a center part, which is how she'll probably wear it for the movie. Her hairdressers must have painted the roots in such a way that she could disguise them fairly easily when she's not on the set. Good plan.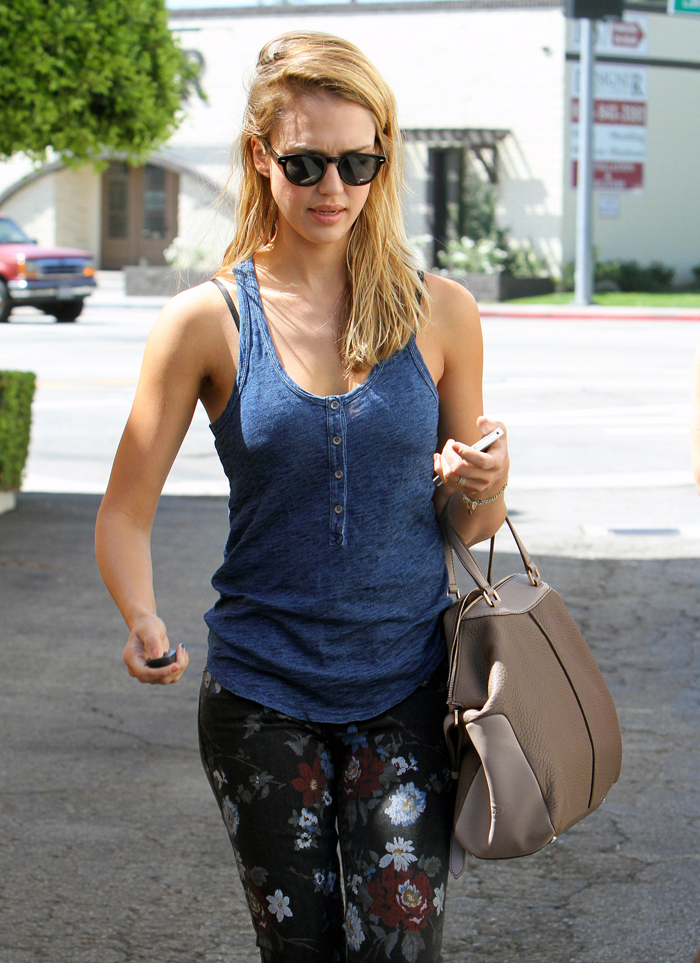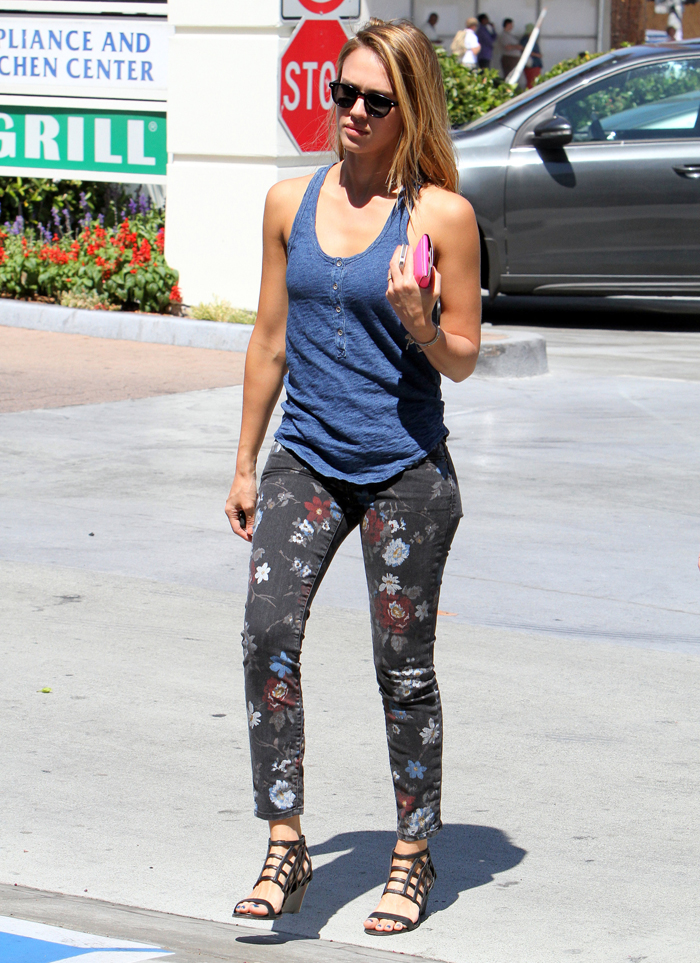 Photos courtesy of Instagram and Jessica Alba's Twitter