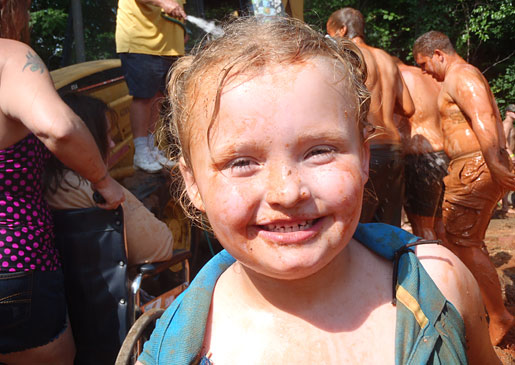 We heard the spoilers about this plotline in the new Honey Boo Boo TLC reality show in an earlier article we covered from The National Enquirer. It's worth mentioning for the fact that People Magazine is now covering it. Honey Boo Boo is a ratings hit for the network, and the show is not going away. I'm hoping that this has a similar fame arc as that polygamist family who stars on Sister Wives. Interest will probably die down after the second season, when the fame and money start to change the characters' lives and they're no longer the down-to-earth people we saw in the first season. For now, the show is brand new and we're stuck with them.
The family has confirmed to People Magazine that their newest member, Kaitlyn, five weeks, was born with an abnormality and has two thumbs on one hand, but matriarch June denies the Enquirer's version that she mocked her granddaughter at all. The baby was born to June's oldest daughter, Anna, who is either 17 or 18 depending on which reports you believe. She may have just turned 18. Here's more:
The littlest member of the loud, proudly redneck family in TLC's hit reality series Here Comes Honey Boo Boo is already sparking controversy.

Tabloid reports have claimed that outspoken matriarch "Mama" June has mocked her 5-week-old granddaughter Kaitlyn, who was born with four fingers and two thumbs on the right hand.

Not true, June, 33, says of the reports. "We have embraced [the abnormality]. It makes Kaitlyn more special to us."

The baby, whose mom is June's 18-year-old daughter Anna, was born on July 26 weighing 6 lbs., 2 oz. June – herself a teenage mom who was just 15 when she had Anna – has been helping to care for Kaitlyn while Anna prepares to finish her senior year of high school in the family's hometown of McIntyre, Ga.

"Sometimes my mama gives me pointers," says Anna, who declines to name the baby's father and says he is not in the picture. "Sometimes I just learn on my own."

Of course, the baby also has a very young aunt to keep her entertained: Alana "Honey Boo Boo," Thompson, who turned 7 Tuesday. (She shares the birthday with big sis Anna.)

Says Alana: "Baby Kaitlyn's so cute."
Honestly, I watched half of the first episode and I found myself liking them. (Some unexpected company came over and was like "what the hell are you watching?" or I would have finished it.) The goofy, colloquial way they speak is only part of the appeal. Mom June is not dumb, she just plays like she is, and you can tell that she loves her daughters and has a close bond with them despite the fact that she made little Alana into a trash-talking pageant tot. I was kind of appalled by the crap they were eating, though, and I don't know if I'll continue to watch it. Overall it seems like we're being encouraged to gawk while the family tries to play up stereotypes. I guess that's the formula for a lot of reality shows, only this is a "redneck" one. (I would say it's unique, but I've seen enough clips of other shows on The Soup to know that it's not.)
Oh and I have to mention this story in The Daily Mail that Honey Boo Boo's 12 year-old sister dipped her little five week-old niece's pacifier in some kind of soda (they say it's Mountain Dew, but does it come in those kinds of cans? Pics are at this link) and then gave it back to her. I've heard friends say that their mom gave them sips of coke as a baby and it's not a big deal, but it still kind of shocked me. This isn't a one-year-old having a little soda, it's a one month old being fed it. I know it's just a taste, but why give that crap to a baby who should only be drinking milk or formula? Oh and the pics do show the baby's two thumbs on one hand. I had to look for it, because I was focused on how sweet and tiny the baby was.