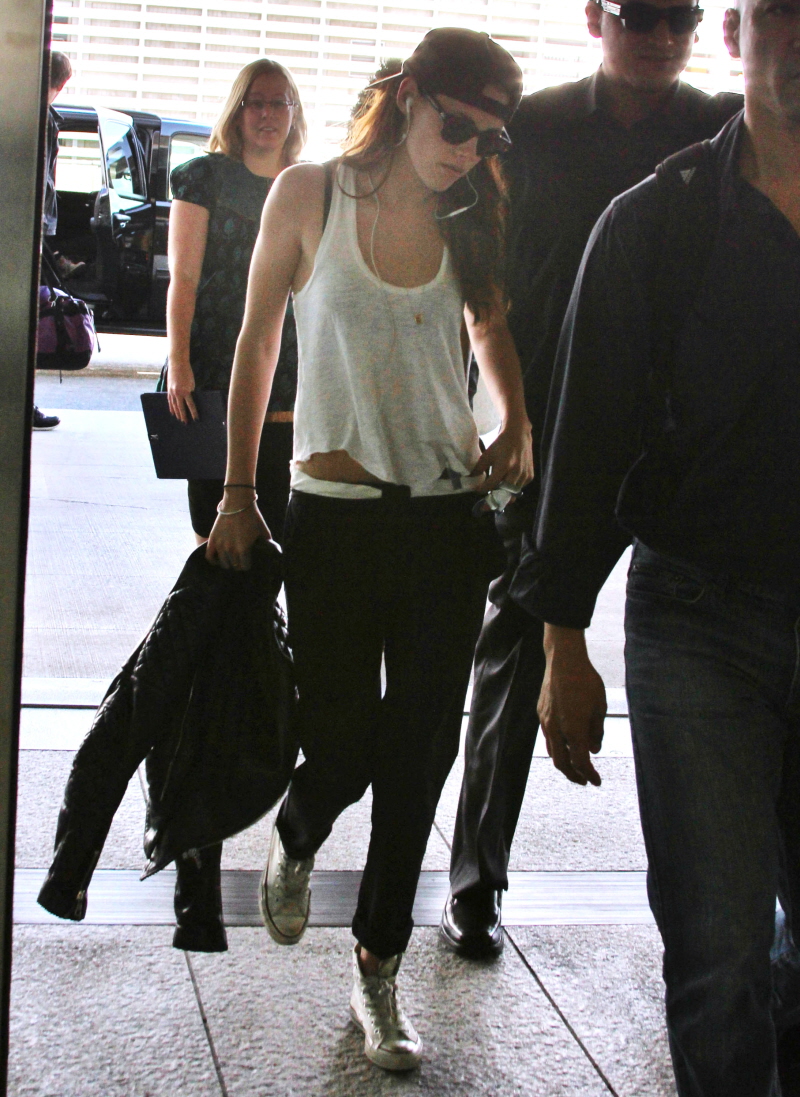 Last week felt super-Twihardy, right? I guess it was because we had lots of new photos of Kristen Stewart, plus Kristen and Robert Pattinson were very busy doing things thousands of miles apart. Kristen was in Toronto last week to promote On the Road, and these are some photos of Kristen at the Toronto airport on Sunday, leaving for…? Unknown. I don't really get her "casual" styling these days. This outfit is pretty gross from top to bottom – dirty Chucks (gross), ill-fitting pants (those are hideous), a white tank over a black bra (maybe she's airing out her pits of seduction) and Robert Pattinson's stupid baseball hat which she keeps wearing. WTF is up with her? FameFlynet even notes:
"Actress Kristen Stewart in a grumpy mood as she catches a flight out for Toronto after attending the 2012 Toronto Film … Kristen told her bodyguard, 'Don't F–king Touch Me Dude' when he tried to help her through the crowd. Kristen who is still in denial after her break up with Robert Pattinson is seen wearing his sweaty Baltimore Orioles hat at the airport."
[Via FameFlynet]
YIKES. Harsh. Meanwhile, Kristen did the press conference for On the Road, and some of the journalists managed to slip in some "How are you doing with everything that's been going on?" questions in there.
She has not spoken about her personal or professional relationship with estranged boyfriend Robert Pattinson since she was photographed cheating on him with married director Rupert Sanders. But Kristen Stewart alluded to her one-time Twilight beau at a press conference for the first time today since the scandal broke six weeks ago.

'We're going to be fine,' Kristen said when asked about the potentially awkward public appearances the twosome will have to make in November while promoting The Twilight Saga: Breaking Dawn Part 2. 'We're totally fine,' she added, as an afterthought.

Kristen said at the press conference that she never considered skipping the festival. 'We have been waiting for this thing to be unleashed for so long. It was sort of one of those situations where you just have to put yourself in your body and go appreciate the moment.'

She admitted however, that she had been nervous about attending the premiere, but had been blown away by the response from the waiting fans.

'I was a little nervous, obviously. I'm always nervous before a red carpet,' said Kristen. 'To be honest, I was just kind of telling myself, like, just don't black out. Be there, don't just figuratively put your head down and barrel though it. Be there, appreciate it. Luckily, very, very much I was able to do that. You expect a lot of people at a Twilight premiere, but showing up at an On the Road Toronto film festival screening and seeing that amount of people is absolutely, disarmingly amazing. It felt pretty cool.'

Kristen stars as Marylou, the first wife of Beat Generation free spirit Dean Moriarty (Garrett Hedlund), who joins him and narrator Sal Paradise (Sam Riley) on some of their crazed cross-country adventures in the adaptation of Jack Keroac's book.

'Marylou and Dean are the type of people that I was inspired by. Initially, at 15 reading the book, going, "God, these are the sort of people I've got to find. The mad ones,"' said Kristen. 'And I am so not one of them, but maybe I could be…

'The great thing about On the Road is that it really can crack open your shell, and I definitely realised things about myself that I didn't realise before. That I can let my face hang out and not be too aware of it, and stop questioning myself and not be afraid of strangers, and stop being judgmental.'
We could parse "We're going to be fine…We're totally fine," for a long, long time. Part of me thinks that she was just trying to say something noncommittal about the situation, but part of me thought, "Oh, poor delusional K-Stew." Of course, I did have a moment of "Maybe she and Robert Pattinson really are fine, in a sense, because they're still talking and she believes they'll get back together." One way or the other, I'm now really looking forward to the Breaking Dawn publicity tour. It's going to be the most epic awkwardness ever.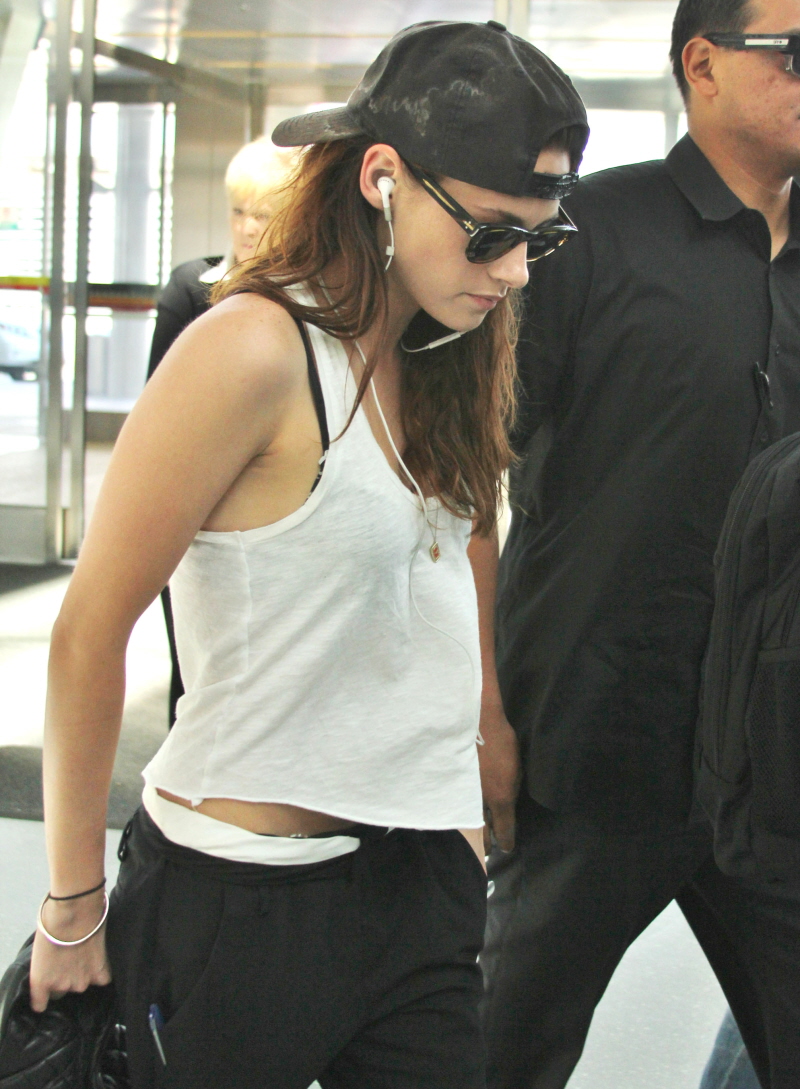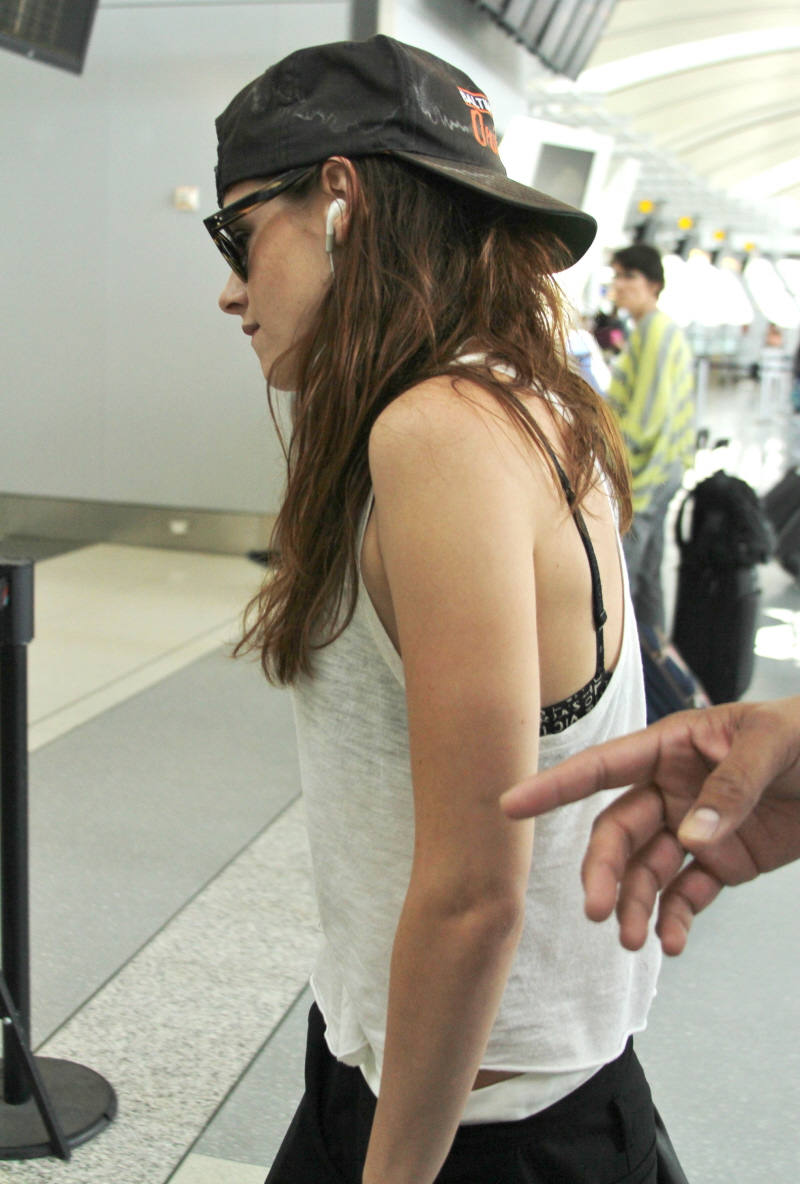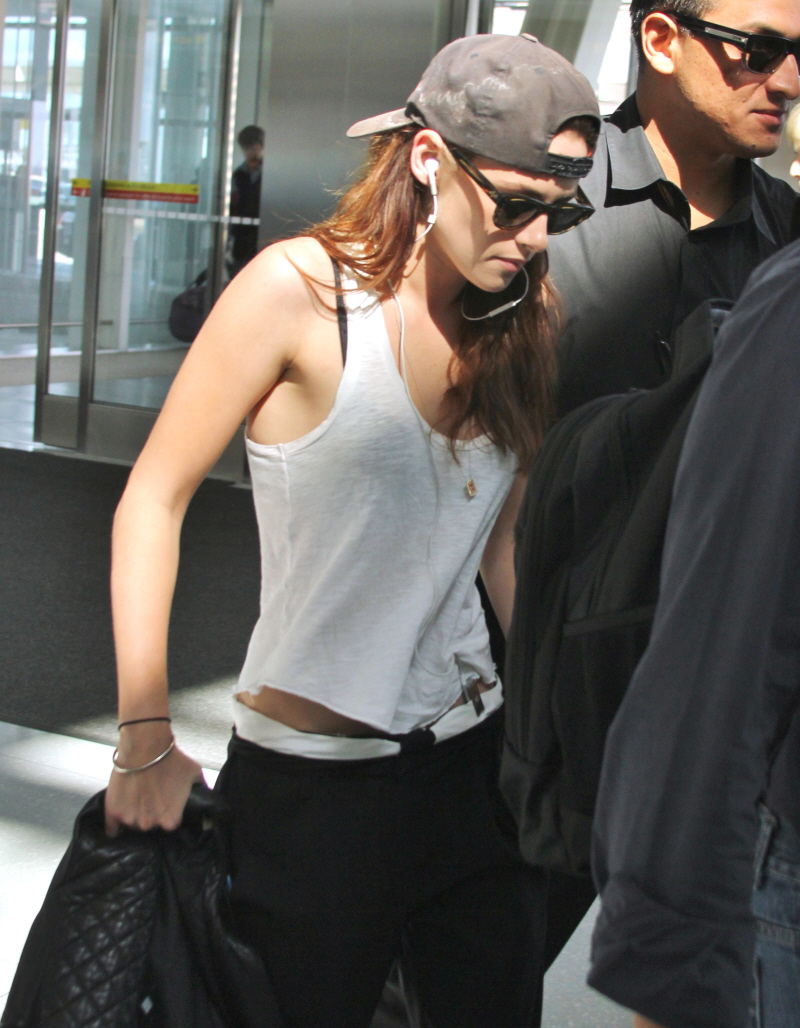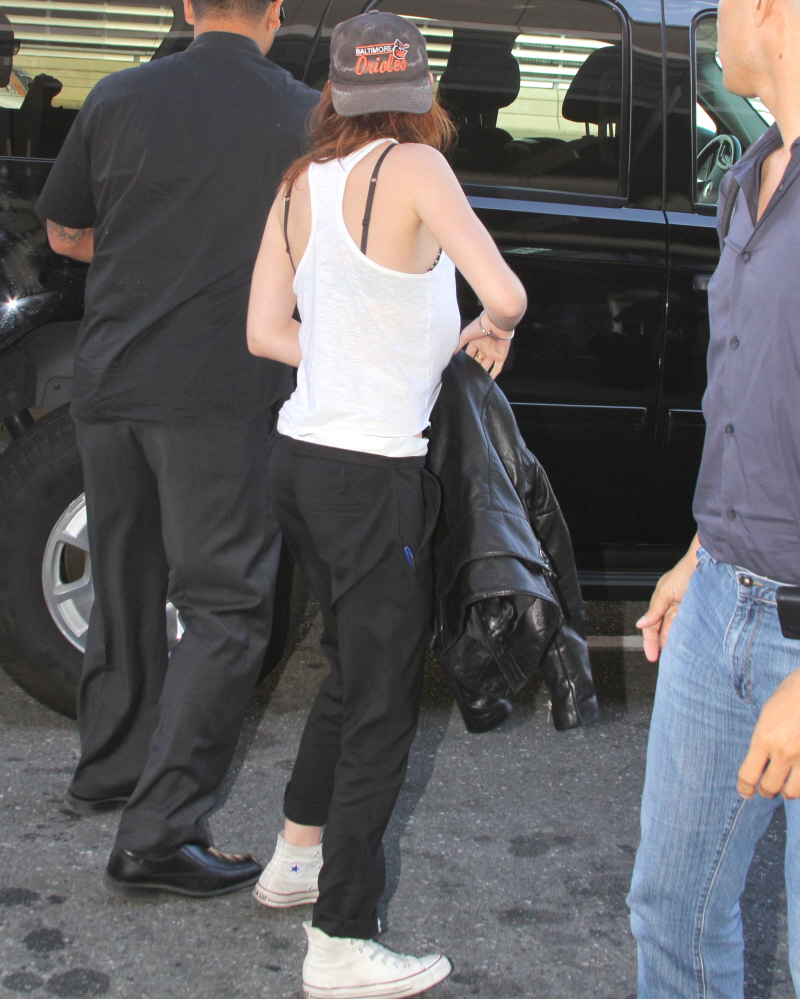 Photos courtesy of Fame/Flynet.