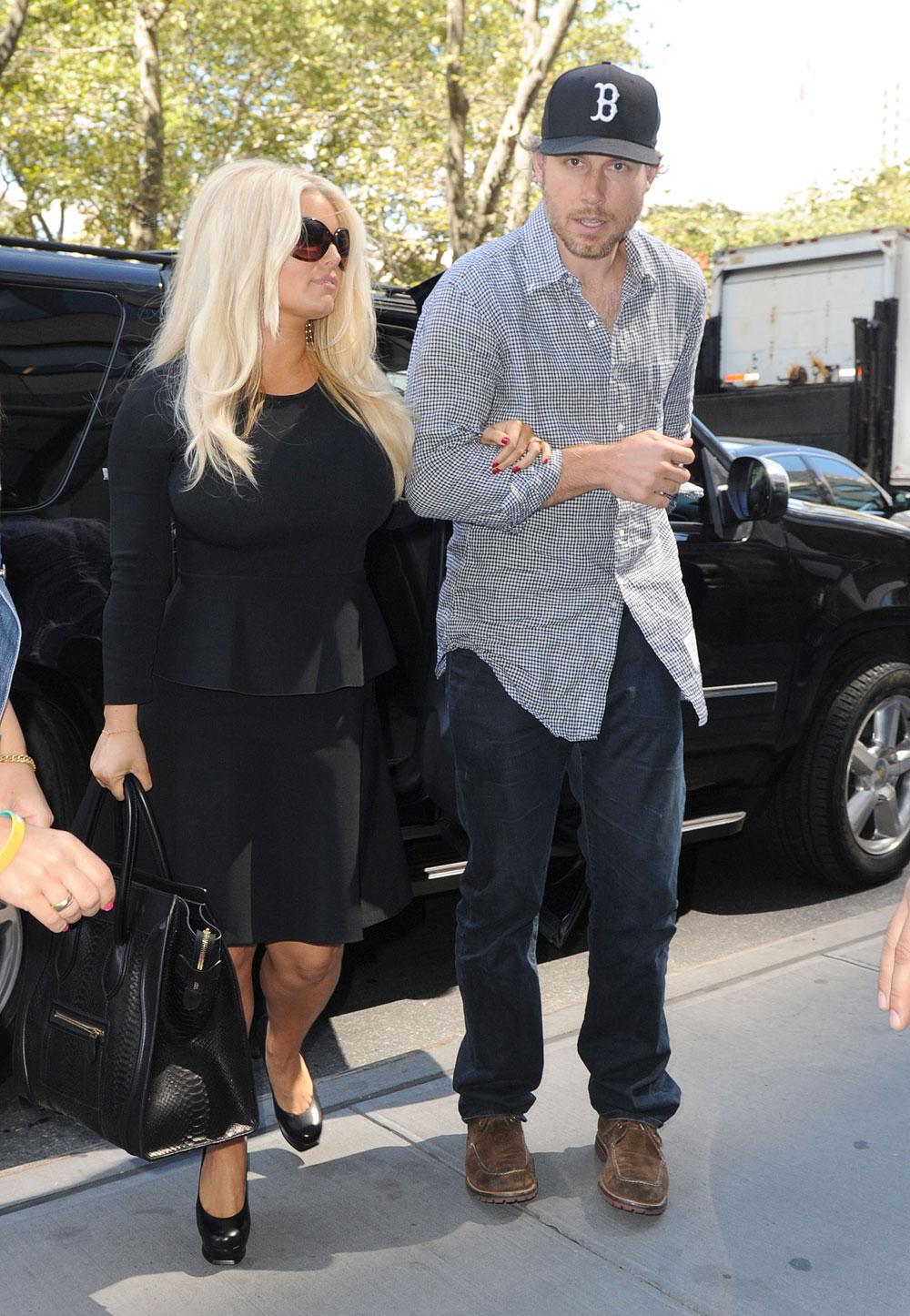 These are some photos of Jessica Simpson in NYC yesterday, where she was the first guest on Katie Couric's new daytime talk show. CB and I were debating Jessica's general appearance, and whether or not she looks like she's been lying about her weight loss – I tend to think she has genuinely lost most of her baby weight, but that weight loss progress is being hampered because Jessica keeps playing fast and loose with the numbers. Jessica claims she's only 10 pounds away from her pre-baby weight – which I will believe only if she's talking about her boob weight.
Anyway… when I'm at the gym, I just listen to music on my iPod and stare mindlessly at the bank of TVs in front of me, trying to guess what they're discussing. Thus, I was able to catch part of Jessica Simpson's big "body debut" on Katie Couric's new show yesterday. Since I wasn't listening, all I could judge was the body language and facial expressions of the two women. My read: Katie was going out of her way to be extra-sacchrine, and Jessica was mindlessly repeating her Weight Watchers talking points and her orchestrated "un-truths" about her pregnancy and her weight loss. It's good to know I was right about all of it, because just glancing through the coverage of the interview… that's exactly what happened:
Jessica Simpson's post-baby fitness regimen is still a work in progress, but the bubbly entrepreneur is optimistic about finally shedding her pregnancy weight, she told Katie Couric Monday.

"During pregnancy, I didn't really think about it," she told the talk show host of her expanding figure. "I thought my doctors were telling me that it was just a lot of water and whenever my water broke my whole entire stomach would go down but that did not happen. All the weight did not come out with the baby!"

Simpson, who acts as a spokesperson for Weight Watchers, has already lost an impressive 40 pounds since giving birth to baby Maxwell Drew Johnson in May. A big part of her progress has been in not just changing habits, but her entire relationship with food, she explained.

"You have to track every bit, and you can't get away with the bites because they add up," she said. "You have to be completely honest with yourself, and I think just creating that relationship of honesty with yourself is so good."

During her pregnancy, the 32-year-old starlet admitted to succumbing to cravings for sweets, most notably a concoction called "slutty brownies," made up of cookie dough, oreo cookies and brownie dough baked together.

Add to that a love for Tex Mex, anything fried and barbecue, and Simpson admits that her diet during her pregnancy was anything but healthy.

"Can't beat Velveeta," she quipped at one point during the show as Couric chatted with her Weight Watchers coach. But even at her heaviest — Simpson said she weighed 170 pounds when she posed nude and pregnant for Elle magazine in April — the singer said she would pointedly avoid the negative press.

"I've been pregnant for three years!" she joked of the way the tabloids have made fun of her yo-yo weight. "I definitely don't Google my name. I try to avoid it completely. But I still subconsciously know that the talk is going on so I think that every day that is a struggle for me. I understand that it sells magazines and stuff … but I wish I could get a cut!" she laughed.
[From The New York Daily News]
Ah, I see. Now she claims that the "170 pounds" figure was when she posed for Elle's April 2012 issue. You know what? Jessica was probably only six months pregnant when she posed for Elle. Which means there are three months' worth of hawt dergs, slutty brownies and Velvetta completely unaccounted for. Now, it's perfectly possible that Jessica is being completely honest with her Weight Watchers program people and she doesn't want to get into the nuts and bolts of "This is what I weighed in May, this is what I weighed in June" etc. In which case… sure, she doesn't have to do that, of course. It's her business. But it becomes a little bit sketchier when she's playing fast and loose with the numbers while she's being paid $4 million to promote the WW program. Coughfalseadvertisingcough.
Her dress is Roland Mouret, by the way. It's not all that great, but it does "mask" her abdomen.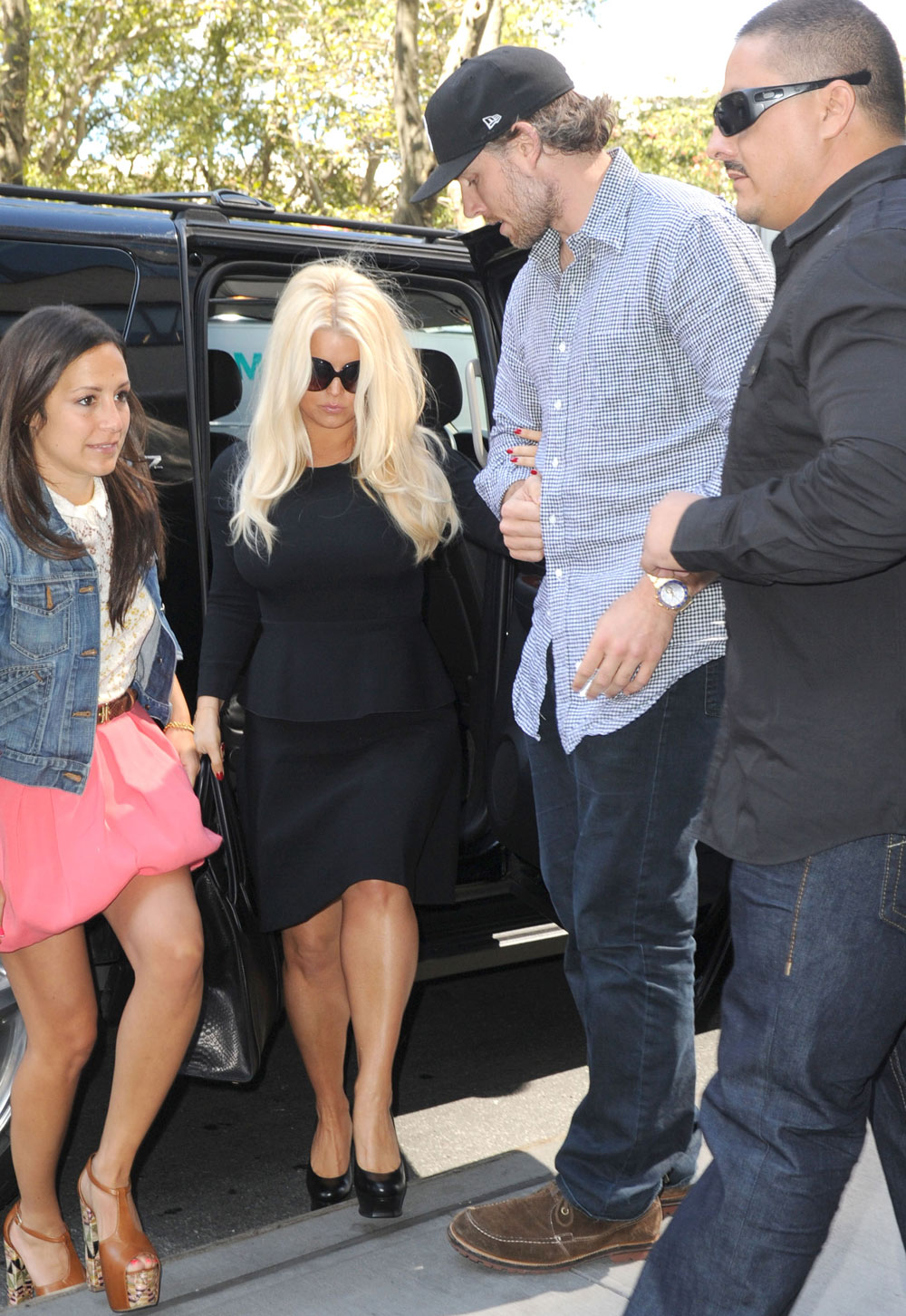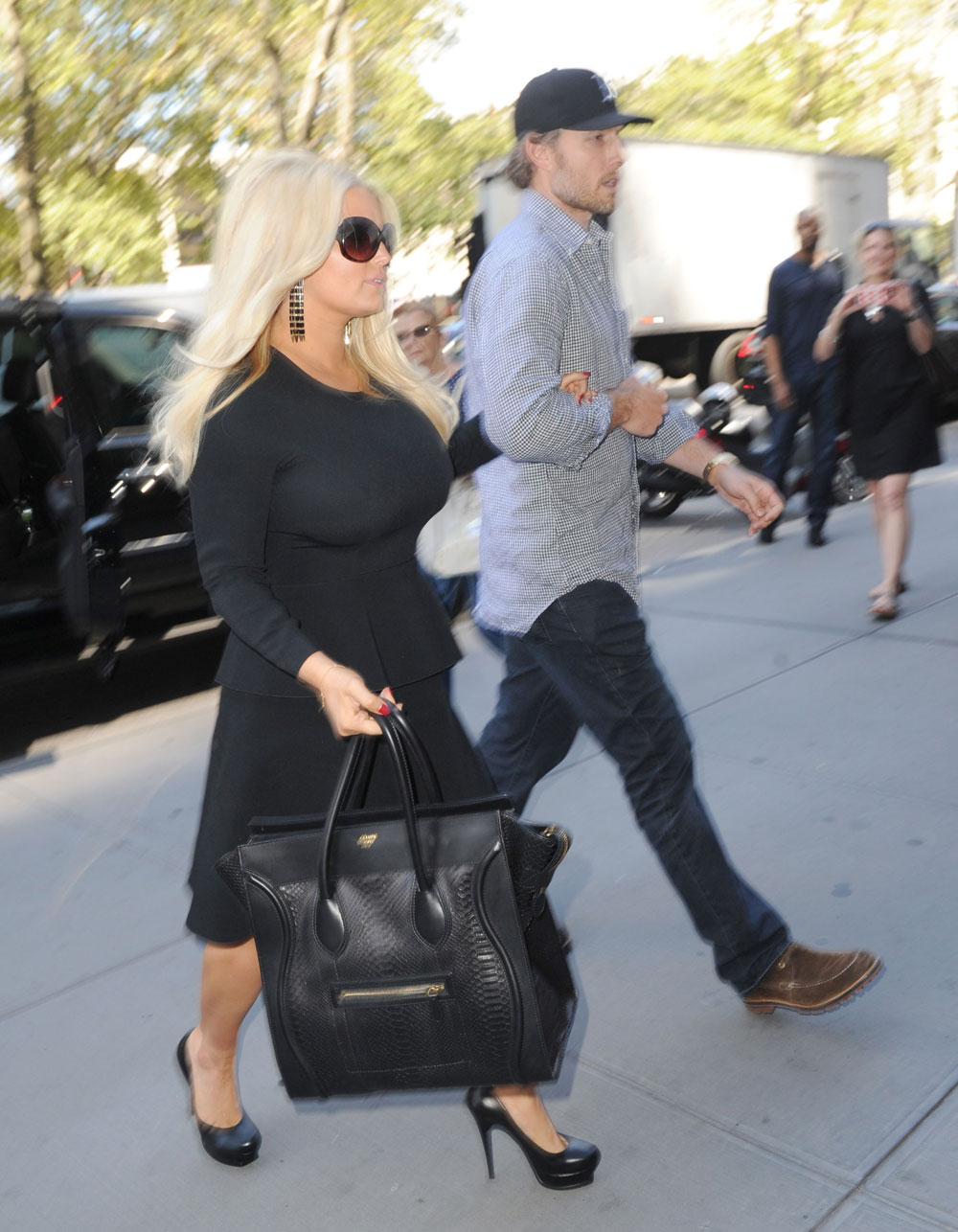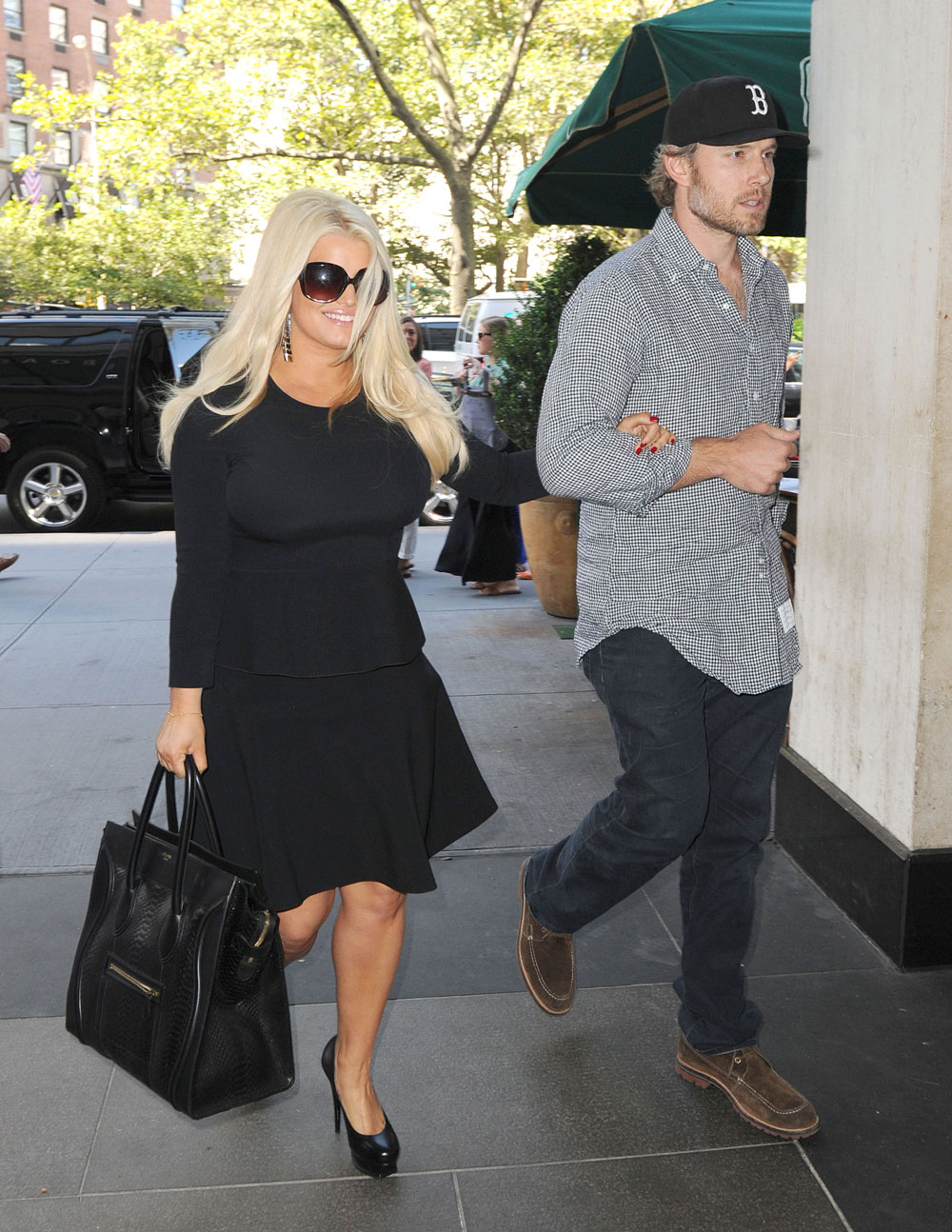 Photos courtesy of Fame/Flynet.