Duchess Kate wears McQueen & wedges of doom in Singapore: lovely?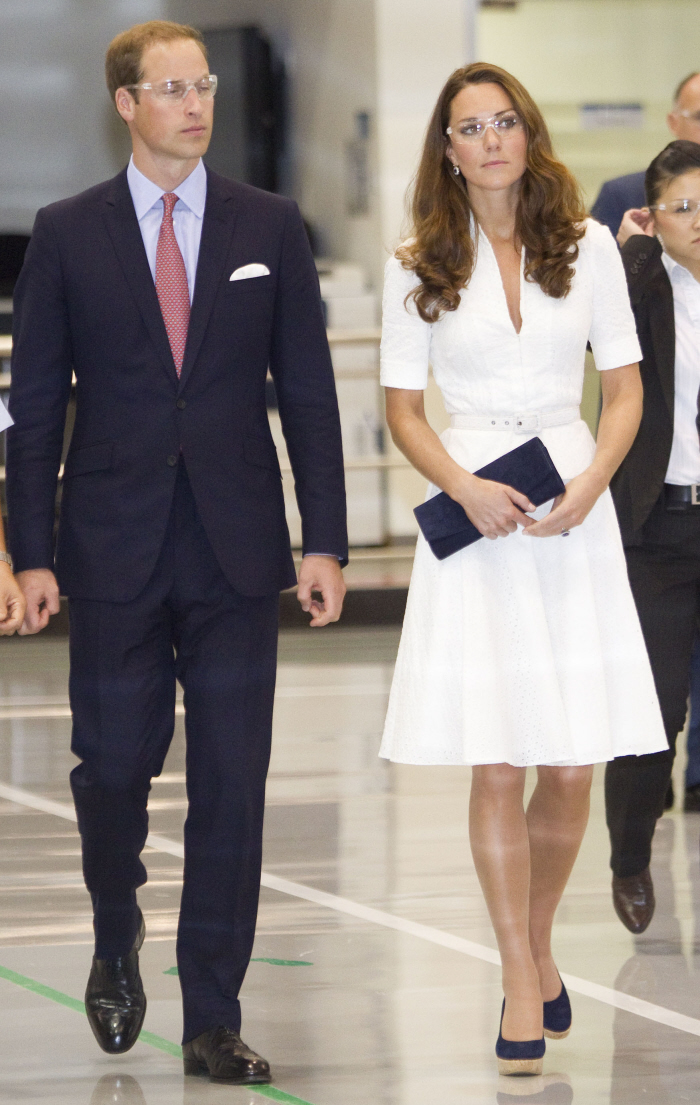 Ah, so many photos of The DoC! The Duchess of Cambridge had two more costume changes in Singapore since we last saw her. For her first day in Singapore, Kate wore a kimono-like Jenny Packham and an unconventionally-patterned Prabal Gurung for the State Dinner. The first set of photos I bring you are from Kate and William's trip (today?) to the Rolls Royce engine plant in Seletar. Rolls Royce is a British-owned company (sort of) and the Singapore plant is considered a "major investment". Will and Kate toured the plant and Kate got to pretend to "work"! It was all very amazing and new to Kate.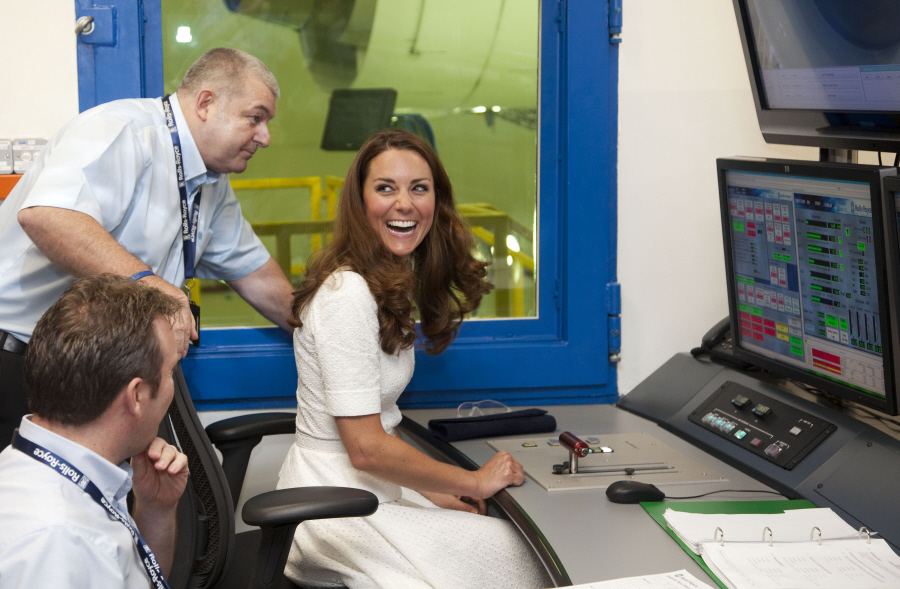 For this event, Kate wore a Alexander McQueen broderie anglaise suit. It's a two-piece outfit – some sort of jacket and skirt combo that reads as a one-piece in some photos. I like it – it seems appropriate and smart, a very clean and elegant look. You know what I hate though? I hate the duchess paired this smart outfit with the same GD Stuart Weitzman wedges that she's been wearing for months! There weren't that cute to begin with! The wedges are just… not a very elegant look. I hope to hell they're comfortable, because that's the only excuse for wearing them so often. Even though I'm bored to tears with Kate's nude LK Bennett pumps, those would have been a better choice with this McQueen.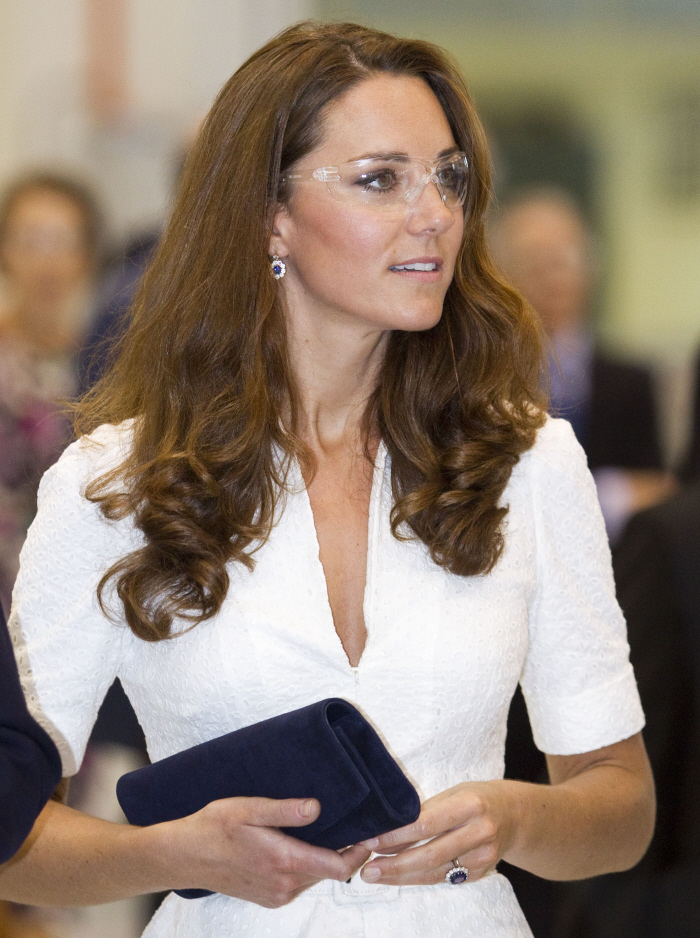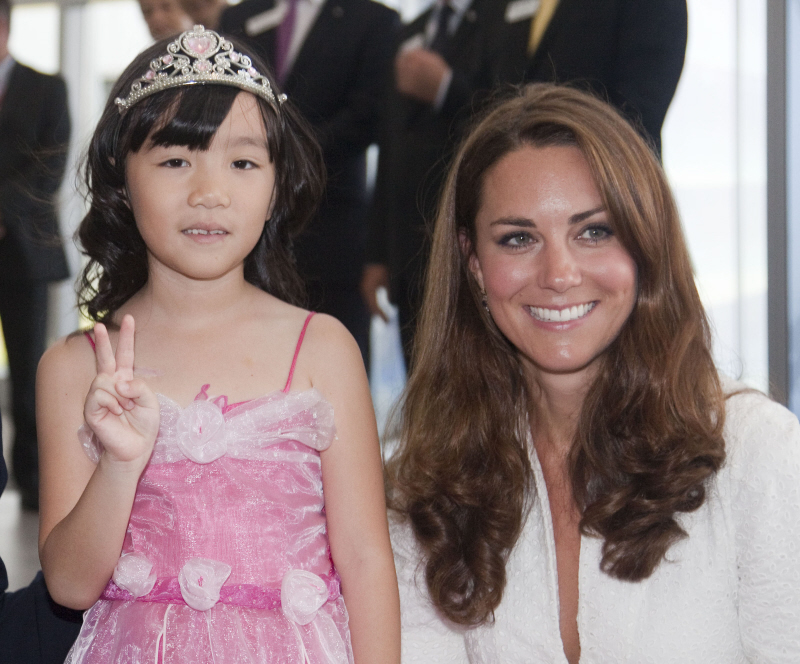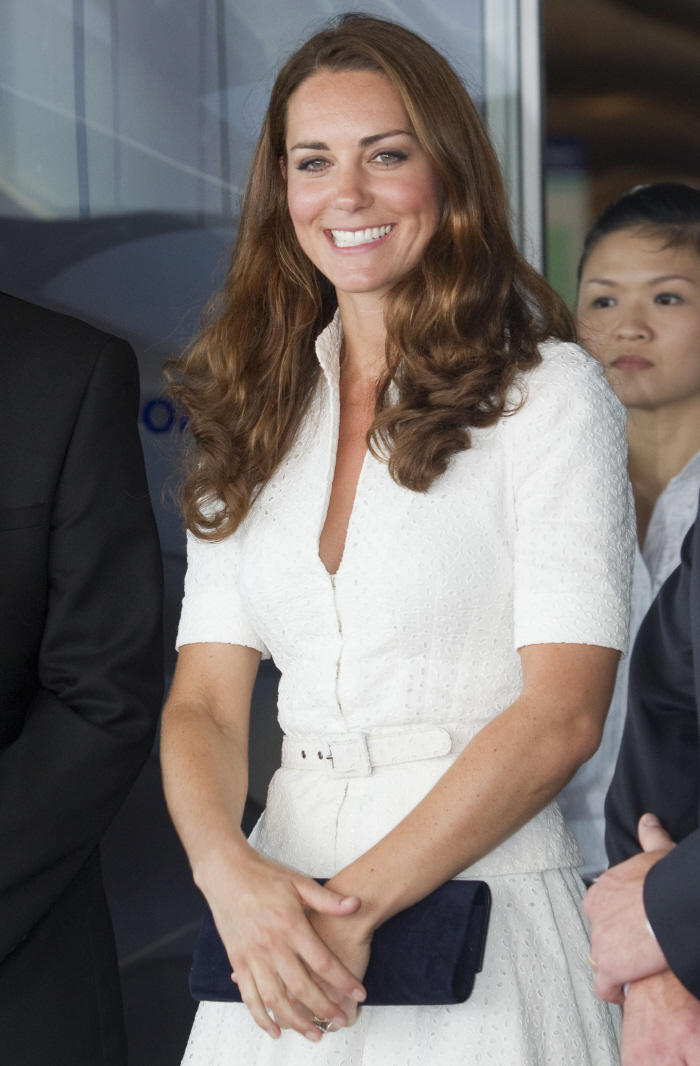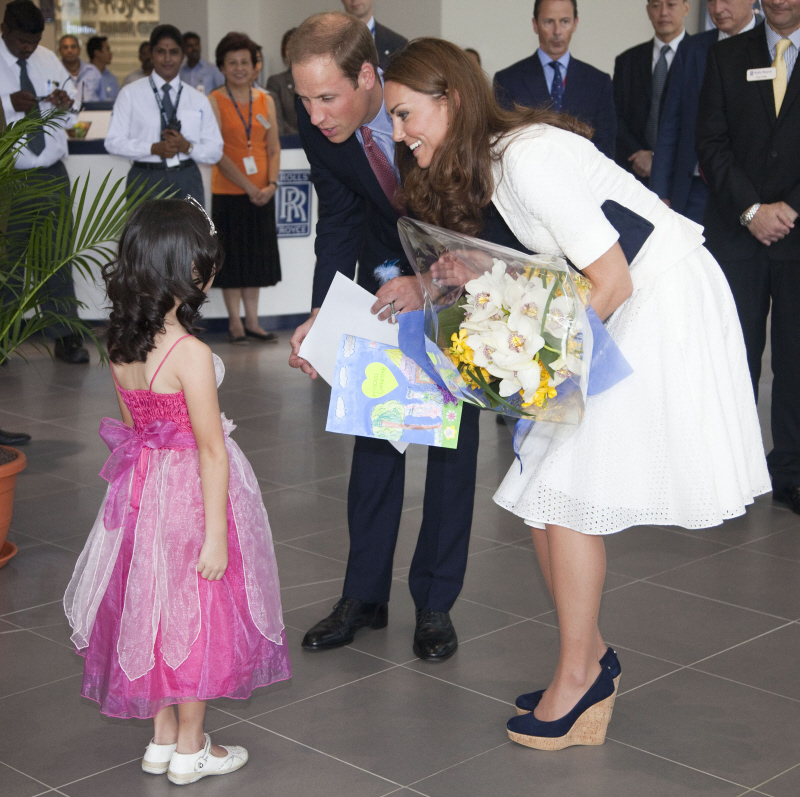 Another costume change… this one for a tour of the Queenstown Community, which is basically a neighborhood made to resemble a little English village, from what I gather. Kate wore a breezy dress by Asian designer Raoul, costing £485. I don't hate the dress, I just don't think it's the best thing she's ever worn. The color and pattern don't do anything for her. And for the love of God, why not try a chignon or a classy ponytail for some of these super-humid events?!
Will and Kate met with lots of kids, and one "plucky" youngster asked William how big of a family he would like, to which William replied "Two" without hesitation. So, there you have it. William wants an heir and a spare and no more.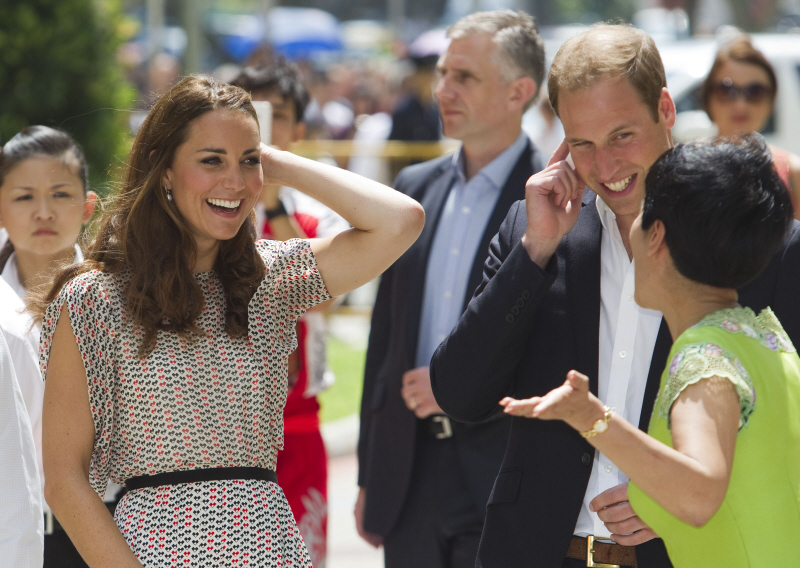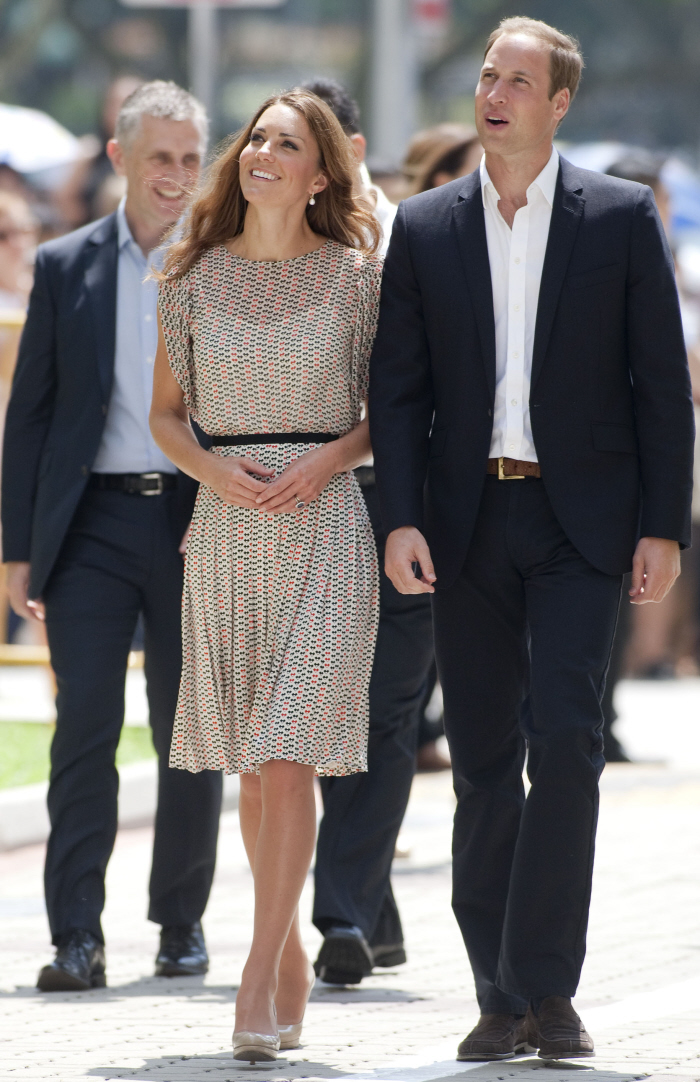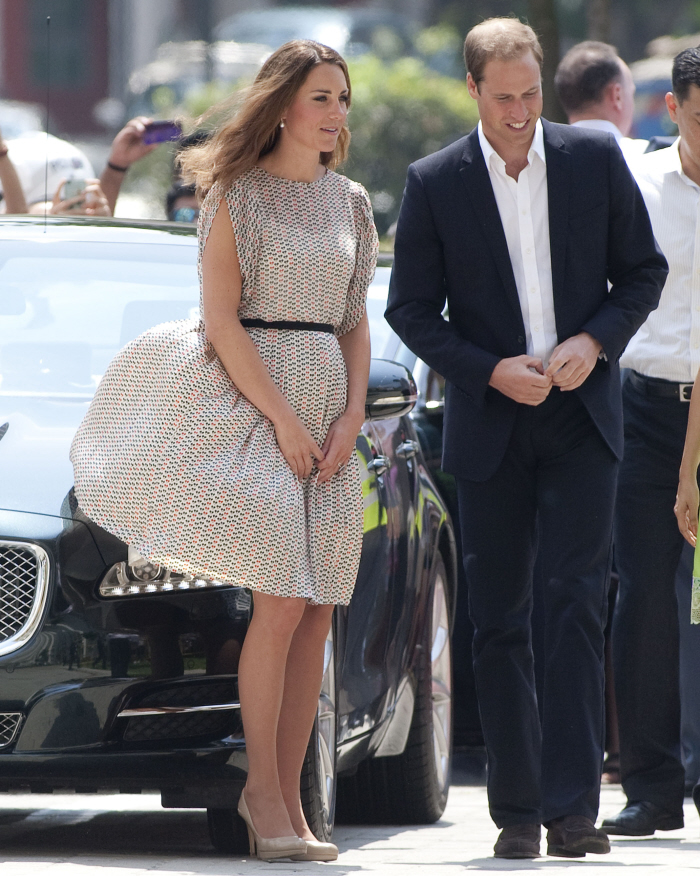 Photos courtesy of WENN.

Written by Kaiser

Posted in Fashion, Kate Middleton, Prince William

- Friends reunion on Ellen [Popsugar]
- Lindsey Vonn watches Tigers kids [Lainey Gossip]
- George Michael fell out of a car going 70mph [D-Listed]
- Real Housewives of Orange County recap [Reality Tea]
- New Man of Steel trailer [Pajiba]
- Jared Padalecki's hot bod [Buzzfeed]
- Doctors confirm Taylor Swift's new boobs [Evil Beet]
- Catherine Zeta-Jones finished treatment [CDAN]
- Anna Paquin hates the paps [Celebslam]
- Lance Armstrong is gross [The Blemish]
- What is Barbara Palvin wearing? [Moe Jackson]
- This is Petra Nemcova? [SVC]
90 Responses to "Duchess Kate wears McQueen & wedges of doom in Singapore: lovely?"