Scientology lawyer sent letter to Vanity Fair w/ accusations of "religious bigotry"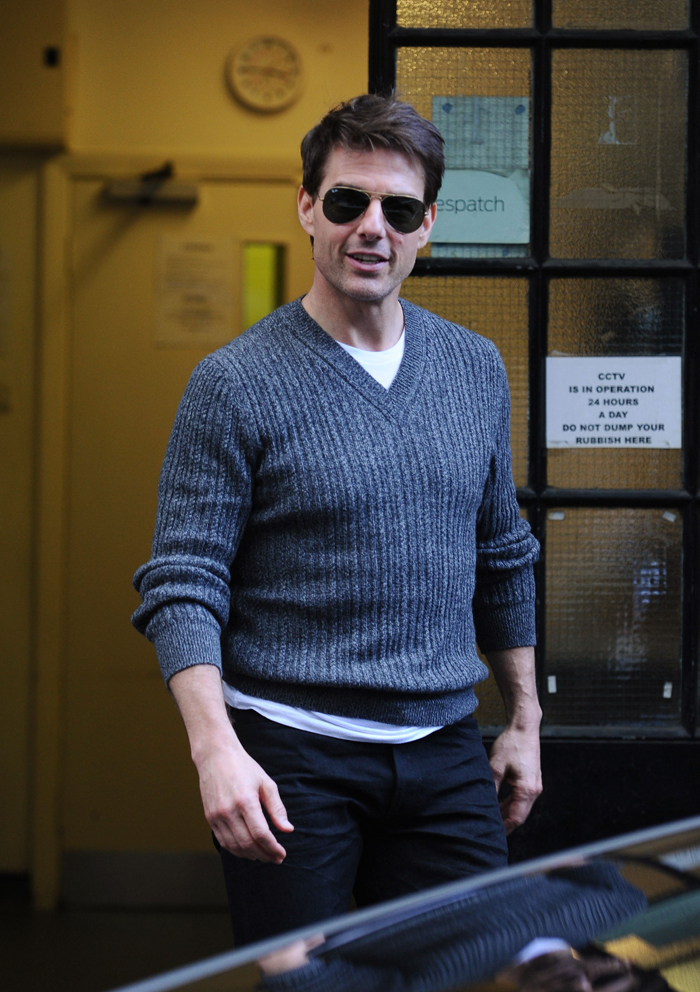 Forgive me for running the Tom Cruise moob photos one more time, but they're just too hilarious to pass up — especially since this post involves catching up on several Scientology-related tidbits before jumping into the main part of the story. Do you want the good news or the bad news first? Let's go with the bad news. The Village Voice's Tony Ortega has resigned from the Running Scared blog "to pursue a book proposal about Scientology in its time of crisis." This news should probably be met with well wishes for Tony, but I think he's made a mistake. He can (and has until this date) reach far more readers with his daily articles on the CO$ than he'll probably be able to influence with a book. Tony is needed on the forefront in a reporter capacity, but I guess maybe the Voice's recent financial troubles may be to blame for his decision too. Oh well. Tony will be missed more than he'll ever realize.
Now for the good news. Paul Thomas Anderson's The Master, which has pretty much swept the Venice Film Festival and also fared well at TIFF, has just scored the highest ever opening weekend per-theater average ($145,949) for a limited release movie. In addition, Page Six reports that "Scientologists have been 'inundating' the distributor, The Weinstein Co., with strange calls objecting to the film and are concocting plans to combat it." Harvey has even had to "beef up his own security." Crazy but believable.
Next up? More on the fallout from the Vanity Fair October cover story that detailed the Tom Cruise wife auditions held by the CO$ before Katie Holmes had the misfortune of falling into the fray. For our previous coverage, go here, there, and over yonder. In a nutshell (get it?), the VF article solidified years of previous rumors by putting a name and face (that of Nanzanin Boniadi) with the audition process. Naz was supposedly the big winner (although she undoubtedly sees it otherwise) before Tom had his CO$ slave labor dump her because he essentially wanted a mail-order bride that "had her own power," i.e., was already famous. Enter Katie. And the rest is history.
Of course, the CO$ isn't sitting nicely after this virtual bombshell and has lashed out at director Paul Haggis after he confirmed Naz's story. According to Us Weekly, both Paul and Naz are not to be trusted because there are both "members of a small self-proclaimed 'posse' of anti-Scientology apostates." Further, the CO$ alleges that Haggis only supported Naz because they've been banging for years. Of course.
In addition, Radar Online has published an eight-page letter from David Miscavige's lawyer to Vanity Fair that threatens a lawsuit if the magazine persisted in publishing its exposé of the Tom Cruise wife audition story in its October issue. Radar has the whole letter available for download, but it essentially accuses Vanity Fair of "hatchet-jobs of minority religions and its members" and takes offense at "the notion that [David Miscavige] has been a kind of third wheel in Tom Cruise's relationships and marriages." The letter also describes Orth's sources as "apostates and, in particular, labels Marty Rathburn and Mike Rinder as "a dynamic duo of lunatic venom and untrustworthy bile." Then one tiny little paragraph at the end of the eight-page letter refers to Nanzanin Boniadi's story but never mentions her by name and dismisses the entire wife-audition story as "akin to high school locker-break girlfriend/boyfriend gossip. Either way, the allegations are false." Yes, it's the old CO$ mantra of "Don't ever defend. Always attack." Here's Radar's interpretation of the letter: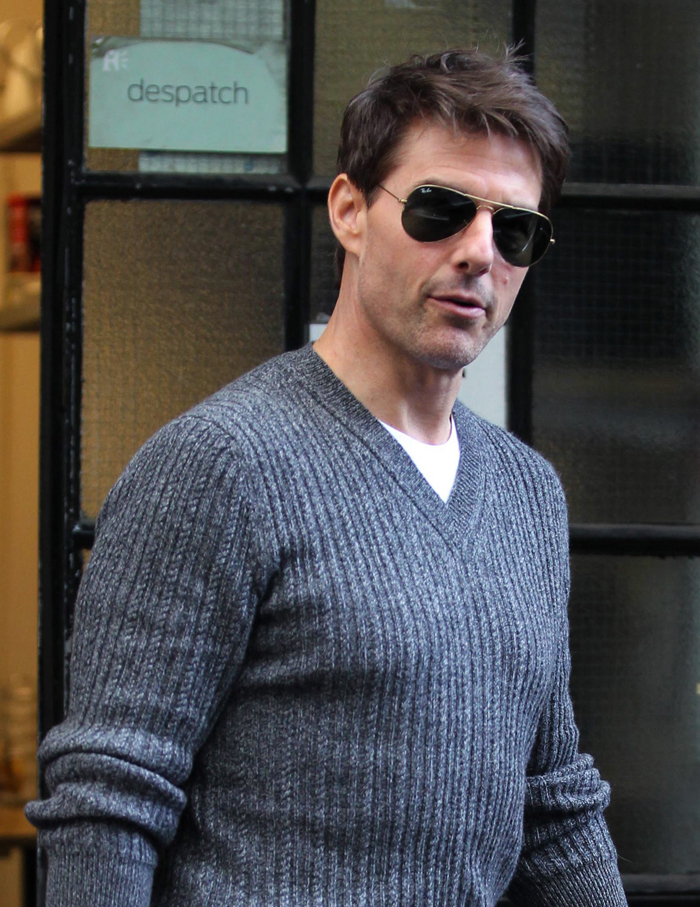 It's war! The Church of Scientology has hit back against the Vanity Fair expose that claimed to reveal deep secrets of the church and Tom Cruise with a scathing letter to the magazine's publisher in which they call the journalist a bigot and dismiss the allegations in the article as defamatory.

"We are writing regarding your, your editor's and reporter's shoddy journalism, religious bigotry and potential legal liability arising out of Vanity Fair's upcoming story about the Tom Cruise divorce," the letter states. "Significantly, while Maureen Orth was preparing her story, Vanity Fair ignored its staff and contributors who have firsthand knowledge of Mr. Cruise and of Mr. Miscavige and who would burden her story with the truth."

The letter accuses Orth of hiding her intentions about the article, and said the list of 32 questions revealed "the tabloid nature of the article," and her "reckless disregard of the truth and her religious bigotry," and says the story is "false and contemptible."

The letter defends the Scientology leader and his relationship with Tom Cruise. "Mr. Miscavige is the ecclesiastical leader of a worldwide religion; a man of impeccable character who is dedicated to his faith and to the service of its parishioners. [I]f Ms. Orth had done any research, she would know that Mr. Miscavige's vocation requires him to travel extensively throughout the world and he is rarely even in the same cities as the celebrities with whom she suggests he spends virtually all of his time. Ms. Orth's implications are demonstrably false. If she had considered for a minute the respective travel and work demands placed on both Mr. Miscavige and Mr. Cruise, she would have dismissed outright this 'third wheel notion.'"

In a shocking comparison, the letter equates the Vanity Fair article's claims to accusing the Pope of poisoning holy wine. "Ms. Orth shows no sensitivity to Scientology's religious beliefs as she apparently hasn't a clue what those beliefs are. Scientology auditing is the most sacrosanct practice of the Scientology religion and the confidences of parishioners given in auditing are inviolate. Yet the very tenor of Ms. Orth's questions concerning such matters, on the order of "By the way, do you take sugar in your coffee?" evidences her total ignorance and lack of respect for the beliefs of Scientologists.

"The allegations she forwards are akin to asking the Pope if he threw poison in the wine before failing to bless the Holy Communion during the Easter service. Your apostate sources know that is the nature of what they are insinuating and Ms. Orth, who hasn't the vaguest clue about the practice of Scientology, has been duped into forwarding their anti-Scientology agenda."

The letter threatens legal action against the magazine, writing "The disgraceful allegations Vanity Fair apparently plan to publish about Mr. Miscavige are defamatory. If Vanity Fair goes forward with publication of such defamatory allegations, now that it is on notice that the story is false, the stain on its reputation will last long after any reader even remembers the article. The sting of the jury verdict will last longer still; far longer than any pleasure from racing to publish a poorly researched and sourced story."

Vanity Fair is standing by their story, releasing a statement to CNN saying, "We absolutely stand by Maureen Orth's story. Vanity Fair has never paid sources and never would."
[From Radar Online]
Once again and as when the Tom's rep immediately reacted to the VF story as "Lies in a different font are still lies – designed to sell magazines," the CO$ reactionary focus seems to (tellingly) rest upon the (allegedly) unnaturally close relationship between Tom and David Miscavige. Never mind the details about Nicole Kidman's lost relationship with her children or the really juicy aspect of the story, which (obviously) is Naz's nightmare as Tom's arranged girlfriend who was made to file her teeth down and entertain David and Shelley Miscavige after she'd fallen off a snowmobile and was in "excruciating pain." Then after she complied with Tom's order to dance like a little puppet, she was berated for asking Miscavige to take the marbles out of his mouth and speak English, which was followed by Cruise screaming at her and having the CO$ dump her on his behalf. Never mind that this isn't the first time we've heard about Tom screaming at a woman for offending Scientology itself — after all, he verbally abused Katie for four straight days for a similar offense. Nope, none of that is important at all. What really matters is that no one should ever think that Tom and David are soulmates. Because, you know, that would be embarrassing.
Tom's attorney, Bert Fields, is talking again too but ignores the main issues in favor of insulting Orth's story by calling it "long, boring and false" with a reliance upon "bogus sources." Again, the CO$ never defends and always attacks.
In (now) tangentially-related news, here's some photos of Katie Holmes taking Suri out to the American Girl store in NYC a few days ago. From all indications, Suri's still attending school like a normal kid. Hurrah!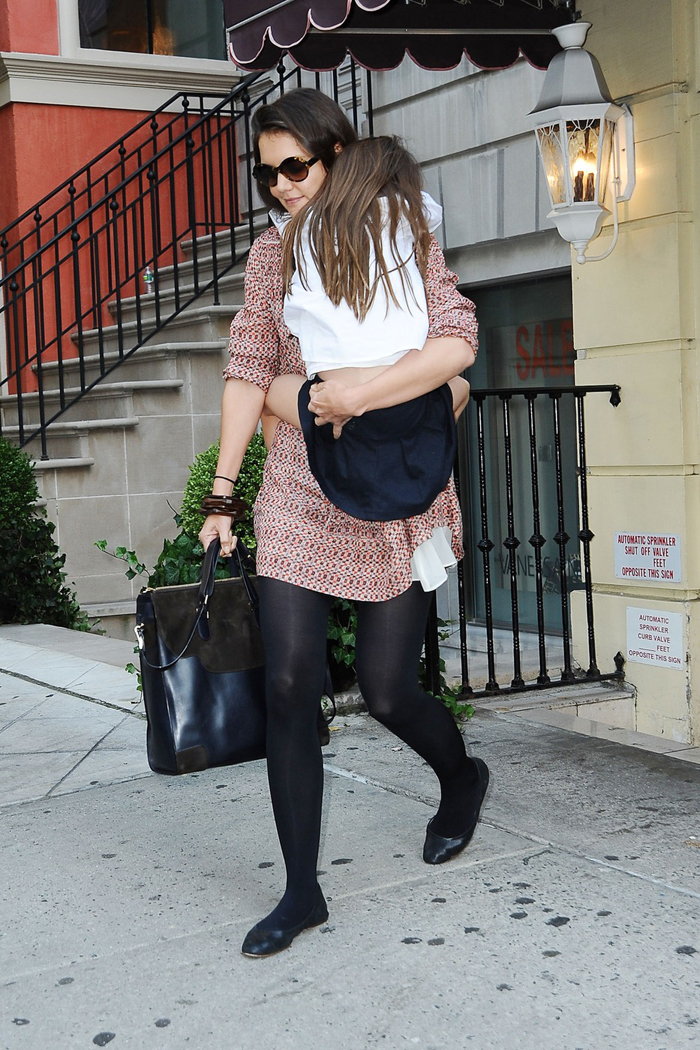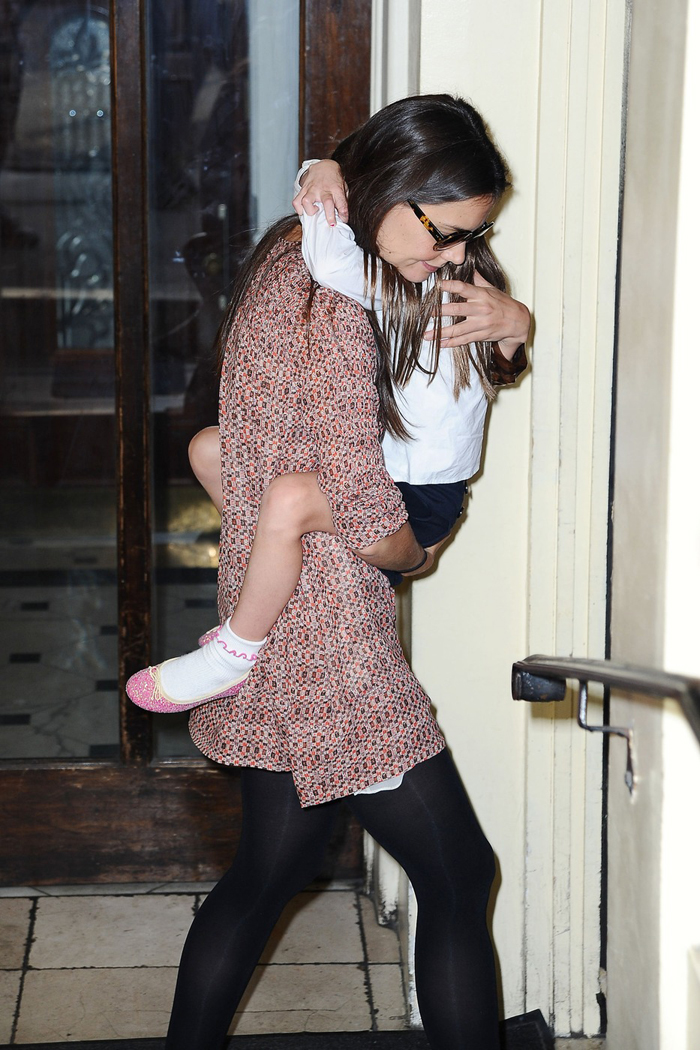 Photos courtesy of Pacific Coast News and WENN
Written by Bedhead

Posted in David Miscavige, Katie Holmes, Scientology, Suri Cruise, Tom Cruise

- Harry Styles & Kimberly Stewart going strong [Lainey]
- Demi Moore's new man is gross [D-Listed]
- Fug or fab: Emma Stone [Go Fug Yourself]
- Arrest warrant issued for Jenelle Evans [Reality Tea]
- Only God Forgives review [Pajiba]
- Hugh Jackman, scooter master [Buzzfeed]
- Who does Drew Barrymore call her sister? [Evil Beet]
- Cannes couples past and present [Popsugar]
- Arrested Development supercut [CDAN]
- Lea Michele's see through skirt [Celebslam]
- Cheating wife's lover escapes out of window [Movin925]
- Joe Francis is crazy [Starcasm]
43 Responses to "Scientology lawyer sent letter to Vanity Fair w/ accusations of "religious bigotry""