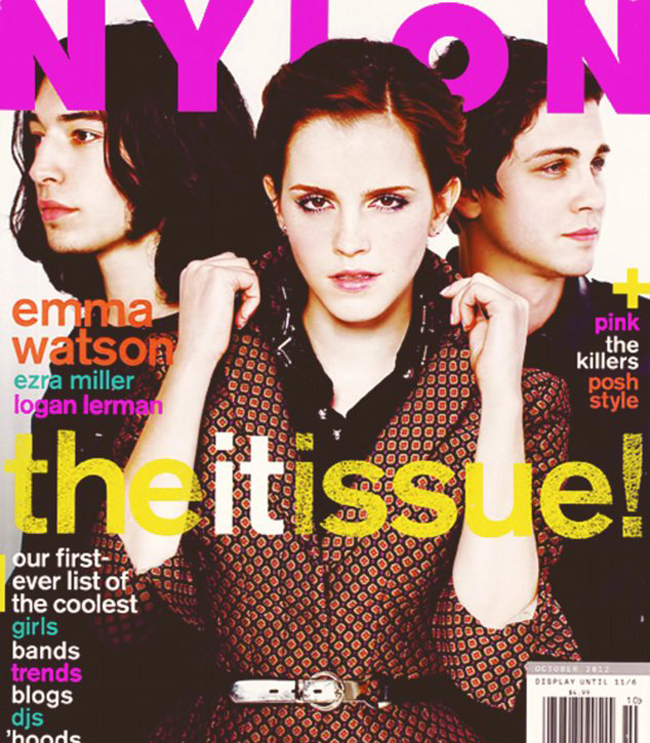 Emma Watson covers the October issue of Nylon magazine, and she looks atypically awful and like she just took some major downers. You'd think the editors could have at least chosen a photo where Emma's eyes were fully open, but no. Emma posed alongside her Perks of Being a Wallflower co-stars, Ezra Miller and Logan Lerman, for the "It Issue," and I think the styling was meant to look quite edgy. Emma's wearing tons of black mascara and dots of eyeliner atop her bottom lashes, and she's sporting safety pins in her earring holes. Again, it's really hard to tell how Emma would have pulled off this look under normal circumstances because the camera snapped her while she was unwittingly doing her best Kristen Stewart impression.
Nylon hasn't released any interview excerpts thus far, but Emma has been doing a lot of press for Perks, and she sat down with MTV to discuss both this movie and the upcoming (Sofia Coppola-directed) Bling Ring. You can see Emma in costume for that film here, and Emma tells MTV how embarrassed she was about her character's style: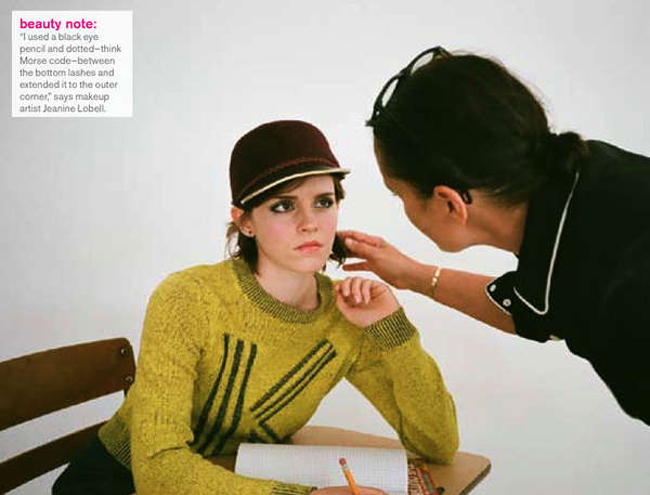 On Bling Ring: "This is how much I hate myself in the movie: I don't think I'm going to be able to watch it. I hate myself. I also want to point out on my lower back, I have an Om Buddha sign, like a tramp stamp. It was really weird. This is what's so awesome about my job, is that I had to get into the shoes of someone I couldn't relate to. I've never had to do that before, but by the end of it, I don't know, it was really interesting getting into this girl's head. She represents a lot of what I basically stand against. It was really fascinating to break it down, and be like, 'What is this actually about?' It made me like my job a lot."

On Beast with Guillermo del Toro: "We [del Toro and I] met a week or two ago, and we started working on the script, and it's going to go next summer. It's so funny, obviously I've been doing a lot of other work, and I was nervous. I was like, 'Is this going to go away?' And Guillermo is so psyched about it, and he's like been thinking about it so much. He brought the book," Watson continued, referencing the director's infamous sketchbooks in which he logs his ideas. "I was like, 'Ah, this is killing me.' I'm very excited."
[From MTV]
It sounds like Emma's working hard to diversify her post-Potter resumé, and while I remain skeptical about how Bling Ring will turn out (Sofia Coppola is a good director but jumped off the deep end with that Marie Antoinette nonsense a few years ago), Perks looks like a decent coming of age film and currently holds a 80% fresh rating on Rotten Tomatoes. Is Emma here to stay in Hollywood? Too soon to tell.
Here's a refresher of Emma's turns on the red carpet of the Perks premieres. I'm a huge fan of both looks on her.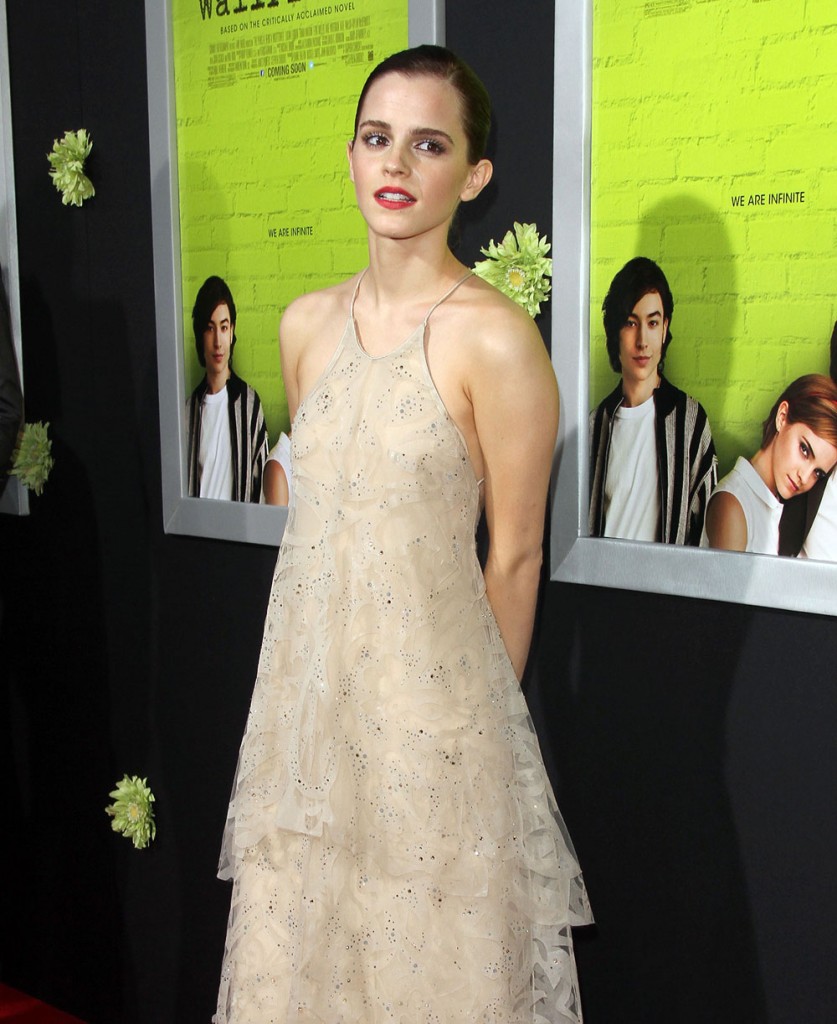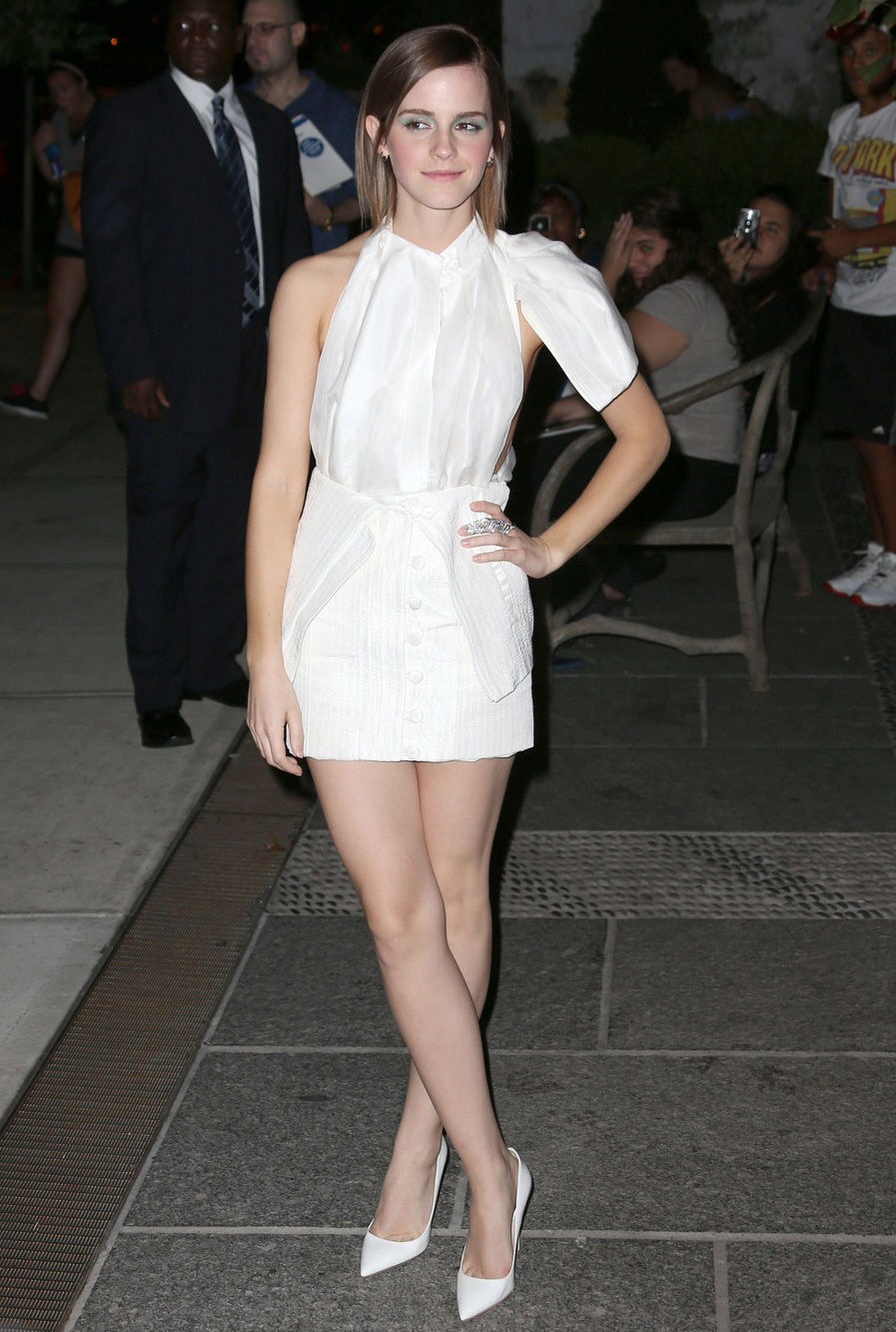 Photos courtesy of Nylon and Fame/Flynet