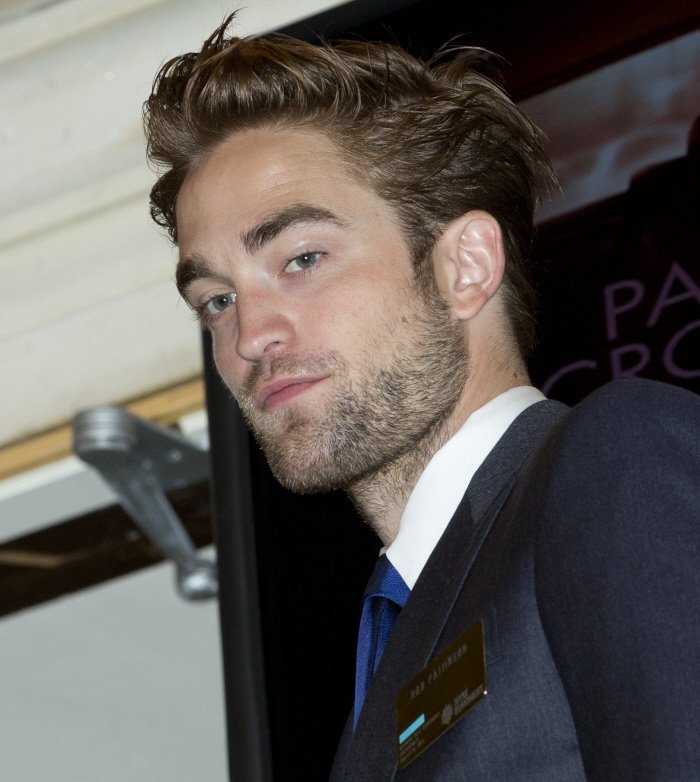 There's a grainy photo floating around of Robert Pattinson chatting up a "mystery blonde" – go here to see it. Some people say that the girl is Sienna Miller. Some say she's still a mystery. I say the blonde looks sort of like LeAnn Rimes. Right? Wouldn't that be weird? Anyway, here's the "official" back-story on the photo:
Did Kristen Stewart get a taste of her own medicine over the weekend? Robert Pattinson was photographed chatting up a pretty blonde woman in a blurry new snapshot taken in the wee hours of Saturday Oct. 6 at NYC's Electric Room Bar, inside the celeb-beloved Dream Hotel.

Naturally, fans quickly speculated that the 26-year-old is reconsidering his reconciliation with Stewart (who cheated on him with director Rupert Sanders in July) — but multiple sources explain to Us Weekly that the British star's night out was an innocent one.

"He stayed at Electric Room late," one insider says, noting he and the as-yet-unidentified blonde chatted "in a friendly way, nothing more. He kept to himself mostly."

"He was hanging out with some friends," adds a second observer, noting that the Breaking Dawn star wore his "winter hat" and "was chatting with a table of people drinking beers . . . there were girls and guys there."

Some of his pals on hand included BFF Tom Sturridge, his fiancee (and new mom) Sienna Miller — plus Gossip Girl's Michelle Trachtenberg, to whom he was briefly reintroduced.

"Rob was in his own world with his friends," the first source says. "He also looked scared of the world. He seemed a bit timid."

Earlier in the night, Pattinson and Sturridge, 26, hit the IFC Film Dinner at the Time Warner Center, where the pair "had a few beers," according to a third eyewitness. "He was in a good mood," the witness says.

Pattinson's on-again love Stewart, meanwhile, stayed behind in Los Angeles. On Sunday, the 22-year-old was spotted at the Florence + The Machines show at the Hollywood Bowl with her dad, John.

Why haven't Stewart and Pattinson — now living together again — been spotted out and about together?

"They're afraid of backlash, so they're keeping things on the down-low," a pal explains.
There was, like, no point to that backstory. Sparkles was at a club with some friends, and some people claimed he was looking and acting timid, and some said he was just fine. Here's what I do know/think – that Kristen and her team are acting in coordination with Summit to keep a tight rein on the story. I think all of the stories about Robsten's reconciliation are coming from Kristen and Summit, and I think Sparkles is just letting it happen to go along and get along. He's basically closing his eyes and thinking of England, so to speak. But maybe he's out there, seeing what his other options are too? The UK tabloids claim Rob is kind of acting like a single guy too:
Just when we thought things were back on track between Robert Pattinson and Kristen Stewart, the actor's been spotted swapping numbers with a new woman, according to reports. The British hotty was reportedly seen talking to Afghan actress Azita Ghanizada and the pair even swapped numbers during a recent night out at LA's Soho House.

It seems that Rob isn't quite ready to forgive Kristen for cheating on him with married father-of-two, Rupert Sanders, as he was also seen to be trying to impress the Afghan beauty.

According to Now magazine, the source said that the pair both attended Jimmy Kimmel's recent Emmy party at the celebrity haunt and an eye-witness saw that Rob was hooked, and chatted for over an hour.

"She was wearing a figure-hugging dress and caught Rob's eye immediately," the insider told the magazine. "They spoke for well over an hour, to the exclusion of everyone else at the party. Judging by the effort Rob was making to impress her, there's no doubt he was interested in seeing her again. He wouldn't have asked for her number if he wasn't."
I don't know. I mean, I hope Rob is seeing other women, just because I think it's a wonderful kamikaze move that completely torpedoes Summit's efforts to keep a lid on all things Broken Robsten. I don't consider this to be Rob "throwing it back in Kristen's face" – we don't know what's really going on, we're just interpreting this stuff from the cheap seats. I just keep getting the feeling that all of those reports about Rob and Kristen being so happy and so back together are mostly wishful thinking on her part. We'll see.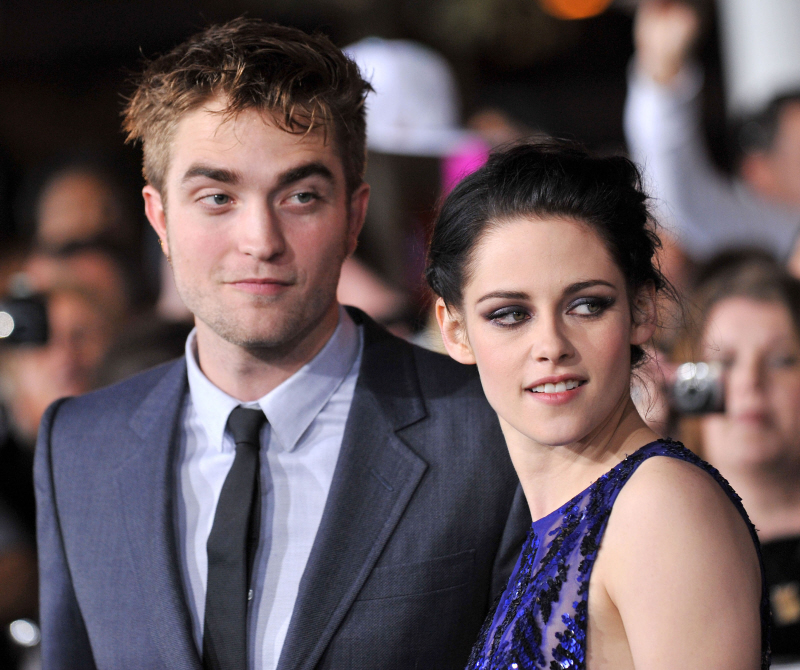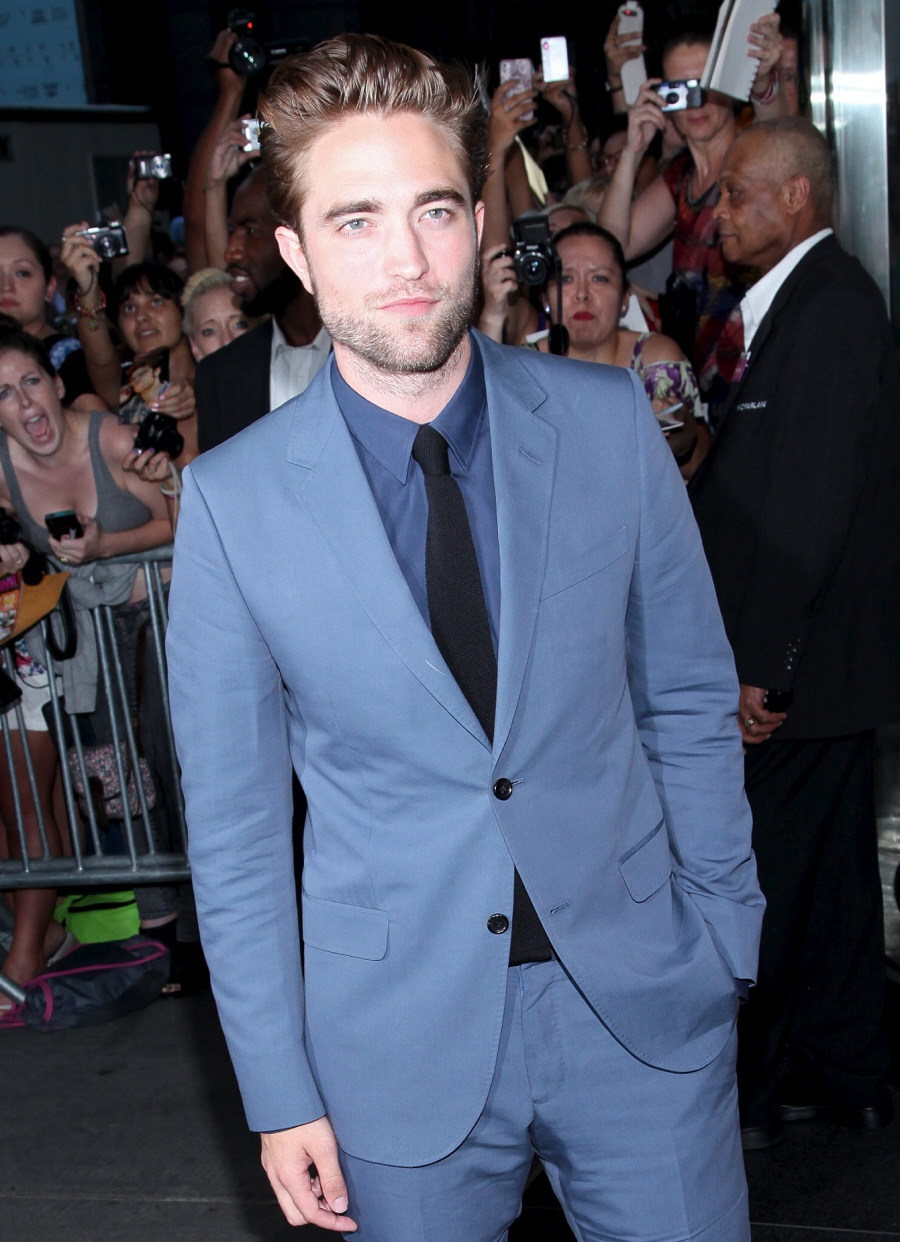 Photos courtesy of WENN.