Kim Kardashian coordinates all-white outfit with her poor, dirty kitty Mercy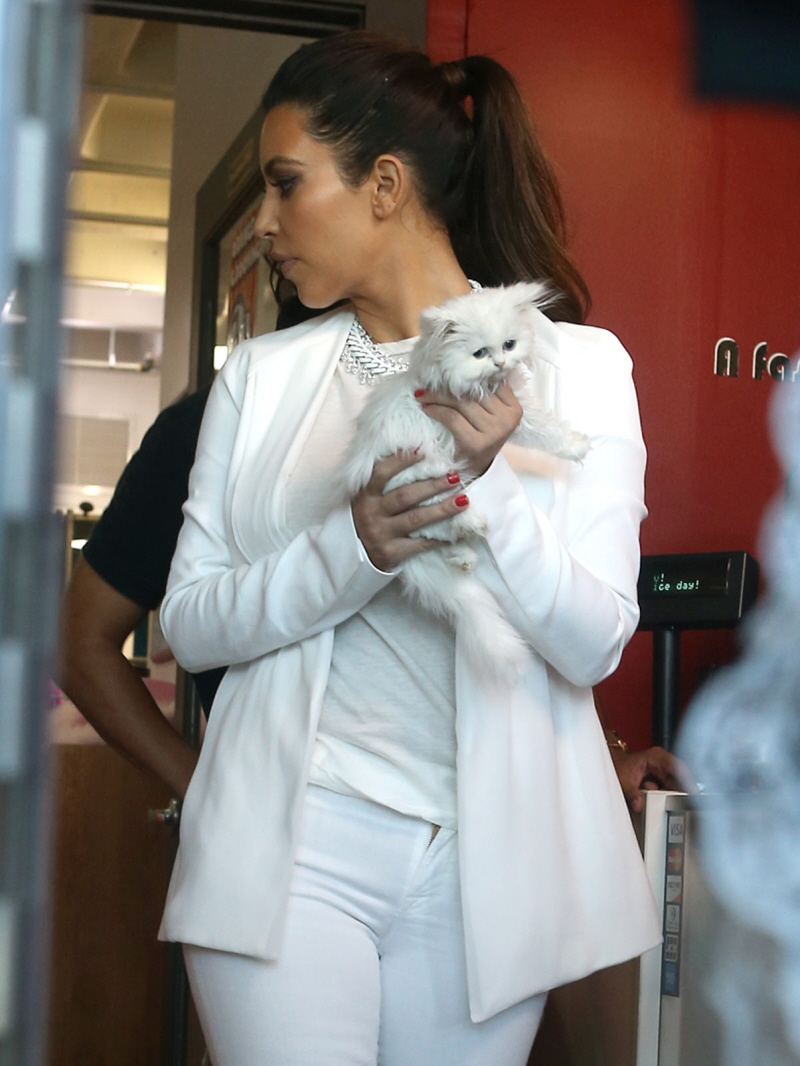 FREE MERCY. FRERCY!!! These are pics of Kim Kardashian, all in white, dropping off her color-coordinated kitty Mercy Kardashian-West at a cat groomer's place in Miami. The place is called Orange Groomers. Meet me a block away from the location and together we'll heist Mercy and take her to a better place! We meet at dawn. Bring bolt-cutters and kitty treats.
I do have a question about this grooming. Mercy is still just a kitten, right? I know there are some long-hair cat breeds that definitely have grooming issues. My mom is a cat-mother to two (cross-eyed) Maine Coons, and (Hand to God) she has to SHAVE them. Not to their skin or anything, but a few times a year she has to give them a haircut because their long fur gets so matted and gross. But the overwhelming majority of cats (at least in my experience, and I've had a lot of cats) are very clean, and they're capable of keeping up with their own grooming. So here's my question: why is Mercy's coat so matted and gross already, to the point where she already needs to be groomed? Is it because Mercy has been living in Miami, and it's hot as balls there, and she doesn't feel like grooming her long fur? Or has Mercy simply given up? Look at that kitty face! That face says "FML."
As for Kim… at least we're not looking at her butt crack, and at least she's not wearing leather jodhpurs. So that makes her Mercy-coordinated outfit a success, I suppose.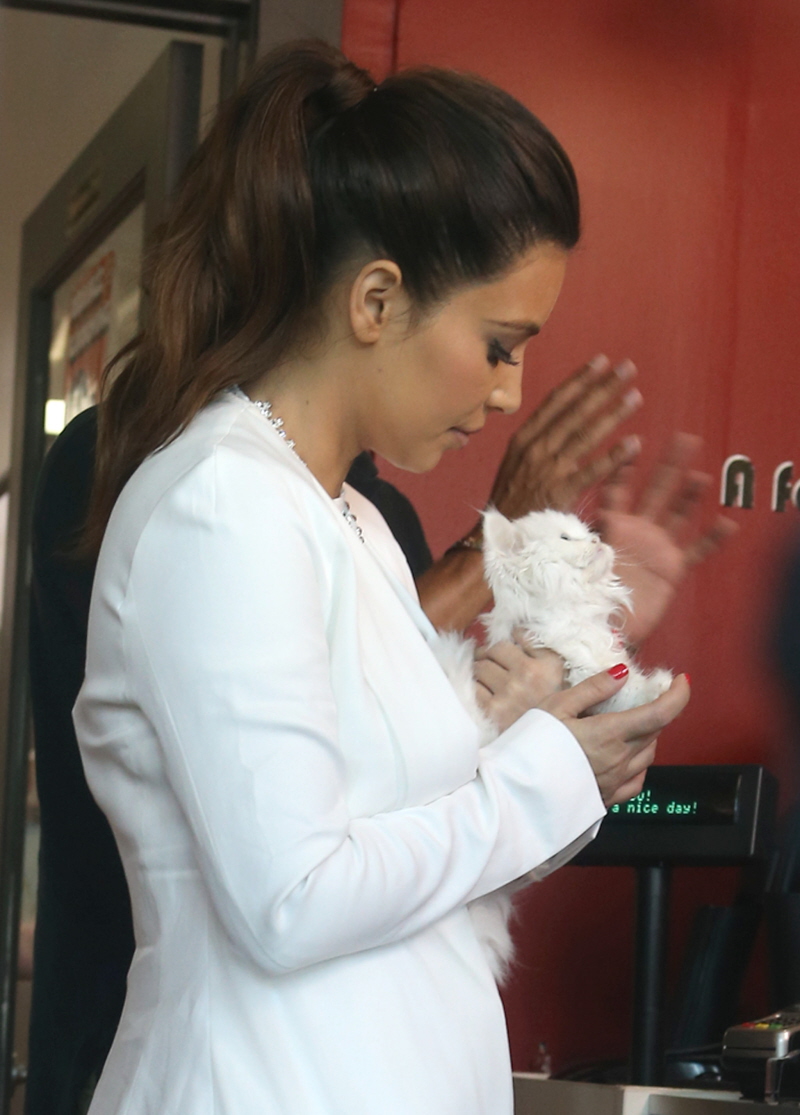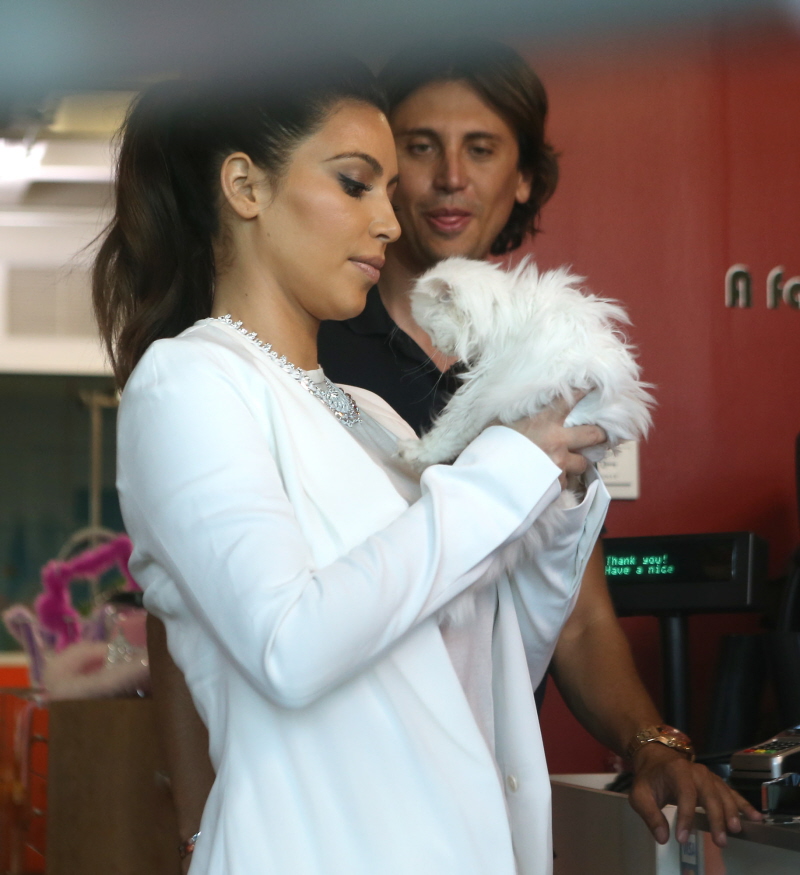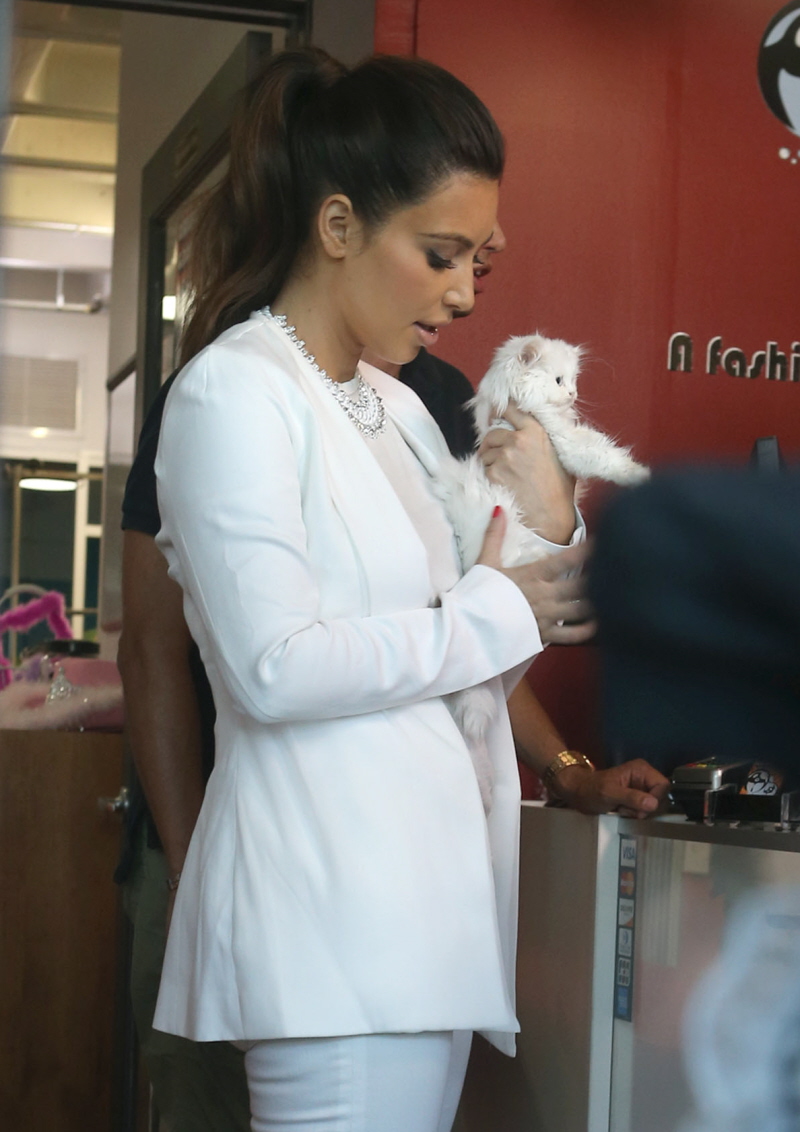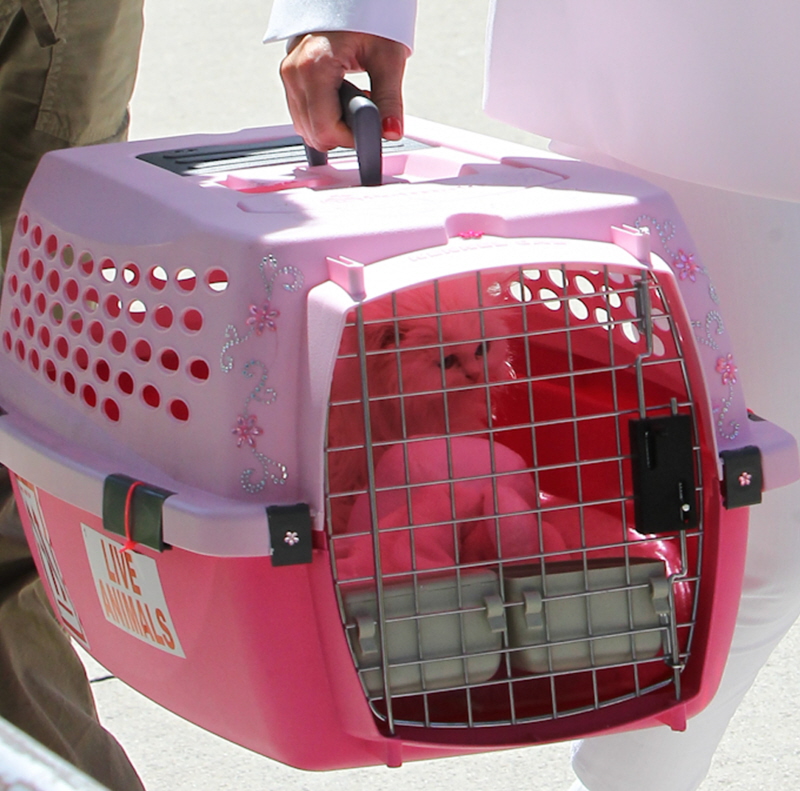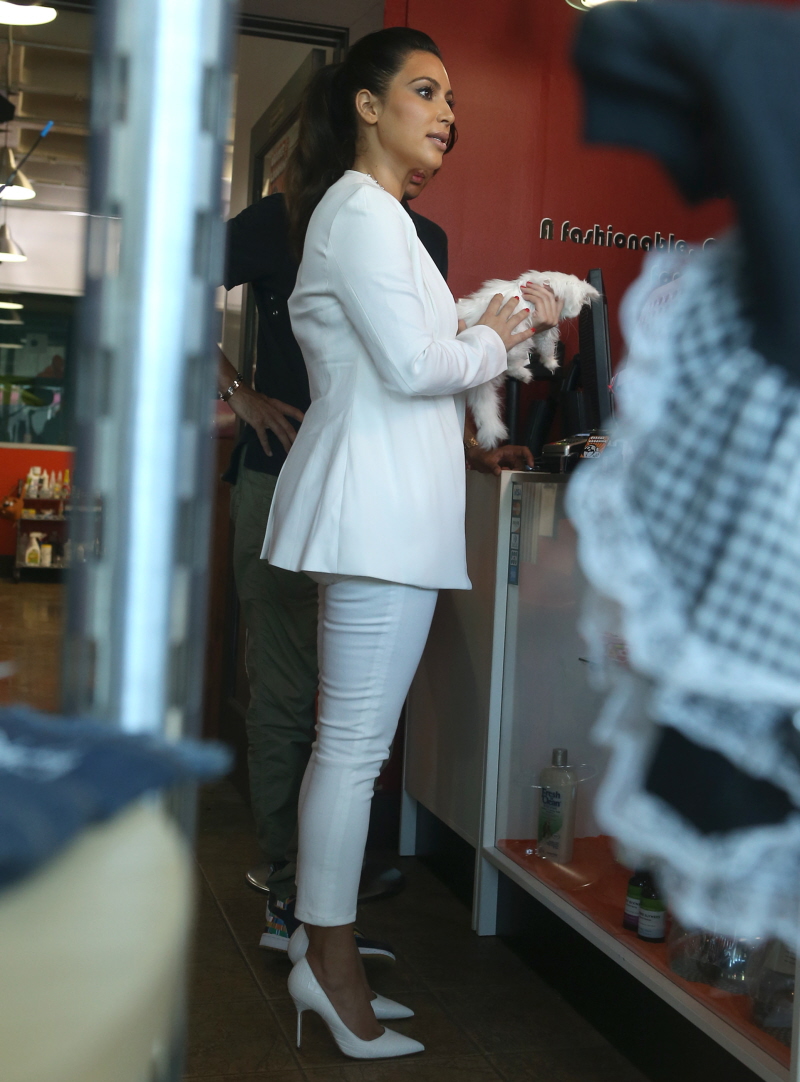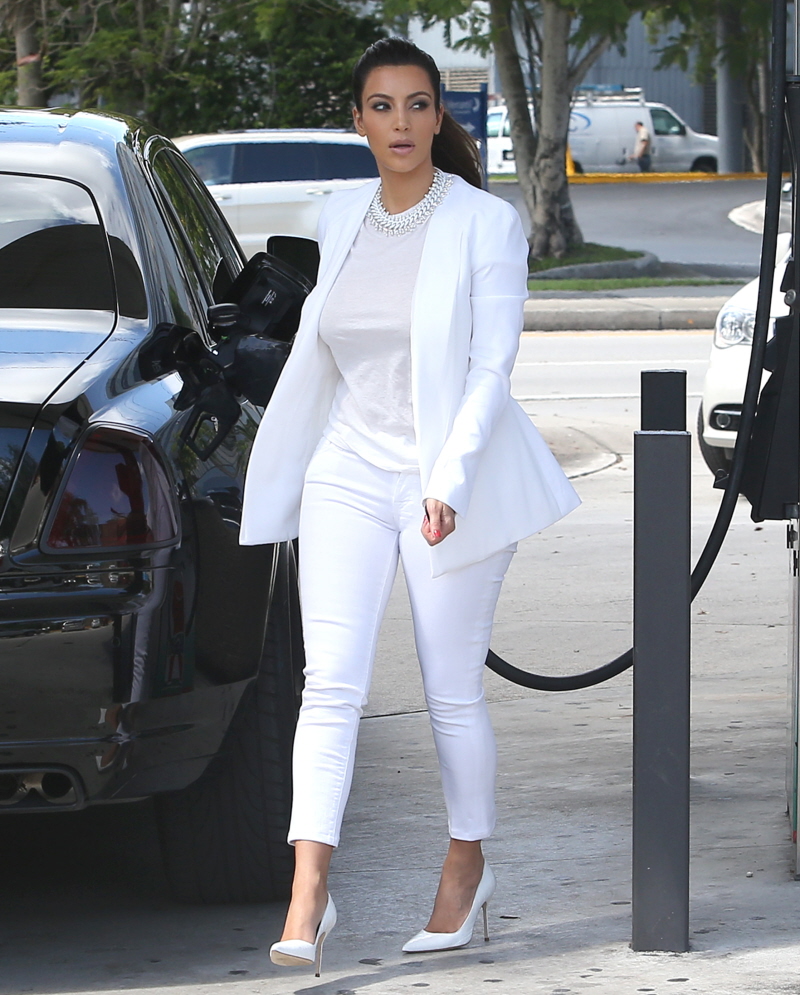 Photos courtesy of Fame/Flynet.

Written by Kaiser

Posted in Kim Kardashian, Mercy Kardashian-West

- Mariah Carey lip synced on American Idol [CDAN]
- Colin Firth is looking good [Lainey Gossip]
- Internet celebrity charged with murder! [D-Listed]
- What is Paz Vega wearing? [Go Fug Yourself]
- New bachelors on The Bachelorette [Reality Tea]
- Goodbye to The Office [Pajiba]
- Bachelor Sean's fiance cheats on him [Evil Beet]
- Britney Spears out with her man [Popsugar]
- Nina Dobrev works it [Popoholic]
- Cindy Crawford needs to lay off the 'tox [Celebslam]
- Who said it: Carrie Bradshaw or The Dalai Lama? [Buzzfeed]
117 Responses to "Kim Kardashian coordinates all-white outfit with her poor, dirty kitty Mercy"