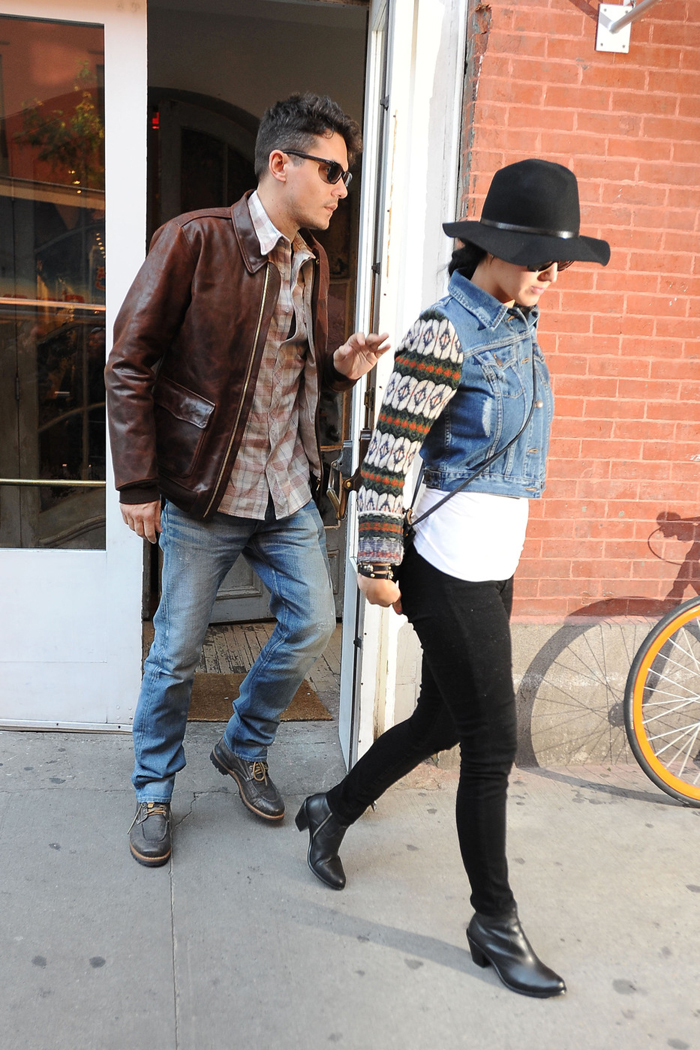 This Katy Perry and John Mayer on-off romance has been dragging on for what seems like forever, right? They keep breaking up and getting back together, and if you're still vaguely curious about the timeline, go here for a recap that includes John feeding Katy in public before they piled on the PDA. Ick.
Now this week has been pretty hot and heavy (relatively speaking) for the couple, who have been in New York City together nearly every day. In these photos (from Tuesday), John and Katy are seen together having lunch on his 35th birthday (Happy Doucheday!). While Katy has no interest in engaging with the paps, just check out at his smug face.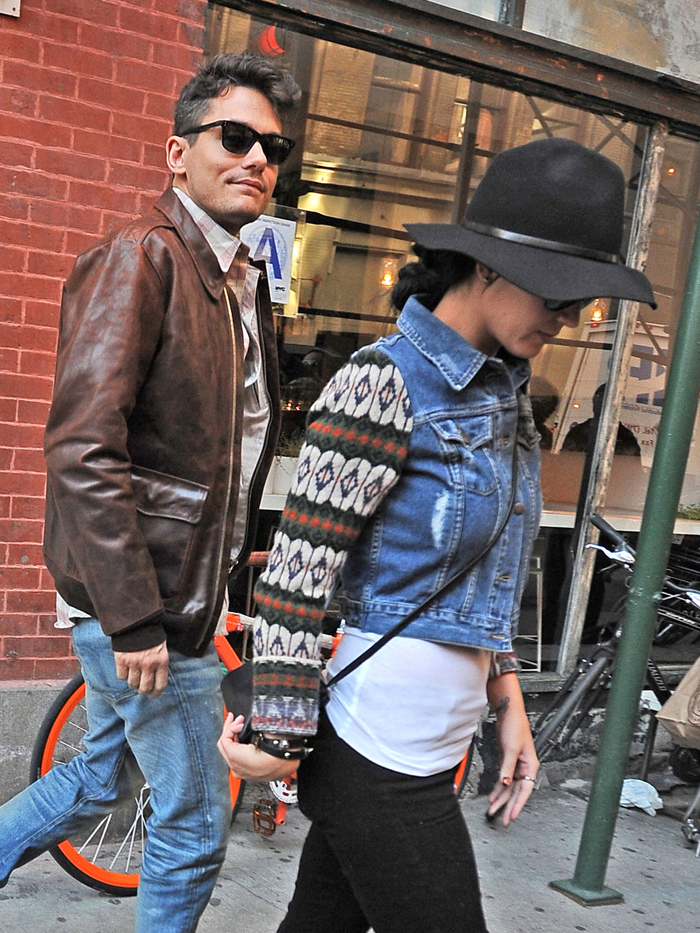 And here they are that evening heading out for a birthday dinner as well. Isn't it amusing that he's recently gotten a haircut while she's gone back in for hair extensions? CB has noted that whenever John Mayer cleans up and loses some weight, it's almost a precursor for him to go into "full douche" mode. I agree — look at that dreadful bow tie.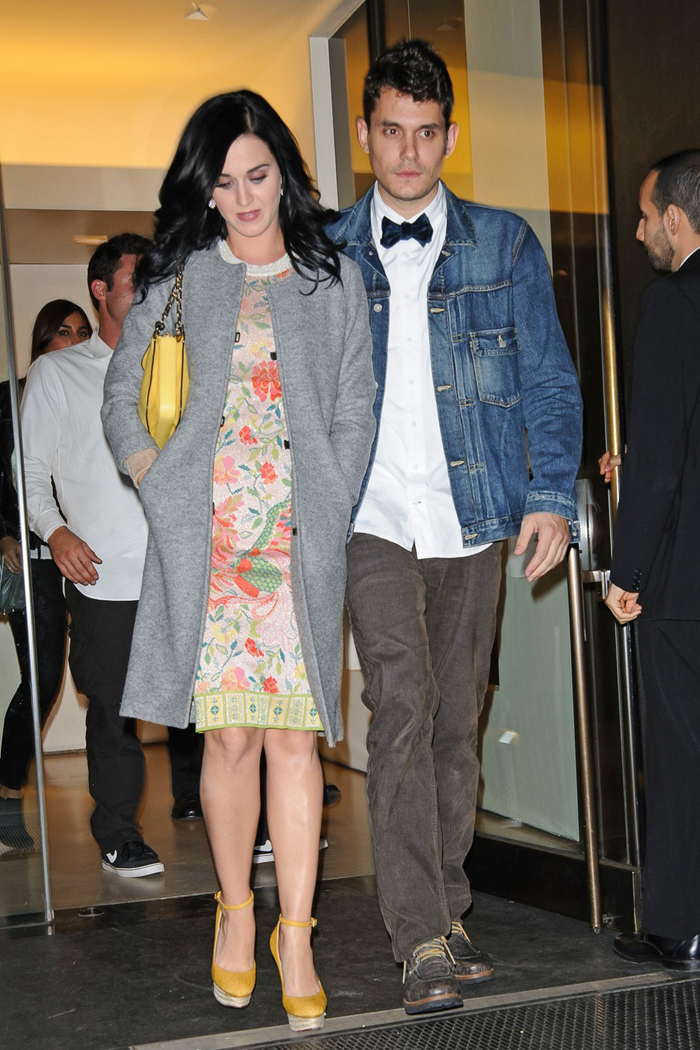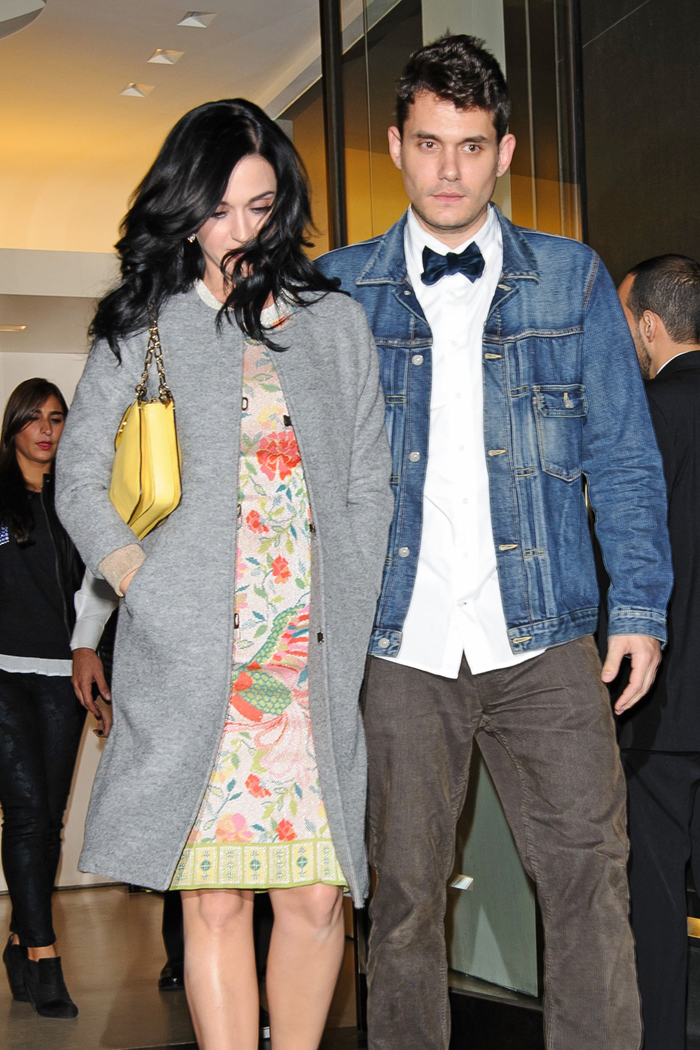 This week's issue of Us Weekly explains how Katy has managed to keep John's attention for more than a few months. She is apparently playing "hard to get" because she "believes she can change him." This sounds awfully familiar:
Can Katy Perry boldly go where no woman has gone before? The pop star, 28, who's casually dating John Mayer, 35, "Believes she can change him," a source tells Hot Stuff. "She doesn't want to be just another one of his conquests." (His exes include Jennifer Aniston, Jessica Simpson and Taylor Swift.) Part of Perry's plan? Play hard to get. Explaisn the source, "She recently told John she was open to see other people." And her plot has paid off. Adds a second insider, "Once Katy turned her back on him, he started chasing her again!" Indeed, he caught up with Perry in NYC October 13 at the Dolls' Hotel Chantelle bash, where they "kissed throughout the night," says a witness. The next day, he watched her NetJets concert, then took her on a double date at Perla. "He was really animated at dinner," says an observer. "He smiled at her a lot."
[From Us Weekly, print edition, October 29, 2012]
Sigh. I can totally believe that Katy thinks she can tame John just like she thought she could tame Russell, and we saw how successfully that worked out, right? This will not work out well, but that's for Katy to worry about since I'm sure plenty of people have warned her about both men. Katy just seems to think she's such a special snowflake that a guy really would want to change for her.
After their dual-doucheday feast, Katy and John spent the night together at his Soho apartment. Here they are the next morning while exiting the premises, and Katy is wearing no makeup at all. This is a very unusual move for her, and maybe she really does believe she can change another bad boy, but this certainly isn't a "hard to get" set of behaviors. Two meals out in one day plus overnight sex and showing a bare face the next day? These two are totally comfy together. At least, that's the case for now.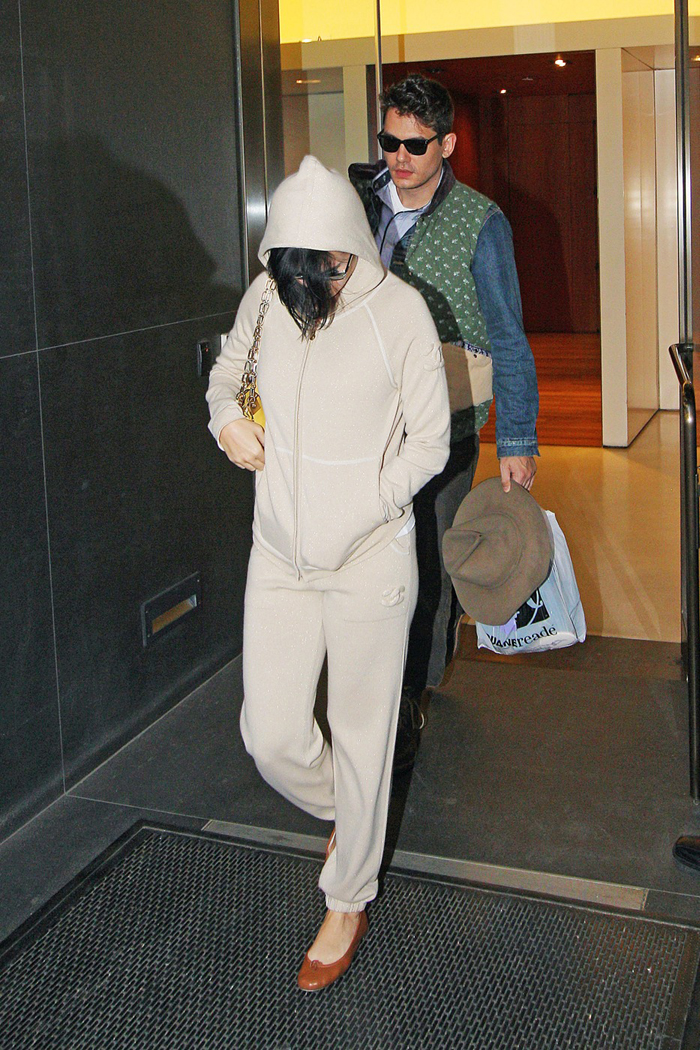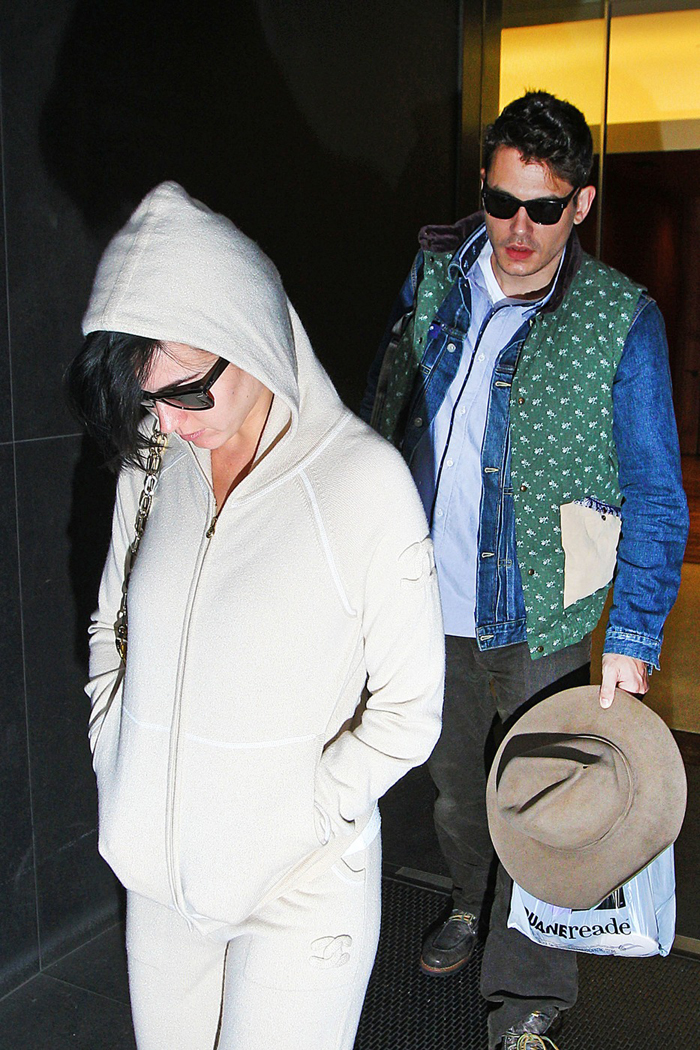 Photos courtesy of Pacific Coast News