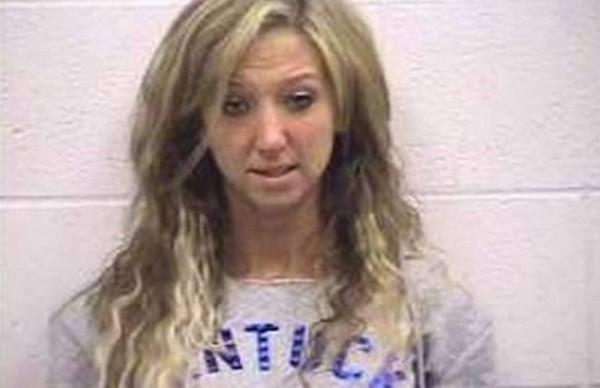 This story bothers me on so many levels. First of all, I remember seeing an interview with this creature on The Today Show over the summer. Sarah Jones, 27, is a former high school English teacher from Kentucky, and former Cincinnati Bengals cheerleader, accused of committing statutory rape against a 17 year-old male student. In her Today Show interview, (video is here) Jones was on house arrest stemming from the charges. She didn't directly deny the story – her lawyer was there and they basically said they weren't going to talk about it. She did give the impression that it wasn't true. Jones smirked like a chesire cat as she said that the real story hadn't come out yet and that the rumors about it were false. I found her incredibly arrogant and unlikable. She claimed that "the alleged victim's ex girlfriend" started the rumors and that "just because there's evidence out there doesn't mean that it's damaging or that it's going to be hurtful to me." She also claimed that the boy would testify in her defense, as would his parents. So she tried to play like this was just high school drama and she was innocent.
Then later, on Nightline, the bitch admitted it all was true! She was creeping on a 17 year-old student, it wasn't just high school drama and rumors. She really did the crime, and the boy was now her "boyfriend." Well statutory rape and lying about it are now paying off for this woman because Oxygen is giving her a reality show. Disgusting!!
She scandalized the nation by admitting to having an affair with one of her 17-year-old high school students, and now Sarah Jones is going to get her own reality TV show, RadarOnline.com can exclusively reveal.

According to a well placed insider, 495 Productions, the creators of Jersey Shore,courted the 27-year-old, who finally admitted in a Kentucky court earlier this month that she had sex with the 17-year-old boy after months of vehemently denying any wrongdoing. Now Jones is being given her own reality TV show, which is scheduled to air on the cable channel Oxygen.

"A lot of people are going to be outraged I imagine when they find out she's getting a show," the source says. "She is basically being rewarded for breaking the law!

"She's totally cashing in on her crime, and I'm pretty sure that if it was a 27-year-old man that had pleaded guilty to having sex with his 17-year-old female student he wouldn't have been given a TV show!

"This whole scandal has turned into one big payday for Sarah. She was boasting that she 'made bank' for her Dateline interview last week and now she is going to be paid for appearing in her own reality TV show. It's sick."

As RadarOnline.com previously reported, Jones gave an exclusive interview to Dateline on NBC and finally came clean about her relationship with Cody York, who is now her boyfriend.

The former Cincinnati Bengals cheerleader said: "Yeah, what I did was wrong… And I feel guilty as to what happened and that other people were hurt in this in a sense from our families having to go through this."

Earlier this month the couple brazenly left court together holding hands.

York, now 18, sat behind his girlfriend as she told the judge: "I began a romantic relationship while he was a student and I was in a position of authority."

In exchange for her plea deal Jones was sentenced to five years of diversion — a form of probation — but won't have to register as a sex offender.

"This sends a bad message to others," the source says about Jones' reality TV deal. "It says that you can do something illegal and get away with it."

Meanwhile, Jones is also hoping to cash in by way of a $11 million lawsuit she filed against Couples Therapy star, Nik Richie for defamation, libel, and invasion of privacy after his website http://www.thedirty.com published a post titled, 'The Dirty Bengals Cheerleader.'
As Radar's source mentioned, if a man did this to a teen girl he wouldn't be getting a damn reality show. This needs to stop. I only hope that Oxygen sees the fallout and pulls this show before it airs. How is this woman anything but a predator and a liar? I agree with Nik Richie. There's really nothing else to say about it. This is wrong and sound not be rewarded. Period.