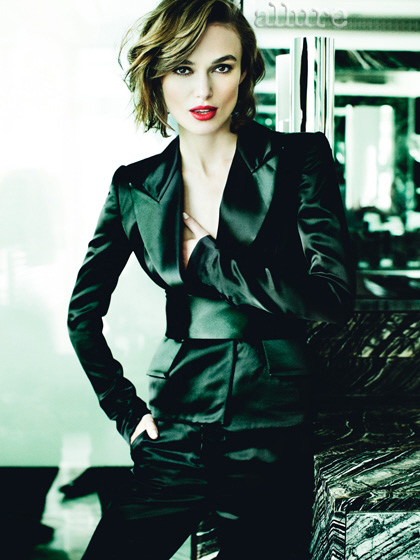 Just take this as evidence of how slow it is today, gossip-wise. I'm stretching out Keira Knightley's Allure cover interview and photo shoot to two posts. To be fair to myself, I did include another interview in the earlier post – it was a nice piece in which Keira talked about how much she sometimes hated the Anna Karenina character, and how she loves that Love, Actually is a Christmas movie. Well, now we've got more excerpts from the Allure piece – Keira talking about body image, feminism and about her engagement. She really does seem so breezy these days. No more dark, morose Keira.
Keira on the claims she was anorexic: "The anorexic stuff — all of that — it's always going to have an impact, so I think it did hit pretty hard. Because you go, 'Oh, maybe that's right!' I knew I wasn't anorexic, but maybe my body is somehow not right. Or my face is not right. Or the way I speak is not right. When you're going through a period where you're really getting a lot of criticism, you go, 'Maybe all this is right! You just kind of want to hide it all.'"

On feminism: "I am a feminist, but I clearly objectify myself – so that right there is a total contradiction to feminist principles."

Hitting the wall, and taking time off to travel: "I'd hit a wall and needed to step back in order to learn the things I needed to learn"… But amidst the darkness, she never wanted to abandon her profession: "There's clearly something in me that goes, No, actually, I know I've got something."

Aging in the spotlight: "It's very, very hard on women who get older…I can say that when I'm 27, you know. Talk to me when I'm 37."

The ticking clock: "Acting – it's not like its offered one day, so it will be offered the next. There's a little space for you. And when that space appears, you kind of have to jump in because it's not necessarily going to arrive again."

On her fiancé, James Righton: "Maybe I'll be permanently engaged!" She also said, "We're total opposites." Music is Righton's life, but "I know nothing about it," said Knightley.

She feels lucky: "The people I've worked with! Having a successful career! It's absolutely, totally extraordinary, and I'm incredibly lucky! But…." she said. "There isn't a 'but' really. That was it…. I take that 'but' back."
I like this new movement to get younger women to self-identify as feminists. I think Romola Garai made a better case for calling herself a feminist, and I feel like Keira's self-identification as a feminist is good too. I know what Keira means when she says "but I clearly objectify myself – so that right there is a total contradiction to feminist principles" – but I don't agree with her. I don't believe it's un-feminist to objectify yourself. It can move into that sort of Spice-Girls feminism BS of "it's empowering to expose my body!" but sometimes a woman DOES achieve empowerment through exposing and objectifying her own body. It's a complicated discussion!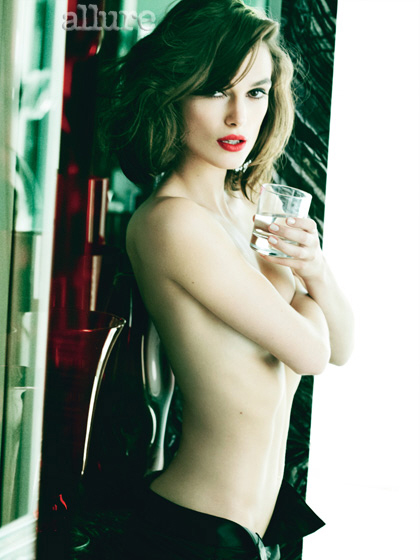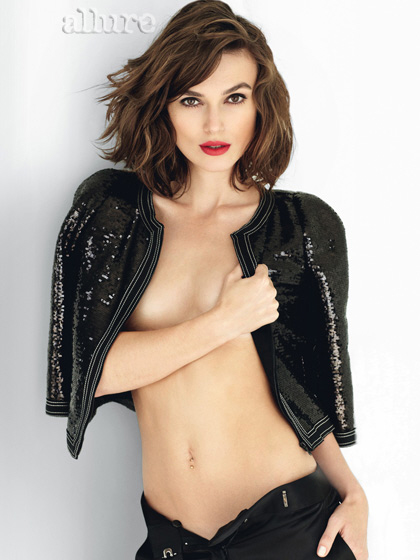 Photos courtesy of Allure.