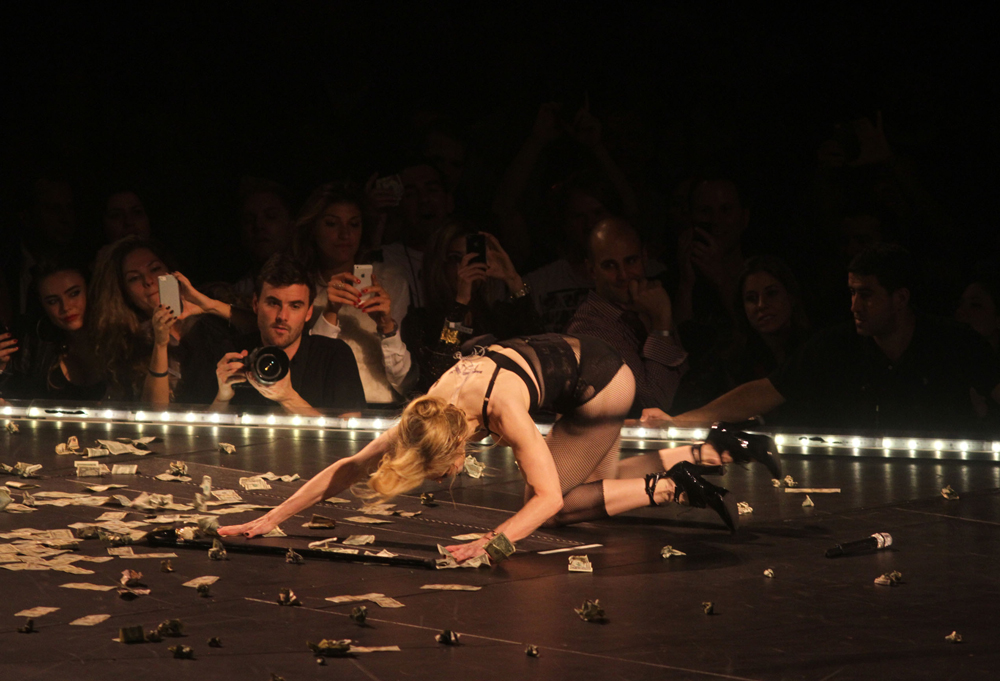 These are photos of Madonna during her show at Madison Square Garden in NYC last night, and things got even a little more risqué than usual. This time though, it was for a good cause because Madonna was photographed visiting the Queens beach community of Rockaways (which was utterly devastated by Hurricane Sandy) over the weekend, and she decided to do something to raise money for relief. Yet instead of merely asking her fans to donate (which probably would have been more effective), Madge decided to dance for dollars by performing a little "striptease" to "Like a Virgin." Sadly, I think this was less about charity than Madonna showing off her butt cheeks, which she always does at any given opportunity already. Here are the details from Us Weekly: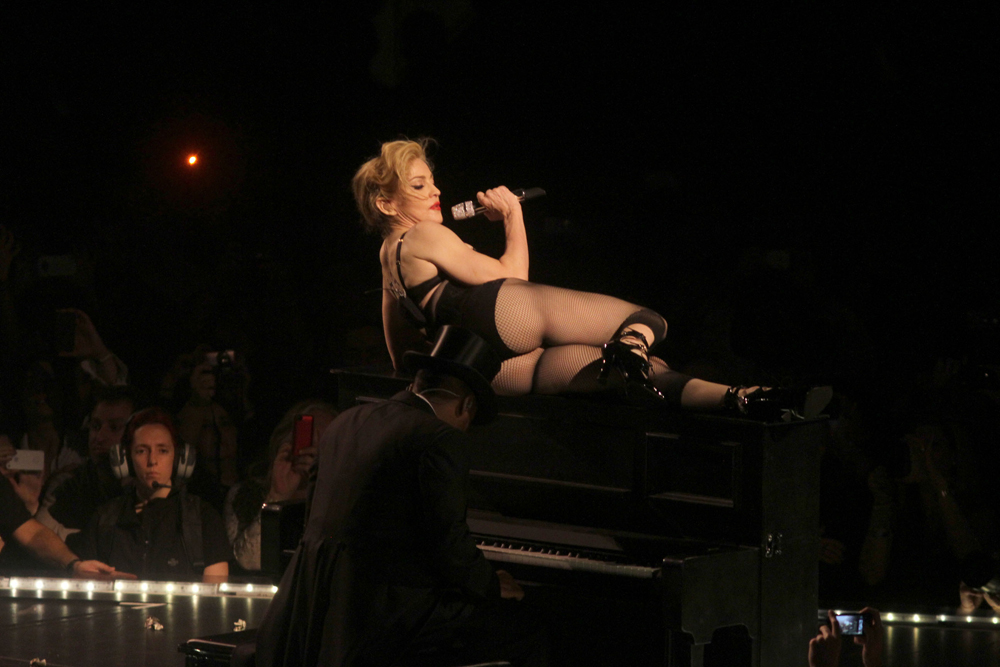 Behold the power of Madonna.

Performing at Madison Square Garden on Monday, Nov. 12, the "Give Me All Your Luvin'" singer asked fans to give her something else — cold hard cash.

But the money wasn't for her. It was for the victims of Hurricane Sandy in New Jersey and New York, where the Material Girl had spent some time earlier in the week.

"I went down to Rockaway Beach yesterday with my children, and we saw what was going on there, we saw the destruction," the 54-year-old mother of four said. "It was really sad, but we also saw amazing acts of humanity. People sharing with other people, people working hard, cleaning houses, handing out food, blankets, giving love."

The superstar then announced that she'd be helping in her own way — by stripping. Taking off her top to reveal the words "No Fear" written on her back, she encouraged the audience to throw money at the stage as she performed a slowed-down version of "Like a Virgin."

"If you are going to look at the crack of my a–, you better raise some cash!" she yelled at her adoring fans, who responded by showering her with bills.
[From Us Weekly]
So was this a good thing? This is different than Lady Gaga handing over $1 mill of her own money to the cause. It's also lazier than Jessica Biel and Justin Timberlake handing out knapsacks of supplies even though they probably did it to improve their reputations after the silly apology for the homeless "joke" video didn't work. Here, I'm thinking that Madge could have merely made an announcement to the entire arena that there would be places to donate money by the exit doors, and her fans would have probably donated a lot of money anyway. Instead, she decided to show her booty while people threw money onstage. Mind you, only the first several rows were probably able to toss the cash to her, and the rest of the audience just sat and cheered. So I doubt she raised much money at all with her little striptease, but it probably made her feel like a better person.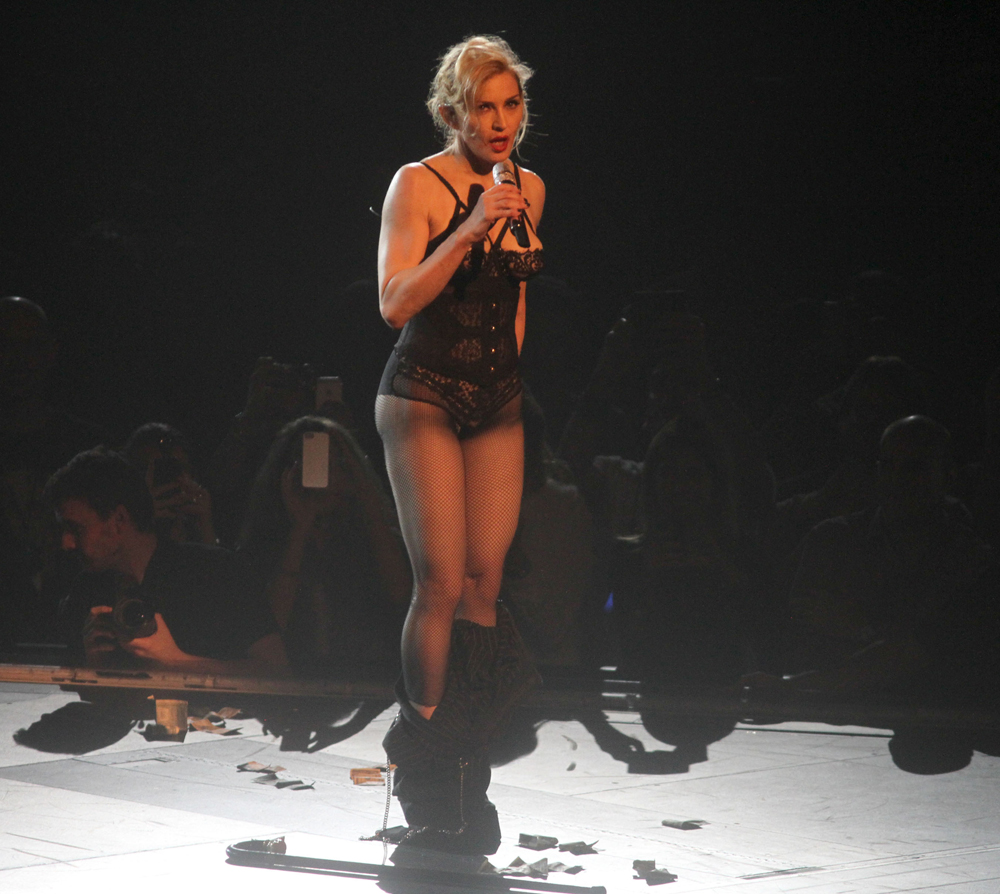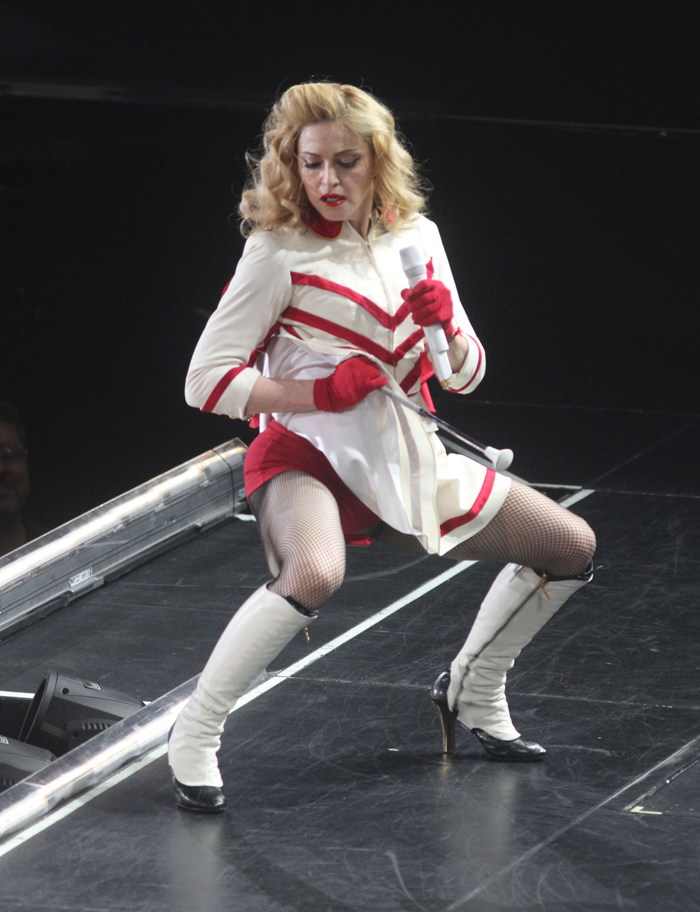 Photos courtesy of WENN