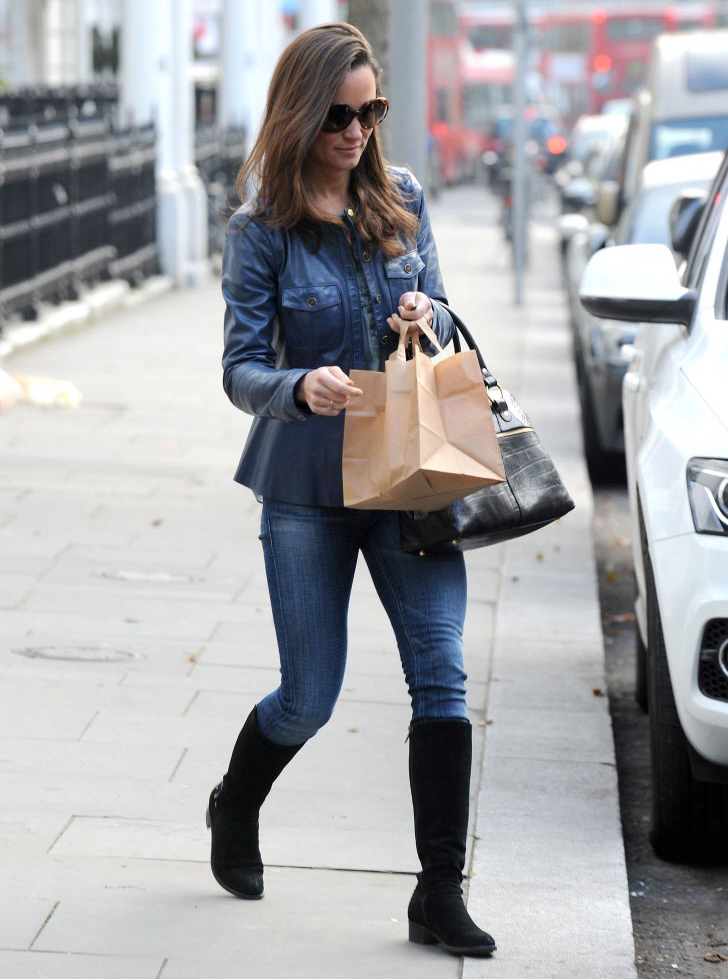 Here are some new photos of Pippa Middleton in London today, picking up some lunch to go. I was going to talk about how Pippa loves a Canadian tuxedo, but her jacket isn't actually denim. It's some kind of leather or pleather. So… no Canadian tuxedo jokes. Boo! Anyway, as it turns out, many of you are still interested in talking about Pippa Middleton, but only if we get to make fun of her and her terrible, child-like party-planning book. Her book included tips like "Drawers may be packed full of useful odds and ends!" That's not a joke. She really has that in her book. Anyway, as we discussed a few days ago, Pippa's book has totally bombed. Her publishers are not going to make back the $600,000 advance they gave her. Amazon already has the book listed at half-price (the book has only been out a few weeks!). And now Amazon is like, "Seriously, let's help a sister out."
A party-planning book penned by Pippa Middleton has proved to be an embarrassing flop for online retailer Amazon, after they shelled out a £400k advance to the Royal relation.

Celebrate is currently languishing at 189th spot on Amazon's best seller list, despite the original (ambitious) cover price of £25 being slashed to £12.

In a desperate bid to boost flagging sales Amazon has placed the title at the top of its own recommended list and issued an email to every customer who has ever browsed or bought from their 'food and drink' section.

Critics mauled the offering for its less than sage advice, including advice to readers that 'turkeys are perfect for feeding a larger gathering' at Christmas.

The book has received a 'three and a half' star rating by 40 customers with one reviewer, Kelly, commenting: "You would think, with the amount of PR and media interest in the author of this book, that she might have written her book carefully, or perhaps even taken some expert advice. Seemingly, not so. For reasons best known to Miss Middleton, she has travelled the globe, shamelessly promoting an unbelievable pile of rubbish.

"The book is uninspiring, verging on insulting. Did she really think we would need to be advised to serve turkey at Christmas, and haggis on Burns night? Really?"
The problem with that one user review is that Pippa did NOT "travel the globe shamelessly promoting an unbelievable pile of rubbish." Pippa barely promoted it. She did like two events in London and that was it. She didn't do a book signing tour or do any major magazine or newspaper interviews or anything. She didn't even launch the book in America! Some say that Pippa was planning to really promote the book but that Kate and the royal family shut her down. But now the Enquirer claims that the royal family is super-embarrassed by the fact that the book has bombed so badly!
A NEW party-planning book written by Prince William's shapely sister-in-law has turned out to be a major royal embarrassment! Pippa, younger sister of royal bride Kate Middleton, is being accused of cashing in on her royal connections after being paid a whopping $600,000 advance for the how-to-guide party book, "Celebrate: A Year of Festivities for Families and Friends" – and critics charge it is so simplistic it could have been written by a child.

"Kate and Prince William must be mortified over the book," said a source. "If Pippa had any decency at all she'd hand the money back to the publishers."

Pippa's far less than insightful tips include: "When hosting a party, move any clutter from the space where you're entertaining" and "Nearly any breakfast becomes special when it's brought to you in bed."

Said the source: "It's a guide that's geared more toward a third-grader than the adult public, and it's quickly become the biggest joke in the book world."

A reviewer from the "Irish Sun" newspaper quipped: "It is clear that by writing the book, Pippa set out to prove that there is far more to her than her pert bottom. But the fact is, there isn't."

Other critics, both in the States and overseas, have been equally harsh, with one remarking that the book is "perfect for anyone who needs a recipe for making ice."

Pippa, 29, skyrocketed to fame in April 2011 when her shapely butt took center stage at Kate and William's wedding. Since then, her wild ways have drawn the ire of the royal family on more than one occasion. According to the source, the palace objected to Pippa's writing project, but she went ahead with it anyway.

"Now she's getting raked over the coals for it," said the source. "It's extremely demoralizing for Pippa, her family and the royals."

Pippa tried to defend herself, but it turns out her only experience at entertaining comes from working as a kitchen assistant at a British pub. To save herself further embarrassment, Pippa canceled a scheduled U.S. media tour in support of the book, even turning down interview offers from Oprah Winfrey and Anderson Cooper.

"She's decided to lay low in London until the backlash dies down," added the source. "And if reviewers and wildly disappointed readers continue the bashing, that could take years."
Before her book came out, I kind of thought that there was an effort in some quarters to make Pippa into the next "Fergie" – as in, Pippa would be used as a messy cautionary tale to make Duchess Kate look better by comparison, which is exactly what happened about a year after Fergie married Prince Andrew – all of a sudden, Fergie was deemed an incontrovertible mess and Princess Diana looked even better. Once again, Fergie did a lot of it to herself. And now I'm starting to think Pippa is doing it to herself too – why in the world did she think she was qualified to write such a dull, uninspired book? Was it just a money-grab? I don't think it was – I think Pippa really feels like her strength is "party-planning".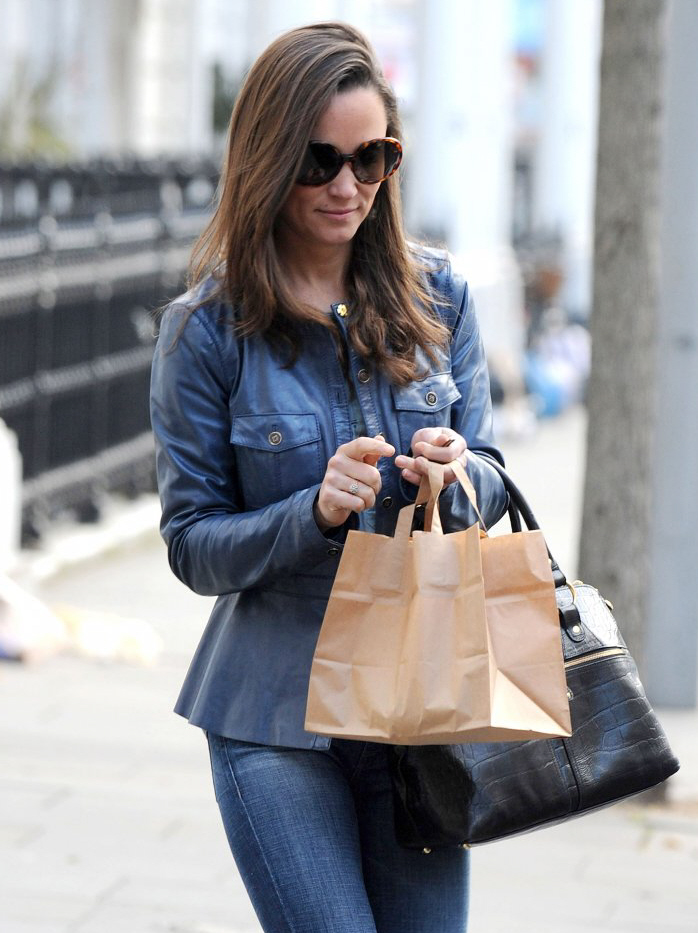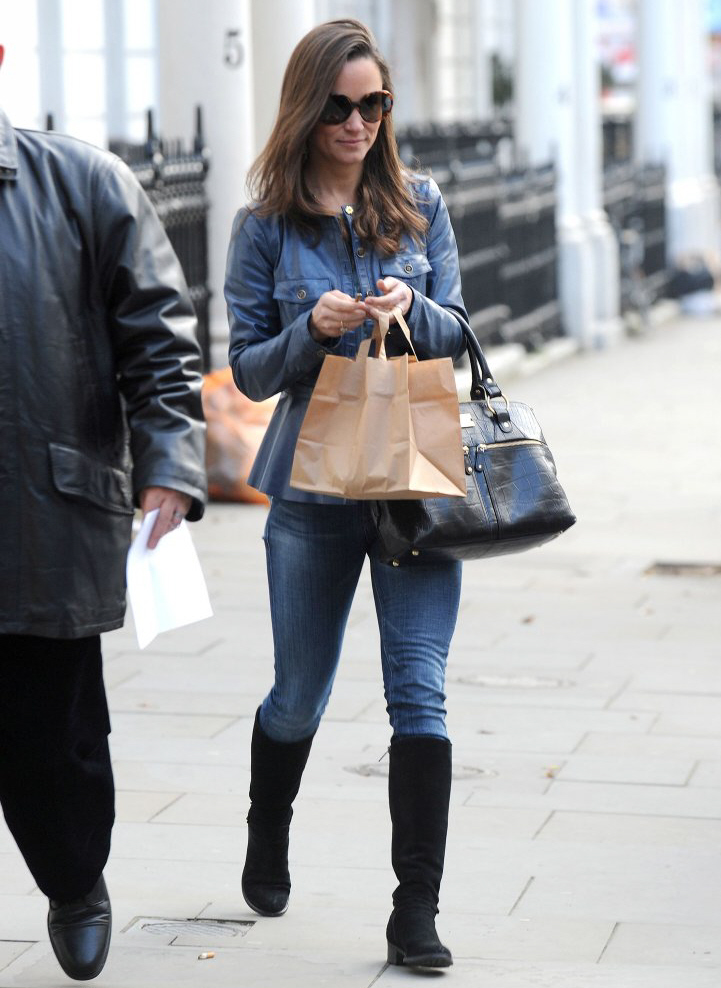 Photos courtesy of Fame/Flynet.