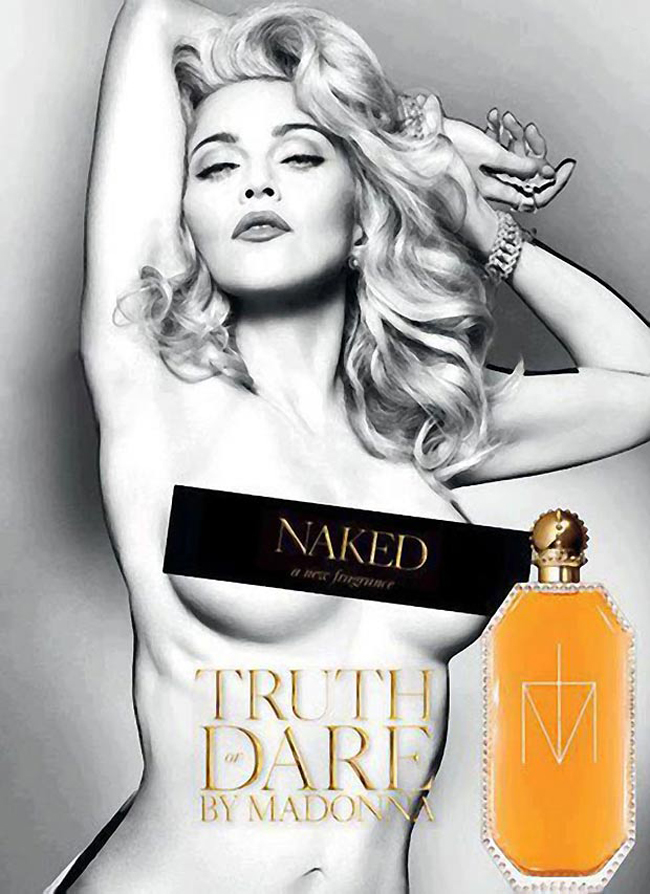 If anyone had ever told me back in 1984 that Madonna would still be playing the role of a barely-clad, sexed-up vamp in 2012, well, I wouldn't have known what to say. To start, I was only 9 or 10 years old when Madonna burst onto the scene, so the future meant nothing to me at all that point. Also, I had no idea what sex or "Like a Virgin" meant, but that's all in the distant past. What I'm trying to say is this: While I appreciate that Madonna roared through her 40s looking pretty damn hot and I am very sensitive to remarks regarding age, I still can't fathom that she's still doing this stuff at the age of 54.
This new advertising campaign for Madonna's Truth or Dare Naked perfume is a perfect example of Madge's refusal to get dressed and carry herself with a modicum of dignity and respect. Those totally aren't her real boobs, right? No matter how much one works out, boobs (real ones, anyway) don't lie. You can push them up in a glorious bra, but once that bra comes off, it's evident that there is some skin on the body that doesn't retain elasticity from exercise. This is Madonna though, and she's been deluded about her true age for quite some time. She still insists on showing off her butt cheeks at nearly any given opportunity, and her reliance on Photoshop for ad campaigns has been exposed within so many untouched photos that I've lost count. We all know what she really looks like these days, and there's nothing wrong with that. I just wish that at a certain point Madonna would embrace her true age as a reflection of the "ultra-powerful woman" image that she has embodied for decades now.
No matter what Photoshop (or a rack double) can do for Madonna though, she's still a 54-year-old woman wearing a cheerleading outfit. Here she is performing last night in Homestead, Florida.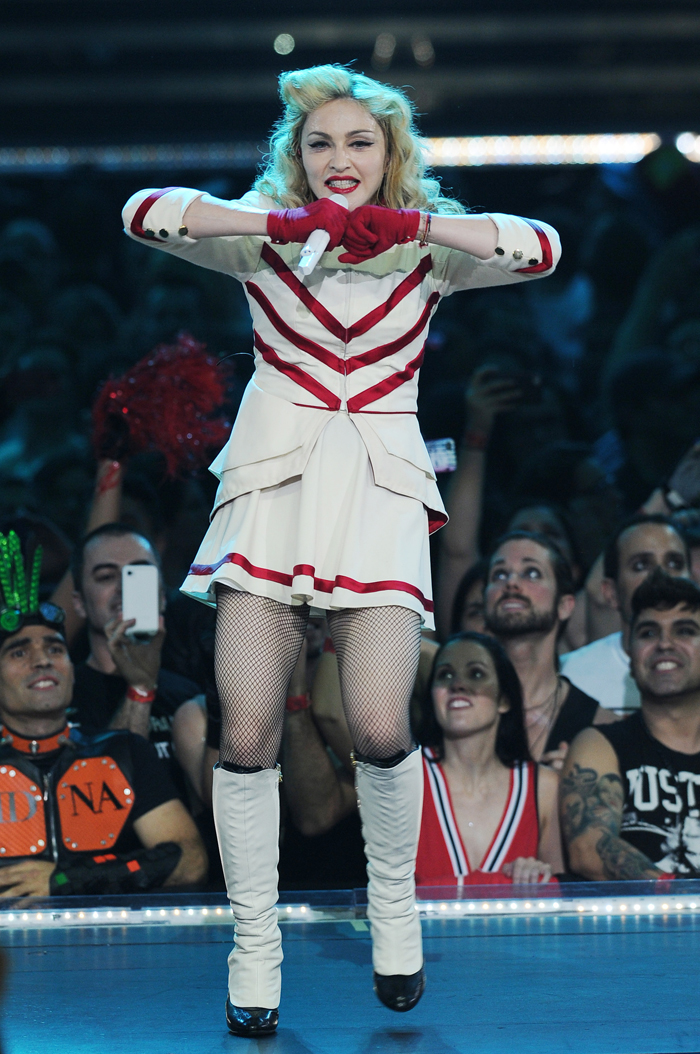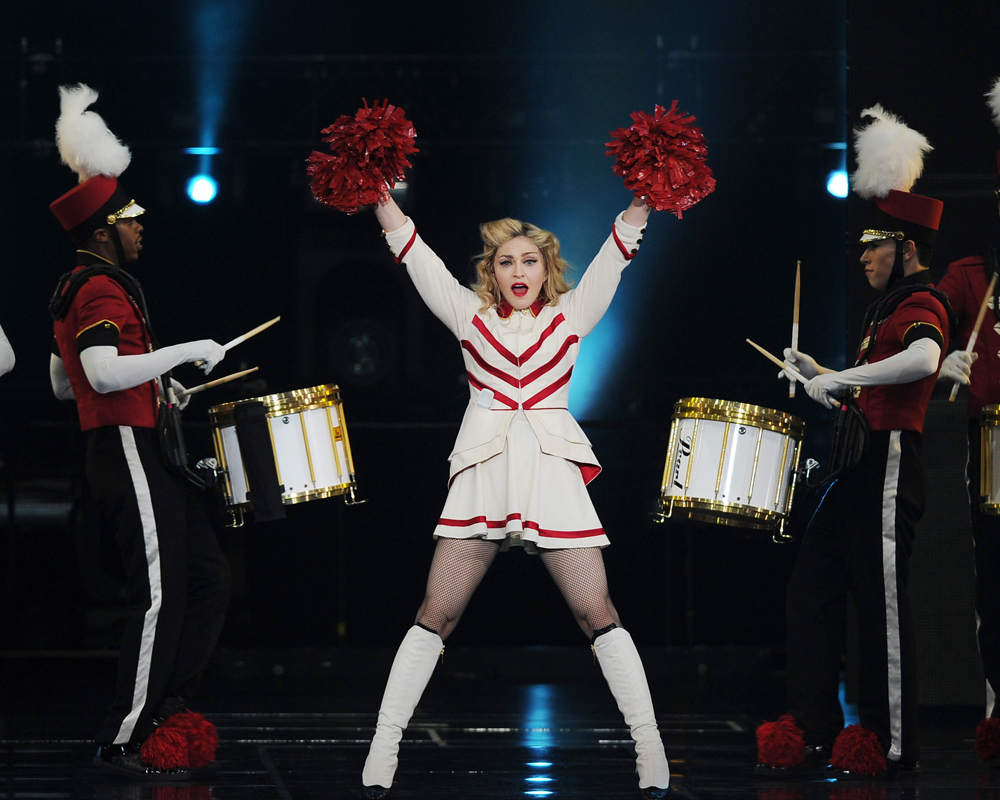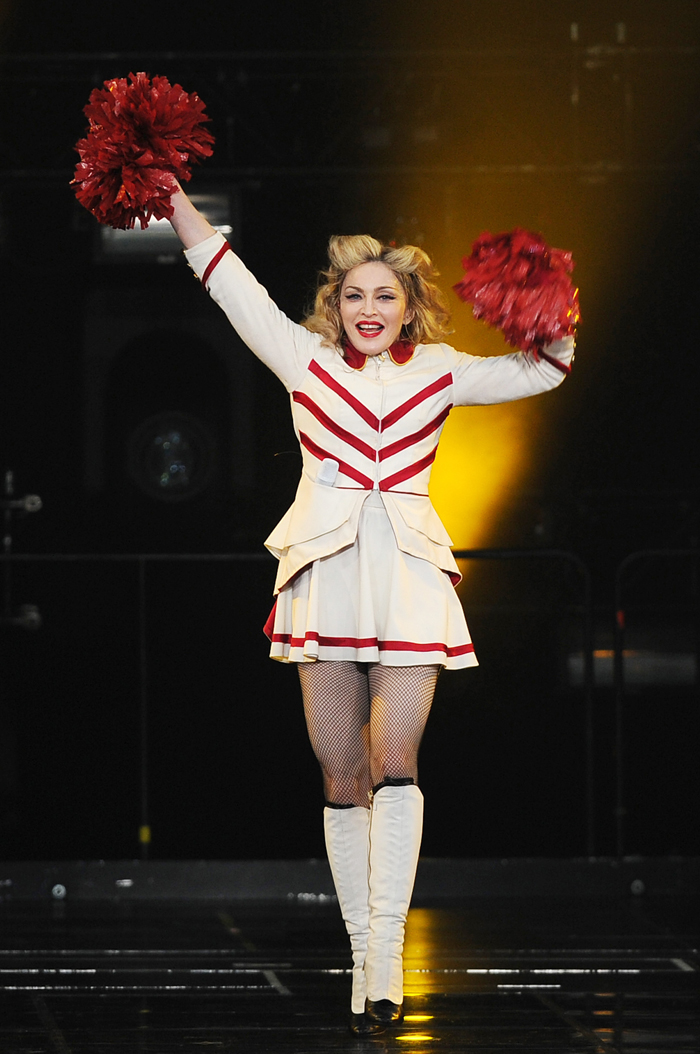 Photos courtesy of WENN