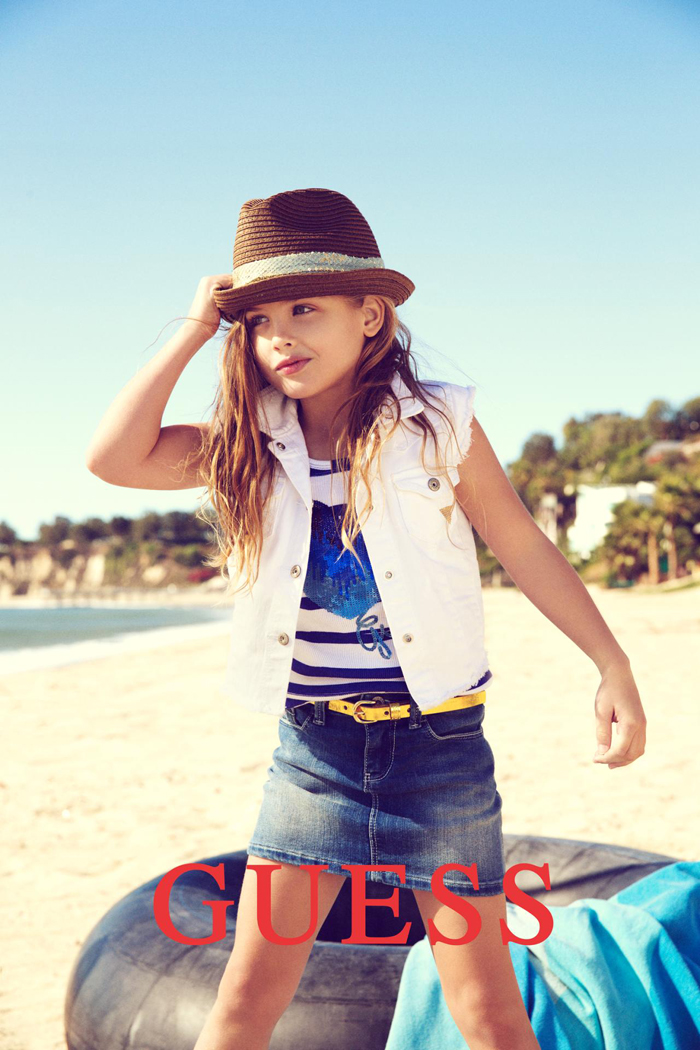 These are images from the upcoming Guess Kids advertising campaign featuring Dannielynn Birkhead, who is the daughter of the late Anna Nicole Smith and (one-time) photographer Larry Birkhead. If I'm not mistaken, Larry and Anna met for the first time at the Kentucky Derby in 2004, and a few years later, Larry fathered a child with Anna. Shady, sketchy hanger-on Howard K. Stern initially claimed paternity and Larry had to go to court and take a paternity test to prove he was the father of little Dannielynn.
Certainly, this was an inauspicious beginning for a young girl to face, but it really has seemed like Larry has stepped up to the plate and performed his duties as a loving father to the child. Until now, in fact, things have seemed pretty normal for Dannielynn, but now I'm shaking my head a little bit at Larry's decision to let his 6-year-old daughter star in a modelling campaign (while wearing a denim miniskirt, no less). It seems slightly inappropriate, no? Larry insists that these ads are merely a one-off "homage" to Anna Nicole's very own Guess ads. Here are the details: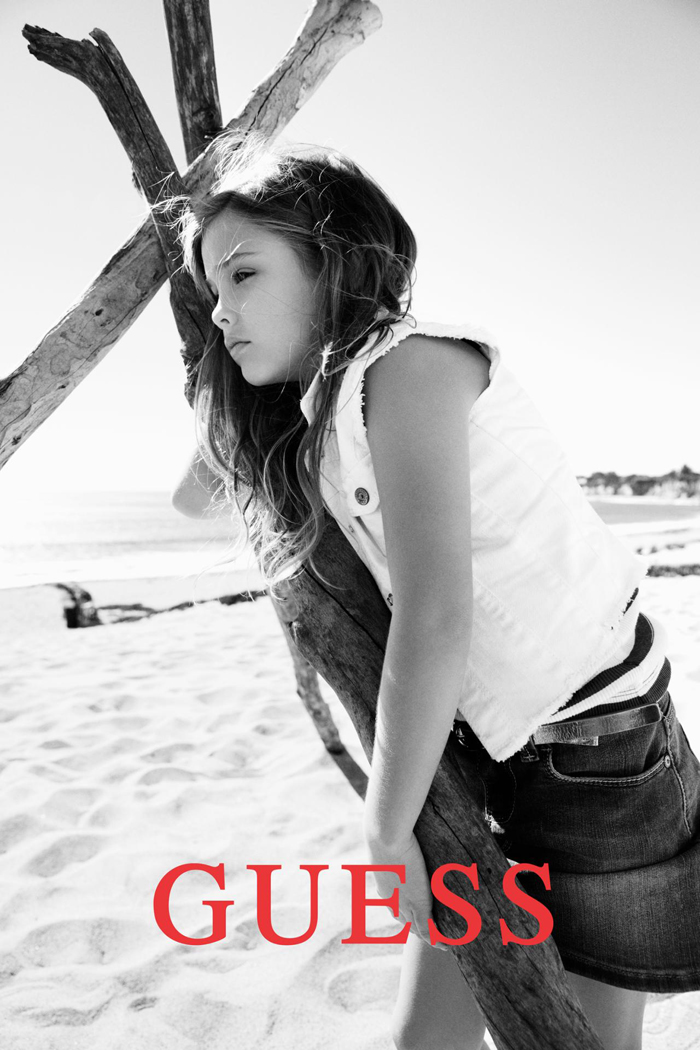 Anna Nicole Smith's 6-year-old daughter has modeling in her genes. The sandy-haired spawn will follow in her mom's footsteps and be a prominent face for a Guess clothing campaign launching in January, the denim-driven company said Monday.

Dad Larry Birkhead brushed off criticism Dannielynn is too young for the spotlight and said her participation in a recent Malibu photo shoot for the children's version of the famous fashion line was a one-time homage to Smith.

"It's really a tribute to her mom more than anything. She's not going to be a model," dad Larry Birkhead said. "Her mom's history with Guess was very positive. The ads were iconic and timeless." He said his precious progeny even had a school assignment where she talked about the experience and how it connected to her mom.

"She asked me if she was going to be on the shopping bags like her mom. She was really excited about it," Birkhead said. "She had great time on the shoot. It was really just a day at the beach, playing in the sand." He said all proceeds from the gig will be set aside for Dannielynn. Her plan is to become a doctor, a birthday cake baker or the owner of an ice cream truck, he said with a laugh.

"People have said she's already stepping into her mom's shoes, and that's very broad. I want to be clear this was just a tribute. She's still a kid at heart, and she's going to stay that way as long as possible," he stressed.

The photos of Dannielynn and fellow model Peyton Edmonds, the daughter of singer Babyface, were directed by Guess Creative Director Paul Marciano. "Dannielynn has the same playful spirit that her mother had on a set," Marciano said in a statement. "She is a second-generation Guess girl, which makes this campaign a first for us."

The 2013 ad campaign will appear in international fashion magazines, on buses and on billboards beginning early next year, the company said.

Anna Nicole Smith died of a drug overdose in 2007 after a long battle with addiction and a downward spiral partially portrayed on the E! reality series "The Anna Nicole Show." Birkhead, 39, quickly filed an emergency order to gain custody of Dannielynn and has been raising her in Los Angeles.

He said Marciano is "like family," and the company's consistent use of Anna Nicole's image generates income for her estate. "I talk to the company quite frequently" he said, declining to say who first proposed the idea of Dannielynn modeling. "I told them we had to be sure this was a positive experience. They were so great. We all made sure she was having fun."
[From NY Daily News]
These ads seem to be far too much far too soon (just like Kaia Gerber's age 11 Versace campaign after which even Cindy Crawford decided to pull the plug). It's great that Larry has encouraged his daughter to look up to her mother (to an extent, no doubt), but this child is merely of kindergarten age. Why so soon? Dannilynn will undoubtedly still be gorgeous when she grows up, and there's no huge hurry for her to get there. Let a kid be a kid.
Here's some of Anna Nicole's Guess ads from the 1990s. Once upon a time (before all the drugs), she was a bombshell.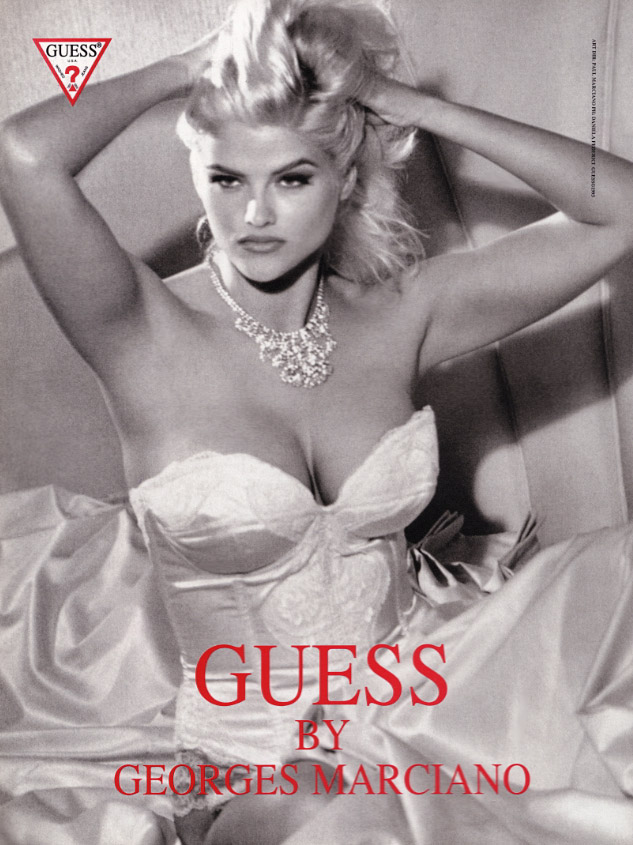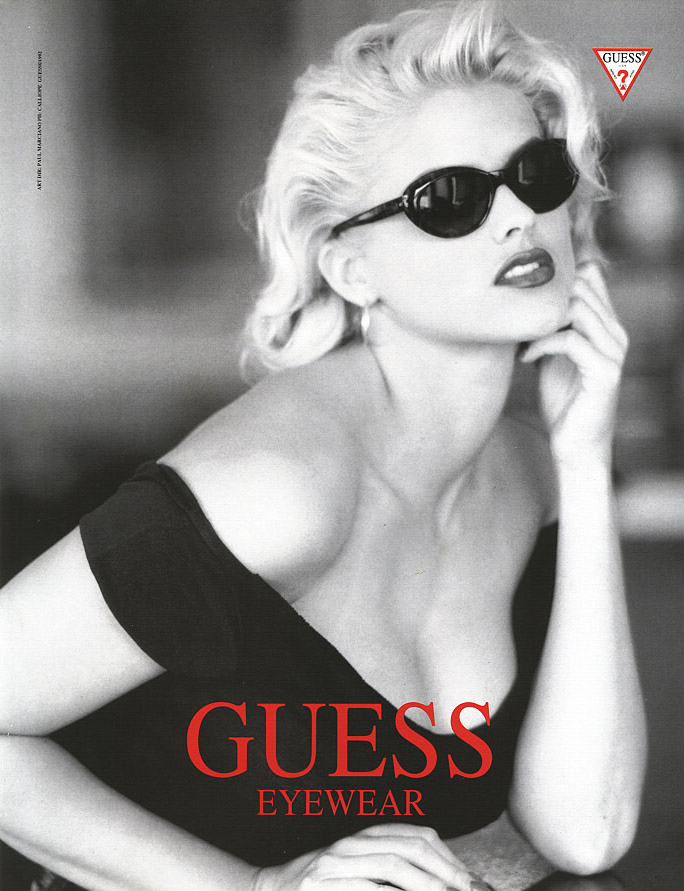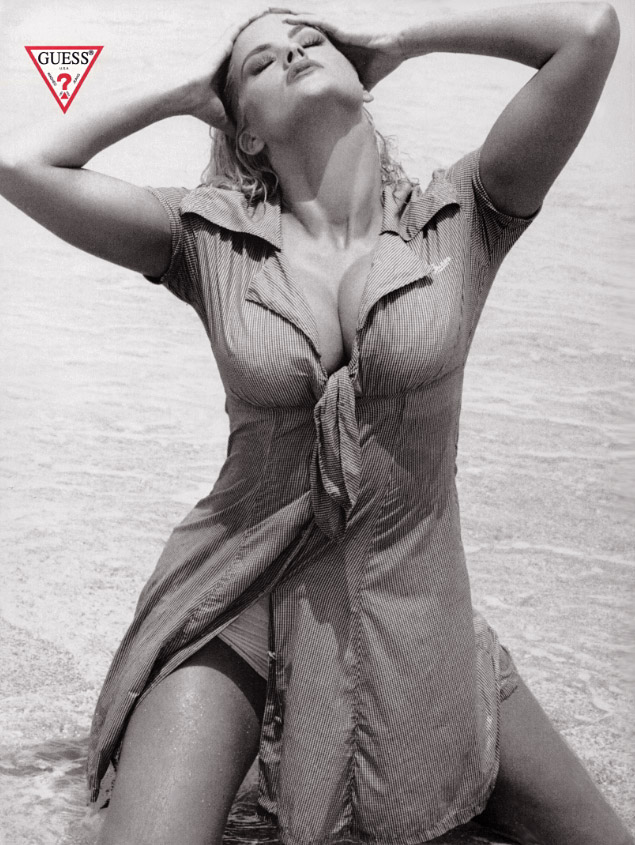 Photos courtesy of Guess